*Note: a SWOT analysis is an evaluation of the fundamental, operational, technical, social, economic, and even to some degree administrative elements of a project. This is not a model to be used for trading purposes. (NFA, DYOR)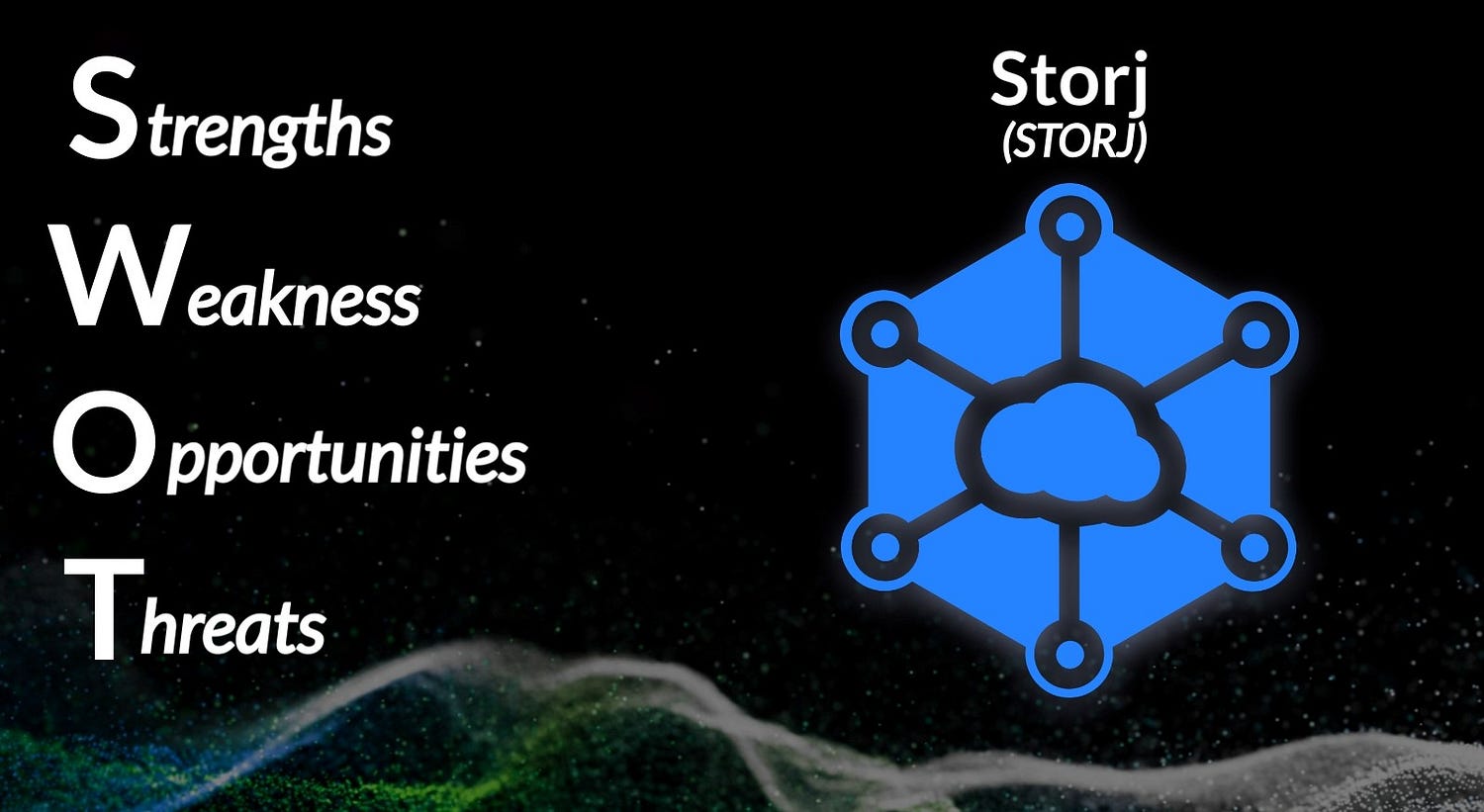 Composed of four elements, Strengths, Weaknesses, Opportunities, and Threats, a SWOT analysis framework provides excellent insight for establishing a high-level understanding of the state of a project's well-being through the lens of a birds-eye view.
It can help formulate decisions around which areas require more attention, set performance goals, and organize a foundational understanding of where a project is headed.
Rarely (if ever) used in crypto, it is time to apply this timeless method of evaluation to the digital asset space.
Today, Storj (STORJ), a leader in the decentralized storage space and an OG that has been around since 2017, will get a SWOT.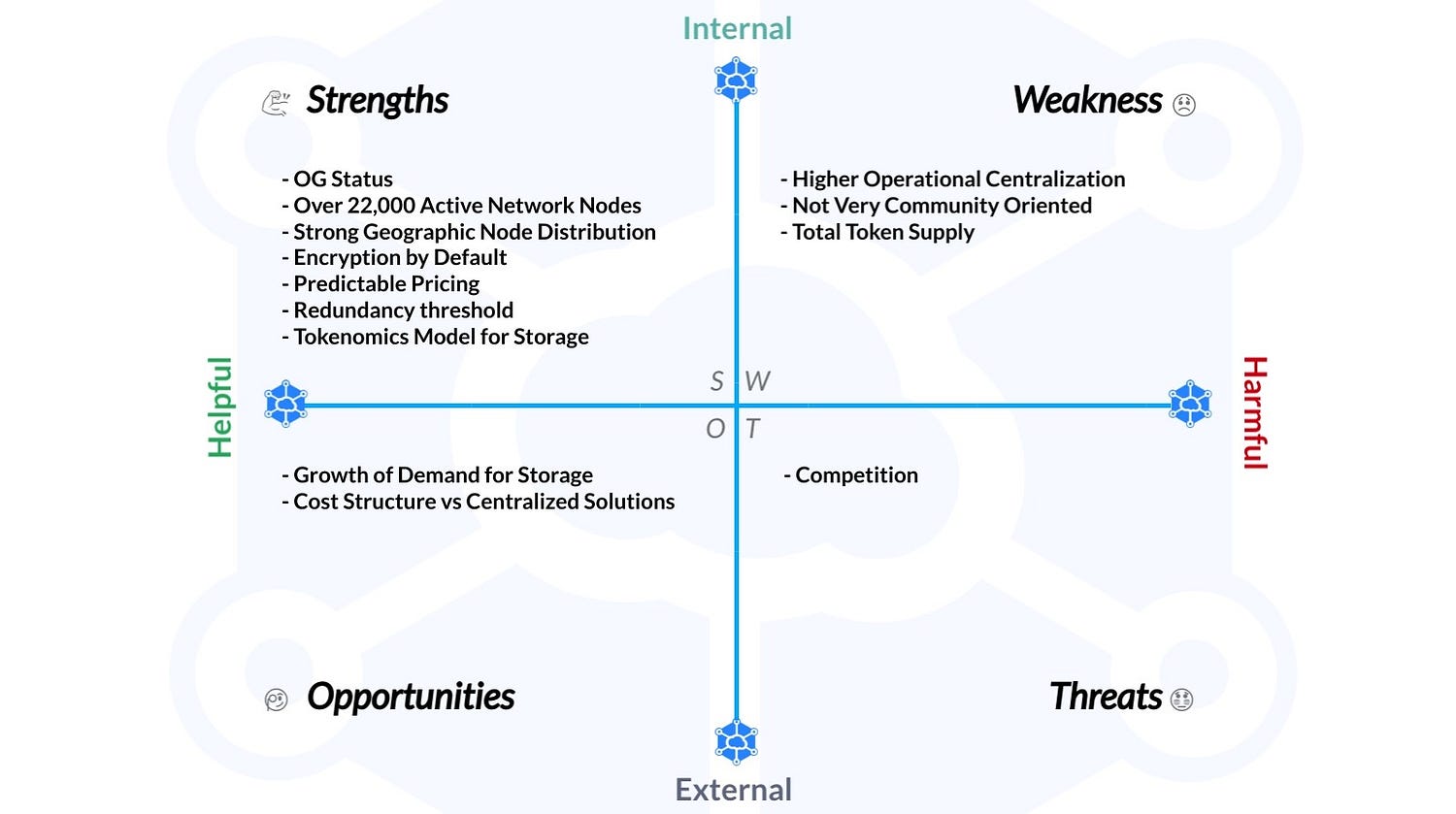 💪 Strengths (Internal) (Helpful)
1. OG Status
Decentralized Storage has been one of the few sectors that found the perfect product-market fit with the arrival and evolution of blockchain and crypto. Storj is a project that has its roots starting way back in 2014 when its first whitepaper was published. After three successful fundraising campaigns, one in 2014, where they raised ~$410,000 in the form of 910 BTC, and two in 2017, where 3 million USD was raised in a private sale, and another 30 million USD was accumulated via an ICO; STORJ launched its platform in 2018. The relatively "long" history of main net operations that STORJ has underscores its depth of understanding of the category and breeds a higher level of trust.
2. Over 22,000 Active Network Nodes
Storj network has been growing in terms of the amount of nodes. Exploding from roughly 6,000 in 2020 to right about 22,763 in 2023, the technology and incentives have proven to be attractive enough to bring in new participants into the fray.
3. Strong Geographic Node Distribution
The amount of network nodes is only as important as their ability to resist any kind of authoritarian takeover. Geographic distribution is one of the subtle qualitative metrics that does not get enough attention whenever conversations about network stability, survivability, and resilience are brought up. Storj has done an excellent job with the distribution of their network nodes spanning over 106 countries.
4. Encryption by Default
Part of Storj's architecture is the automated encryption that takes place for every piece of data that is uploaded to the network. Optionality in encryption presents itself as a vector that can be taken advantage of (either by node operators that go rogue and wish to just DOX everything on the network or for their own personal gains); having encryption by default provides a higher level of security to the users.
5. Predictable Pricing
Operating in decentralized environments is notoriously tricky due to the constant variability in network fees. Storj is able to reduce the uncertainty by providing fixed pricing structures. While this may be less than optimal for the case of decentralization, it does provide a degree of benefit that enterprise-grade clientele might prefer.
6. Redundancy threshold
The erasure logic for Storj is sublime. Files are encrypted and then split into 80 copies, which are then all distributed throughout the network nodes. The two mechanisms, encryption and replication/distribution, provide added security guarantees that the data is protected from unauthorized access and will be available even during times of critical network fluctuations. In order to rebuild any information, 30 of the 80 pieces are sufficient enough.
7. Tokenomics Model for Storage
The Storj ecosystem has been maximally integrated into the traditional world to allow for flexible payments. Introducing payments for services in any asset will almost always fall back to the most convenient method, namely cash/credit, that renders crypto assets inefficient; however, Storj has opted for a degree of flexibility that demands the use of STORJ tokens exclusively for payments for storage; so you can upload or download information using any payment model, but for storage you must pay in STORJ.
😞 Weaknesses (Internal) (Harmful)
1. Higher Operational Centralization
Whenever comparing Storj to the other leading crypto storage solutions, one of the most obvious characteristics of the project is the amount of control that Storj Labs has over critical decisions (such as the pricing for network services, token unlocks, among other). While centralization is certainly not a catalyst for the failure of a project, the fact that Storj incessantly uses the word decentralization throughout its public communications (blogs, documentation, videos) create cognitive dissonance and a feeling of distrust. In fact, Storj uses the term decentralized in its whitepaper more than any other decentralized storage project; meanwhile it is the most centralized of them all. Ironic.
2. Not Very Community Oriented
Social media is an inescapable attribute of any modern-day technology, especially in the distributed, highly philosophical crypto industry. While Storj does an amazing job with its appearances (at conventions/conferences such as Mainnet), the conversation that is being driven online (Twitter/X) is very surface-level and does not get any substantial engagement. More importantly, the dedicated community forum for Storj also seems to be lacking any meaningful engagement.
3. Total Token Supply
The maximum token supply of the STORJ token is set to be 425,000,000; of which nearly 395,000,000 are already classified as being in circulation (not being locked up anymore). With the latest token tranches being released into the hands of STORJ Labs for use in marketing/ecosystem development, and the upcoming unlock preemptively announced for the same purpose; there remains a single, final token release scheduled for the end of 2024 (which would be the last 30,000,000 tokens). Of all the tokens, roughly 130,000,000 (or ~30% of the entire supply) are in the hands of STORJ Labs. This strange token allocation can cause concern due to the uncertainty in when/how that massive supply will hit the market.
🧐 Opportunities (External) (Helpful)
1. Growth of Demand for Storage
The entire sector of storage is on an exponential growth trajectory. As more data is produced in a single day than all the information recorded by humanity up until the age of computation (roughly 330 terabytes per day), the need to store it grows in tandem. Currently estimated to be growing at over 20% year-on-year, storage is one of the most promising sectors within the digital economy.
2. Cost Structure vs Centralized Solutions
Decentralization is frequently associated with an increase in complexity and a decrease in efficiency. Interestingly enough, the Decentralized storage space counters this argument by being equally (if not more) effective and providing a reduction in costs for the same service. Within the decentralized sector Storj might not be the cheapest of all solutions, however, it is still more affordable than every centralized alternative.
😳 Threats (External) (Harmful)
1. Competition
Of all the viable entities competing within the decentralized storage category, Storj is at a disadvantage in two key areas: first, it's more centralized than every other alternative, and second, Storj is actually the most expensive of all in terms of costs for storage per 1TB of data. Newer solutions such as AR (Arweave) provide more innovative technology, FIL (Filecoin) provides much better costs and distribution channels by using IPFS, and even SC (Siacoin) provides better pricing. As new players enter the space (such as FLUX), it seems as though Storj could be left out of the major leagues.
Takeaway:
Storj is a valid solution for storage in the decentralized digital economy.
Competing in a very tight sector that is sometimes difficult to define properly, the services provisioned by Stroj bleed into adjacent areas (namely CDN). This multi-functional nature of decentralized storage gives Storj a larger surface area to capture. So it is odd that Storj ranks lowest of all other projects in the space.
Existing in no-man's land between web2 and web3, Storj needs some kind of breakthrough, either technological or government-level partnership, to actually push it out from the bottom.
At the current state of the industry, with new entrants coming in and innovation driving evolution, it seems like STORJ is just being slowly buried by the superiority of new projects.
Conclusion:
It seems as though STORJ has been teetering away from decentralization and hearing itself to a more sophisticated audience.
Extremely difficult to actually pinpoint what is going on with the project.
While perhaps this might be a purely personal bias, whenever I see too much posturing in how a product or project presents itself, I am immediately turned off.
Storj does quite a lot it.
They posture about decentralization (really, its insane how much they are trying to use psychological programming to create an image in the readers mind that they are decentralized); they posture about "going Green".
Disclaimer: I like gas cars. I don't support the whole ESG virtue signaling.
If you like to do this whole shitshow about how much you care about the planet, go donate to companies that actually clean or contribute, but virtue signaling that your "POS" token is on Ethereum that is (after the merge) much cleaner for the environment, is strange…
STORJ got so obsessed about the whole ESG movement that they actually redesigned the project to contour to those standards. Granted, perhaps there was some kind of short-term business benefit for doing so that is not obvious on the surface level to an outsider; however, they used to have a POW element in their system; as of February 2022, they vowed to divest of it.
Would I invest in STORJ?
Nah; BUT, I don't see anything wrong with holding the asset and can definitely understand a bullish argument for it.
But for my personal preference, if I had to choose a crypto within the decentralized storage sector to invest in, I would opt for a different one.
---
If you know something that I don't or feel as though I might have missed anything worth noting, please do share, I would tremendously appreciate some feedback.
Thank you so much for reading,
I hope this serves you well on your journey.
Live long and prosper 🥂
Subscribe to Andrey Didovskiy and never miss a post.
#crypto
#cryptocurrency
#swot
#swot analysis
#storj
#blockchain
#decentralized storage
#storage
#web3