Today we're super excited to announce the start of something big — Gems. If you're an existing member, you already have at least 1000 Gems! And if you're wondering how to earn Gems or why they're worth earning, read on 🫡
💎 gm Gems 💎
Gems are how we plan to track and reward contributions from people and communities that build with us. In phase one, members will earn Gems for inviting great people into the network. This is just the start — we'll work with the community to iterate on and expand Gems to more types of contributions, and start to reveal our plans for unlocking value for Gem holders soon. 🤝
Read more about how Gems work here.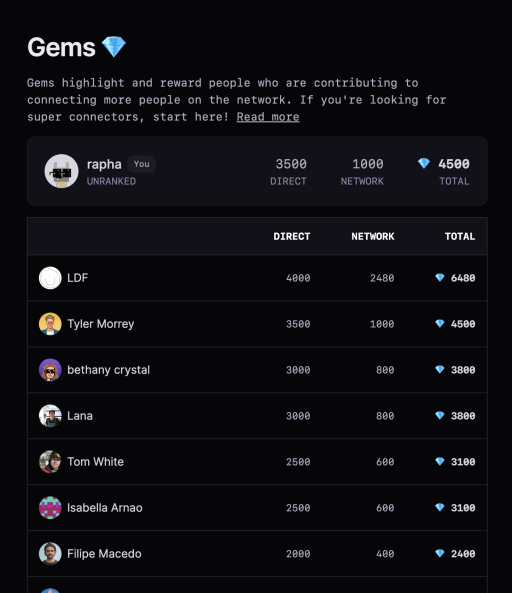 Building the Open Work Graph together
Owning Gems is about more than just Backdrop. They're the start of a gradual progression towards community ownership of what we're on a mission to build — an internet-scale graph of people and their work, one that is open source, permissionless, and decentralized. We're calling it the Open Work Graph, and Backdrop is its first product, but so many more are possible — directories, productivity and matchmaking tools, spam filters, and more. 
Let's do this
To everyone that has supported us so far, thank you. Gems will never truly capture everything you've done and will do to support us and each other, but we're excited to hear your feedback and to work with you to continue to get closer to that point. And if you haven't joined yet, jump in. It's still incredibly early and we have a lot to build together. gm. 
- The Backdrop Crew
P.S. if you're interested in experimenting with us at the edges of community ownership, the future of work, and permissionless protocols — we're hiring a Head of Growth & Community.