Spoiler alert, there have been some very cool opportunities posted in Backdrop recently. 
But before I get to those, I want to take a moment to share some thoughts on what we're actually trying to do here, and why we think it matters. We'd love your feedback on whether it resonates. And if you've been here for a while you know we also care a LOT about community ownership — we know we can't do this without you — and we're excited to share a bit more of our thoughts and plans in that direction soon.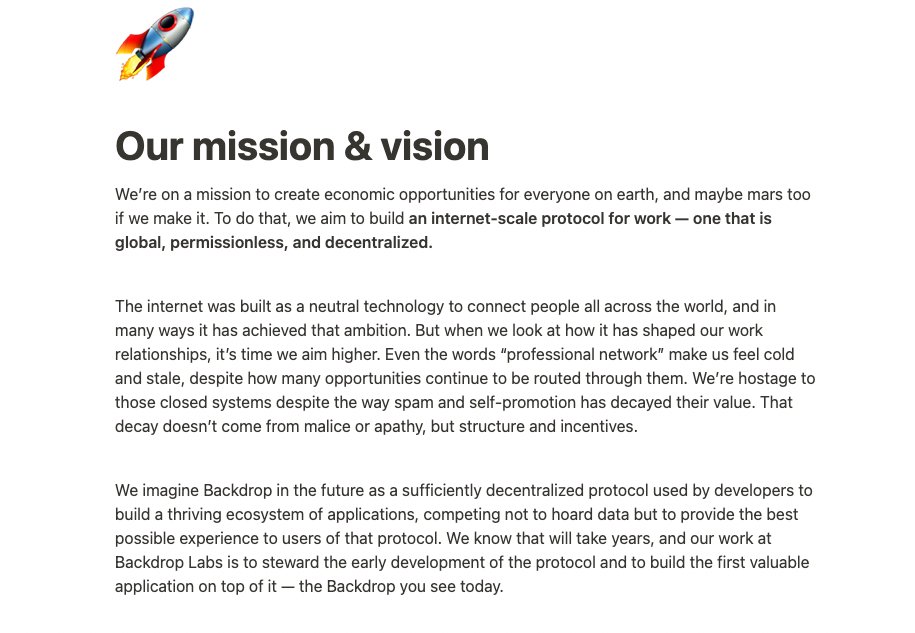 You can find that and a few other notes in this Notion space, including some examples of the kinds of applications we might imagine being built on top of such a protocol, and a few roles we're hiring. If you have any questions we can answer via a note, let us know and we'll add it. 
On to the good stuff…
To see all of the posts, head to backdrop.so/posts. We're here to help you create one anytime! 
A few of our recent product updates
There's a new section on your profile for "interests." Adding those interests helps us connect you with relevant opportunities, allows others to find you via search, and will power a new experiment we have coming soon.

You can now add your location to your profile as well. Same as the above, this helps people find you and will also enable us to route a few more IRL opportunities soon.
If you made it this far, we should be friends if we aren't yet.
- Joey 
If someone shared this newsletter with you and you aren't a Backdrop member yet, message me or apply to join.
Collect this post to permanently own it.
Subscribe to Backdrop and never miss a post.