As far as I know, GPT-4 did not write the following, but that assumes GTP-4 is not writing my thoughts. Anyways, let's get into it.
Backdrop does IRL round 2 in NYC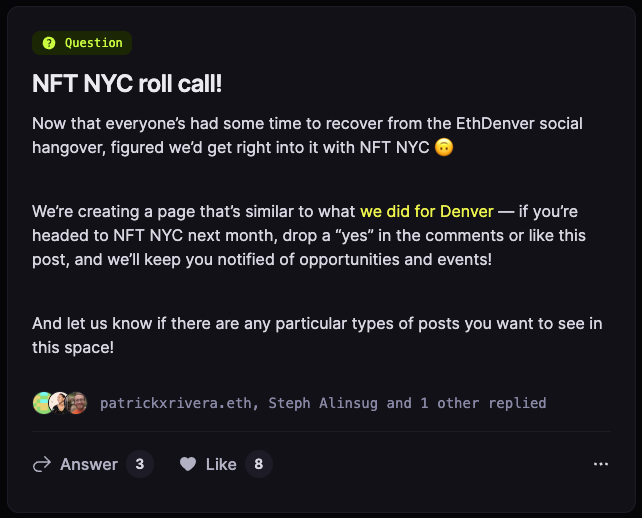 Conferences are a great way to make a connection that can lead to something amazing, and they're also a great way to lose a bunch of time and money — scarce resources for builders! Last month we ran a small experiment for Denver to facilitate valuable connections between builders, and we got lots of warm fuzzies hearing of so many jams and collaborations between Backdrop builders as a result. 
So we're running it back for NFT NYC, still lightweight and fun but with some specific improvements:
You can see these and all of the NFT NYC opportunities as they get created here. And if you know a great builder that's headed to NYC, send them this email or invite them and collect some more Gems along the way.
Seed Club | Metalabel | Foster collab
Not an easy task, but we've been tapped as one of the communities to help make Metalabel's next "Quality Drop" even better than the one they just did with Vitalik. The focus of this one is Creative Collaboration —how the expanded artistic collaboration blockchain tech might actually look and feel. You can read more or submit an idea here. I'm also happy to work with anyone that wants to leverage Backdrop for an experiment that will go into the zine.
Other opportunities
Know someone that might want to join one of the leading communities in DeSci? Boris from LabDAO is hiring a senior DevOps engineer. View post

As a Community Builder, what's your dream outcome? Eliot Couvat would love to know — some interesting responses already! View post

Clinamenic and the team at PubDAO just launched a newsletter for web3 writers, by web3 writers. If you're looking for or have writing opportunities, check it out. View post
To see all recent posts go to backdrop.so/posts and sort by "recent."
Product updates
Work is multiplayer, and as another step towards the Open Work Graph, you can now add teammates to your work experience on Backdrop.

You can now see who recently joined on the side of the home page. Lotta great people, amirite?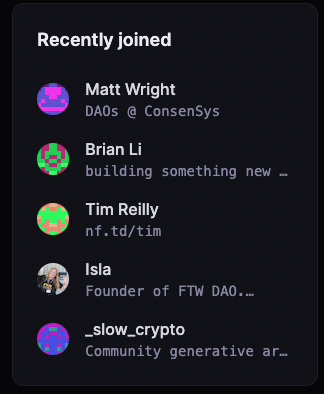 Thanks for continuing to help us build a work graph that doesn't use data to hold its members hostage :) 
-Joey

If someone shared this newsletter with you and you aren't a Backdrop member yet, message me or apply to join.
Collect this post to permanently own it.
Subscribe to Backdrop and never miss a post.