We're excited to announce a handful of new Paragraph features that introduce a new layer of personalization & functionality to your publication. Our focus is not just on bringing writing into the world of web3, but on providing you with the best writing experience while you're here.
Theming
You can now further customize the look & style of your Paragraph publication. You can change your font style & color, background colors & more. And you know what that means - you can set your publication to dark mode!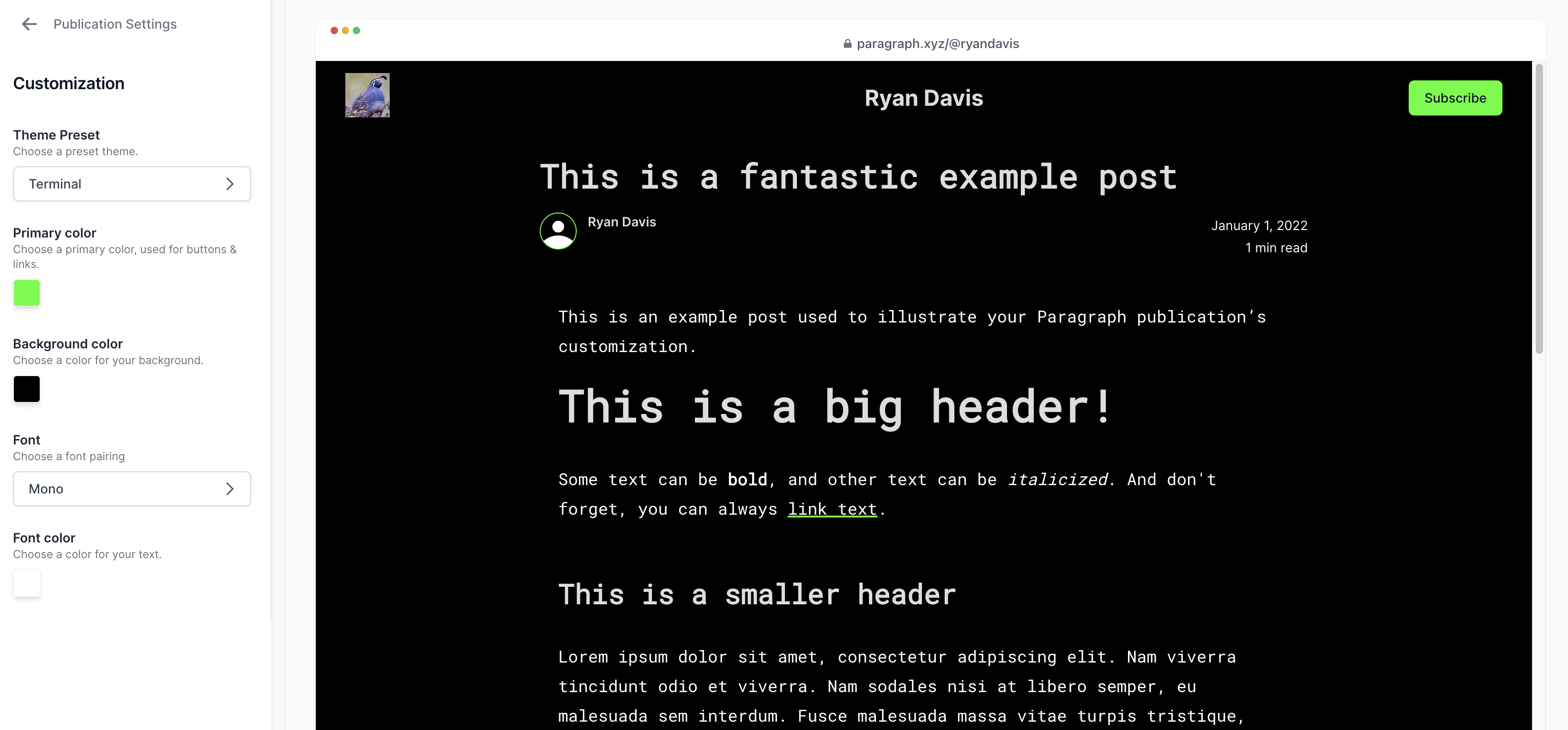 To get started, visit the new Theme page in your Paragraph publication.
Welcome emails
Newsletters provide a great way of building a bidirectional relationship with your community and ensuring they receive the right information at the right time. Adding a personal touch whenever possible makes this easier, since all communities are different.

Starting today, we're introducing the most requested feature you've been asking for - customizable welcome emails that get sent out to new subscribers! You can provide them with links to your latest NFT collection or Discord community, or prompt them to reply to the email with how they discovered your newsletter.
Manage your welcome email in the new Emails section in your publication setting.
A new & improved editor
We received a steady stream of feedback around the editor, so we're pleased to release a new-and-improved editor that introduces a slew of new functionality including Twitter embeds, YouTube embeds, better image alignment, and image positioning.
This editor will also lay the groundwork for all future improvements, including NFT embeds, better token-gates and more. Stay tuned as we launch new embeds over the next few weeks!
Drafts & Comment Management
Making changes to a published Paragraph post now creates a new draft, so you can safely work on multiple (or complex) changes without them being shown to your readers. When you're ready, you can be re-publish your post at any time (and optionally re-push it to Arweave with every new version!).
Additionally, we're giving writers more control over their community: you can now delete comments on your publication, or edit comments you've left on other publications.
---
Any feedback or feature requests? We'd love to know - just reply to this email, reach out to hello@paragraph.xyz or join our Discord community.
Collect this post to permanently own it.
Subscribe to Paragraph and never miss a post.