News and Updates
Proposal Dashboard
The proposal dashboard I built as part of proposal 57 is here! I will continue posting new proposals as they come in and fill in previous proposals with updated links to the products and content they've produced. If you ever want to add anything to a proposal you are involved in or make a correction, please don't hesitate to reach out. Check it out at the link below. https://0xsatori.notion.site/Builder-DAO-Proposal-Dashboard-a66f8a89dce64ed680a9c16eb2dec364?pvs=4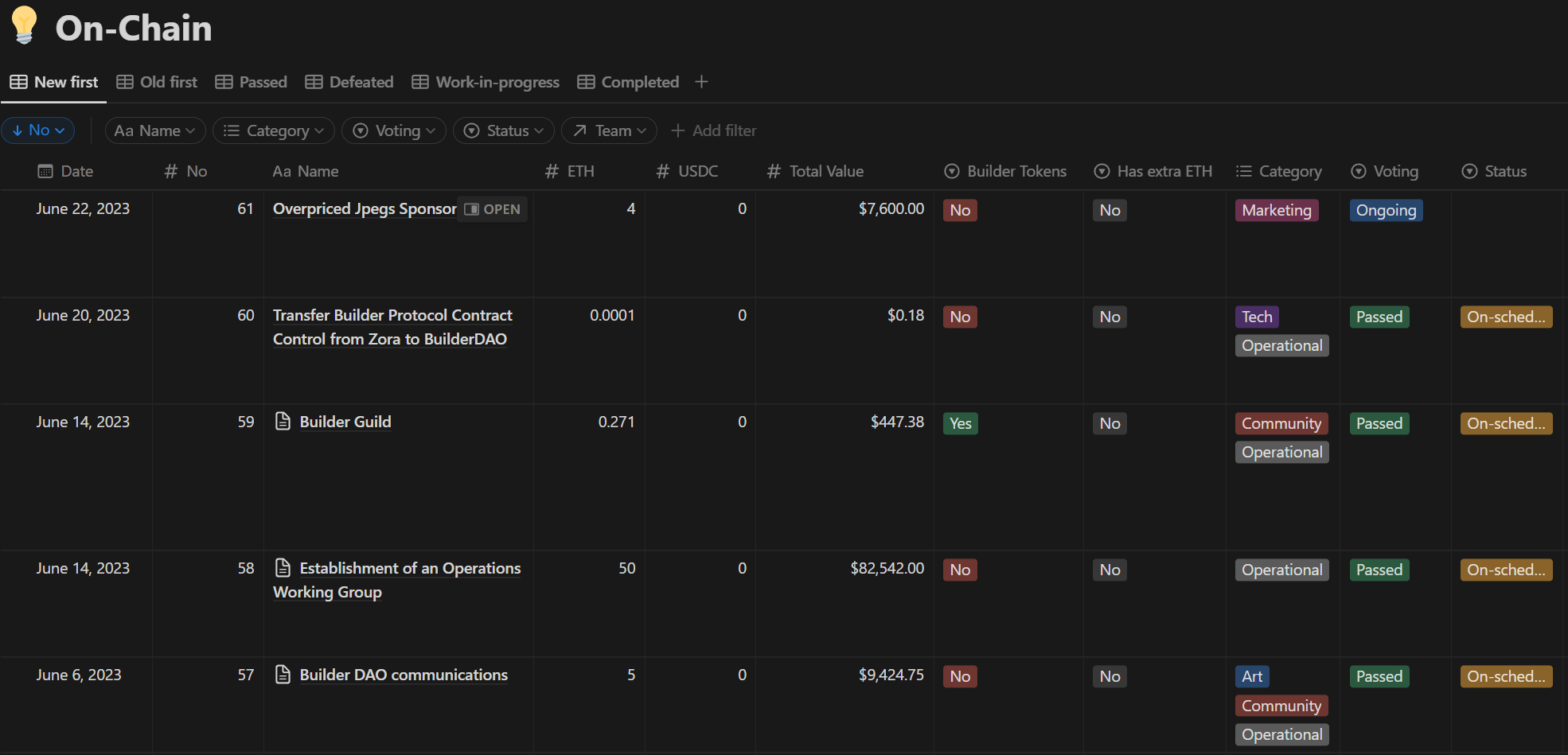 Layer 2 Builder is Coming
Neokry and zaak have been hard at work preparing the launch of Nouns Builder on Layer 2. They are preparing to deploy contracts to the L2 network and will be reworking the app to include multichain support. Keep an eye out in the coming weeks for more exciting updates!

Welcome New Builders
Builder DAO recently surpassed 100 members and currently sits at 111. This past week several new members have joined, including myself! In addition to the members mentioned below, Symbiotech has also recently joined. Congrats everyone on winning your auctions and welcome!
Token Stats
111 Unique Holders | 235 Total Supply | 47.23% Unique Holders Ratio
10-day Average - Auction Price: 0.17 ETH | # of Bids: 2.73 | Unique Bidders: 2.45
Proposals
Active
Passed
Community Highlights
BuilderBox on TNS
Every week at 4:00pm EST Prof Werder and Toady host BuilderBox live at The Noun Square! This past week's BuilderBox featured Carly from Bankless' Overpriced JPEGs podcast! This upcoming week will be simulcast on Discord and Twitter. Tune in to hear Prof Werder go over how to build props in the Nouns Builder Interface.
ZORA NETWORK
Zora continues to release tools that increase accessibility for creators and collectors. Their latest release is a gas-efficient and scalable Layer 2 network built on Optimism that will be incorporated into all of their existing tools.
NNS Whitelist
The Nouns Name Service team is preparing for the launch of their token $NOGGLES. Many nounish communities have been whitelisted, including Builder DAO! Check out their twitter and discord for more details.
Built on Builder
Every week I'll be highlighting a DAO built on the Builder protocol. This week features Paladins DAO, a community-owned esports organization. Their objective is to develop and support gaming native IPs in addition to competing in web3 gaming tournaments.
Auctions: https://nouns.build/dao/0xbb842a85646c8e5423281451b00e18d5bb5bf8d3
Twitter: https://twitter.com/paladinsdao