No, not overpowered, you nerds. We're talking about Nouns Builder on Layer 2s! Builder engineers Zaak and Neokry have launched the testnet versions of the Nouns Builder protocol on Base and Optimism! Really exciting times ahead for the Builder Protocol as we expand the accessibility of the protocol to these cheaper and faster networks. Before the protocol can fully launch on mainnet, we need as many people as possible to test the various functions on the testnet. Head over to testnet.nouns.build to give it a go, and be sure to leave your feedback here.
Builder DAO: Mission, Vision, Values
We will be discussing these core tenets of Builder DAO today at 5:00pm on the Builder DAO monthly call! Check out the draft document here and come share your thoughts and feedback on the call today. The rest of the agenda for the call can be found below.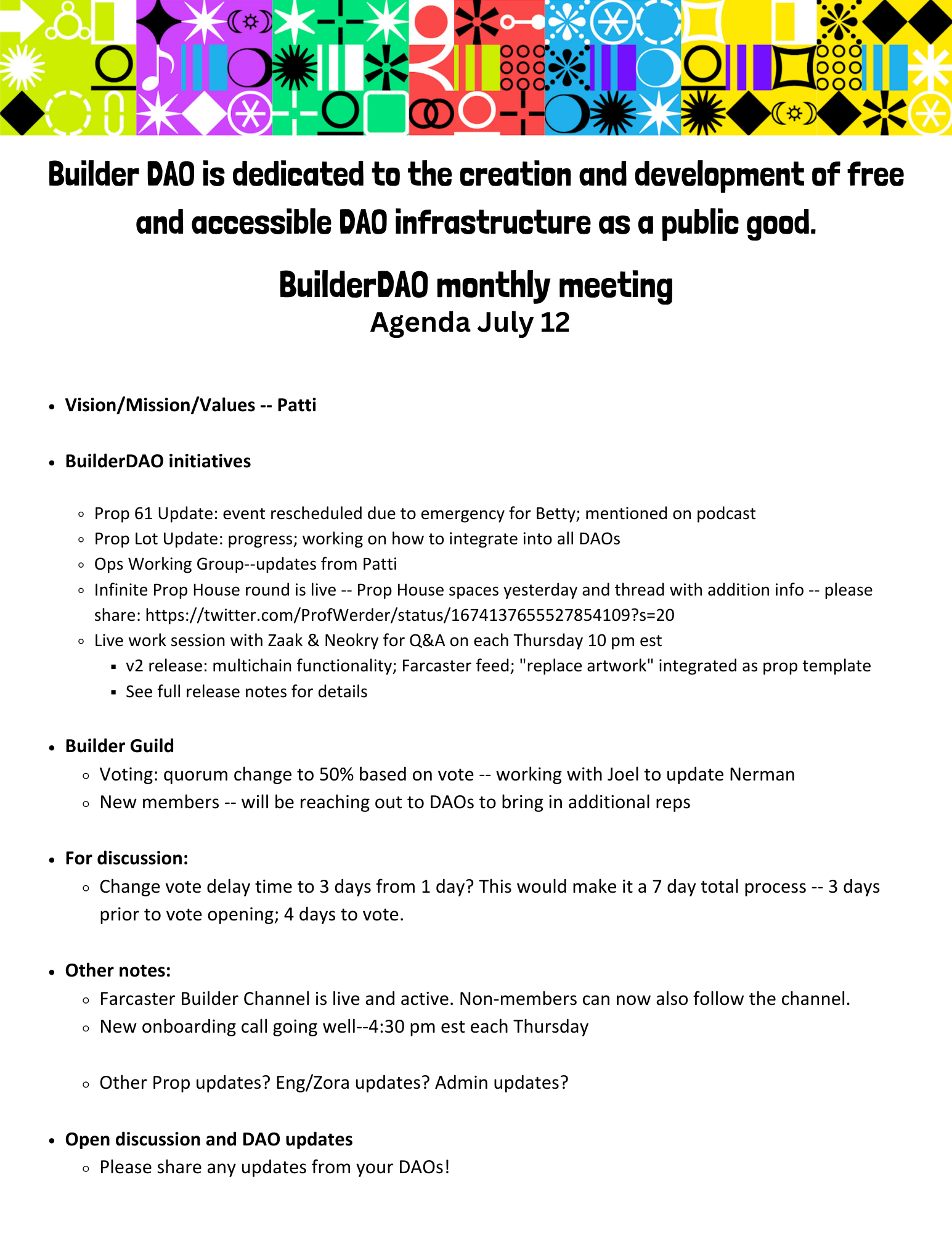 Overpriced JPEGs Happy Hour Update
Due to unfortunate personal circumstances, the Overpriced JPEGs Happy Hour with Betty from Deadfellaz had to be canceled but has now been rescheduled for July 25th where Carly will be joined by Stephen Teglas and cloncast from Cool Cats team!
Builder iOS App
ng has been hard at work on the Builder DAO iOS app which is currently pending Apple approval for launch in the iOS app store! While we wait for the app to be accepted and available for download, you can download the Beta app through Testflight in the meantime here. When the app launches in the app store, we'll provide another update here and the link on the website below will be updated.
Builder Channel on Farcaster
The Builder feed mentioned in last week's newsletter is now available to everyone! Previously you had to have a connected wallet with a Builder token in it, but now anyone is able to subscribe and follow along. This feed displays activity from members of Builder and onchain activity such as auctions, proposals, and votes. You can also now see the DAO feed directly on the nouns.build website by clicking 'Feed' as shown in the screenshot below!
It's a really great way to keep up to date with your fellow Builders! If you haven't created an account on Farcaster yet, please reach out to me or Prof Werder and we'll get you an invite!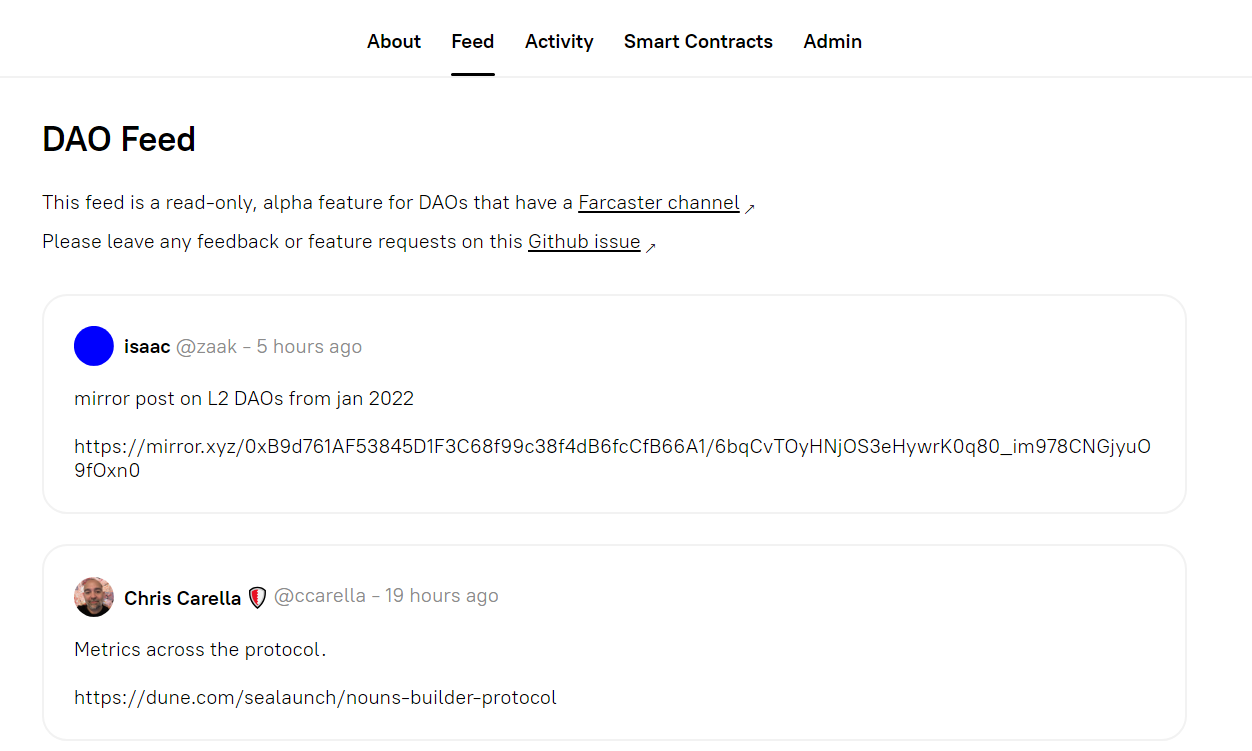 Builder Infinite Prop House Dev Round
We are still eagerly awaiting the first proposal for the Infinite Dev Round! The round has been funded with 0.50 ETH and 1 Builder token to be rewarded to the first three proposals to meet the round requirements and reach the vote threshold of 540. If you are a developer looking for a way to get involved with Builder DAO this is a fantastic opportunity to show your skills! Check out the round on Prop House here for more info.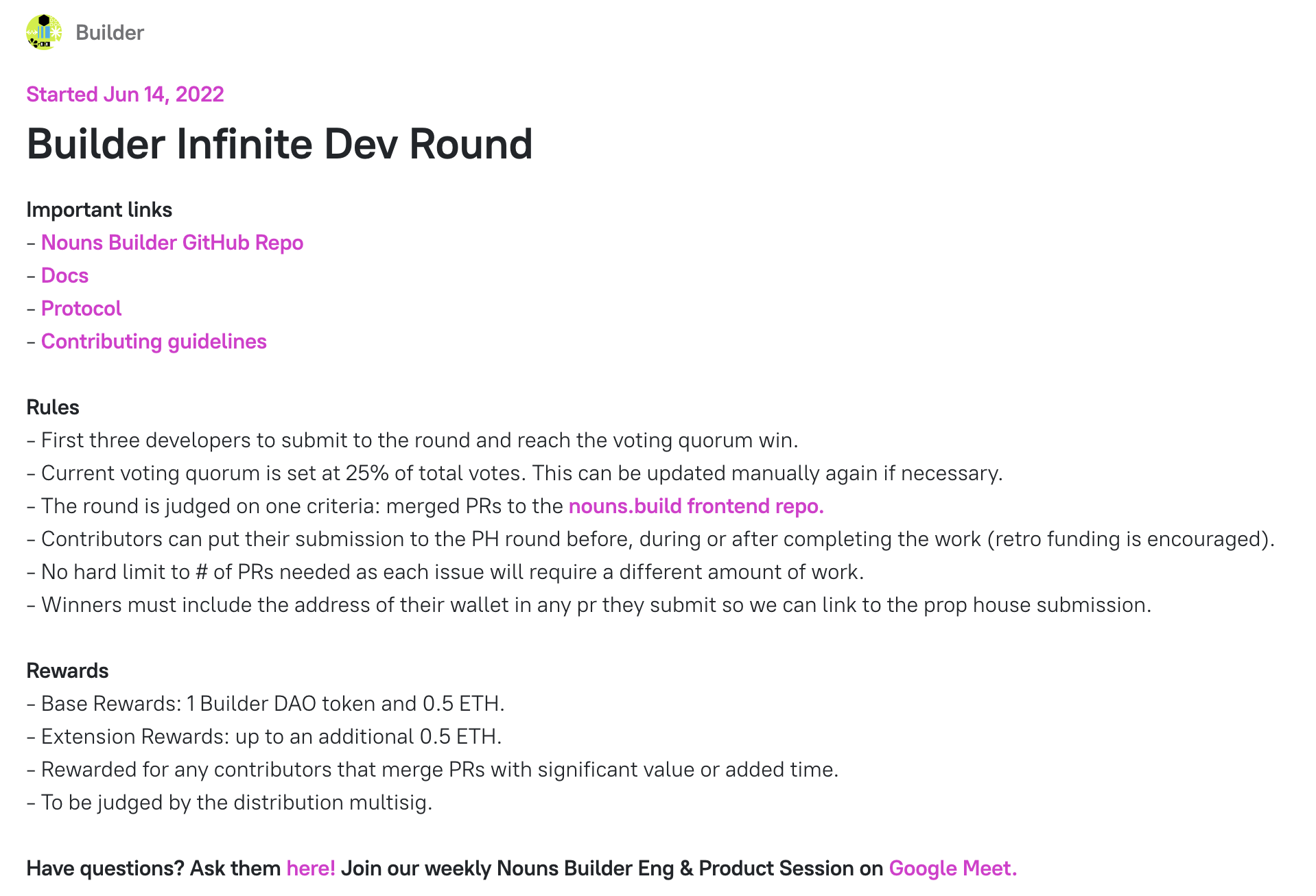 Builder DAO Onboarding and Work Sessions
Every Thursday at 4:30pm EST, community resident Prof Werder hosts a Builder DAO and Nouns Builder onboarding call where she is available in Discord to answer any questions related to Builder or discuss proposal ideas. Also happening every Thursday at 10:00pm EST is a weekly public work session with Zaak and Neokry. If you have any questions about the work they are doing, ways you can contribute, or even the Infinite Dev Round please feel free to pop in and join them during this session!
Builder DAO BuilderBox on TNS
Every week at 4:00pm EST Prof Werder and Toady host BuilderBox live at The Noun Square! Follow the BuilderBox twitter account to keep up with the latest news. If you aren't able to make it, you can always go back and listen to the recording!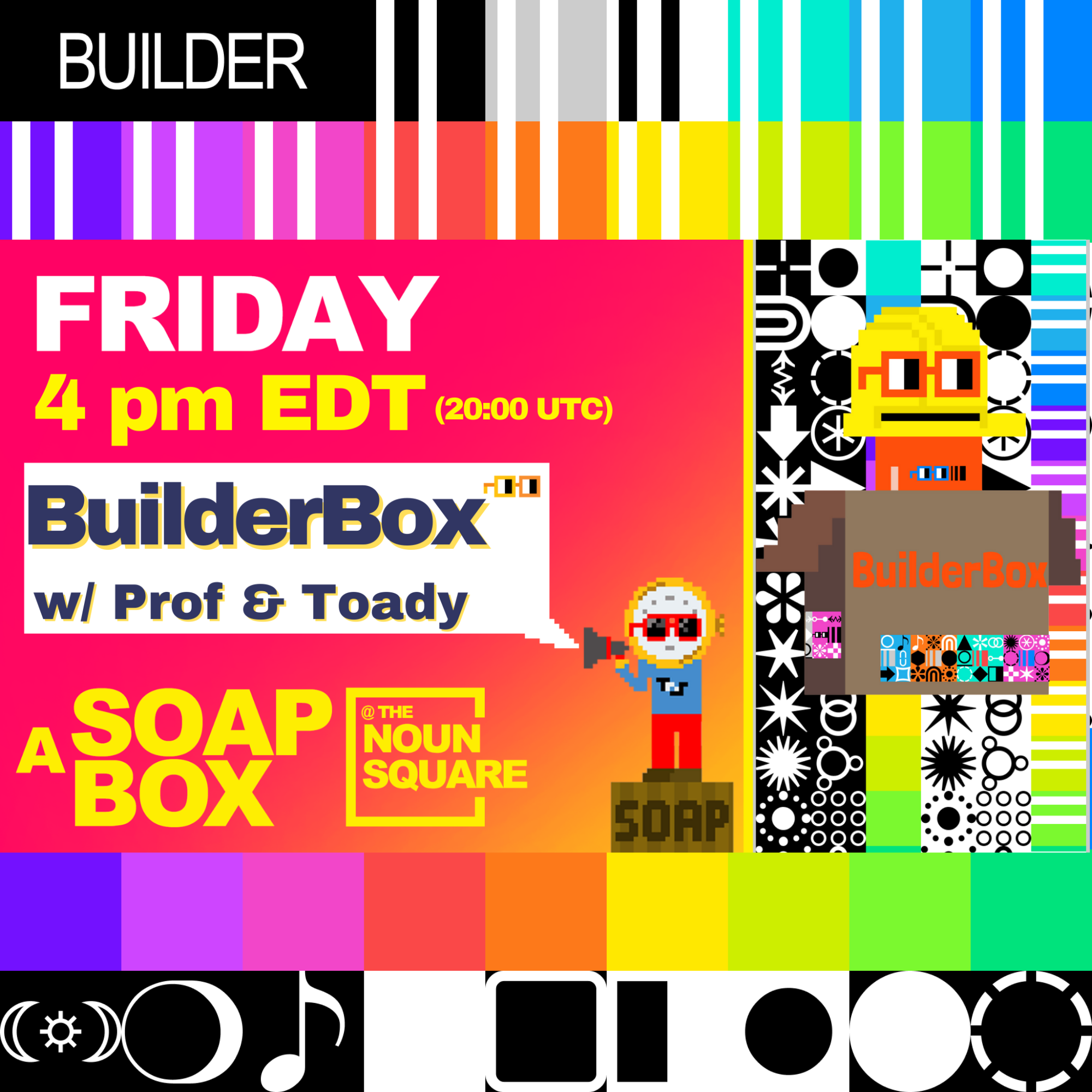 Builder DAO Fun Fact
The generative art for the Builder tokens includes 37 different traits in both black and white, randomly generated including ⌐◨-◨ in 8 different locations on the token.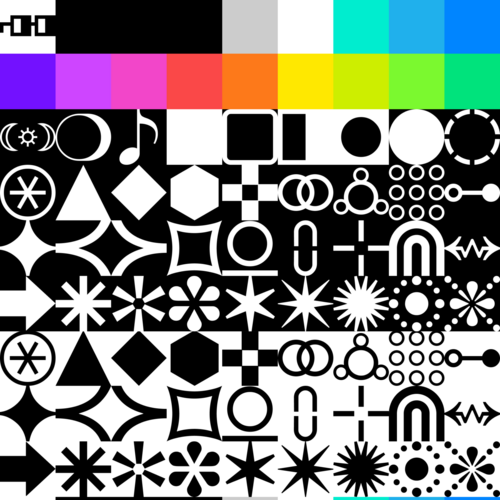 Token Stats
113 Unique Holders | 254 Total Supply | 44.49% Unique Holders Ratio
10-day Average - Auction Price: 0.11 ETH | # of Bids: 1.55 | Unique Bidders: 1.45
For regular updates, follow the Nouns Builder DAO Bot on Twitter or Farcaster.
Proposals
Passed
Built on Builder
This week's featured DAO built on the Builder protocol is bitNouns. bitNouns are an expansion DAO based on Lil Nouns DAO, with the aim of exposing more people to Lil Nouns and in turn Nouns DAO. It provides an extremely low barrier of entry into NFTs and the Nounish ecosystem and provides users with the opportunity to learn how Nounish governance works over at Nouns101.wtf.
Website and auctions: https://www.bitnouns.wtf/
Discord: https://discord.gg/lilnouns