Source: https://www.chaingpt.org/blog/cgpt-community-burn-event
---
The Proposal has been passed;
The Results are in,
$CGPT Community Burn Event shall begin.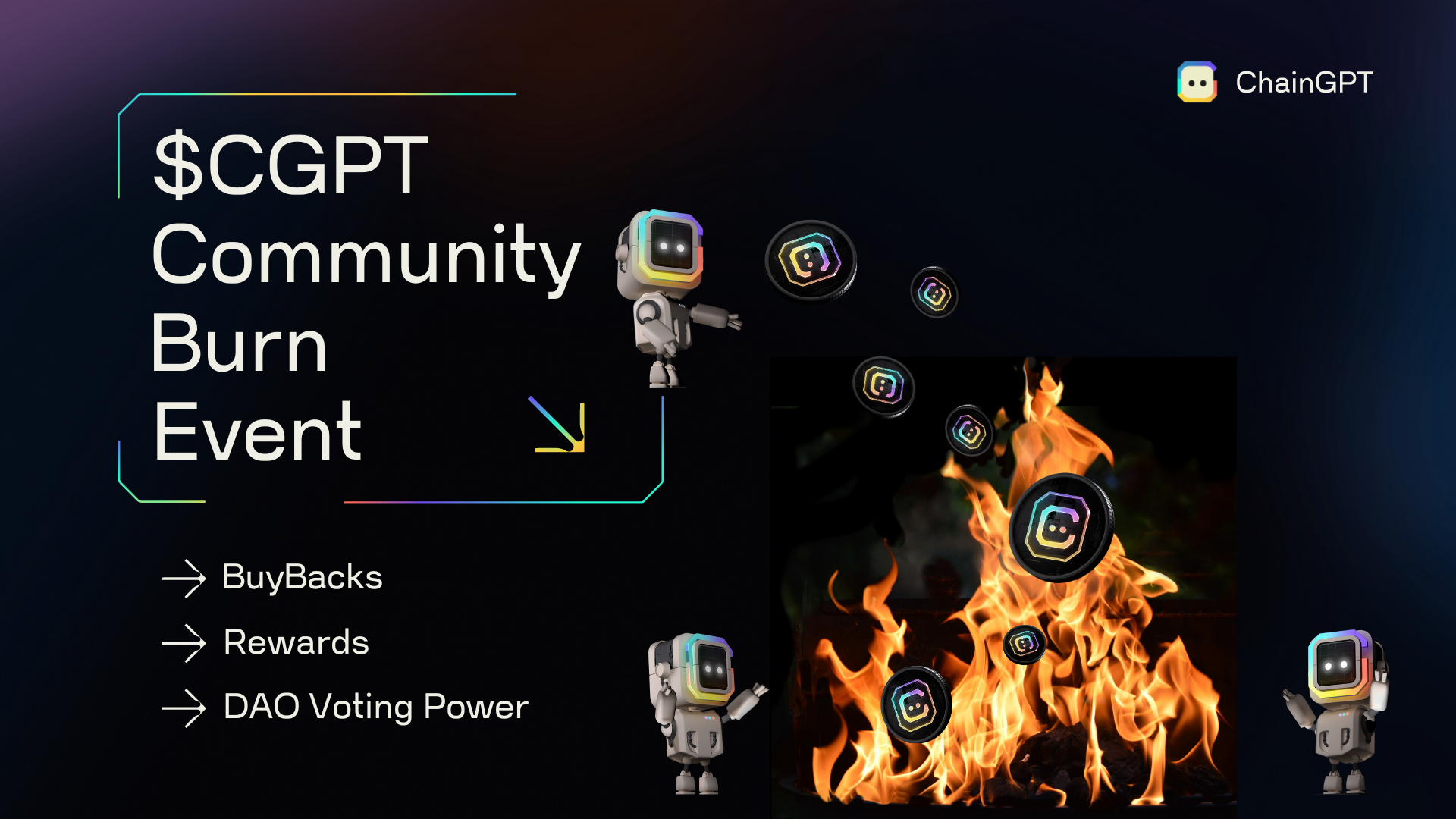 Last week, the ChainGPT DAO was presented with a proposal to engage the Community in a Burn event. Voting began on May 20th and continued until the 27th. Members were given four (4) options to choose from including a no burn, a 150,000 $CGPT burn, a 300,000 $CGPT burn, and the maximum cap of a 600,000 $CGPT burn. After a week of voting took place, by a landslide victory of over 57%, the community selected to opt for the maximum burn.
🔥 Burners, start your engines and join the ceremony here 🔥
Specifications
📅 Starting on May 29, 2023
📅 Ending on June 12, 2023
⏳ Duration: 14 days
🔥 Burn Limit: 600,000 $CGPT
🏦 Treasury Commitment Match: 20% / 150,000 $CGPT
💰 Buyback Allocation: $20,000
💸 Reward Pool: $12,000 in $CGPT
The Buyback
The ChainGPT treasury has allocated up to $20,000 USDT for purposes of matching the community's contributions and buying back $CGPT tokens from the open markets and burning them!
After the event closes, and the final burn tally is recorded, ChainGPT will go to exchanges where $CGPT is listed and buy back up to 20% (or 150,000 tokens) of the community's total burn.
Participation Rewards
ChainGPT has constructed a participation prize pool consisting of rewards for 13 participants: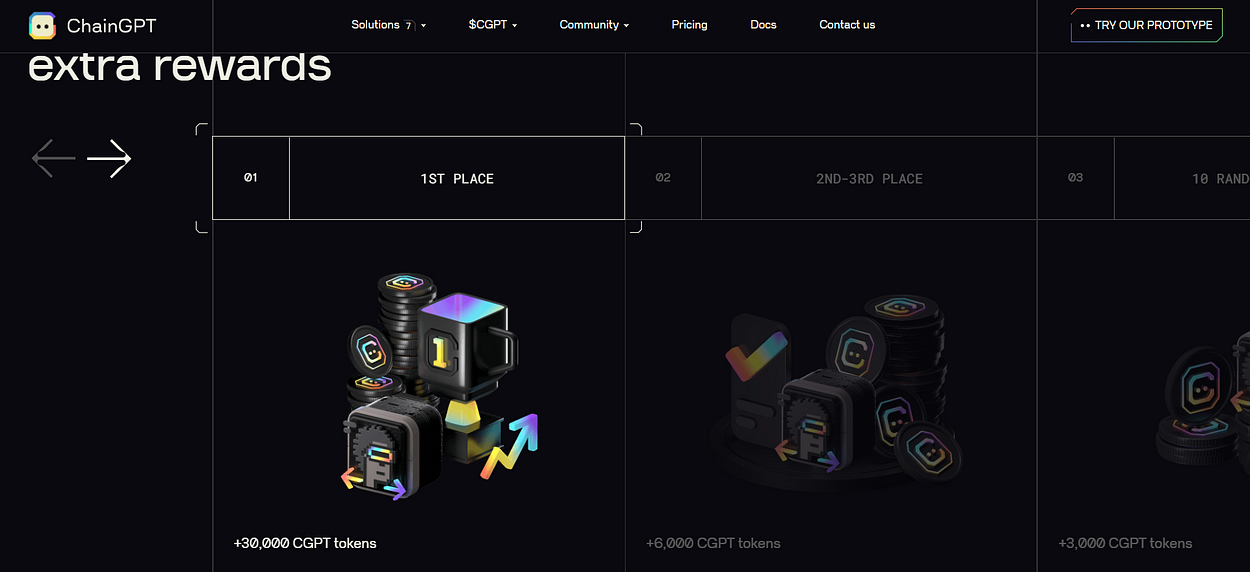 #1 Burner — 30,000 $CGPT + 2x voting power boost for 90 days + five (5) limited edition NFTs.

#2 Burner — 6,000 $CGPT + 2x voting power boost for 30 days + two (2) limited edition NFTs.

#3 Burner — 6,000 $CGPT + 2x voting power boost for 30 days + two (2) limited edition NFTs.

10 random burners —3,000 $CGPT each with odds based on contribution + one (1) limited edition NFTs.
Burn Tracker
To signify this momentous event taking place, ChainGPT has purpose-built a Burn Tracker to serve as an analytic dashboard and participation interface.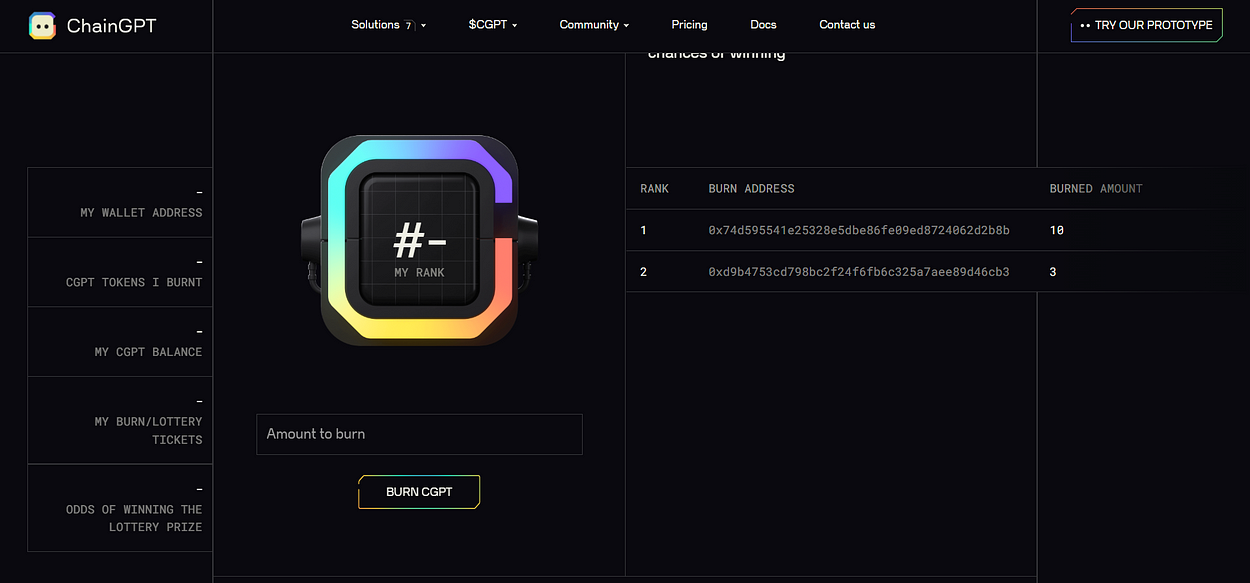 In the dashboard, users are able to track their personal contributions as well as the global state of community activity taking place. Metrics including the total amount burned, the remaining burn allotment, the individual chances of successfully claiming rewards, the leaderboard, and burn ticket count, among other things will all be made available via the Burn Tracker.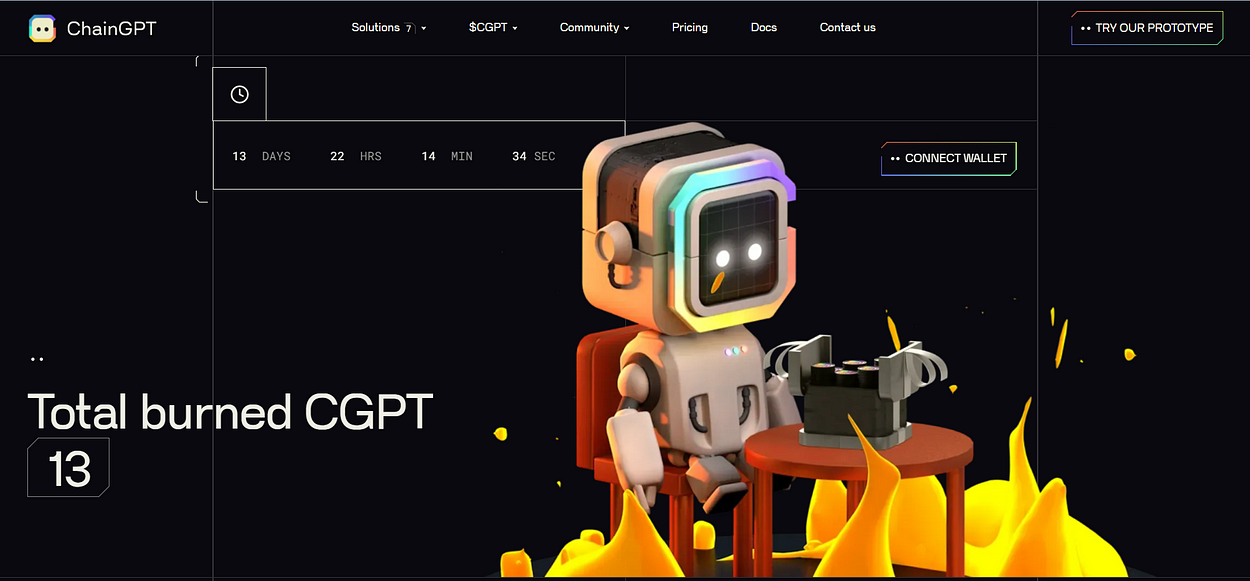 🔥 Burners, start your engines and join the ceremony here 🔥
---
Resources:
🌐 Website | 📧 Contact| 🤖 Brand | 📃 Whitepaper
Connect with us and Join the community:
Twitter | Telegram | Discord | Instagram | LinkedIn | Youtube | TikTok
#chaingpt
#cgpt
#burn
#crypto
#cryptocurrency
#web3
#blockchain
#ai
#artificial intelligence