Every time I saw welter.eth Farcaster user stats I was thinking:
We can do better. We can go beyond the traditional audience-type data you see on every social media tool. The type of data that makes us focus on ourselves and harness more and more followers for us instead of thinking about the ecosystem. We have interaction data. That should be the basis for Farcaster stats!
Alas, my devs skills are paltry to my data science skills. The goal was to run some quick stats to see if it makes sense. If someone wants to integrate it into their site or work together, DM me.

I picked 3 metrics: Tribes, Leadership score, and Neighborhood density.
Tribes puts people in a cluster based on their interaction. The idea behind this algorithm is that if you are part of a tribe, you'll be speaking more often with other tribe members than with members of other tribes. For those into Network States, that's your different shades of grey.
Leadership score has nothing to do with your role. I don't care what is written in your profile, especially with the rise of teapots. This score is a proxy measure of how good you are at facilitating communication and relationships. No matter how good you are at building stuff, at one point you need to lift your head and talk with people. You can read more about what this role means for communities here.
Neighborhood density is an experimental score measuring the level of interconnection between your connection. The higher the score, the denser your neighborhood, the more your connections are talking with each other. It's a step towards Structural Holes, a predictor of good ideas according to Professor Ronald Burt.
Farcaster Network
This analysis is building on Rafael and woj.eth work (I owe Rafael a drink as I forgot to add his name). Getting a somewhat clean dataset was a gamechanger. Thanks 🙏 The data is from 2023-07-27. The data is follower data which is less interesting than casting data. But for a PoC it will work.
I knew that drawing a graph with 500 nodes is gonna be useless. It's a grey mess. For those who don't believe me, here is the grey mess. Nodes are Farcasters. The color is their Tribe and the size their Leadership score. You can notice two things:
First, the purple Tribe likes to hang out together, whereas the other are mixing. By the way, the color was picked randomly. No idea if this is THE Purple.
Second, blue tribe has more leaders!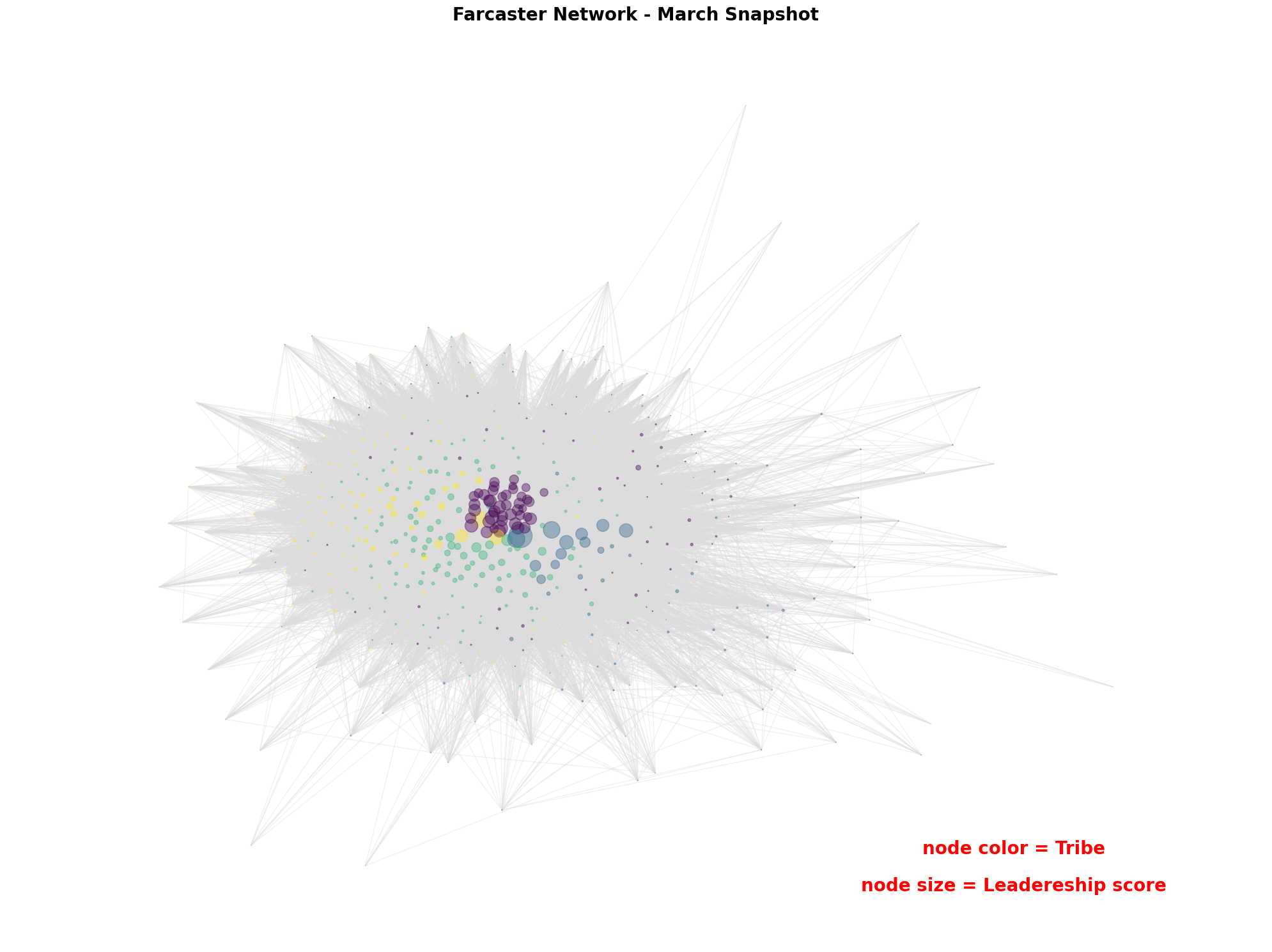 To reduce the grey mess into something of a better picture aka a graph where patterns are more visible, I did a degree analysis (graph at the bottom of the article if you care to see). There is somewhat of an inflection point around 30 degrees. Deleting every Farcaster with less than 30 edges, we get this graph (I haven't hard-coded the colors. What was purple is now blue...)
Do we learn something else from this network graph? I'd say no. Network graphs are network candy. Sweet to look at but no nutritional value. At least not at that resolution. Getting a graph for a specific person or for a channel, or an co-membership graph between channels (nodes = channels, edges = number of members who are part of both channels) would be more interesting.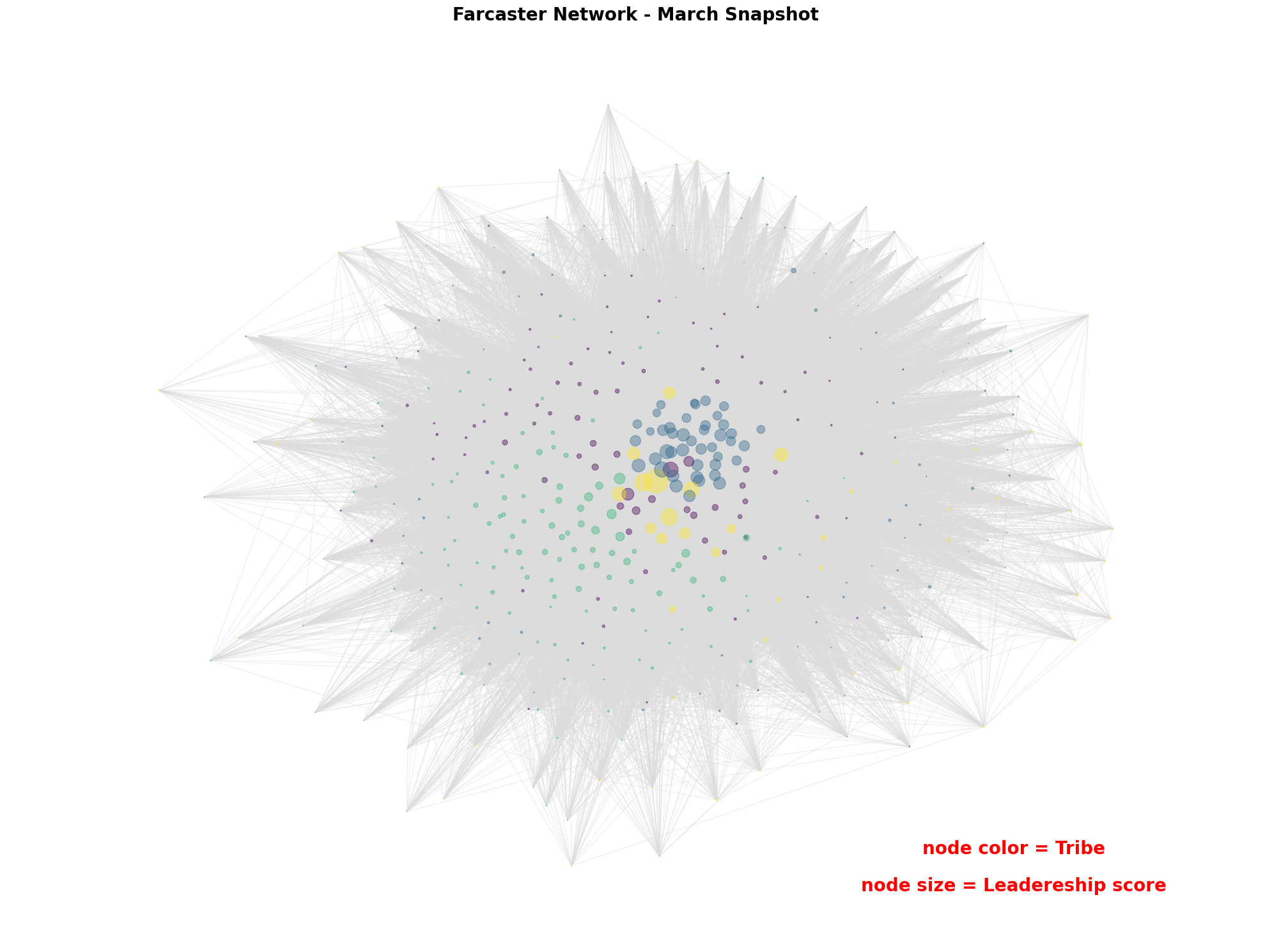 Where do we go from here? User stats! Here are the top ten for leadership and neighborhood density. I've added their tribe number in parentheses. Full dataset is here. Github here.
Top Leadership score:
ccarella.eth (4)

fid 5650 (4),

fid 5181

moei (2)

j4ck.eth (1)

fid 617 (4)

salvino (2)

fid 14869 (4)

fid 1918 (4)

fid 1214 (2)
Bottom Neighborhood density:
ok, why bottom and not top you might wonder? Two reason: First, top where a bunch of people for which I didn't have the usernames. So not interesting to look at. Second, the lower your density the more diverse your connection. If everyone follows everyone, everyone will have a high neighborhood density.
ccarella.eth (4)

fid 1918 (4)

fid 5085 (4)

moei (2)

fid 617 (4)

j4ck.eth (1)

fid 5650 (4)

salvino (2)

whatrocks (2)

fid 1214 (2)

winstonlach (2)
Thanks for reading until the end. To develop this further, I would love to know what is your goal with using Farcaster?

Density Analysis - for those who like to have more data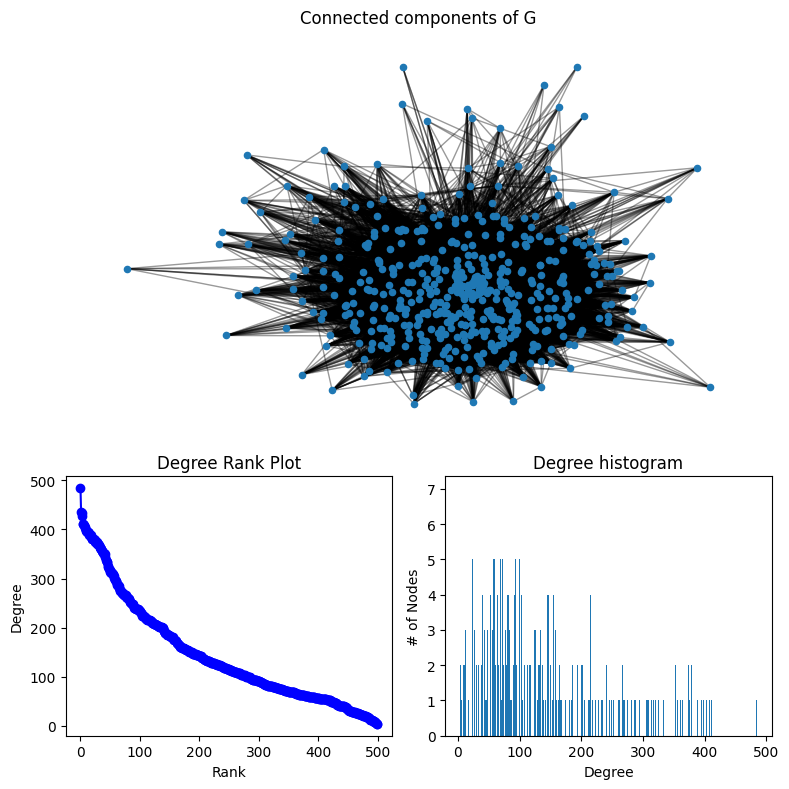 Collect this post to permanently own it.
Subscribe to The Cheshire Cat and never miss a post.
#social networks
#farcaster