Drumrolls 🥁
Guess who is new in town? 🤔
Community 3.0 🎉🎉🎉 
A brand new initiative by The Community Folks and OGClubDAO 
That will convey all things Community Management in the Web3 ecosystem
Congratulation, you are the First Edition Member 🎊
Take Pride, and thank you for joining us.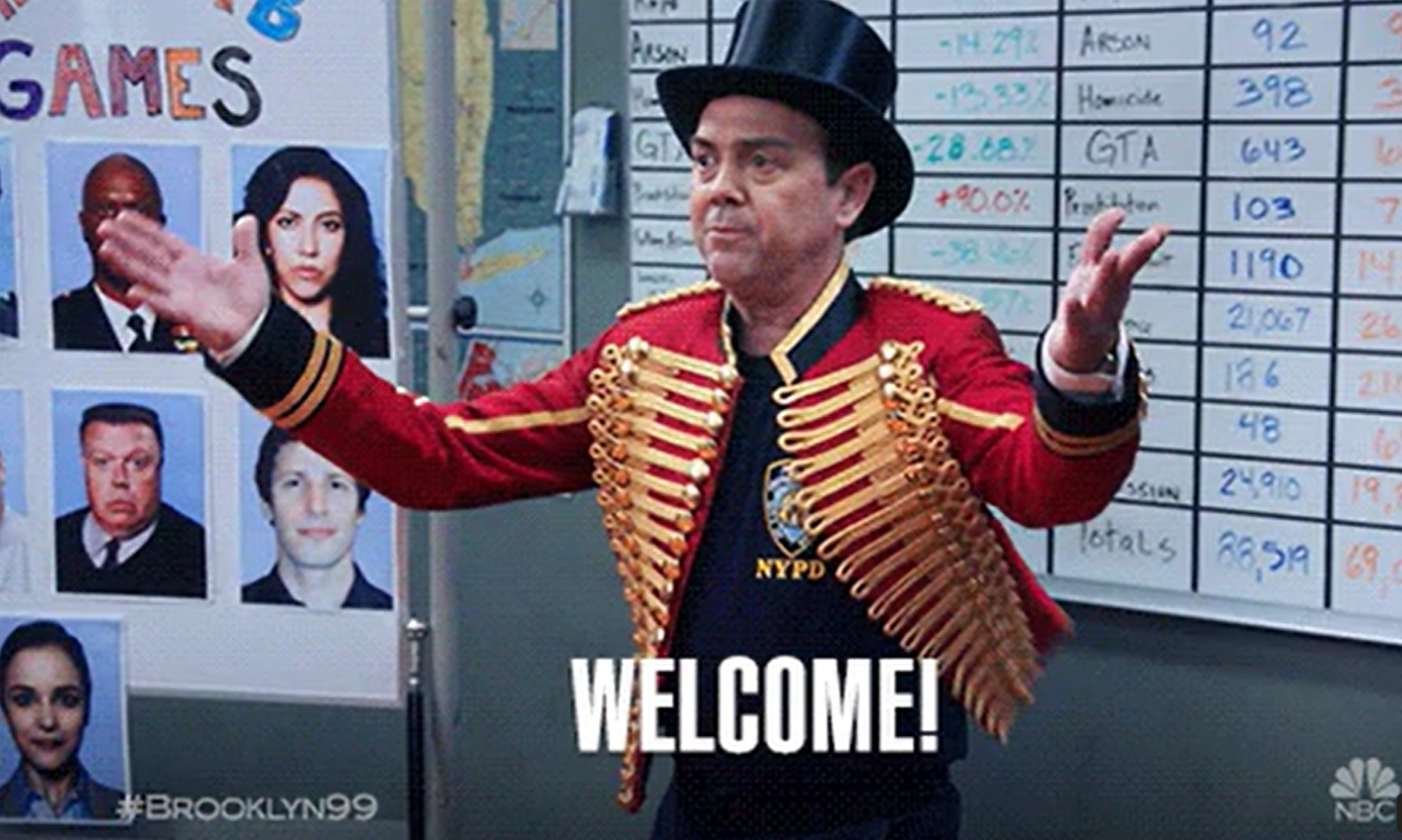 Are you ready to hop onto a new adventure in Web3? 
Then let's get started! 😊

Before we proceed, let's take a moment to spread the love and share the news about Community 3.0 with those who need to know. 

Community 3.0 Newsletter is a biweekly newsletter that will land in your inbox every two weeks. 
Community 3.0 Watch out 👀 is for upcoming events and activities in the community.
Community 3.0 Flash 🔦🔙 is for showcasing glimpses of past events.
Community 3.0 Blog ✍️ is for highlighting content-rich Community Building and Management Stuff. 
Community 3.0 Threads 🧵 a space for all the insightful community threads born from Twitter. 
Community 3.0 Podcast 🔊 is where we talk with community managers and devrels to understand more about the role in the Web3 ecosystem.
Community 3.0 Watch out 👀
Planning & Hosting Unforgettable Events in Web3
The Community Folks is resuming the weekly Community 3.0 Twitter Space. We will discuss Planning & Hosting Unforgettable Events in Web3 with speakers Simarpreet Singh, Sanket Panda, and Kanishk Khurana having experience and involved in organizing events in the Web3 ecosystem. 
Tune in and listen to the space here.
For the past 6 weeks, we have conducted six more Twitter spaces revolving around community management in the Web3 ecosystem. You can access all the recordings from our official Community 3.0 page. Here are our speakers who addressed all the twitter spaces.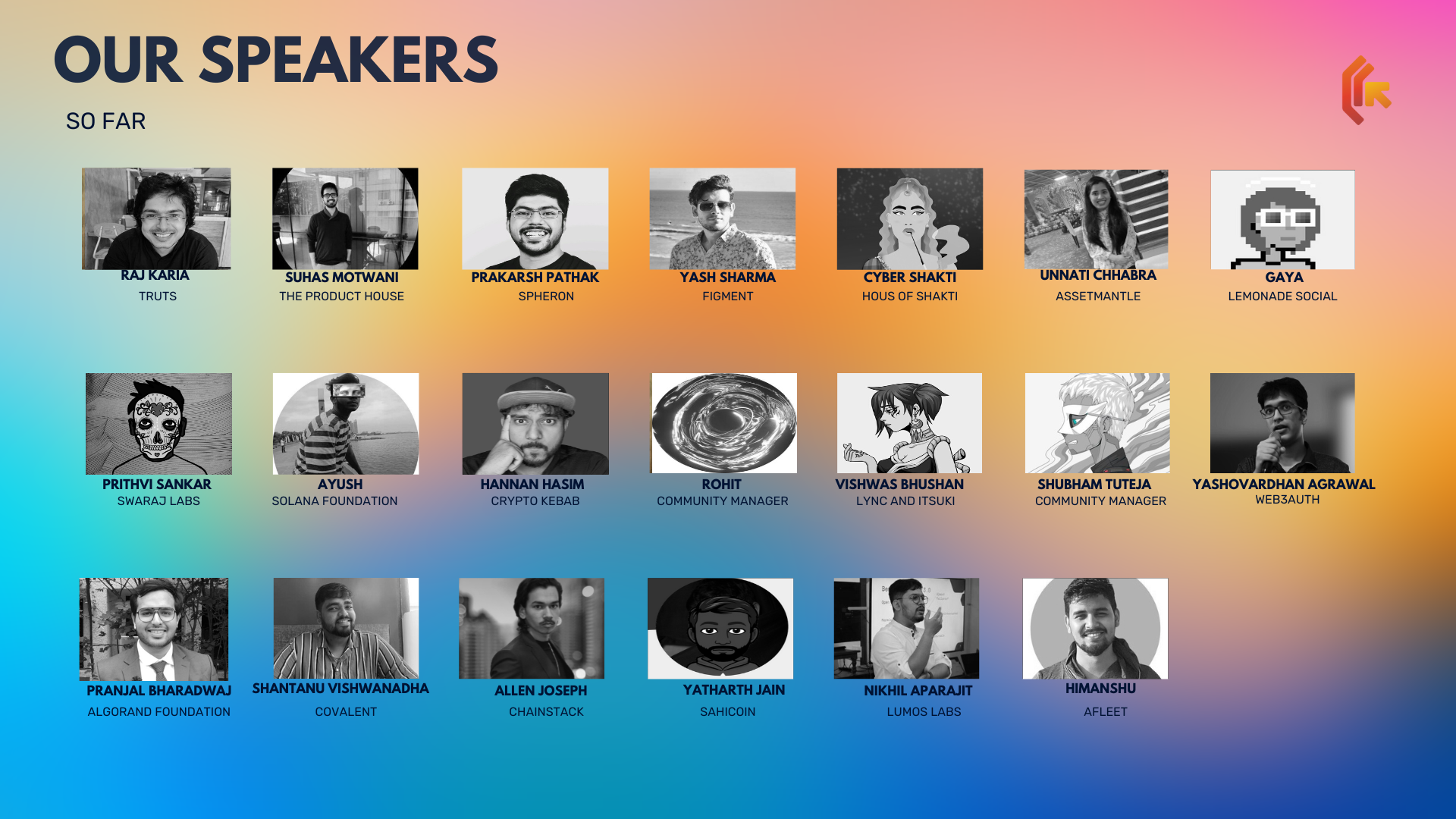 Community 3.0_IRL Mumbai
Our upcoming Community3.0_IRL is happening in Mumbai 🚇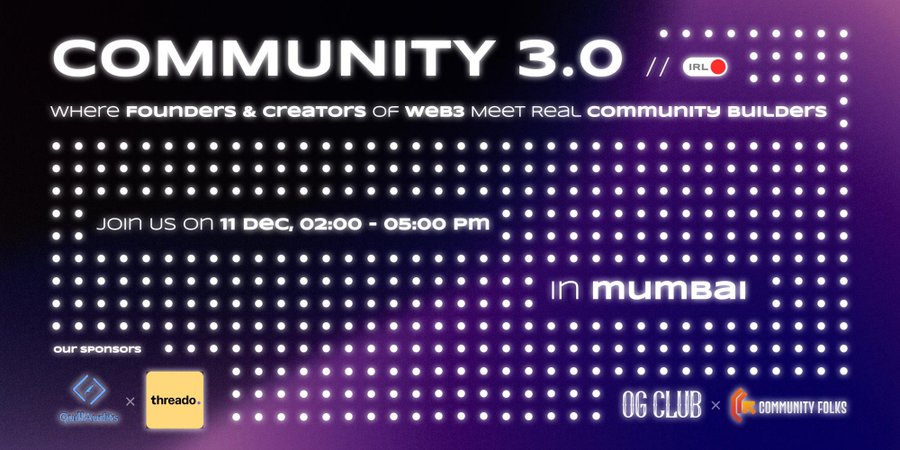 Register here.
Join us on 11th December at 2 pm to learn and network with community folks. ⌚
Huge shoutout to our partner OGClubDAO and sponsors QuillAudits and ThreadoHQ for supporting the meetup 👏
Community 3.0 Flash🔦🔙
✨ Community 3.0_IRL in Bangalore ✨
The community 3.0 meetup for the Community Builder's Tribe in Bangalore was an EPIC success. Community 3.0 is an initiative by Community Folks in collaboration with OGClubDAO.
The meetup was supported by Twilio, ThreadoHQ, Trikon, QuillAudits, and Recorem. 
Huge shoutout to the sponsors who collaborated with us and led the success of the meetup.
Here are the glimpses of the meetup.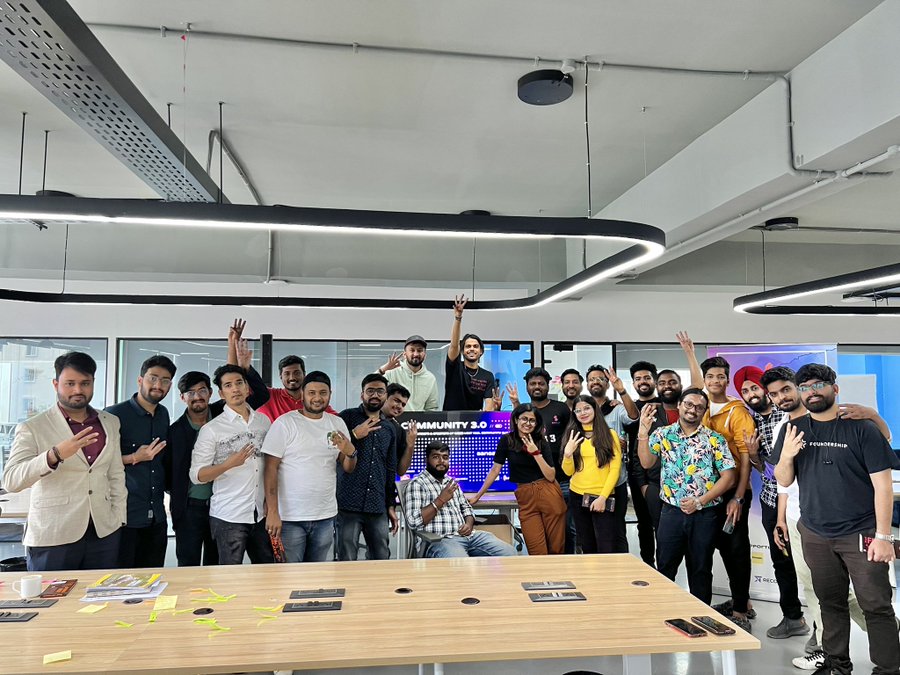 You can access the entire photo dump of the BLR and Delhi meetup here. 
Winners of Community 3.0 Giveaway 🎁
We launched our first giveaway under the Community 3.0 banner on 3rd December. Our Community Builder Paras Pundir 👑 had announced a giveaway of two cool community t-shirts. 
Yesterday we declared the results. Huge shoutout to SujalJethwani and Insharamin ❣️
Much gratitude to all the folks who participated and showered a massive response to the giveaway.☺️ Keep supporting we will have more such activities and events. 🤩
Community 3.0 Blogs✍️
How to manage a Web3 Community? By Het Dagli is a content-pack resource for starting a community from scratch in the Web3 space. 

Formalizing Your Web3 Community Governance Structure is a step-by-step guide for implementing the governance board in a Web3 Community.

Landing your First Job in Web3 Communities | By Community 3.0 a blog post of the first Twitter space under Community 3.0 where the speakers gave their valuable insights about the role of Community Manager and Developer Relations in Web3 Communities. 

Community 3.0 Threads🧵
Call to Connection…⏭️
Are you looking for a role in Web3 in the Community Management industry? 
Then your search ends here. 
The Community Folks is running an amazing Hiring Program for Community enthusiasts and builders. Have a look at our official portal and get in touch with the team. 
Community 3.0 is the start for all things community management in Web3 World. We aim to curate the best knowledge base for all those builders and community people who love community chaos.
To stay updated with all our work check: https://bit.ly/Community_ThreePointZero 
Give us a follow on Twitter to get regular updates every day. Share this Newsletter with your network involved in Web3 communities.
That is it for the first edition. Stay tuned for the upcoming conversation. It will be full of insightful Community Management STUFF.
LFG 🚀
Until next time 👋
Paras Pundir from Community 3.0
Subscribe to Community 3.0 and never miss a post.