Welcome to the third edition of Web3 Game Review, where I share my unbiased analysis on Web3 games, from a retail investor / gamer's perspective.
Our template will be as follows:
📝 Overview (Gameplay and Lore)
👨‍👨‍👦‍👦 Founding Team
🤝 Advisors and Partners
📈 Tokenomics
🛣 Roadmap
🐂 Why I'm bullish
Disclaimer: For educational purposes only. Nothing in this article is financial advise. Invest at your own risk!
Overview
Gameplay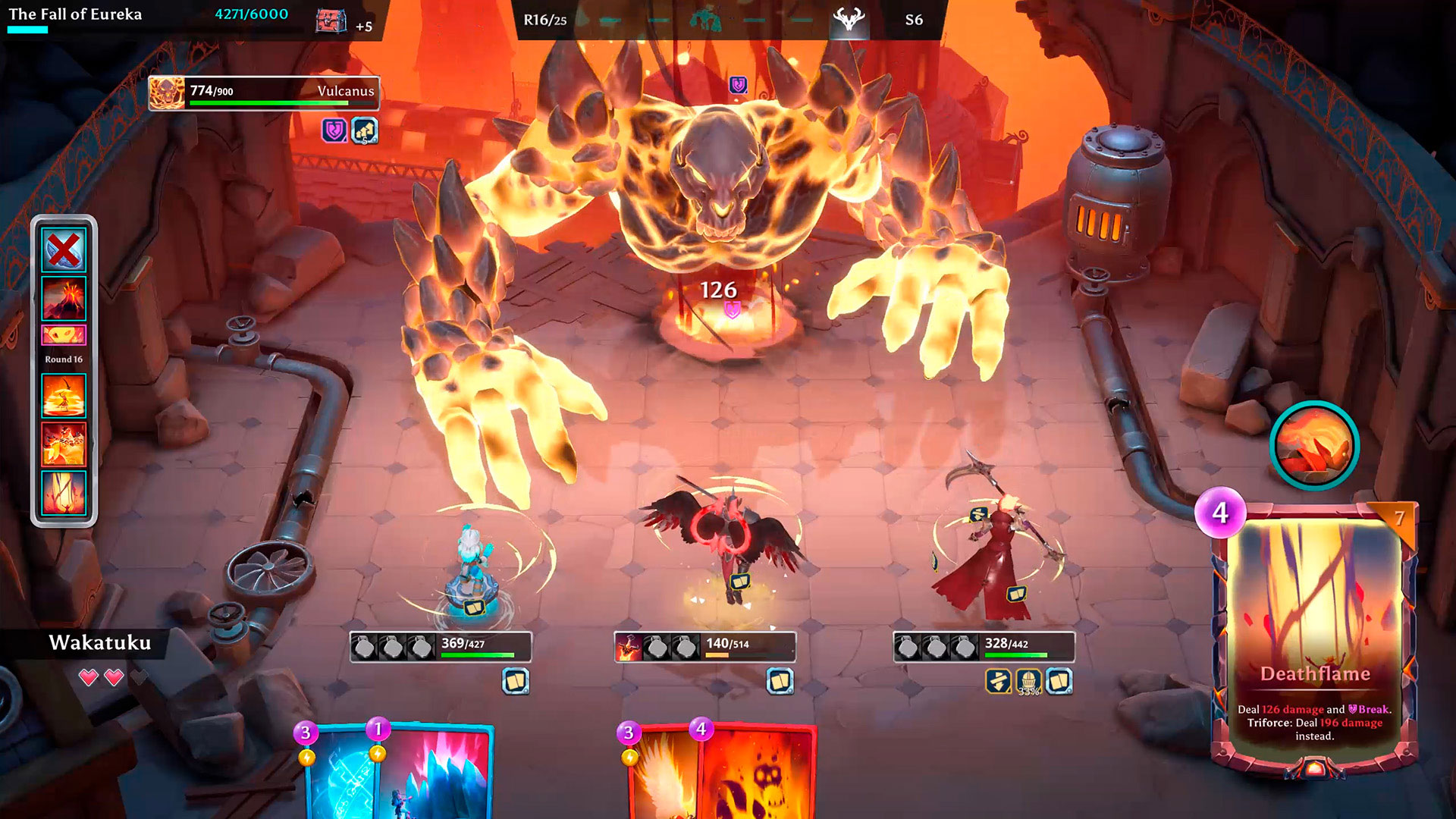 Elemental Raiders is a turn-based role-playing strategy game where players assemble a team of three heroes to compete against other players in a PvP Arena and fight powerful monsters in a PvE scenario.
The game implements a unique play-to-earn economy where rewards are distributed back to the players in a fair and self-sustainable environment.

Lore
Players choose beween 3 hero types: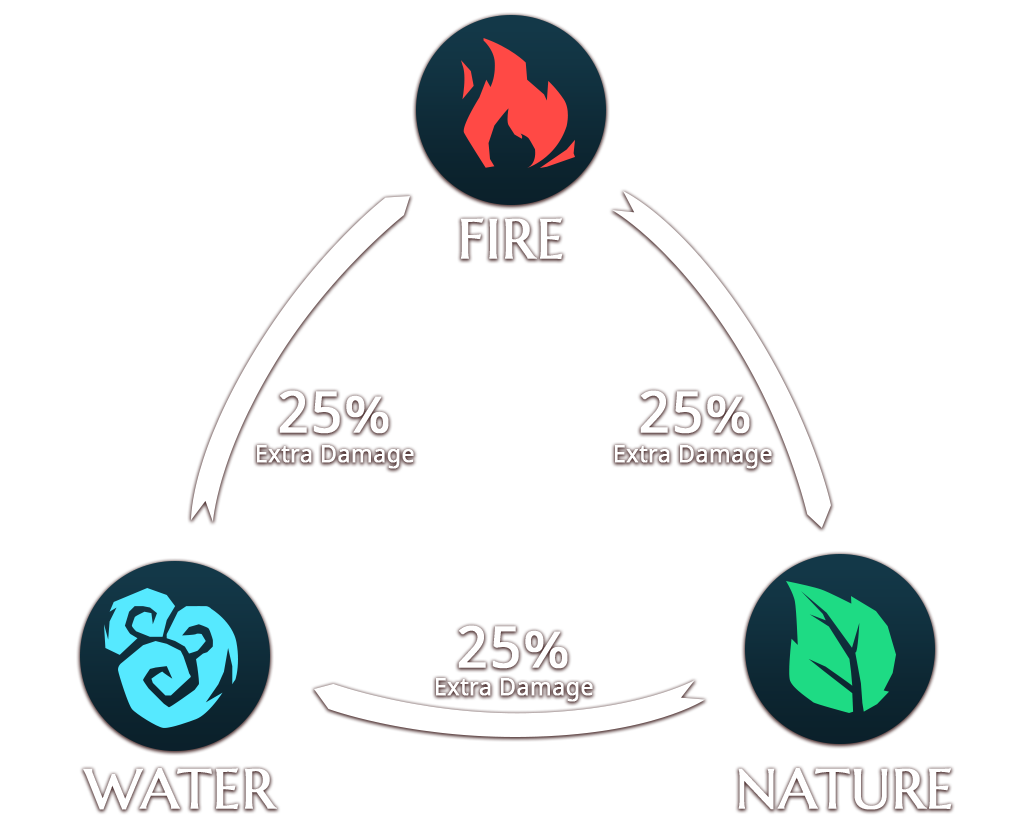 Water Heroes
- Water Magus Ran
- Reef the Tide Warrior
- Takeda, the Wanderer Samurai
Fire Heroes
- Igniel, Archangel of Patience
- Giovanna, Lady Reaper
- Servius, Chainbreaker
Nature Heroes
- Freyana, the Salamandria's Oracle
- Kong, the Monkey King
- Slothy & Quickens
G4AL Chain
Elemental Raiders is the first game that will be launched in the G4AL chain, a permissioned Layer 1 blockchain with a PoA consensus focusing on delivering enhanced security, scalability, and sustainability. Key features of the chain include:
- Frictionless and Secure Access: 2FA rather than private and public keys to prevent bots
- Ledger Transparency: Published block ledger available for the community to download
- Efficient Validation: RPC Validator running on a Google Cloud Infrastructure based on Kubernetes (99.95% uptime and SLA)
- Interoperability: Inter-Blockchain Communication protocol
- Smart Contracts: SDK using C# programming language native for game developers = can build w/out blockchain experience
Web3 game tools containing essential game service tools compatible with G4AL Chain and Marketplace:
- Developer Portal: Admin tools and dashboard
- User Authentication: Streamlined 2FA
- Token and NFT Creation: Mint, launch and track NFTs easily
- Game Analytics: Games as a Service design
- Live Events: Management, reminders via push notifications
Founding Team
Games 4 A Living (G4AL)
A studio based in Barcelona with a combined 125 years of experience in entrepreneurship, video games, and new technologies from the management team.
LinkedIn: https://www.linkedin.com/company/g4al/
Manel Sort, CEO
- General Manager and Vice President of King Studio (created Candy Crush: 3 billion downloads)
- 20+ years experience as a video game developer, producer, and CEO of companies in the video game industry
- Over $1B EBITDA generated from 60+ games released on all major platforms (PC, Xbox, PS2, Mobile)
LinkedIn: https://www.linkedin.com/in/manelsort/
Javier Leon, Art Director
- 26 years experience as a CGI specialist and art director in video game and special effect studios (Europe & US)
- Nominated for an Emmy (title credits of Netflix series The Crown)
- One of the 200 Best International Digital Artists
LinkedIn: https://www.linkedin.com/in/javier-leon-carrillo-b7224043/
Christian Gascons and Marc Tormo, COO & CCO
- Ex-Blizzard Entertainment, solid background in video games in large companies
LinkedIn: https://www.linkedin.com/in/christian-gascons-6786b622/
https://www.linkedin.com/in/marc-tormo-21628043/
Advisors and Partners
The main partners are Nuclio, CarlosBlanco, Inveready and Bonsai Partners.
Tokenomics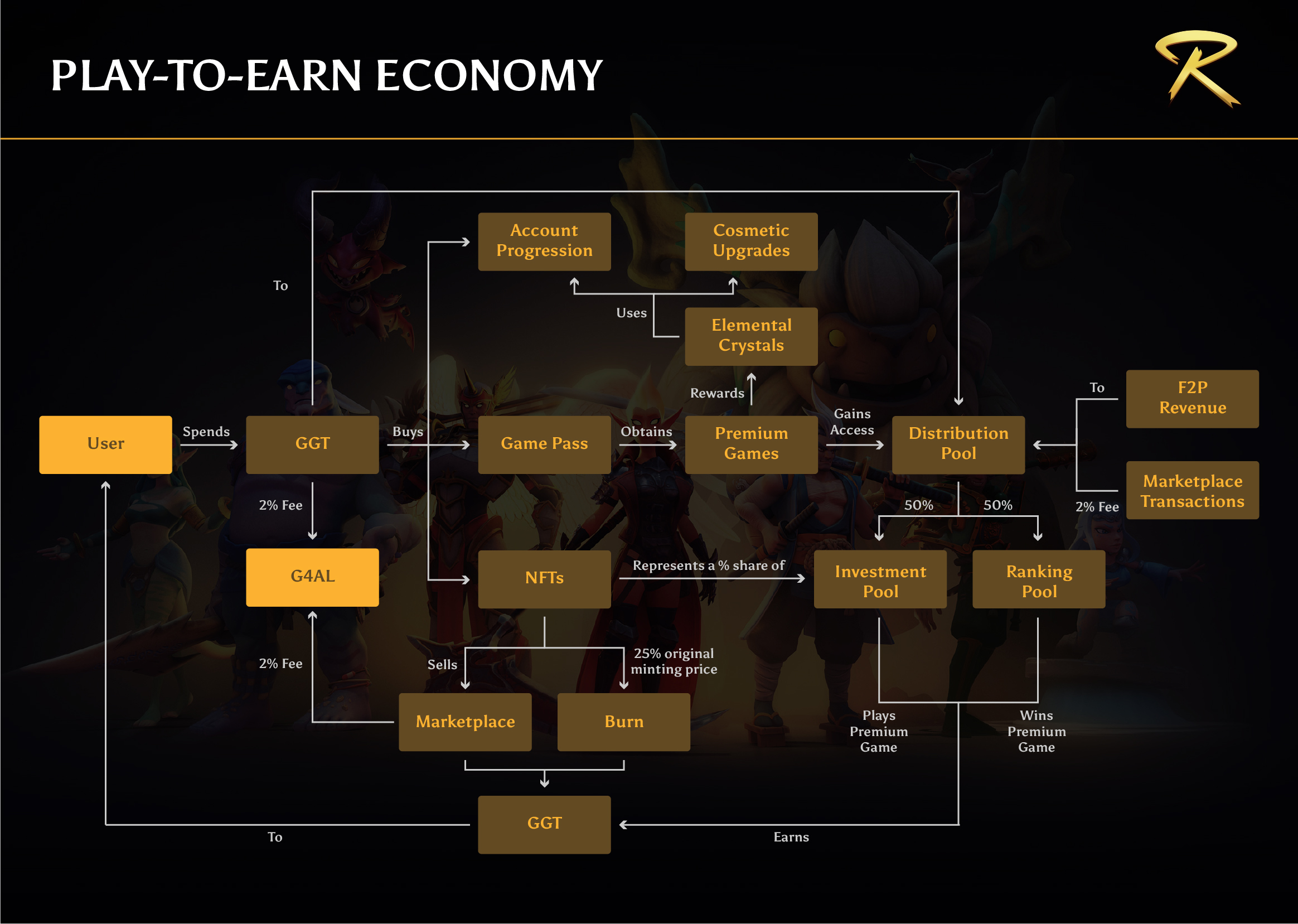 A 2% fee is charged by G4AL for all trades in the shop and marketplace.
An active game pass (30 day subscription) is required to be able to receive daily distribution rewards:
- Premium games refilled daily
- Elemental crystals to increase cosmetic skill levels
- Chests to level up skills
- Season exclusive NFT skins
Premium Game Rewards (PVP Arena):
- Win: EC and $GGT
- Lose: EC

There are two currencies available:
Game Gold Token $GGT
- Native currency and utility token of G4AL network
- Game Pass with $GGT for play-to-earn status (30 days expiration)
- Minting, purchasing, bridging, and transferring of NFTs to other marketplaces, chains, and platforms
- Rewards at the end of each season
Elemental Crystals EC
- Premium currency
- To improve cosmetic levels of skills and purchase chests
- Earned by playing Arenas with an active Game Pass
Roadmap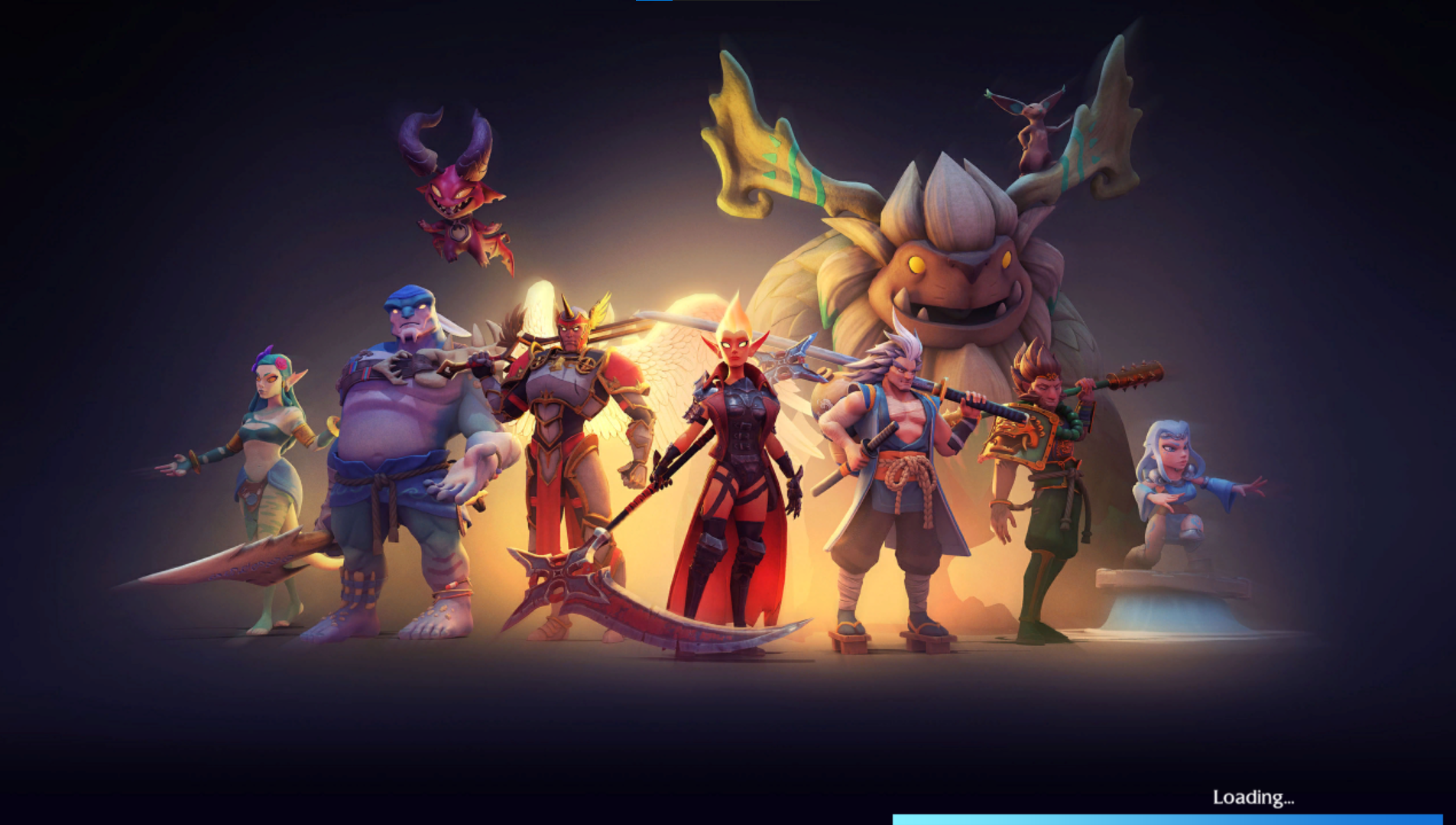 ✅ Q1 2022: Website, whitepaper, tokenomics, alpha
✅ Q2 2022: Elemental Raiders Beta, ICO Private Sale, Lightpaper
⬜ Q3 2022: ER PC Open Beta, Guild Partnerships, International PR
⬜ Q4 2022: ER Mobile & PC Release, ICO Public Launchpad Sale, Token Generation Event $GGT
⬜ Q1 2023: Diamond Dreams: Mobile & PC Alpha, G4AL Network promotion
Why I'm Bullish
Simple but engaging gameplay. The game is absolutely fun to play and very easy to learn. The progressions through each level are also challenging.
Experienced team. Having the man behind Candy Crush along with ex-Blizzard experts and other talented people in the video game and digital art industry makes the project highly likely to succeed because these are experienced and accomplished people, and they can execute.
Innovative approach. I like the idea of creating their own chain and focusing on mass adoption by making the user experience as seamless and secure as possible through the 2FA implementation.
Diverse set of tools for developers. The compatibility of the game service tools makes play-to-earn games easier and more efficient to market.
Playable demo / beta. The game is available to play at https://elementalraiders.com/
Twitter Thread
To know more about Elemental Raiders, you can reach out to them via the following links:
Twitter: https://twitter.com/g4al_eraiders
Discord: https://discord.gg/eraiders
Website: https://elementalraiders.com/
Whitepaper: https://whitepaper.elementalraiders.com/
For partnerships and collaborations, please reach out to me via any of the following channels:
Twitter: https://twitter.com/0xconglomerate
Discord: https://discordapp.com/users/998408827756093490
Portfolio: https://0xconglomerate.notion.site/Web3-Gaming-Portfolio-a73ebd01942840e0a04f7f7d0ca4ff70
#
#gaming
#cryptocurrency
#blockchain
#web3gaming
#nfts