Welcome to the fifth edition of Web3 Game Review, where I share my unbiased analysis on Web3 games, from a retail investor / gamer's perspective.
Our template will be as follows:
📝 Overview
👨‍👨‍👦‍👦 Founding Team
🤝 Advisors and Partners
📈 Tokenomics
🛣 Roadmap
🐂 Why I'm bullish
Disclaimer: For educational purposes only. Nothing in this article is financial advise. Invest at your own risk!
Overview
Gameplay
Undead Blocks is the world's first AAA kill-to-earn first person zombie shooter.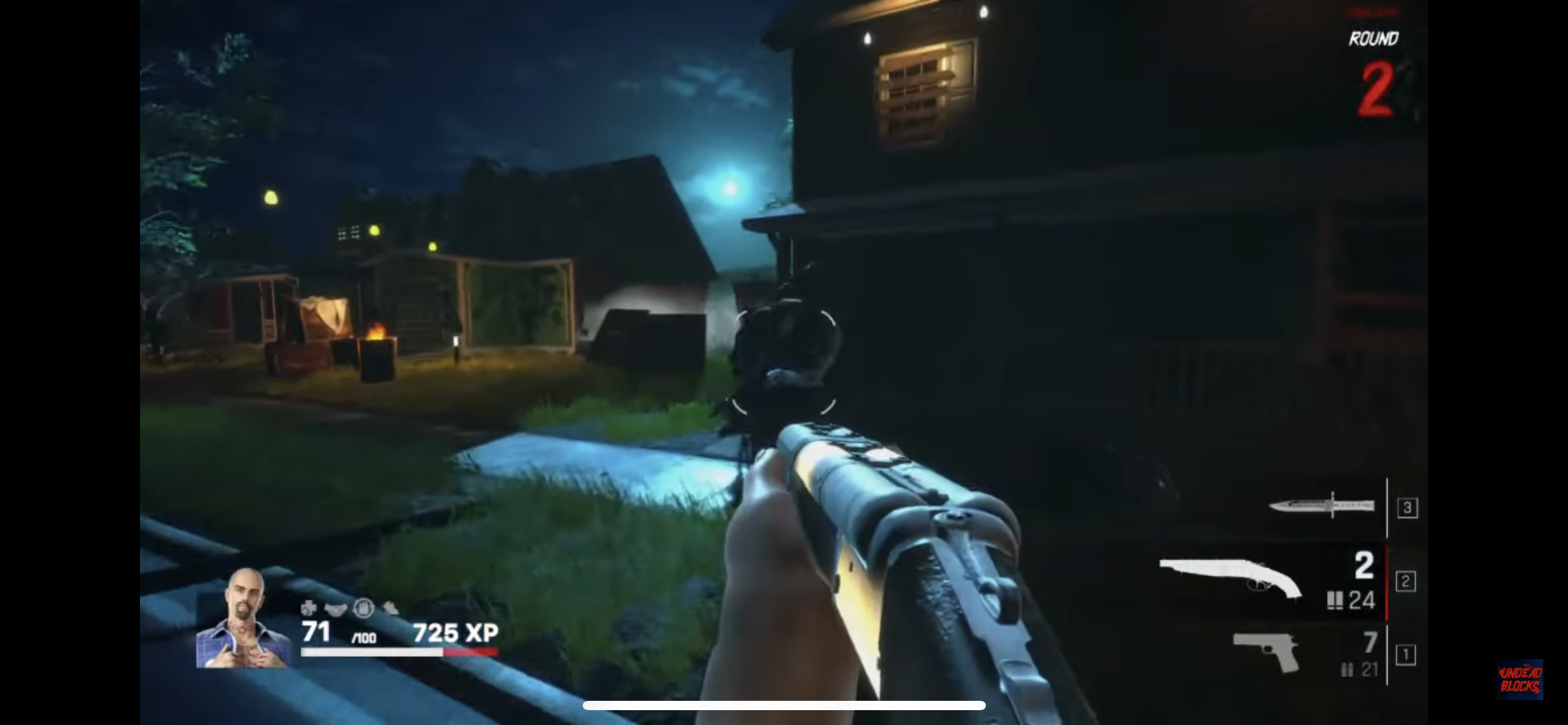 There are plenty of ways to earn rewards in the game:
- Killing zombies daily
- Boost earnings via Weapon Loadout NFTs
- Leaderboard incentives to earn Gold ZBUX
- Earn Standard ZBUX = level up Weapon Loadout NFT + build equity
A Wagyu Games account is required to start playing and earning. Once registered:
1. Look out for ZBOXs on the map containing ZBUX
2. Secure a Weapon Loadout to grant full access to the game and be eligible to earn Standard and Gold ZBUX at a faster rate
3. Enjoy other game modes like: Solo, Squads, and SpeedRunning, Massacre, and more

Players start the game with a weapon and a combat knife. The objective is to kill as many zombies as possible in all game modes (survival and speed based). Additional Weapon Loadout NFT can be found in random places in the map.
Each kill will grant the player corresponding XP which can be used to obtain: weapons, grenades, perks, doors.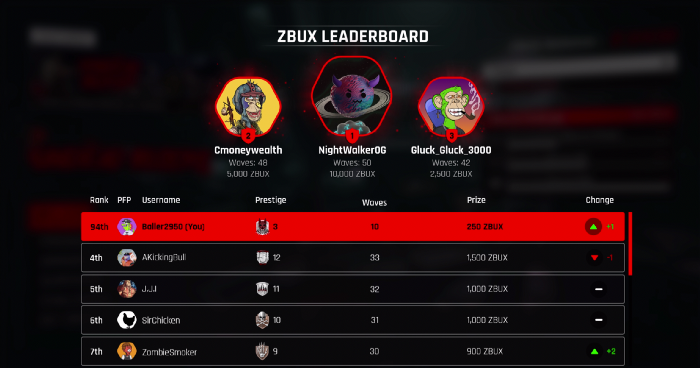 Loot Coffins
- Contain weapon or character skins that can be traded and sold on the secondary market
- Each NFT has a fixed limited supply = gets rarer over time
- Can be purchased with Gold ZBUX or $UNDEAD token (discounted)
Undead Blocks Genesis Collection - https://opensea.io/collection/undead-blocks-weapons
Undead Blocks Apocalypse Collection - https://opensea.io/collection/undead-blocks-apocalypse-weapons
Founding Team
Wagyu Games Studio
Founded in 2021, Wagyu Games is a mobile and web game development studio based in Vietnam leading the charge on Kill-To-Earn.
LinkedIn: https://www.linkedin.com/company/wagyu/about/
Kevuru Games
- Accomplished game development studio aith over 50+ accomplished projects for partners and own titles
- Clients include: Epic Games (Fortnite), Lucas Film Ltd. (Star Wars: Tales from the Galaxy's Edge), Say Games (Comics Bob), Nanobit (Taboo), BANDAI NAMCO, Electronic Arts, Foxnet Games, and more
Website: https://kevurugames.com
Grant H., Executive Director
- Vice President for M&T Bank in their FP&A group
- Analyst at Goldman Sachs (Securities Lending Division)
Isaac N., Head of Product
- UI Specialist
- Product and Player Experience
Michael B., Director of Analytics
- Actuary for multiple Fortune 100 insurance companies specializing in data analytics, data science and modeling
- Expert in economy pricing and collateralizing multi-billion dollar policyholder pools
Advisors and Partners
Notable investors include:
- Animoca Brands (leader in blockchain and gamification)
- Genblock Capital (blockchain VC since 2017)
- Exnetwork Capital (blockchain incubator since 2018)
- Double Peak Group (family-focused investments)

Tokenomics
$UNDEAD Token
- 500M max supply
- Initial circulating supply: 3% of max supply (15,000,000 UNDEAD)
- Play to Earn: 52%, Ecosystem Pool: 23%, Team: 20%, Initial Liquidity: 1%, Private Sale: 4%
$WAGYU Governance Token
- Voting rights
- For purchasing Loot Coffins
In-Game Rewards
- ZBUX: off-chain reward currency
Gold ZBUX: from ZBOX in-game rewards
Standard ZBUX: rewarded after every match, from loot boxes, giveaways

- $UNDEAD Token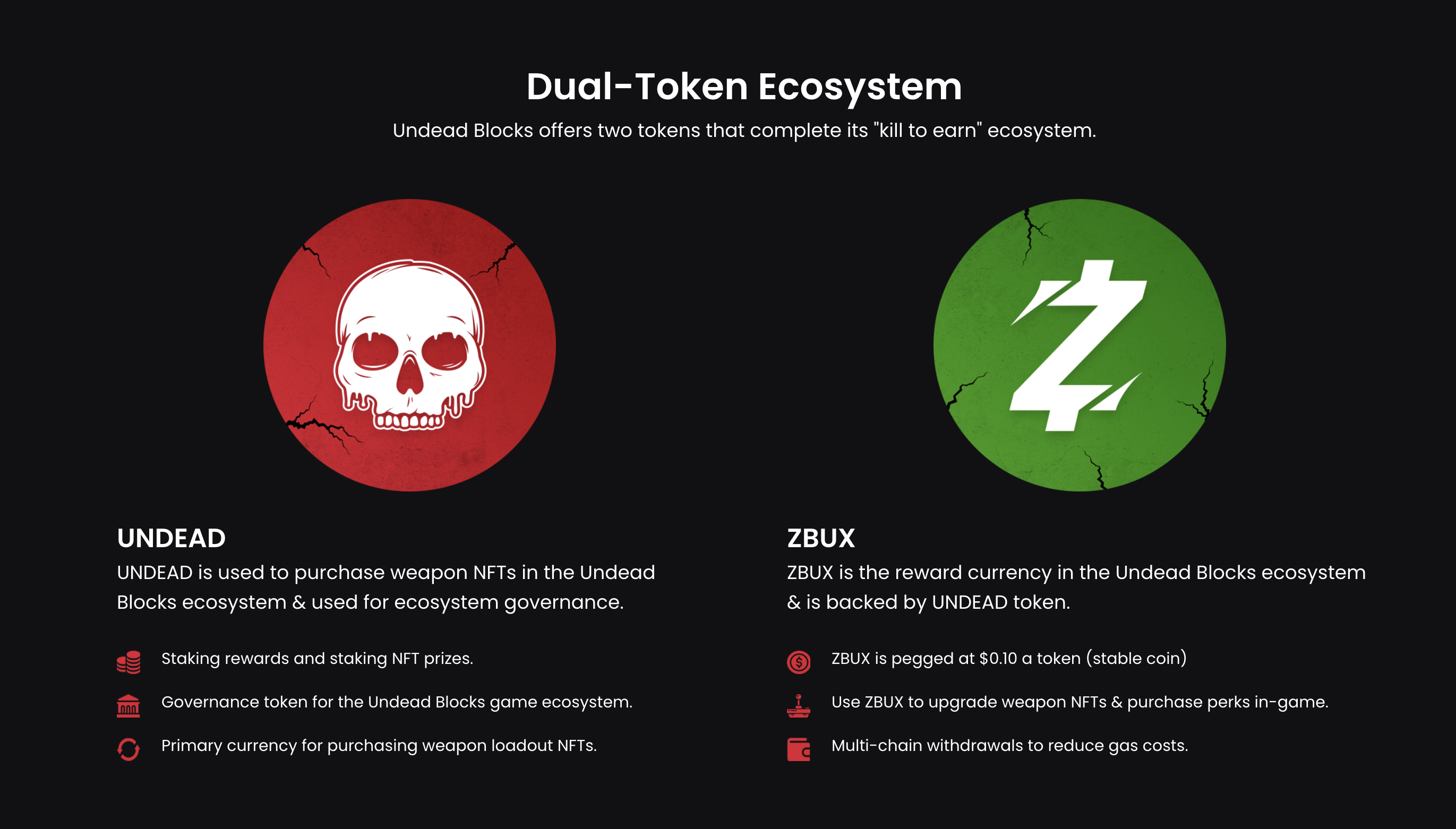 Roadmap
✅ Q1 2022: Genesis NFT Weapons Mint, Phase 1 Beta Bootcamp
✅ Q2 2022: $UNDEAD Token Launch, Phase 2 Beta Bootcamp, Public Beta Launch
✅ Q3 2022: $20K NFT Holder Competition, $10K Polkastarter Competition, Gamestop Wallet Integration
⬜ Q4 2022: Immutable x L2 Integration, Undead Blocks Multiplayer Beta, Start of Mobile Game Dev, Full Launch (PC & Mac)
⬜ 2023: Genesis NFT, private beta
Why I'm Bullish
Cross-platform availability. Undead Blocks can seamlessly integrate to a Playstation or Xbox controller either via a Bluetooth connection or a plug-in. The in-game icons are also tailored to adjust to the controller automatically.
Gas-free transactions. Thanks to IMX's scaling solution using ZK-rollups, players can enjoy gas-less transaction, making it easy for developers to scale transactions.
Fun ways to earn crypto with friends. Undead Blocks encourages players to team up with your friends to enter contests and earn crypto together (Squads mode). There are also Daily Leaderboard Challenges which incentivizes the top players of the game.
Good strategy to use cosmetic items to generate microtransactions (revenue). Weapon skins and character skins are used by players to show-off their status symbol in-game. This is also the best way to generate liquidity through the Loot Coffin sales.
Twitter Thread
To know more about Undead Blocks, you can reach out to them via the following links:
Twitter: https://twitter.com/UndeadBlocks
Discord: http://discord.gg/undeadblocks
Website: https://www.undeadblocks.com/
Whitepaper: https://undead-blocks-team.gitbook.io/undead-blocks-whitepaper/gameplay/introduction
For partnerships and collaborations, please reach out to me via any of the following channels:
Twitter: https://twitter.com/0xconglomerate
Discord: https://discordapp.com/users/998408827756093490
Portfolio: https://0xconglomerate.notion.site/Web3-Gaming-Portfolio-a73ebd01942840e0a04f7f7d0ca4ff70
#
#gaming
#cryptocurrency
#blockchain
#web3gaming
#nfts