Welcome to the sixth edition of Web3 Game Review, where I share my unbiased analysis on Web3 games, from a retail investor / gamer's perspective.
Our template will be as follows:
📝 Overview (Gameplay and Lore)
👨‍👨‍👦‍👦 Founding Team
🤝 Advisors and Partners
📈 Tokenomics
🛣 Roadmap
🐂 Why I'm bullish
Disclaimer: For educational purposes only. Nothing in this article is financial advise. Invest at your own risk!
Overview
Gameplay
The Sprawl is a Web3 sandbox 3D city that immerses players in a massive multiplayer metaverse simulating the real world. Players set their foot in The City as citizens, where they run the virtual economy in a persistent open world. The City is split into multiple Districts which are the player homes or community spaces governed by their corresponding District DAO.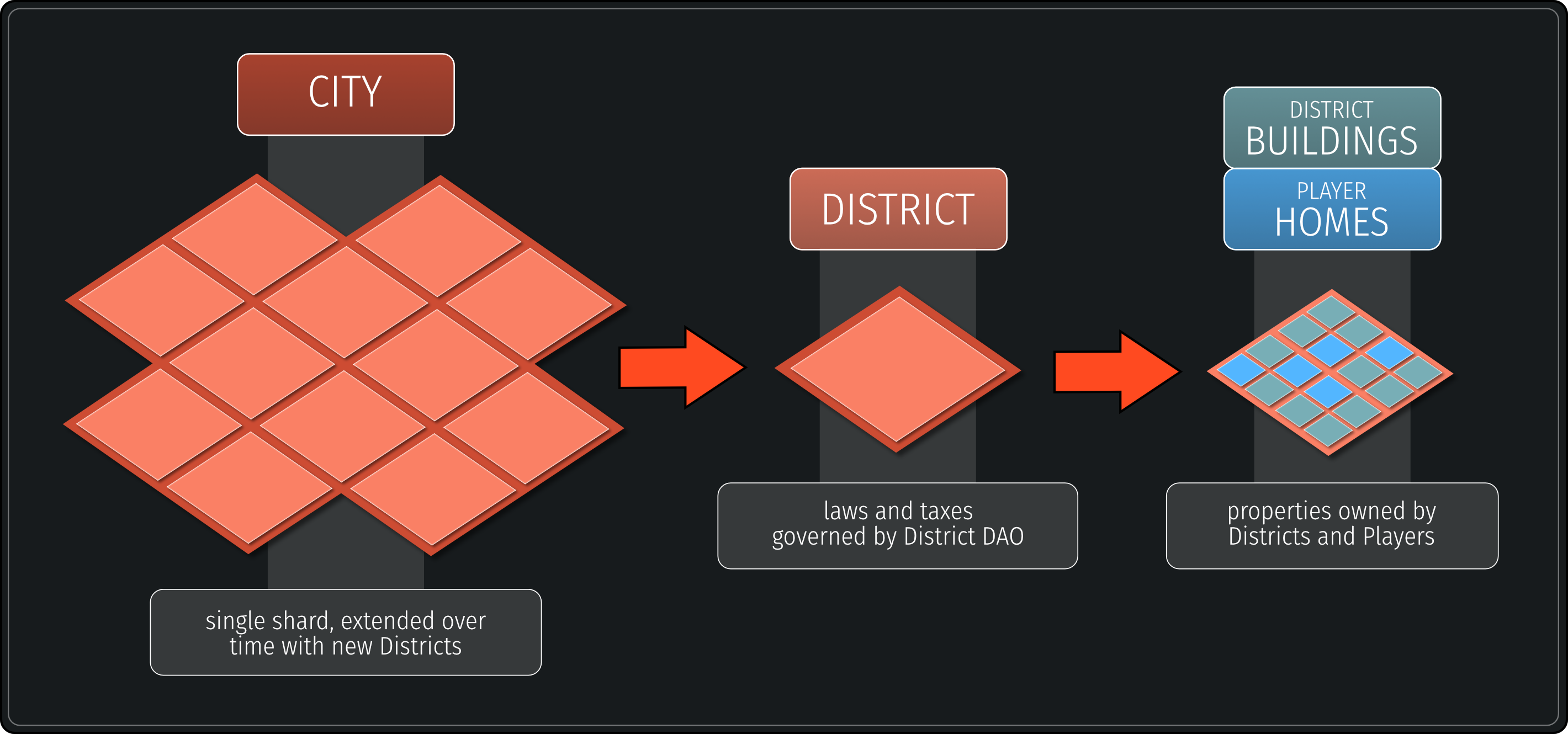 Each District has its own set of rules and regulations. The District Buildings handle the supply and demand of resources that go through the resource loop of a District Economy. These Buildings are in the form of NFTs, which posses a Prestige value. The aggregate value of the entire District's Buildings' Prestige value is called the District Prestige. It is a public index containing the status and level of developments and infrastructure in the District. It can be increased upon completion of construction or upgrade of a new or existing Building.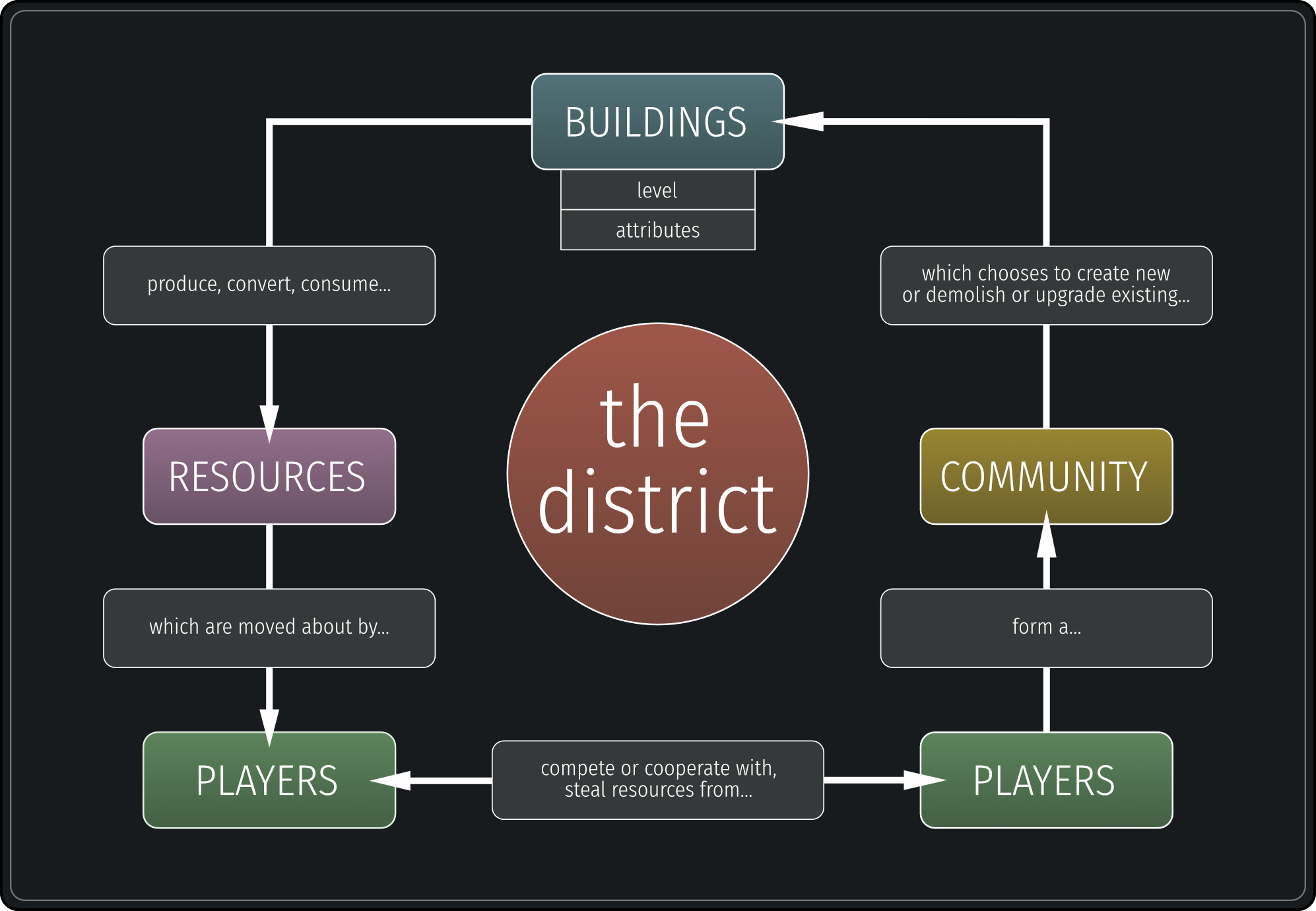 Jobs are available through an interaction point in a functional Building. They are essential to maintain and drive the economy. They are also how citizens will be able to progress in their career to earn money and contribute to their community. Job Types are divided into SERVICES (Police, Paramedic, Firefighter), TRANSPORT (Delivery, Bus Driver, Cabby, Security Truck), CLEAN-UP (Waste Management, Repair, Towtruck), and OUTLAWS (Street Racers, Thieves).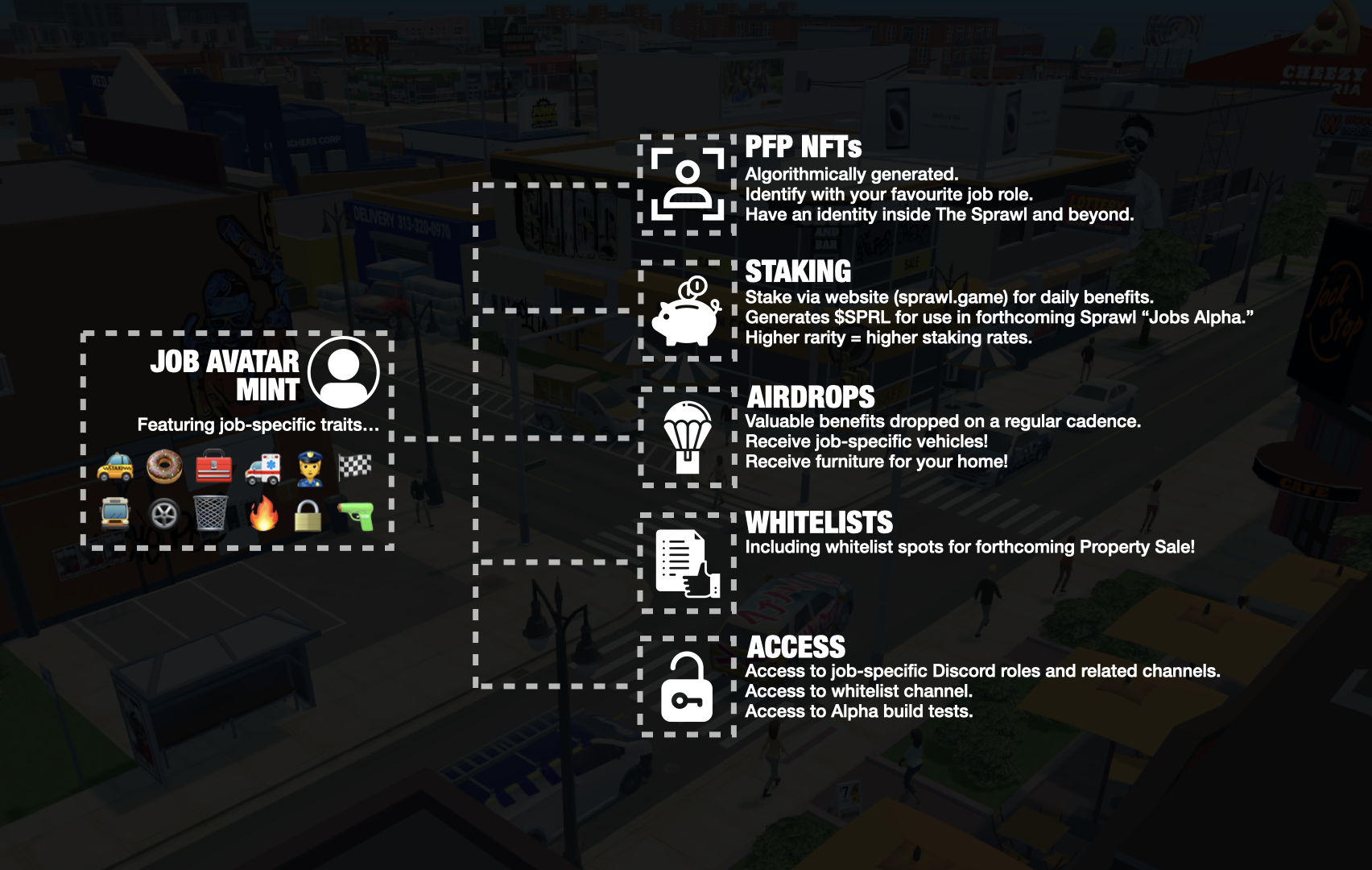 Jobs, Cash, and Salary
Jobs can earn you Salary, Job XP, and Cash which is an in-game currency used to pay for gas for Vehicles, Resources for Trade, Vehicle Repairs, Fines for illegal activity, Common Parts for Vehicles, and Common Decor for Homes. Cash is immediately payed out after completing a job, according to the going rate for the Job or according to the demand for any resources the Player sells.
Salary is the in-game native token. It is identified by the token $SPRL, which is paid out daily, but can be transferred to the Player's wallet the day after it is earned. $SPRL Salary is calculated by multiplying the base Salary by the Job Rank modifier:
daily Salary = base Salary * Job Rank modifier

//Job Rank is the Player's rank in Job Type, and can be improved by earning Job XP.
It can be used to pay for: Vehicles, Vehicle Paintjobs, Rare Parts for Vehicles, Vehicle Parts crafting , Rare Decor for Homes, and Rent/mortgage payments.
A Salary Cap will be implemented. There will be a limited amount of Salary that will be earned everyday. In addition, only the first 3 Job Types completed in a 24-hour period will be paid with Salary. The Jobs completed after reaching the Salary cap will still yield the player Cash and Job XP. A Vehicle would be beneficial to own as the higher the rarity of your vehicle, the more Job XP you earn. Job XP will dictate your Job Rank, which has a separate leaderboard for each Job Type. It dictates the amount of $SPRL you can earn daily for that Job, the amount of $NMC you earn for that week for that Job, availability of higher level Dollar Cars, access to higher level Events. Every week, there will be restructuring to demote the worst performing Players, and promote the best performing Players. The higher the Rank the more voting power in their Community.
City Pass NFTs
The City Pass NFTs were released last December 22, 2022 as a free mint on Ethereum. The supply is capped to 2,200 NFTs, where 1% are Platinum City Passes (priority access to the first Home NFT sale). The NFT gives benefits such as:
- Whitelist (guaranteed mint) for the Job Avatar NFTs
- Access to a gated Discord Channel
- Citizens forum
- Whitelists from Sprawl collaborations and partnerships
Job Avatar NFTs
Job Avatar NFTs are PFP NFTs that are used as in-game avatar. There will only be 2,200 initially available in a public mint in Q1 2023, where each legit Job will be allocated 200 each, and 100 each for Street Racers and Thieves. They give advantages based on Job Type (divided into 10 Ranks). Other perks include:
- Free Dollar Cars (can get started in a career and earning actual $SPRL in-game token) in the Job category
- Access to staking to earn rewards
- Access to an exclusive Discord channel for their Job category
Vehicle NFTs
Vehicle NFTs are similar to Dollar Cars, but better since it can be upgraded (using Vehicle Parts) to improve its capabilities and performance. They are available in 5 rarities, where a higher rarity implies better base stats, more Job XP per Job completed, and higher service costs.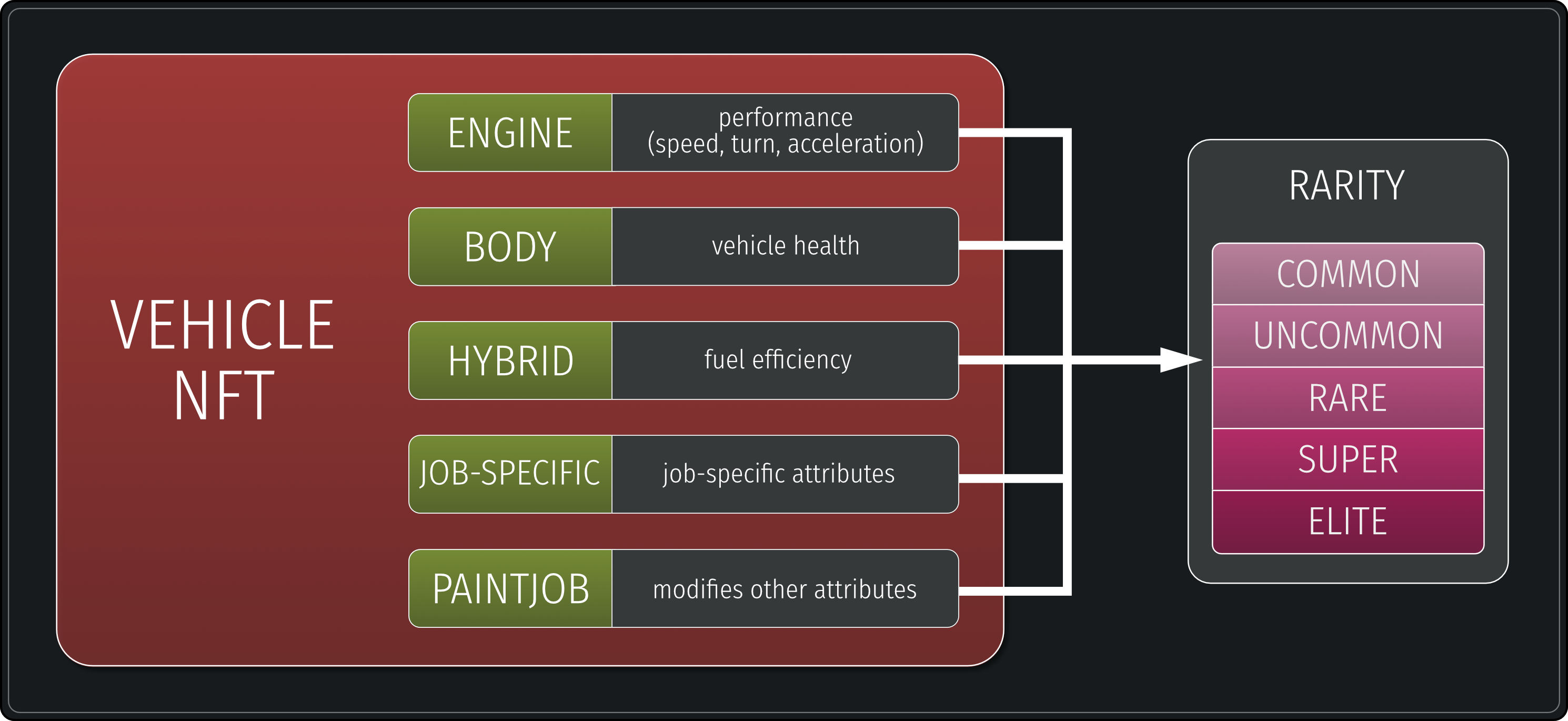 Home NFTs
A permanent address in the City that entitles the holder to a 3D interior that can be customized and decorated according to preference, and voting rights in their neighborhood / community. It can be traded in the real estate market, available in 5 rarities, where a higher rarity implies bigger garage (for more vehicle storage), bigger space (for Decor NFTs), more elaborate exteriors, and a higher Home Prestige (Home Rarity + District Prestige).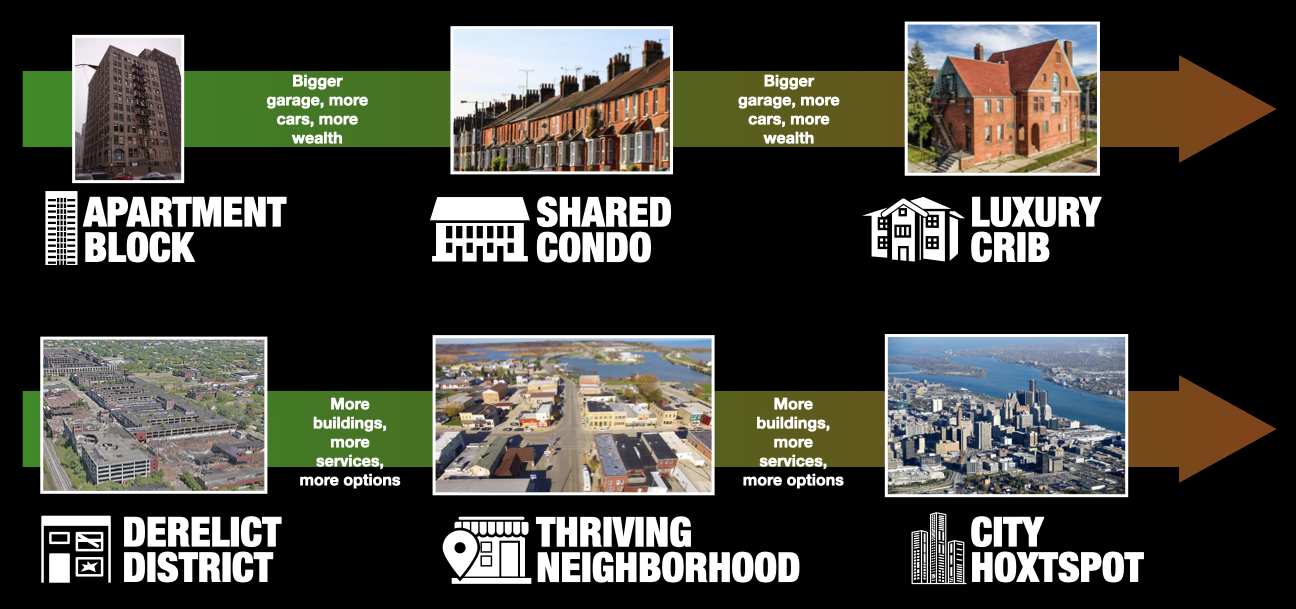 Founding Team
Black Block
A game development studio based in Helsinki, Finland, composed of international game industry veterans who have worked on mobile games like Angry Birds and AAA console titles like Grand Theft Auto.
LinkedIn: https://www.linkedin.com/company/black-block/

Robin Squire, Co-Founder and CEO
Robin has over 8+ years of experience in marketing roles. He was the former Director for Marketing and Consumer Engagement for Rovio Entertainment Ltd., a global mobile-first game publisher with over 4.5 billion downloads and also responsible for the production of one of the most famous and successful games ever made, Angry Birds.
LinkedIn: https://www.linkedin.com/in/robin-squire/
Paul Kurowski, Co-Founder and CPO
Paul was the Lead Artist at Rockstar North, with a number of blockbuster games under his belt: Grand Theft Auto III, Vice City, and San Andreas. He also has over 3 years of experience in writing roles, both as a freelancer and as a Creative Director for Crytek, a game developer and publisher with headquarters in Frankfurt, Germany. They have created multiple award-winning titles, including the original Far Cry, the Crysis series, Ryse: Son of Rome, Warface, The Climb, Robinson: The Journey and Hunt: Showdown. Paul is also the former Developer Director for Shanghai-based game development studio Spicy Horse Games.
LinkedIn: https://www.linkedin.com/in/paul-kurowski/
Stanislav Semakin, Co-Founder and CTO
Stanislav is a seasoned Software Engineer, with 25+ years experience in senior roles for companies like Blancco (automated mobile lifecycle solutions, data storage and processing), Smeebi (business intelligence solution for small to medium sized firms), PlayRaven (backend infrastructure DevOps for mobile games), and more.
LinkedIn: https://www.linkedin.com/in/stanislav-s-1325692/
Thoughts on the Team
The core team is composed of ex-colleagues at PlayRaven, a Helsinki-based Finnish company focused on developing mobile strategy games. Founded in 2013, it has shipped over 50+ game titles, including the hit Alan Wake (3M+ copies sold). It was later acquired by Rovio Entertainment in 2018. The CEO, CPO, and CTO of Black Block formerly held the following positions: Director of Marketing & Business Development, Game Lead, and Backend Developer, respectively. Their expertise are balanced and very suitable on what the team needs to make The Sprawl Game a successful one. They have a perfect mix of someone knowledgeable in marketing, game economy design, and implementation of the game logic on the backend. It is also really a good indicator for a team, if they have previously worked together and shipped other games successfully. Their collective achievements and experience also give more confidence that the game will not disappoint, since everyone either knows Angry Birds or GTA, and if you are a player, you'd rather play a new game that's being built by veterans who've produced award-winning titles rather than some random game built by random people with irrelevant experience.
Advisors and Partners
The team has only announced Matthew Wilson as their Advisor & Chairman. From 2008 to 2016, he worked at Rovio Entertainment handling senior roles as Head of Marketing and Publishing, and Director of Business Development. He is also the CEO of Wild Sloths, an investment fund based in Finland focused on early stage video game and tech startups in the games industry.
Black Block Studio is backed by Play Ventures, some angel investors, and The Finnish Government.
Tokenomics
There will be two tokens in The Sprawl: $SPRL, an inflationary token with a variable supply, and $NMC, a fixed supply token. $SPRL It is earned as Salary upon completion of Jobs, and is minted as it is earned (paid out daily the day after). It gives Players spending power for utility and aspirational items in the marketplace like Vehicles (to help you with your Job) and Homes (to flip on the real estate market). The main design of the token is to incentivize and drive consistent engagement on a daily basis.
$NMC is the governance token which gives Players voting power over decisions in economic and development aspects of their District or City. Players can earn it according to their Job Rank in their career, or through a weekly bonus (paid in $NMC) for high-ranked players. Players can vote on various aspects in their economy like: tax rate (for buildings and improvements), business tax (taken as cash from transactions and converted to $SPRL to be sent to the District Treasury), local law (which actions are legal or illegal), fines (for criminals), buildings (to improve real estate prices and profit from inter-District Trade), and salary budgets.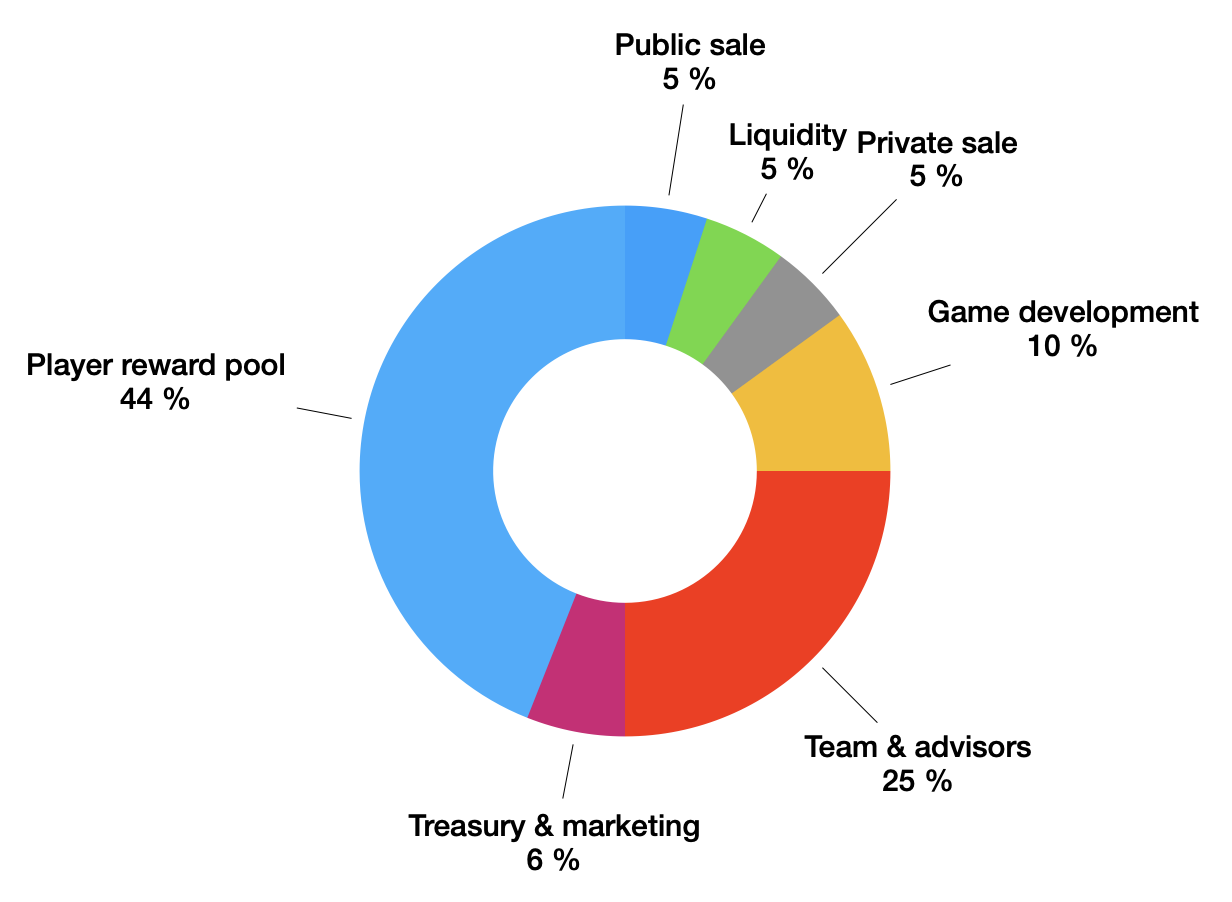 The supply of $NMC will be capped to 500M, with a bulk of the allocation for the Player reward pool at 44%, in order to drive consistent engagement in the game. For every new District rollout, 5% of $NMC supply will be allocated to the Player Reward Pool. The next big chunk of allocation would be 25% to the Team & Advisors, followed by 10% for the Game Development, 6% for Treasury & Marketing, and 5% each for Liquidity (TGE), Public Sale, and Private Sale. Allocation for Team & Advisors, Private Sale, Game Development, and Treasury & Marketing are all vested linearly for 6 years, with an additional 2-year cliff for the team, advisors, and private investors.
Roadmap
✅ Q1-Q2 2022: Launch of website, whitepaper, Discord, and Twitter; Team expansion; Start of marketing and community building
✅ Q3-Q4 2022: Open-world driving test, City Pass NFT drop
⬜ Q1 2023: Job Avatar NFT drop and staking
⬜ Q2 2023: 1st District Home Sale
Why I'm Bullish
Highly relatable theme and engaging storyline. The game feels a lot like GTA and The Sims, but 10x more fun since blockchain technology was used at the right areas of the game, resulting to an enhanced gameplay. The choice of genre is very appealing to the gaming community, take it from the success of The Sims. People enjoy life simulation games a lot because they can do anything they want in the game, as in real life, without even getting hurt doing it. In The Sprawl Game, players could take up the job they've always dreamed of: police, firefighter, paramedic, bus driver, delivery guy, illegal street racer, or even a thief! This is such a good opportunity for the younger generation who've never experienced working before, and want to see for themselves how it feels to climb up the corporate ladder. The Sprawl Game provides the perfect environment to simulate this in their metaverse.
Logical way to implement exciting but reasonable incentives. Players are encouraged to play and engage with the game consistently, by designing the game to give more incentives the more active the players are. In addition, the players' decision making power is also increased as they climb up the leaderboards in their Job Rank (based on their Job Type). To sum it up, the more Jobs you complete on a daily basis, the more you get rewards and Job XP, which allows you to go up the leaderboards and have higher voting power in the DAO, which means you could have a say on your Salary rate and even Taxes if you are active and skilled in the game. This can also imply that the community of The Sprawl will be strongly knit, as there will surely be a lot of engagement from the players since this is a topic regarding payouts in their respective Jobs.
Low barrier to entry. Players have two options to start playing the game, either from a Vehicle NFT or a Dollar Car. The former offers more benefits than the latter, but the Dollar Car will suffice if players opt for the more budget-friendly option (will only cost $1). It's good to see Web3 games like The Sprawl focus on mass adoption and onboarding players, by not gating their game with an unreasonable capital requirement to invest in their NFTs. This is a very gamer-friendly approach, regardless if the player is financially invested in the game or not, as both types of players can still enjoy the full game experience without spending.
In-house networking architecture solution. Black Block Studio is experienced in building online worlds - they were previously working on Retroit, a Web2 predecessor to The Sprawl. From their experience in building Retroit, they realized that there is a need to develop a custom networking architecture for The Sprawl. They called this BlackLite, which is built on top of Godot, one of the popular game engines in the market. As per the definition stated in their whitepaper, BlackLite is "a proprietary infrastructure allowing for thousands of concurrent users (CCU) to co-exist in the same always online, massive scale persistent open world." In essence, this technology will help the game to scale further in the future. Having this technology as early as now is a green flag because it shows that the game really has a long-term vision, and the team is prepared for what their game will be needing in the technological aspect in order to provide the same quality gaming experience to their players as they scale and grow.
Good vesting schedule. The token shares of the team, advisors, and private investors are all vested over 6 years, which shows a lot of long-term dedication. The team, advisors, and investors all have a 2 year cliff. The game will be needing their key investors to be hands-on in the game, especially in its early years. Locking and vesting their tokens in a reasonable time period is a good way to make them stay and work hard on the game.

Twitter Thread
To know more about The Sprawl, you can reach out to them via the following links:
Twitter: https://twitter.com/TheSprawlGame
Discord: https://discord.com/invite/sprawl
Website: https://sprawl.game/
Whitepaper: https://black-block.gitbook.io/the-sprawl/
For partnerships and collaborations, please reach out to me via any of the following channels:
Twitter: https://twitter.com/0xconglomerate
Discord: https://discordapp.com/users/998408827756093490
Portfolio: https://0xconglomerate.notion.site/Web3-Gaming-Portfolio-a73ebd01942840e0a04f7f7d0ca4ff70
#
#gaming
#cryptocurrency
#blockchain
#web3gaming
#nfts