Welcome to the eighth edition of Web3 Game Review, where I share my unbiased analysis on Web3 games, from a retail investor / gamer's perspective.
Our template will be as follows:
📝 Overview
👨‍👨‍👦‍👦 Founding Team
🤝 Advisors and Partners
📈 Tokenomics
🛣 Roadmap
🐂 Why I'm bullish
Disclaimer: For educational purposes only. Nothing in this article is financial advise. Invest at your own risk!
Overview
Gameplay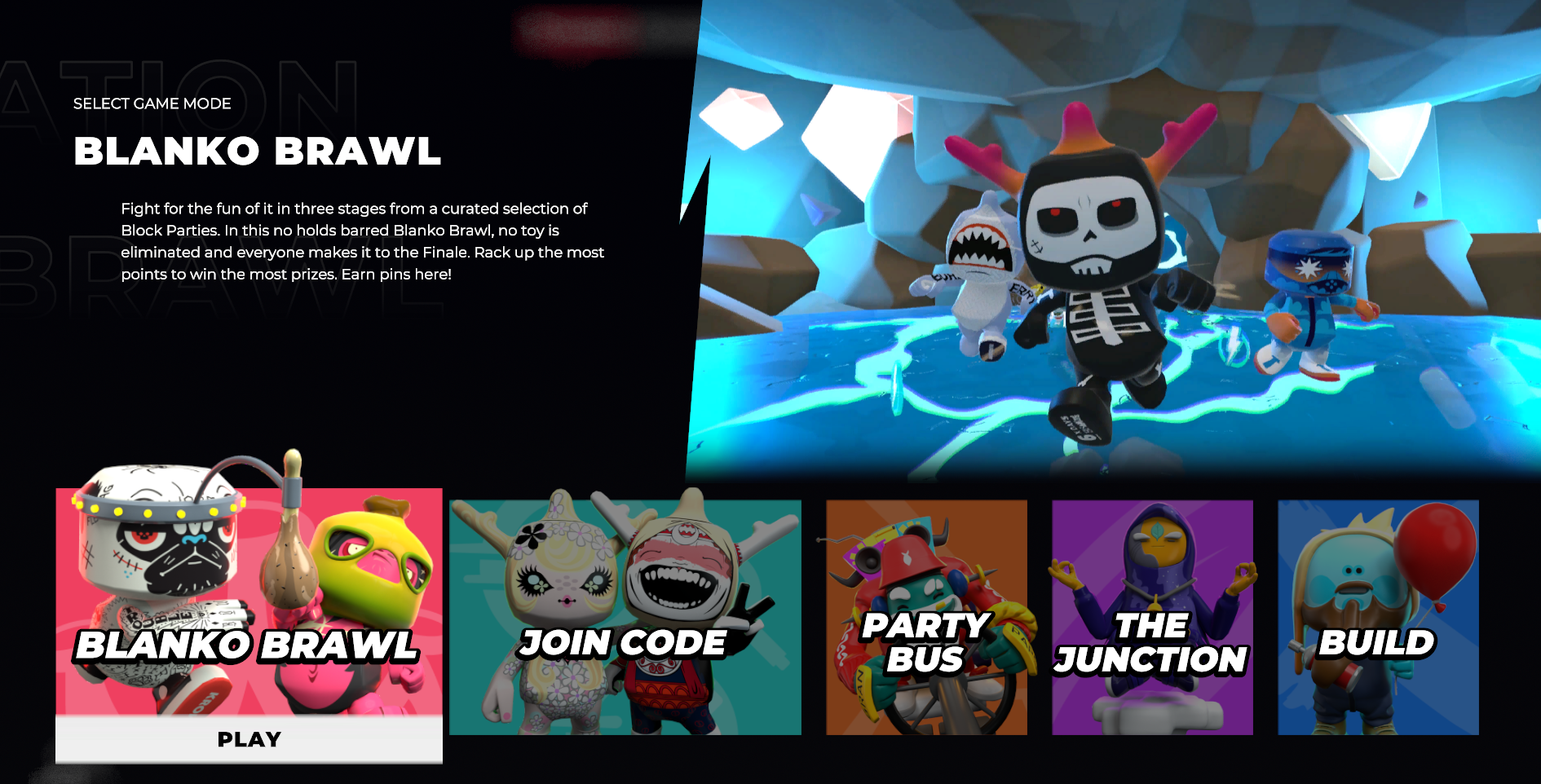 Blankos Block Party is a social multiplayer block party game set in an open world featuring interactive shooting, racing, collection, and brawl game modes. In the Blanko Brawl game mode, players choose from different Block Parties arranged by other players. These Block Parties are divided into 3 stages, which can be a combination of different mini-games like racing, Vibe collection, and shooting. 12 Blankos go block-to-block in a non-elimination free-for-all gameplay, and the player with the most points gets the most prizes. The maps in the game are called levels, and players can create their own in the Build game mode, with custom themes, obstacles, and game modes. In the Junction, players can casually hang out with their squad to meet and interact with other Blankos, via a Join Code that could be found from the upper right-hand corner of any Party Bus lobby.
Blanko Attributes: Grades, Styles, Moves, and Perks
Blankos are the characters that players will use to battle and play against each other. They are mischievous digital vinyl toys that can be customized and upgraded. Players get a default Blanko to start playing the game, but they could also purchase limited edition Blankos with exclusive designs from the Mythical Marketplace. Blankos can be boxed or unboxed. As in real life, the boxed Blankos have greater value than the unboxed one - once you unbox a Blanko, you cannot put it back. Upon unboxing, the Blanko Style (Class) is determined by the Set of the two Power Moves equipped. Each Blanko has three Grades, Fair (FR), Good (GD), and Excellent (EX), with 5 levels each. A higher Grade means more Perk slots for accessories. Perks are divided into three types: Foundation Perks, Power Perks, and Hidden Perks. They alter the characteristics, abilities, and Moves of your Blanko.
Blanko Bucks, MOOLA, and XP Chips
Blanko Bucks are the in-game hard currency, while MOOLA is the in-game soft currency. Both of them are used to purchase Blankos, weapons, building materials, accessories, emotes, and other in-game items. Blanko Bucks can only be acquired by buying it from the in-game store using real money, or purchasing bundles like Founder's Packs. MOOLA can be earned by simply playing the game and completing challenges. XP Chips are consumables used to upgrade your Blanko. They can be acquired via the in-game store using Blanko Bucks or MOOLA, but they can also be earned thru the Party Pass.
Party Pass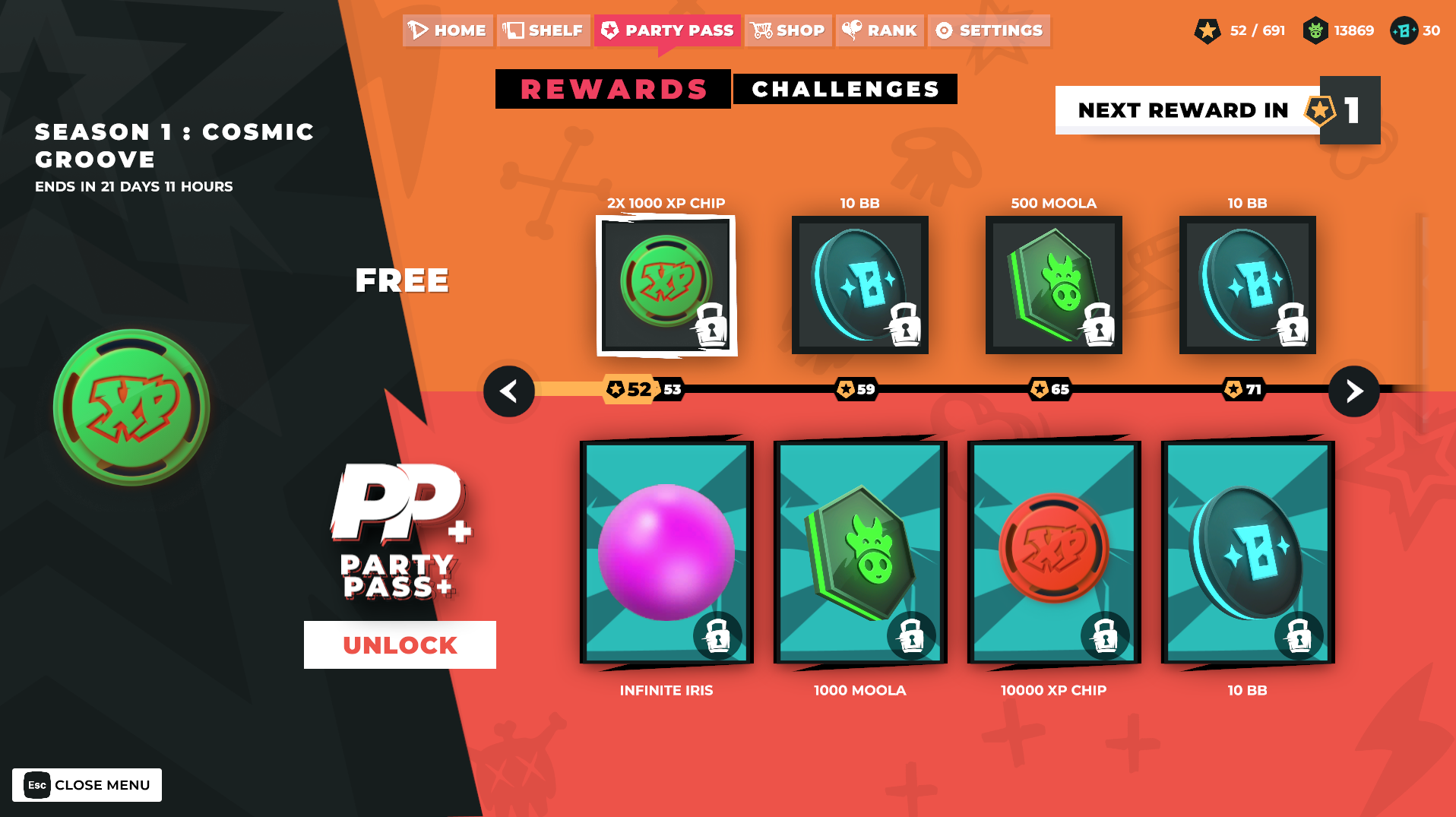 The Party Pass is an in-game feature which rewards players for playing Blankos Block Party. Players are given Hype Points as they complete quests and challenges (Daily, Weekly, and Seasonal), that allow them to progress in their Party Pass to unlock new cosmetic items, accessories, power ups, skills, emotes, Blanko Bucks, Gumballs, XP Chips, Emotes, and even a Blanko. All players get the free variant of the Party Pass by default, but if they want to earn more exclusive rewards, they can purchase the Party Pass+ for $14.99.
Founding Team
Mythical Games
Mythical Games is a game development studio led by veterans from major franchises like World of Warcraft, Call of Duty, Marvel Strike Force, and Guitar Hero. It has been operating since 2018, and has raised a total funding amount of $260M over 7 funding rounds from investors like Binance Labs, a16z, Fenbushi Capital, Alumni Ventures, and more.
John Linden, CEO and Co-founder
John has over a decade of experience in the games industry. He is the former Studio Head of Beachhead Studio, an internal development division of Activision Blizzard. He has worked on games like Call of Duty: Black Ops II & III, Call of Duty: Ghosts, Call of Duty: Advanced Warfare, and Skylanders Battlecast. He is also the former President of Seismic Games, a AAA mobile and mixed reality (AR/VR) game studio that was acquired by Niantic Labs in July 2018. Some of their notable games include Marvel Strike Force, Magic the Gathering: Valor's Reach, Blade Runner: Revelations (Daydream), and Raising a Rukus.
LinkedIn: https://www.linkedin.com/in/johnlinden/
Jamie Jackson, Chief Creative Officer and Co-founder
Jamie is also an ex-Activision Blizzard Studio Head, responsible for the development of DJ Hero, Guitar Hero Live, Sing Party, and Call of Duty Online. He also has over 20 years of experience as the Creative Director of Free Style Games Ltd., which was acquired by Activision in 2008.
LinkedIn: https://www.linkedin.com/in/jamie-jackson-9568b93/
Rudy Koch, Co-founder and Business Development
Rudy has over 15 years of game development experience. He was the former Managing Producer for The Walt Disney Company's hit game Club Penguin, leading the launch of the game's mobile application Puffle Launch for iOS, which became a top 10 app within 4 hours of going live, and reached #1 in 25 countries. He also joined John and Jamie at Activision for the Call of Duty franchises, and Skylanders Battlecast. Rudy was also the Senior Producer for World of Warcraft.
LinkedIn: https://www.linkedin.com/in/rudykoch/
Chris Downs, Co-founder and Infrastructure Operations
Chris started his gaming career as a Senior Network Engineer and DevOps Engineer for Insomniac Games, developer of some of the top PlayStation games like Marvel's Spider-Man (2018), Spyro the Dragon (1998), Ratchet & Clank (2002) and Resistance (2005). In 2014, he joined Activision Blizzard as the Lead Backend Engineer.
LinkedIn: https://www.linkedin.com/in/chrismdowns/
Third Kind Games
Founded in 2016, Third Kind Games is an independent game studio in the UK. They have worked on several world famous games like Forza Horizon 4, DRG Initiative, and Fable. Currently, they have a AAA IP project for Blizzard, but no details have been disclosed as of the moment as it is confidential.
Thoughts on the Team
The core team is highly experienced with their stint at Activision Blizzard. They all have worked on the best games in Web2, and their ability to execute is no question. However, the recent issue on Mythical Games' former executives (Chris Ko, Rudy Koch and Matthew Nutt) dated last December 23, 2022, is alarming. They violated the terms of agreement by using the company's platform [Mythical Games] to raise $150 million in funding for Fenix Games, which emerged a few weeks after the trio split ways. They specifically persuaded Cypher Capital, a UAE-based VC, to invest in their new venture using the business plan for Mythical Games. This issue is not something to overlook, as this says a lot about the integrity of the core team members in the long-term sustainability of Blankos Block Party.
Advisors and Partners
No whitepaper available. No details announced regarding Advisors and Partners.
Tokenomics
No whitepaper available. No details announced regarding Tokenomics.
Roadmap
No whitepaper available. No details announced regarding Roadmap.
Why I'm Bullish
Captivating digital collection. The Blankos collectibles are digital vinyl toys that look like Funko Pop Figures that have come to life in a fun-filled game. They've done a great job in marketing and making their collectibles appealing by not deviating from what worked with Funko Pops. Blankos has partnered with well-known brands like Burberry, Deadmau5, and more to release limited edition Blankos. This approach enables big brands to connect with their community in a richer way, through gaming. The feeling of exclusivity for the holders of limited edition Blankos also make the gameplay more fun, since there are different stories behind each Blanko.
Fun and balanced gameplay. There are different mini-games available in the game: shooting, racing, and vibe collection. The levels (maps) in the game are very challenging but intuitive and engaging. I also like the feature where players can create their custom levels in The Build game mode. Although the game looks a bit like Fall Guys, Roblox, and Minecraft, what truly makes it stand out is full ownership of in-game items given to the players.
Party Pass and Party Pass+. I like how the game is designed to monetize via the Party Pass+. It's a decent way to earn rewards, and players are not forced to buy it. It encourages players to spend more time playing the game, in order to get exclusive rewards from the Party Pass. In addition, there is no gameplay advantage for those who purchased the Party Pass+, so there is no pay-to-win.
Twitter Thread
To know more about Blankos Block Party, you can reach out to them via the following links:
Twitter: https://twitter.com/PlayBlankos
Discord: https://discord.com/invite/playblankos
Website: https://blankos.com/
Whitepaper: https://support.blankos.com/hc/en-us (FAQ & Support)
For partnerships and collaborations, please reach out to me via any of the following channels:
Twitter: https://twitter.com/0xconglomerate
Discord: https://discordapp.com/users/998408827756093490
Portfolio: https://0xconglomerate.notion.site/Web3-Gaming-Portfolio-a73ebd01942840e0a04f7f7d0ca4ff70
#
#gaming
#cryptocurrency
#blockchain
#web3gaming
#nfts