The TL;DR
The SnapShot for cohort_2 is live, and there is less than 24 hours left (as of the publication of this Weekly Update).

The snapshot ends on Sunday Mar 5, 2023, 5:55 PM Pacific. Vote now!

A new weekly newsletter was released this past Monday called Weekly Talent Collective Bounty Positions. This newsletter highlights the current positions companies that are subscribed to our collective on Pallet are looking to fill through our Talent Collective. If you are interested in being considered for one of these roles, apply to join our Talent Collective. You can read the article here:

ETHDenver is in full swing and there have been reporting sightings of wild DAOpunks.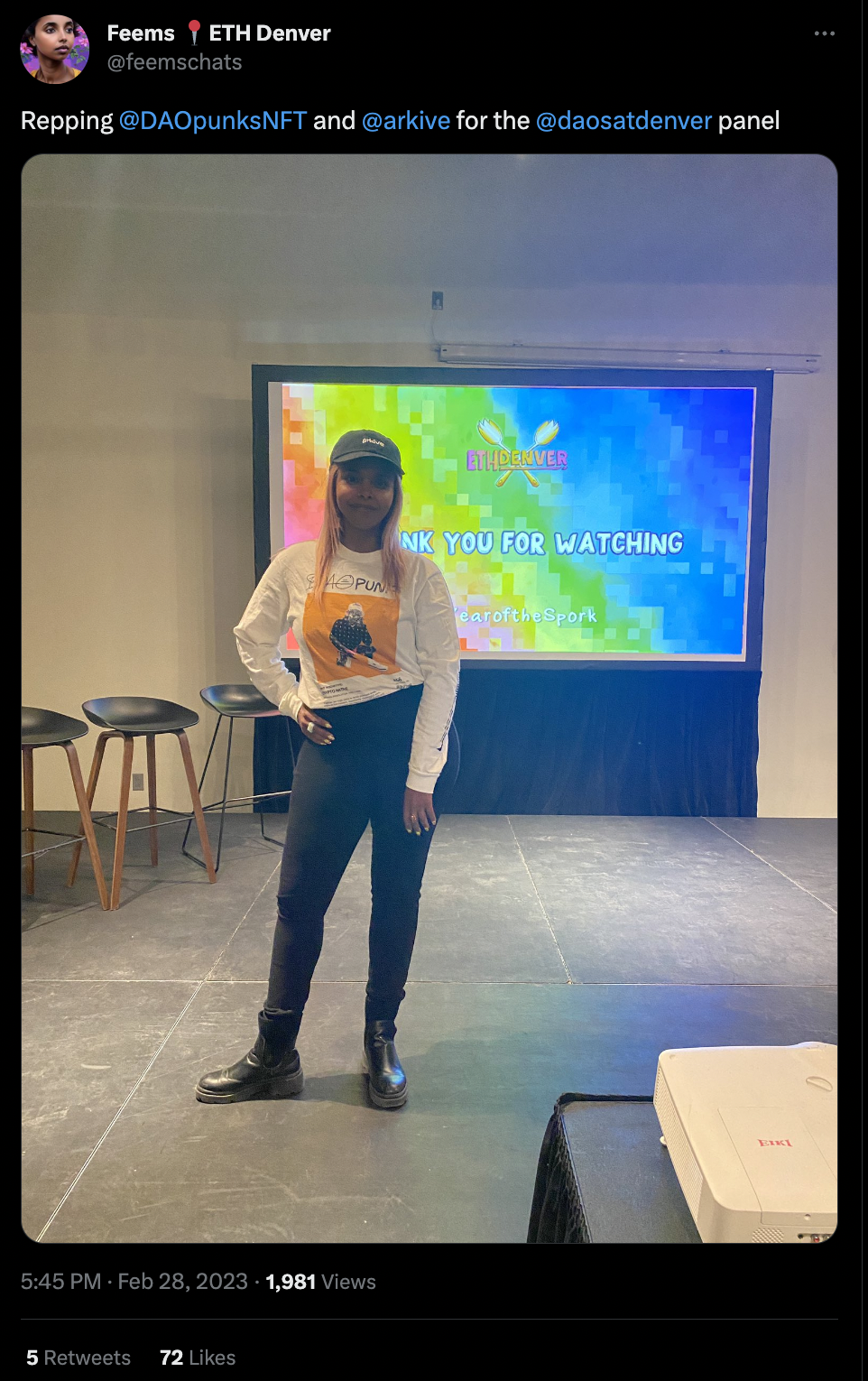 New progress is being made on getting our OpenSea verification for the DAOpunks collection.

Progress continues on Bushi and LiveFast's DAOpunks NFT and Merch drop.
Job Board and Talent Collective - Pallet
Three more highly qualified candidates have been added into our talent collective.

Three new jobs have been added to our Job Board:

Senior Full Stack Engineer @ Station

Smart Contract Engineer @ Station

Senior Frontend Engineer @ Llama

Find out about these and more on our Job Board

We currently have 91 members in our Talent Collective and 30 jobs posted to our Job Board.

Find more about our Talent Collective and our Job Board by visiting our Pallet: https://daopunks.pallet.com/.
Are you looking for work in Web3? Do you have a specific set of skills that may be desirable by companies, organizations, and other DAOs? Whether you are passively, actively, or just window-shopping opportunities or jobs, consider joining our Talent Collective .
Together, we can and will find the freedom that Web3 offers
Important Links
DAOpunks Pallet: https://daopunks.pallet.com/
Commonwealth: https://commonwealth.im/daopunks
Youtube Channel: https://www.youtube.com/channel/UCN0WU5a9e2OpgkHjswlPRlw
Discord: https://discord.gg/daopunks
Twitter: https://twitter.com/DAOpunksNFT
Website: https://www.daopunks.io/
OpenSea: https://opensea.io/collection/daopunksnft
Suggestions & Feedback
Do you have any suggestions of what you would like to see in these weekly update?
Contact livefast9986.eth#6291 in Discord or via email at LiveFast9986@gmail.com
#livefast9986.eth
#weekly update
#cohort_2