Weekly Update - 8/12/2022
Here is an update of the events that have transpired this week.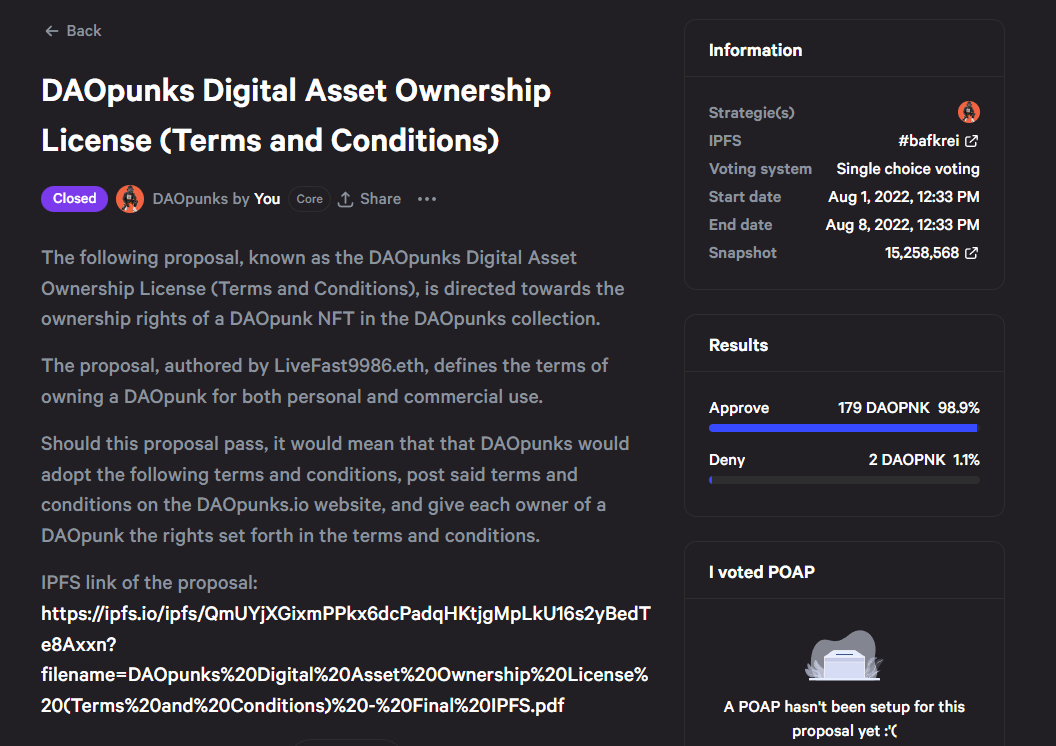 The TL;DR
The DAOpunks Digital Asset Ownership License (Terms and Conditions) has been ratified. Snapshot ended on Monday with 88 DAOpunks voting, utilizing 181 DAOpunk NFTs.

A link has been published on the DAOpunks.io website

Crypto Bushi and LiveFast9886 were invited to talk on the Crypto Sapiens Podcast

https://twitter.com/CryptoSapiens_/status/1556646565871292419?s=20&t=HrEcu_vkJPw5ew6LtDzDUQ

Reaffirmed the timeline of cohort_1 starting sometime mid September at the Grants meeting, along with a new amendment to the Grants Framework sometime within the next few weeks.

DAOpunks is going to be on Pallet. Expect more details to come within the coming days.
Job Postings - #💪jobs
(Posted Two Weeks Ago) DAOpunks - Developer

(Posted Two Weeks Ago) Capriole - Crypto Hedge Fund Tracker
See #💪jobs channel for additional information
Important Links
Commonwealth: https://commonwealth.im/daopunks
Youtube Channel: https://www.youtube.com/channel/UCN0WU5a9e2OpgkHjswlPRlw
Discord: https://discord.gg/daopunks
Twitter: https://twitter.com/DAOpunksNFT
Website: https://www.daopunks.io/
Suggestions & Feedback
Do you have any suggestions of what you would like to see in these weekly update?
Contact livefast9986.eth#6291 in Discord or via email at LiveFast9986@gmail.com
Collect this post to permanently own it.
Subscribe to DAOpunks Bulletin and never miss a post.
#livefast9986.eth
#daopunks nft legal discussion
#job postings
#cohort_1
#pallet
#weekly update