Weekly Update - 9/16/2022
Here is an update of the events that have transpired this week.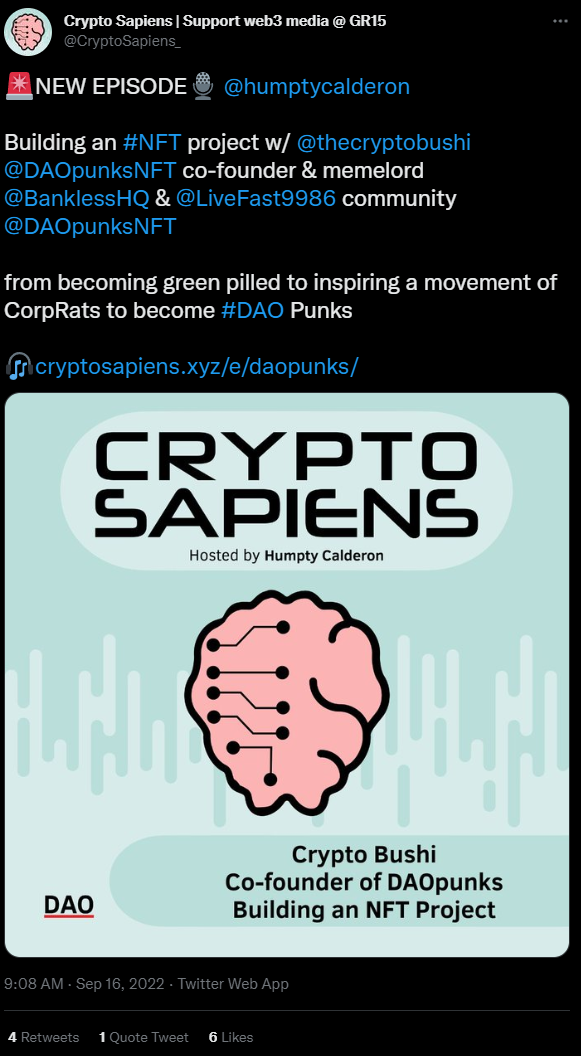 The TL;DR
The Crypto Sapiens Podcast dropped a new episode that features our illustrious Crypto_Bushi and livefast9986.eth. In it, they talk about our journey to becoming DAOpunks, Grants, and a the Digital License Agreement. Check it out. https://twitter.com/CryptoSapiens_/status/1570806808188682243?s=20&t=tkAGgsIgqMxw5nmkLl4ODQ

The Grants team discussed the Grants Framework V2 draft and agreed to put it up for Snapshot. Goal is to have applications open October 1st, so that cohort_1 starts on the 1-year anniversary of DAOpunks.

The Snapshot for Grants Framework V2 is live and will end on Friday September 23rd at 4:28PM PDT
Important Links
DAOpunks Pallet: https://daopunks.pallet.com/
Commonwealth: https://commonwealth.im/daopunks
Youtube Channel: https://www.youtube.com/channel/UCN0WU5a9e2OpgkHjswlPRlw
Discord: https://discord.gg/daopunks
Twitter: https://twitter.com/DAOpunksNFT
Website: https://www.daopunks.io/
Suggestions & Feedback
Do you have any suggestions of what you would like to see in these weekly update?
Contact livefast9986.eth#6291 in Discord or via email at LiveFast9986@gmail.com
#weekly update
#snapshot vote
#grants framework v2
#podcast
#livefast9986.eth