In this first issue of "Eat Sleep Mint Repeat", I'll be showcasing Postcards from the Outer Rim, my latest NFT series on Foundation, after a hiatus from ETH. I'll also be introducing CreativBloq, my new multi-chain NFT Magazine which is free to read via Heyzine. If you want to be featured in the next issue, you can submit a request through this google form.
Next up is Battle For The Wastes - an NFT card game I'm creating on the Tezos Blockchain, as we begin to enter the playtesting phases. Check out the article and see how you can get involved, and invested.
Plus…
Faces Of Def, & the collab piece I produced for the very talented Culla's collection on Objkt.com.
Spectral Radiance, a limited 1/1 collection of mine over at Paras.id on the NEAR Blockchain.
---
Foundation - Postcards from the Outer Rim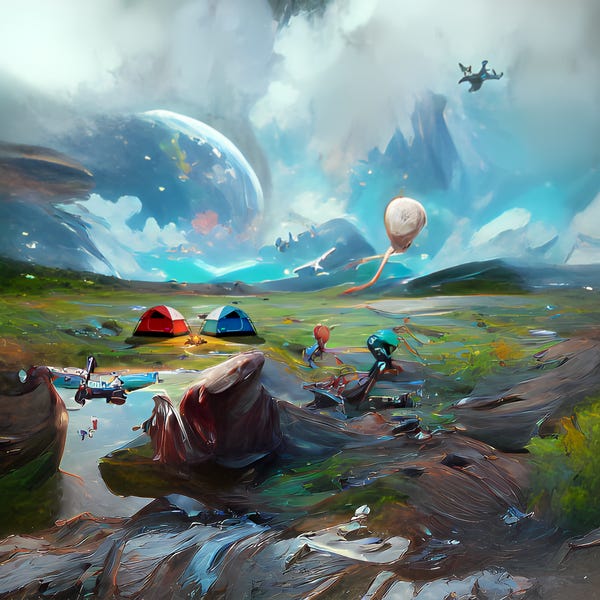 "Postcards from the Outer Rim" is my new, ongoing series of alien worlds as holiday destinations. All were created using a hybrid of GAN AI, Photomanipulation, and Digital Illustration.
On Vatalis IV, With dense tropical flora, vast mountain ranges, and a scorching 75°C all year round, it's the ultimate destination for intrepid explorers to get away from it all and dig out those hiking boots. Alternatively, sit back, relax, and make short work of achieving the perfect tan you've always dreamed of!
Meanwhile, There's no better way to reconnect with mother nature than a back-to-basics camping trip in the lush valleys & great plains of Norinu. With natural springs and fresh climate air, you'll feel invigorated in no time. NB - Curfew is 7pm and please, for your own safety, do not leave food in your tent overnight...
---
CurativBloq Issue 1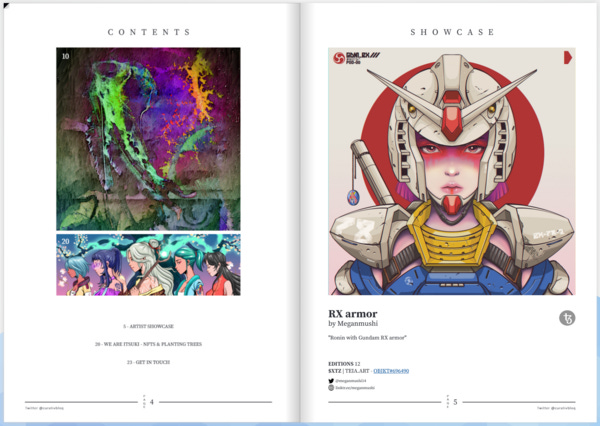 CurativBloq is my new Multi-chain NFT Magazine, which showcases some of the incredible art made by wonderful artists on ETH, XTZ and NEAR blockchains. Issue 1 is out now, and submissions for issue 2 are now open. You can check out the first issue below!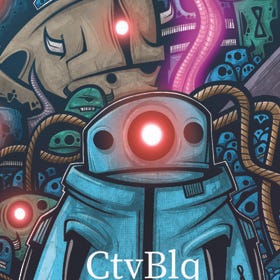 The new Multichain NFT magazine, showcasing works from $XTZ, $NEAR, and $ETH.
---
Battle For The Wastes - A Card Game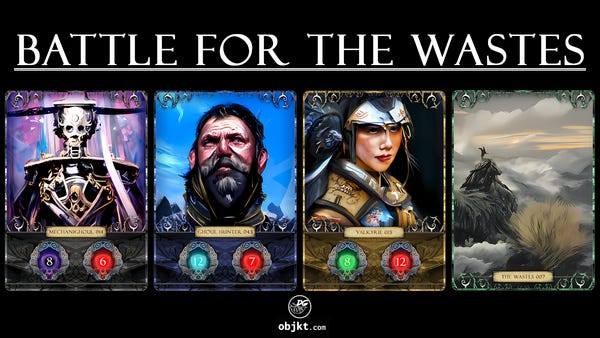 Battle For The Wastes is the culmination of several months work with GAN AI art, spanning 4 separate NFT collections on Objkt.com & the TEZOS Blockchain, and the creation of an exciting overarching realm in which they reside. The bleak landscapes of The Wastes are home to three warring factions. The Mechanighouls, Ghoul Hunters, and the Valkyries. Each faction comprises 50no. unique 1/1 "characters", battling over 12 3/3 edition vistas, all created with the aid of machine-learning GAN ai software, Snowpixel.
Generative adversarial networks (GANs) are algorithms that pit computers against each other to produce original machine-made output approximating the human-made training data. In the case of Snowpixel, the training data are a series of words, phrases, and sentences, often elaborate, fanciful or esoteric…
As the collections grew, it became evident that these creations were destined to co-exist. And so, the blueprint for Battle For The Wastes was born.
You can read all about the project at the link below.
---
Faces of Def
I was thrilled to be able to take part in a collaboration with Culla on his Faces of Def project on Objkt.com. There are a host of highly talented artists involved, and the results look amazing!
Special thanks goes to Zsmasher for collecting my piece.
---
A Spectral Radiance - Paras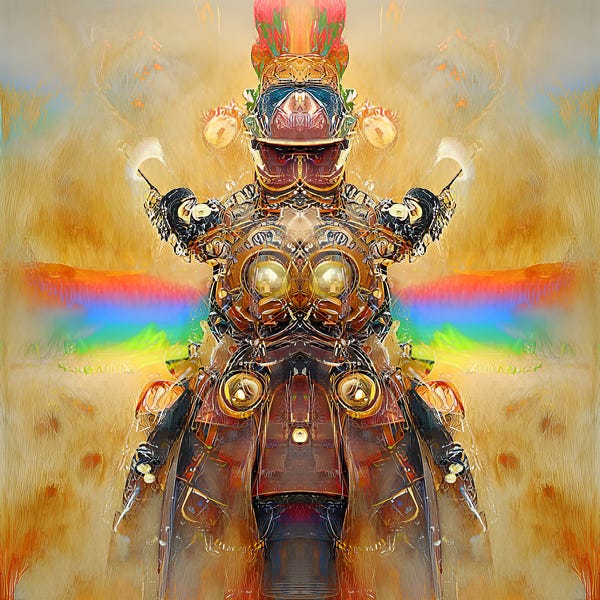 A Spectral Radiance is a limited run of 1/1 transcendent steampunk military inspired abstract figures, bathed in glorious technicolor. Created with the aid of GAN AI and photo manipulation, this 12 piece collection is available on Paras.ID, on the Near Blockchain.
Collect this post to permanently own it.
Subscribe to EAT SLEEP MINT REPEAT and never miss a post.