In this second issue, I'll be showcasing the ISLES, a very special collection on Objkt.com that marks one year since my first collection "floating islands" was launched on the Tezos blockchain. Sticking with Tezos, I'll also introduce GAN Beats, my first foray into music NFTs, using both Audio AI and Visual AI to create something truly unique for both #tezos4tezos and #fear4tez!
Over on ETH, I dropped a new piece on Knownorigin, and also collaborated with the wonderful CryptoLeos to produce a remix piece for their Multiverse of Leos. We also see Postcards From the Outer Rim grow to 3 glorious destinations with the release of ETHAAL.
Meanwhile, Issue 2 of CurativBloq has been released, and is full of jaw-dropping art from some incredible artists, with a spotlight feature on "Neon City".
Plus…
Rick Kitagawa's incredible Faces of Def piece I had commissioned.
Buying land on TZland, the new metaverse for budding Tezos builders.
---
ISLES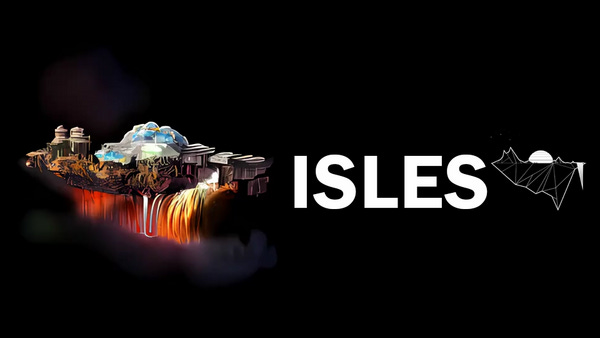 Need a holiday? ISLES is a mesmerizing collection of GAN-generated, shapeshifting archipelagos in MP4 video format, all crafted from a single blueprint. This series is a vivid technicolor re-imagining of my "Floating Islands" drops, marking one year since their original release on the Tezos blockchain.
The full set is available on Objkt.com and is also featured at projectsontezos.com.
---
GAN Beats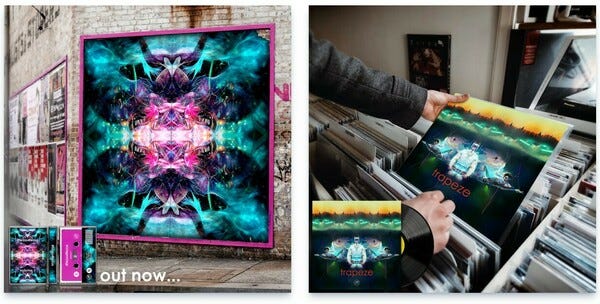 GAN Beats is the next step of my journey with AI art and generated creativity. Using Audio AI to generate a base track, I then use the software's editing tools to chop and change the arrangements, then re-process them in various effects & instrumental sounds to produce each finished track. Meanwhile, the accompanying artwork is created with a blend of GAN AI and photography, post-processing, and overlays to create a unique, composite piece.
The collection is currently 5 pieces strong and growing, and includes a drop made exclusively for the recent #tezos4tezos event, and another for the following #fear4tez event.
Check out all the tracks here.
---
KnownOrigin Drops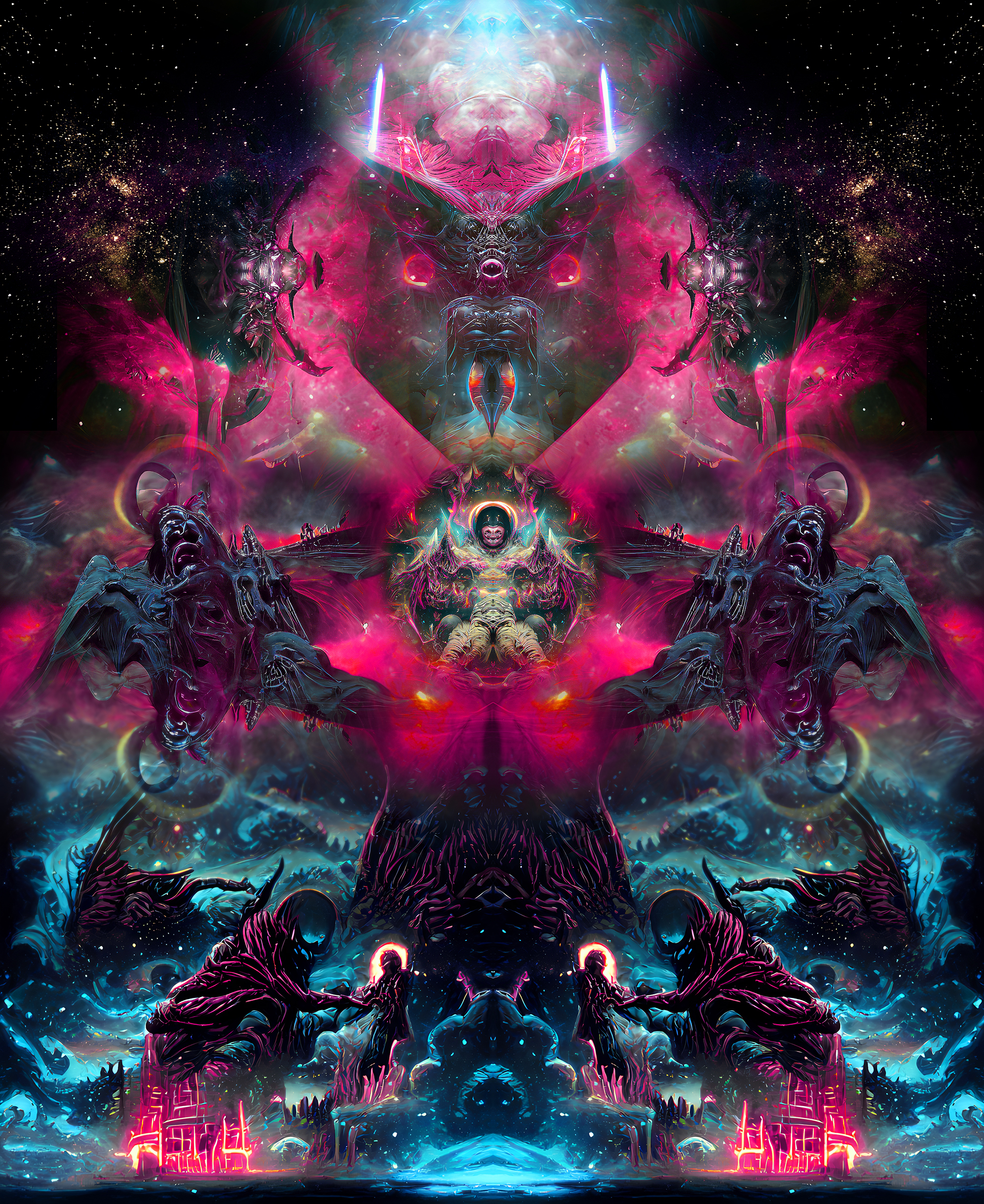 Chaos Reigns is my latest NFT drops on Knownorigin. A large format, detailed 1/1 animated GIF piece, "All hope is lost, for madness is king…"
Mixed Media - GAN AI & Digital Illustration. Snowpixel & Adobe Photoshop - 3000 x 3670.
---
Multiverse of Leos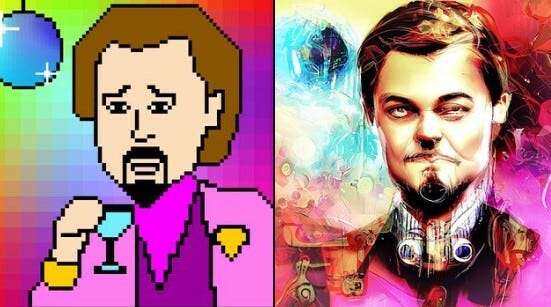 I was recently approached by @thedavidgersch to create a remix piece for his Cryptoleos series. The "Multiverse of Leos" is a large collaboration project featuring a whole host of NFT artists, who produce their own take on a chosen Cryptoleo. I was asked to reimagine #105.
---
Welcome to ETHAAL - Postcards From The Outer Rim
Wish you were here?
A new holiday destination is now available over at Foundation. Ethaal is the hot new place to experience for tourists and backpackers alike. The piece continues the collection's theme of superimposing inanimate real-world objects into surreal, GAN-generated environments to create vividly (un)relatable vistas.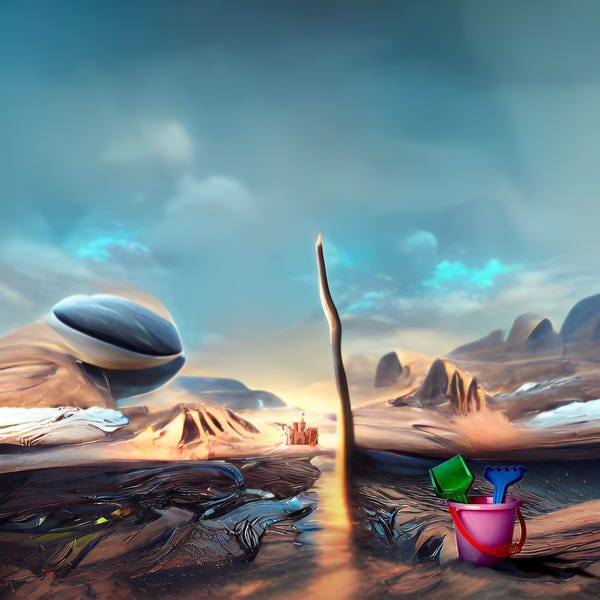 ---
CurativBloq Issue 002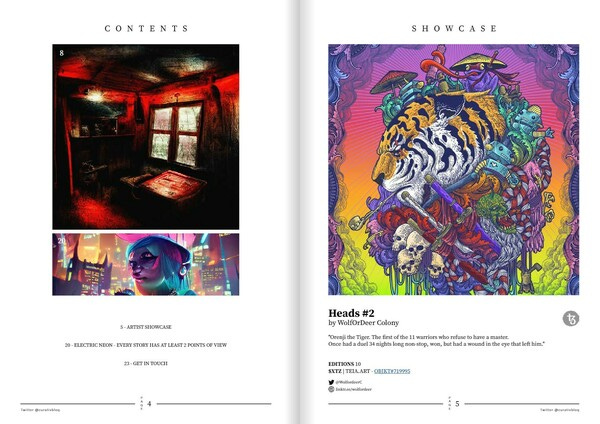 Huzzah! The second issue is out now, available to read for FREE via Heyzine. Click the link below to view.
---
Faces Of Def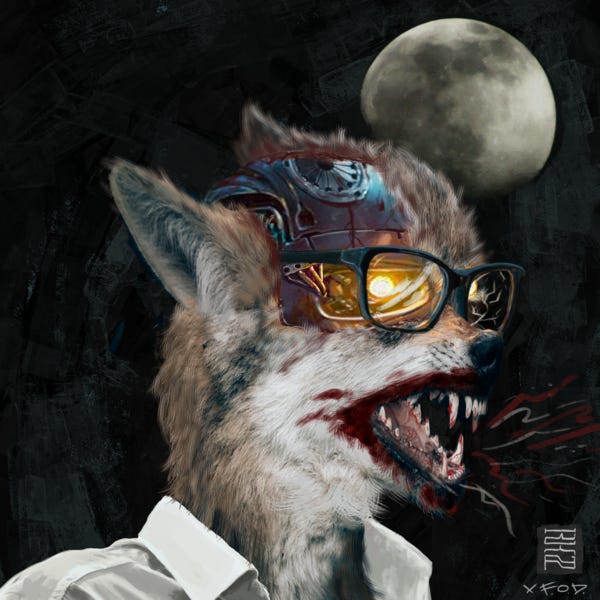 Check out this incredible NFT created for me by the hugely talented @RickKitagawa as part of @tamccullough's Faces Of Def series. This included the traits Android, Animal, and Glasses, and was based around a Lycanthrope.
---
I'm a Landowner Now.. kinda.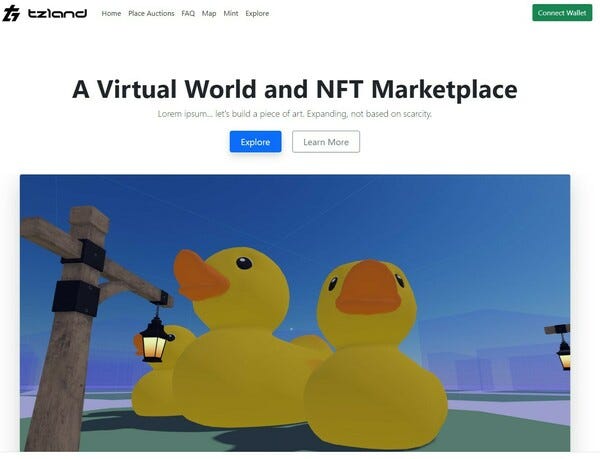 As of now, I am the prime owner of Tzland lot no. #672.
Tzland is a Tezos-based interactive metaverse. Everything is stored either on the Tezos blockchain or on IPFS. Owners are able to mint and build on their property objects in 3D GLTF format. (Plans to support more formats are in the works). Incredibly, it's all being developed by one person.
Follow them on Twitter at @tz1and and check out the discord here.

Collect this post to permanently own it.
Subscribe to EAT SLEEP MINT REPEAT and never miss a post.