Wow, August is over already? Summer's flown by and It's been more than a hot minute since the last issue (I'm sorry, I'll get better at this!), so we have plenty to get through in this bumper edition…
Kingdoms - my surprise GAN drop for #tezosartweek.

Text only NFTs with the birth of typed.art & 8scribo.

The IOU's and #1of1. - A new band of unique heroes forged from a single promise.

A Knight's Vengeance - A GAN-based NFT comic strip with 1/1 pages.

Doubloons - 50 pieces of 1/1 gold.

The Lightbulb Community - An amazing collaboration project on Tezos.

Evasive Manoeuvres - My piece for TezTown's space-themed contest #outofthisworld.

Playtesting Battle For The Wastes in Tabletop Simulator.

The Great Debate - A collection exploring AI's place in the art world.

People of Tezos - preparing to be immortalized in the blockchain.

---
Kingdoms

"Kingdoms" was my surprise late drop for #tezosartweek. This enormous piece was created using multiple Snowpixel AI images cropped and stitched together in Photoshop, with additional post-processing. The final image dimensions are 2048 x 7120 px.
For anyone who picked up an edition, I wanted to do something fun and airdropped them a text-based NFT of the prompt that was used to create the AI images. By doing so, this meant they had both the origin and the result in their wallets. Rarely do people have an opportunity to own both sides of the story, the beginning, and the end.
The airdrop was sent via the recent text NFT platform typed.art.
---
Non Fungible Texts?
The fact that both typed.art and 8scribo were released in the middle of a bearish crypto-crash should be a blinding example to all that those who truly live to create will do just that no matter the state of the market.
I am thrilled that the TEZOS blockchain now has its own text-based NFT platforms. Ever since discovering Mirror.xyz, and written-word NFT minting on Etherium I longed for a ꜩ equivalent, and this stripped-down, raw offering is the perfect complement to the community which has grown and flourished through the likes of HEN, OBJKT, FXHASH, and 8BIDOU. I look forward to the blogs and journals, articles, and novellas that will no doubt vibrantly grow from this humble seed.
In many ways typed.art reminds me of Write.as or Svbtle, - a distraction-free interface, minimal UI, and no unnecessary frills. Just a blank page for you to fill, a penny for your thoughts. However, the ability to mint these thoughts and tie them to the TEZOS Blockchain is an enticing extra layer, as we move forward with Web3. Especially with proof-of-ownership and proof-of-mint, the ability to publish online content should be seen as ever more attractive.
And now we can add fx(text) to the list too!
Not long ago, I joked that I missed the simpler times of Livejournal. Perhaps we no longer need to.
Here are my entries on typed.art.
---
The IOUs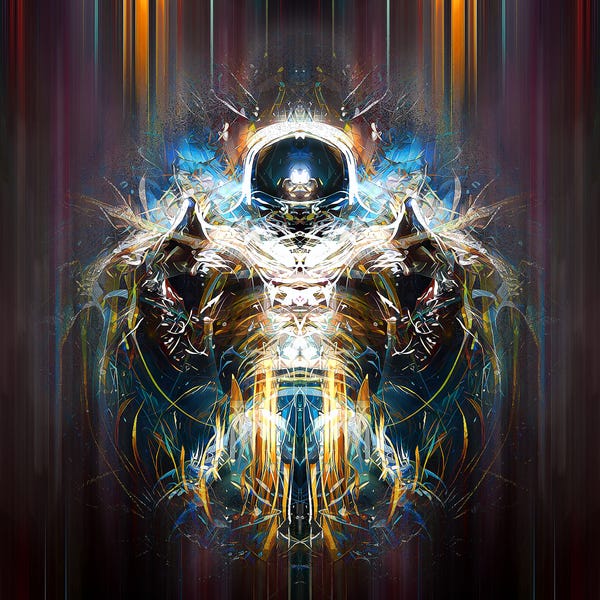 In June I minted a 10 edition NFT for 1tez on Typed.art with the simple phrase "IOU 1 JPEG". Sure enough, they began to be collected, and I started producing 10 unique 1/1 character pieces, forming a team of unlikely heroes. Continuing the theme of cross-platform collecting, these characters were then minted on Objkt.com, and once all 10 editions of the text-based token were collected, I airdropped one of the artworks to each collector.
I am currently planning on writing the lore and backstory of this motley crew, starting with the Traveller.
You can see the full collection here.
---
A Knight's Vengeance
Utilizing Disco Diffusion AI, this collection is a tale of one adventurer's thirst for justice and revenge, as he infiltrates the enemy Citadel. To avoid any language barrier, each page was intentionally devoid of text, with the viewer left to interpret the tale from the imagery alone.
Created for part of the Tezos-wide #1of1 event, each page of the short story was minted and listed as a single edition. Pages 9-12 were listed as a special 4-page spread.
Check out the collection on Objkt.com.
---
Doubloons
Doubloons is a fun little collection of 50 pieces of 1/1 gold, scavenged from the depths of the high seas. Each coin is a unique design, created using Snowpixel AI & Adobe Photoshop.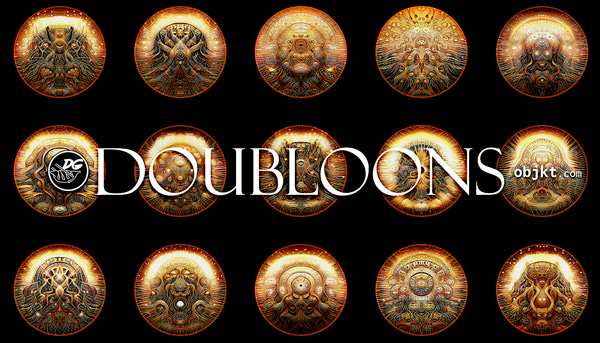 Doubloons collection on Objkt.com
---
The Lightbulb Community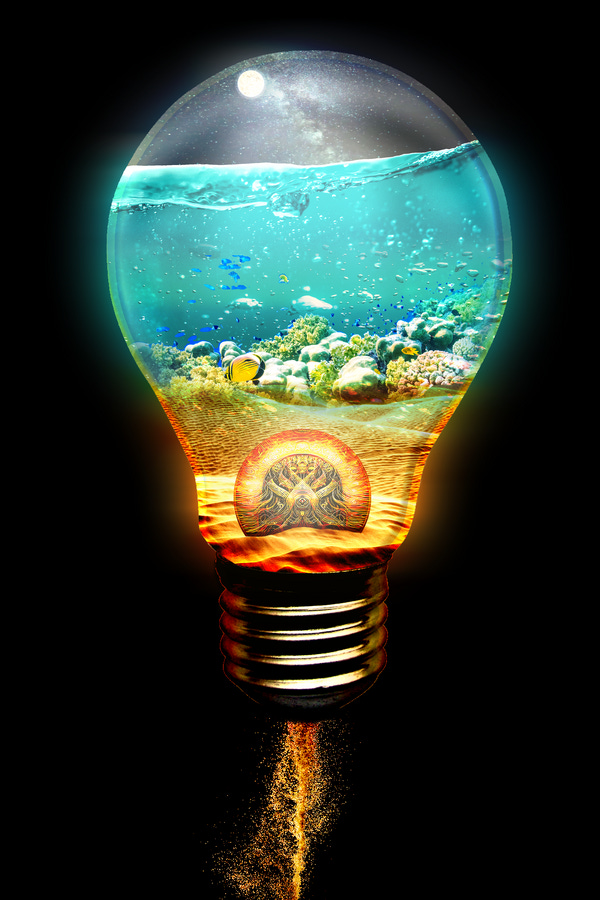 The Lightbulb Community is a community collaboration project created and curated by @thomaaas_crypto.
The main focus of the collection is not about money, it is about networking, making friends, getting visibility in the space, creating amazing art, and just having a lot of fun. Starting the collection with 5 designs, he invited people to collect editions of the bulbs, then use their chosen design as inspiration or an initial image for their own bulb creation, which could then be added to the collection. The response has been insane. To date, there are 104 items by a plethora of talented artists, with a total volume of 1.75K ꜩ.
I have submitted 2 bulb designs to the collection, which you can check out below.
---
Evasive Manoeuvres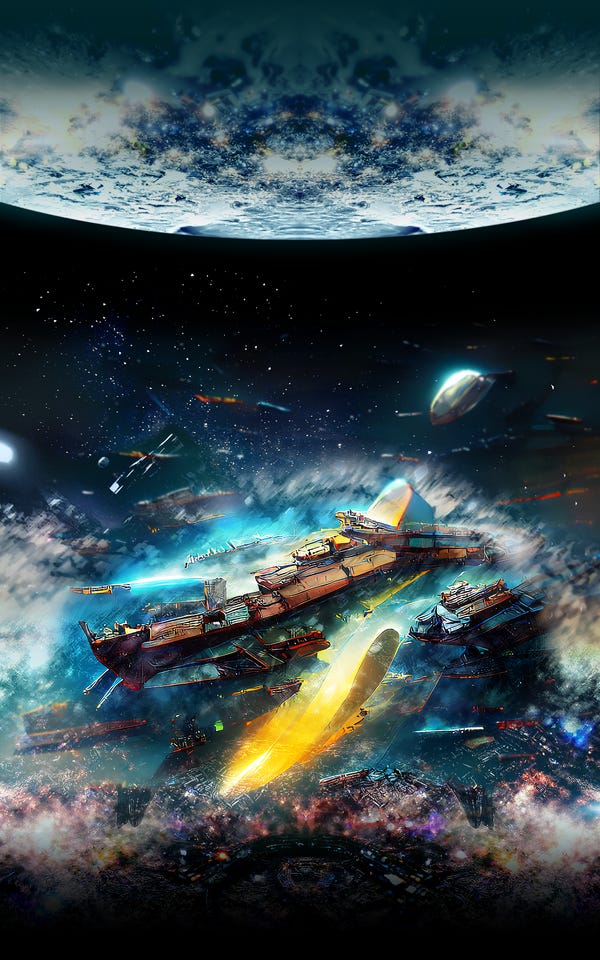 Evasive Manoeuvres is my contribution to TezTown's #OutofthisWorld event.
Artists were encouraged to create a space-themed piece for the event, with the opportunity to enter it under a number of contest categories: - Galactic Battle, Spacebase, Retro Scifi, My Favourite Alien, and Summer in Space.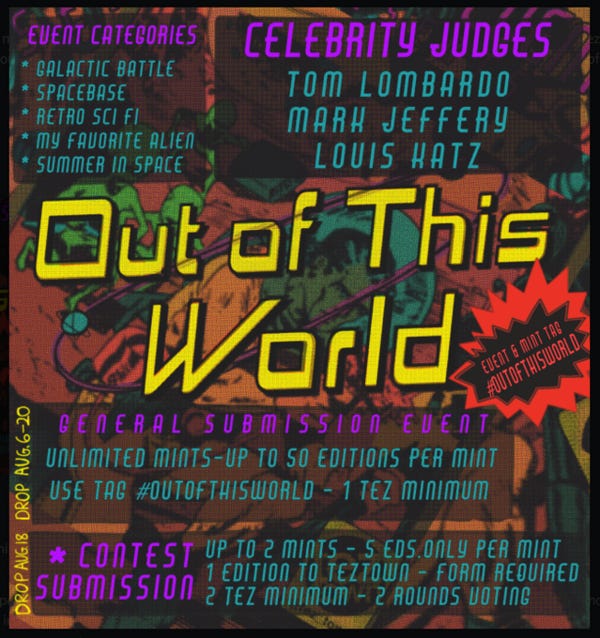 This piece was made using a combination of AI elements from both Snowpixel and Disco Diffusion AI, plus image editing in Photoshop. You can still collect a copy of my piece on Objkt or Teia.
---
Battle For The Wastes - An Update
After a bit of a hiatus, I've begun working on the next stage of the project for "Battle For The Wastes", which involved creating movable, playable 3D assets of every card and uploading them to Tabletop Simulator, so I could start planning out early playtesting.
The above video shows the 3D assets within the Tabletop interface, and I think they look great! I have a few more steps to take before I can invite people to take part in playing a few games, but it's almost there.
I'm really excited about this one.
If you want to pick up a card, the only way to get one on Primary is via airdrop reward when you collect artworks from the 4 original collections.
---
The Great Debate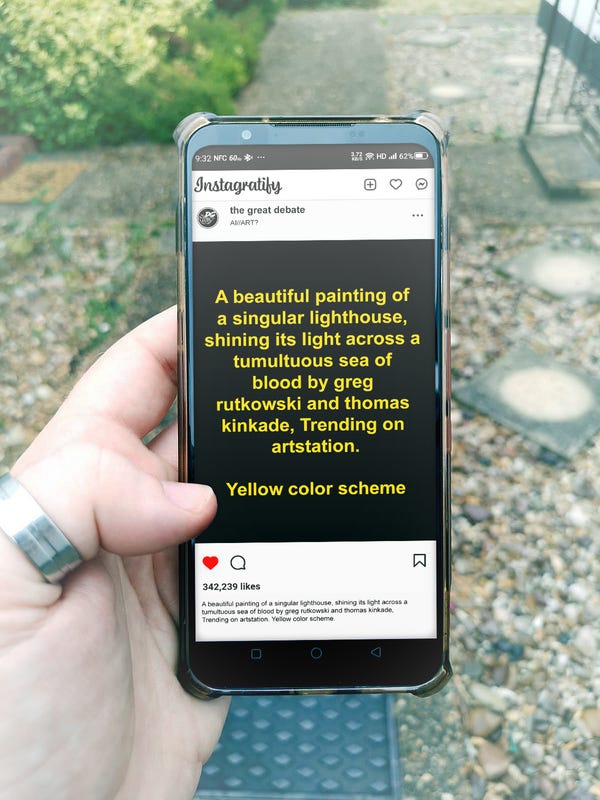 The Great Debate is a series of conversation pieces, exploring and examining the ongoing discussion of AI's place in the art world, and its possible effect on the current status quo. What is art? Does the method of its creation affect the way it resonates with an audience, and should that matter if it connects with someone? What is the true "art" of AI image generation? Is it the fantastical end result, or is it the artist's own magic words planting the seeds for creation?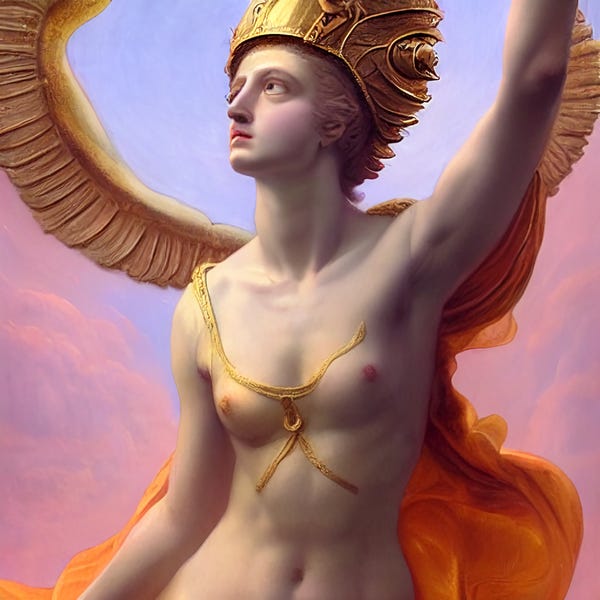 Visit the full series on Foundation.
---
People of Tezos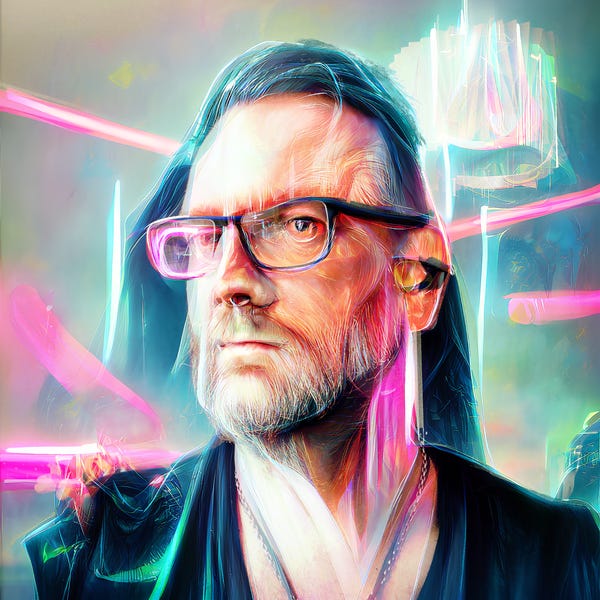 People of Tezos is a stunning collection on Objkt.com, created and curated by @Pierreo01. A pfp collection of real Tezos artists and personalities with short biographies self-drawn by the artists. All pieces are officially affiliated with and approved by the artist or personality.
55 pfp portraits are live so far, and continuing to grow.
This is my self-portrait, which might just be added to the collection in the next couple of weeks! How amazing is that?
Collect this post to permanently own it.
Subscribe to EAT SLEEP MINT REPEAT and never miss a post.