Last year, I was in quite a bit of a rut. The bear market was in full swing, NFT sales were in the dirt and I was so fed up with the increased toxicity of Twitter that I quit the platform. In doing so, I destroyed almost all of my visible reach.
I was sick of it.
But rather than throw in the towel, I collected my thoughts and attempted to shift my focus.
Instead of souring over the state of the NFT ecosystem, I looked to exposure and visibility as the primary financial goal. In a heavily competitive market such as this, a chance to be seen is an incredible feat, and equally a challenging one.
I got stuck back into my art, experimenting with different styles and mediums. I joined Farcaster, Post, Bluesky, and even Tumblr, in a bid to widen my online reach. I began dropping small videos and shorts on YouTube. I created a Discord server (which I admit I'm awful at running). I tested Gallery, Deca, EthCo and Butiq as various ways to curate & present my work. It was.. a LOT.(If you've read my earlier posts, I talk about being a "Plate-Spinner". This was that time!)
However, it dawned on me that regardless of the above, the actual visibility of my work was still inside a microcosm that was the gated realm of NFTs. As much as the dynamic promise of Web3 continued to thrill me, it felt increasingly futile to ignore the "outside world" of regular digital & traditional art consumers. The best way for me to get more eyes on my work, would be to get pieces in an exhibition, or curated in a physical space.
Easier said than done.
Whilst blockchain tech and web3 companies are on the rise in the UK, the no. of physical gallery spaces dedicated to crypto art is still very small. In the fall of last year, I attempted to make contact with a few London-based venues, with a view to introducing myself & my art, connecting with the people behind them, and potentially discussing how I could get a piece of my work on their walls.
It didn't go very well. I was either ghosted completely, stood up on meetings, or offered limited space for outrageous fees. Not a great start. Was my work not good enough? Was I just a nobody in the space? Were they only interested in the big players? It left me with more questions than answers.
Enter the lovely people at NFTUK
I had been frequenting their meetup groups for a little while, getting to know the London crypto enthusiasts and fellow web3 artists. The events are always a fun, sociable atmosphere and very relaxed. In December, the organizers worked together with a venue to get 3 screens up on their walls and asked the group members to submit art to a Christmas open call via Joyn.xyz, for a chance to be displayed throughout the night. I jumped at the chance. Could this be an opportunity? Only one way to find out..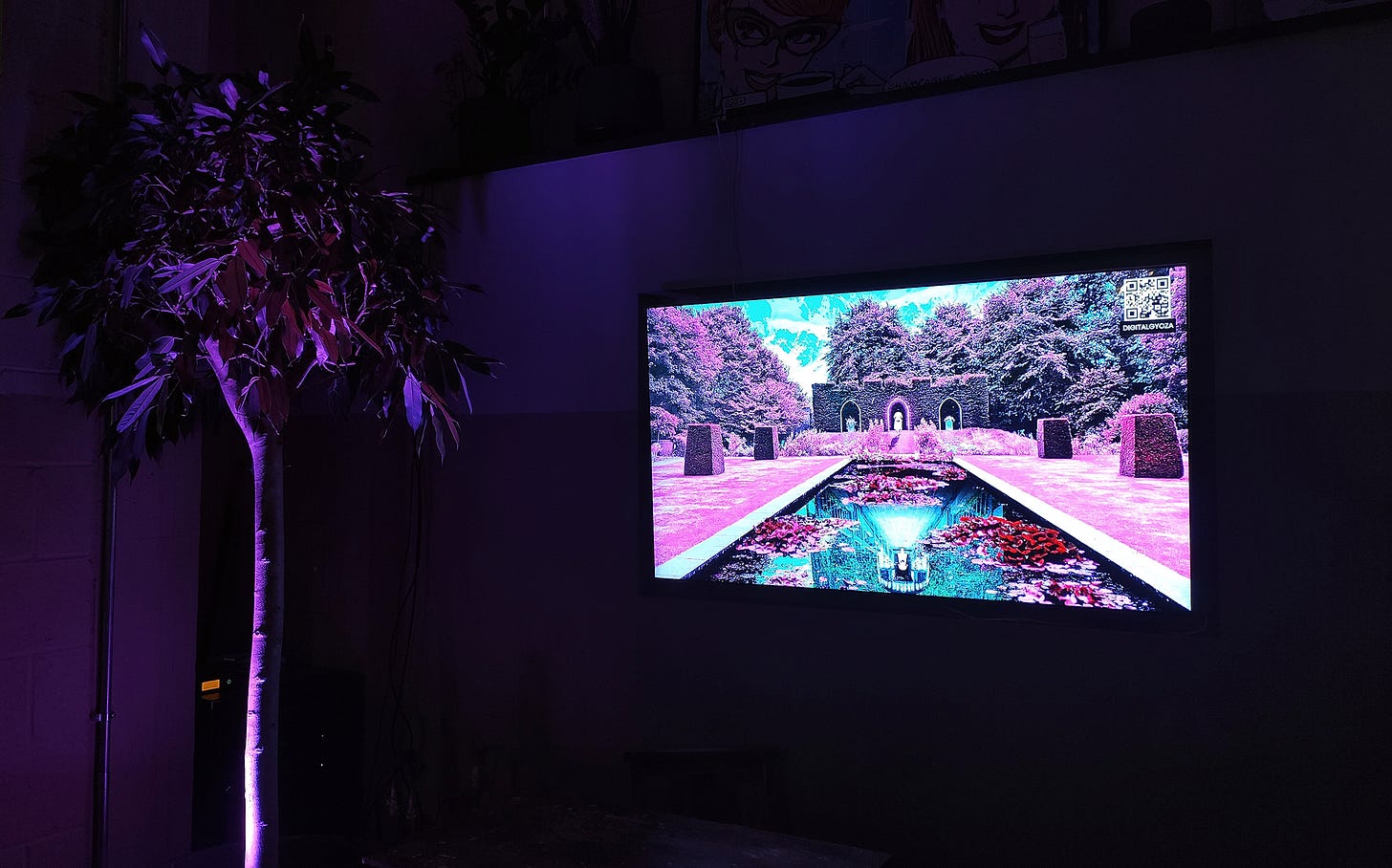 Incredibly, my piece "Temple of Enlightenment" was chosen alongside a host of very talented creators. It may have just been a social meetup, but it was also my first time having such work on show in a physical space. It felt like a big first step, & I was very grateful to be part of the curated display.
Whilst at the event, I was introduced to one of the owners of the Holy Art Gallery. They were in the middle of organizing their annual event at the Oxo Tower's Bargehouse, called the Holy Art Fair. Whilst their physical call for entries had closed, they still had a digital call open, which would include NFTs. We got talking, and after striking up a deal I applied for a couple of pieces to be present within the show at the end of March 2023.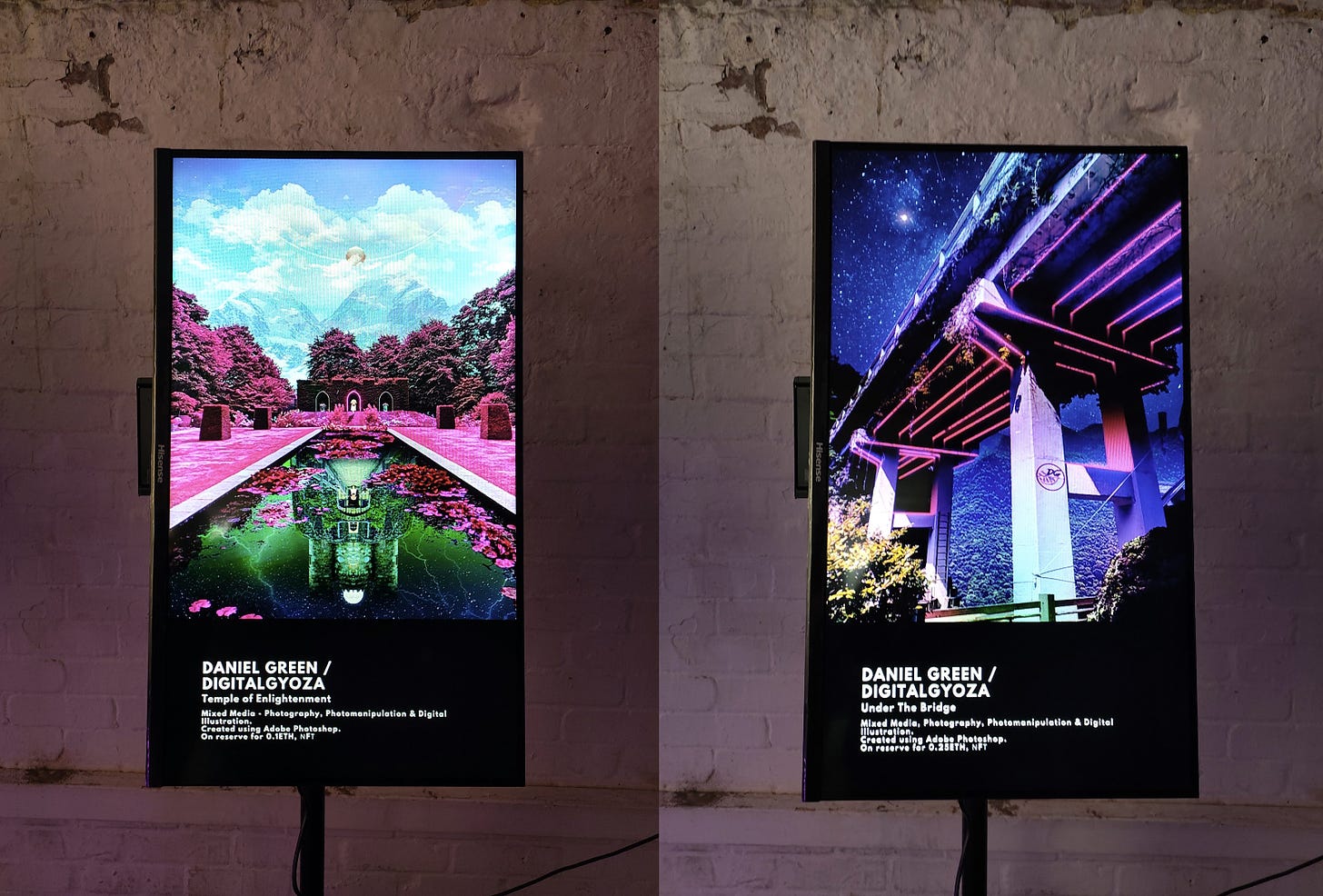 As luck would have it, both got through to the event, cycling on a 4-screen showreel with 60+ other amazing artists, with a mixture of digital pieces and photographs of canvases & prints on display. Whilst there was an entry fee to exhibit, and whilst the digital showcase was hidden away in the corner of the fair's sprawling venue, it still felt like another incremental step forward. Neither piece sold, but for me, the visibility was invaluable.
Small Acts, Big Screen
Meanwhile, NFTUK dropped some real alpha on their Discord with news of an open call with Le Good Society & Hedera. For this year's Earth Day, they would exhibit art across a number of countries to remind, educate, & encourage people to live a more sustainable and eco-friendly life. A number of artists had created work on this subject matter each with a specific message in connection with the theme: SMALL ACTS. BIG CHANGE.
They then invited NFT artists to do the same with the chance for their art to be shown not only as part of this outdoor art exhibition but also on a giant billboard in Times Square in April.
With Hedera still an emerging blockchain at the time, I figured why not? If anything the level of competition may not be so intense and it wouldn't hurt to try. I submitted a piece for consideration and crossed my fingers.
I did not expect anything to happen. Boy was I wrong.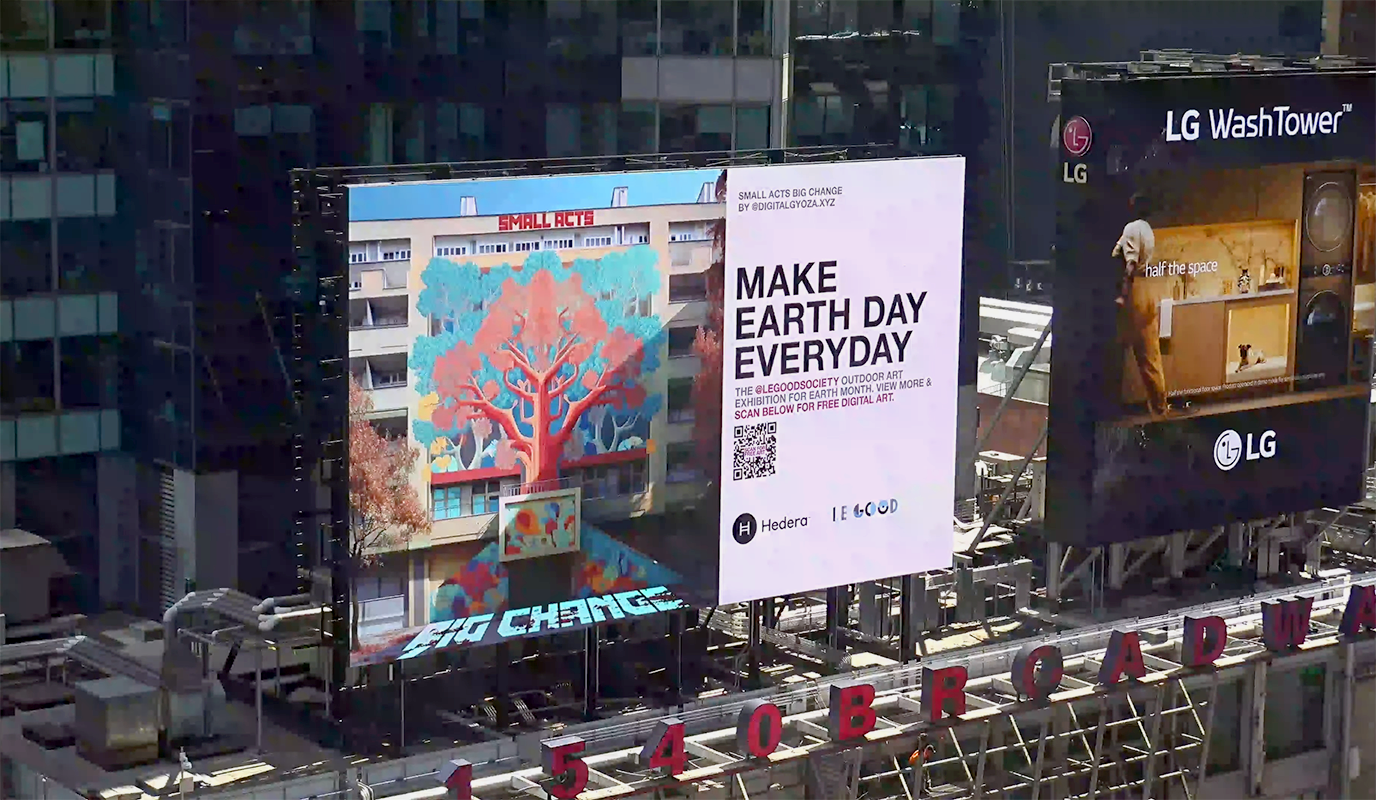 By winning the contest, my work was incorporated into the exhibition with a dozen other artists, on display in both Times Square in New York for 2 weeks, and on Billboards in Amsterdam for 3 weeks! I was so humbled and grateful to the organizers for this incredible opportunity, and never could I imagine that my work would be on the big screen alongside so many talented people, especially during NFT NYC.
But more importantly, it came with a huge sense of validation as a digital & AI artist and confirmed to me that this crypto art venture of mine was seriously still worth pursuing.
Open Calling
After taking a four-month break from Twitter/X, despite my disdain for the platform I tucked my tail between my legs and returned with a brand-new account. The primary reason was that not only did the majority of NFT marketplaces rely on Twitter for verification, but so did many of the creative contests, campaigns, and artistic opportunities in Web 3. As mentioned above, Joyn.xyz is a great service for curating and organizing open calls & exhibitions, but predominately uses Twitter for verification & entry submissions. Swallowing my pride, with a fresh username, I began applying to as many calls as I could. However, this didn't exactly bear much fruit. With such steep competition, all one can do is try, try, and try again.
Try Again
In October of 2022, I applied to Ninfa.io in a bid to be part of their marketplace. However, at that time I was unsuccessful, and my application was rejected. Feeling dejected, I also tried my luck with SuperRare, but never even heard a whisper… the seeds of doubt crept in, and made me question my art and abilities.
However in 2023, with a fresh outlook and a wealth of new work and new ideas, I tried again with Ninfa, and to my delight & amazement, after a thorough review process and a live 1-to-1 interview(!!) they accepted me in. Another milestone. This was the first major apply-only platform I'd been accepted to. Later in July, I would try my luck again with Makersplace, and a month later I found myself a verified MP Creator. I couldn't believe it, and barely contained myself.
Your loss SuperRare.
The point I'm trying to make here is: don't take no for an answer and never let it rock your confidence. Go away, work on yourself and your art, and come back so strong they can't say anything but yes. Because it CAN and DOES happen. It happened to me.
The same can be said for open calls.
In September of this year, Breathe! Convention took place in Las Vegas. The art & tech event had a whole host of open calls running on Joyn, and one such call was for Tezos Pepe. Artists with work on Pepe Et Nunc could submit pieces to be considered for a screen exhibit during the event. As it happened, I had one such piece. Mecha Pepe - Homeworld.
I had been experimenting with midjourney's zoom-out function and keyframes in Da Vinci Resolve, to get smooth "infinite" transitions from start to finish. It was all a bit of fun, and I decided to enter it into the open call. I'd had little to no luck with such contests thus far, never making the shortlist, but it couldn't hurt to try.
The unthinkable happened. Mecha Pepe did indeed make it to the city that never sleeps, and was shown alongside an array of amazing art by members of the platform during Breathe! Con. I was thrilled, yet also a little gutted that I could not find or obtain any photos of it on display, as I was unable to attend in person. (Vegas is a bit far for me!) Still, it lit another fire in me to push on and keep entering as many open calls as I could.
What I really strived for, was to be part of a fully-fledged gallery show…
California Love
In August, out of the blue, I was contacted by The Mintery, an accelerator program designed to help support artists on their journey into Web 3. They were teaming up with Mary Lai, Art Resident for W Hotel, and Gamma.io - a Bitcoin & Stacks marketplace, to launch a 6-month digital gallery in Beverly Hills. Selected artists would have the incredible opportunity to see their artwork prominently displayed in the gallery and be featured at an exclusive event attended by collectors, creators, art connoisseurs, and media. They felt my art aligned with the vision of the exhibition's theme "Unlock Your Dreams" as well as the aesthetics of the hotel.
I was absolutely floored. I agreed immediately and began working on a Genesis piece for Gamma. In early October of this year, I received the image below. My piece "A W A K E N" was prominently displayed in W Hotel West Beverly, alongside the other successful applicants, and would remain on show for a month. I was elated. I cannot thank The Mintery enough for such an opportunity.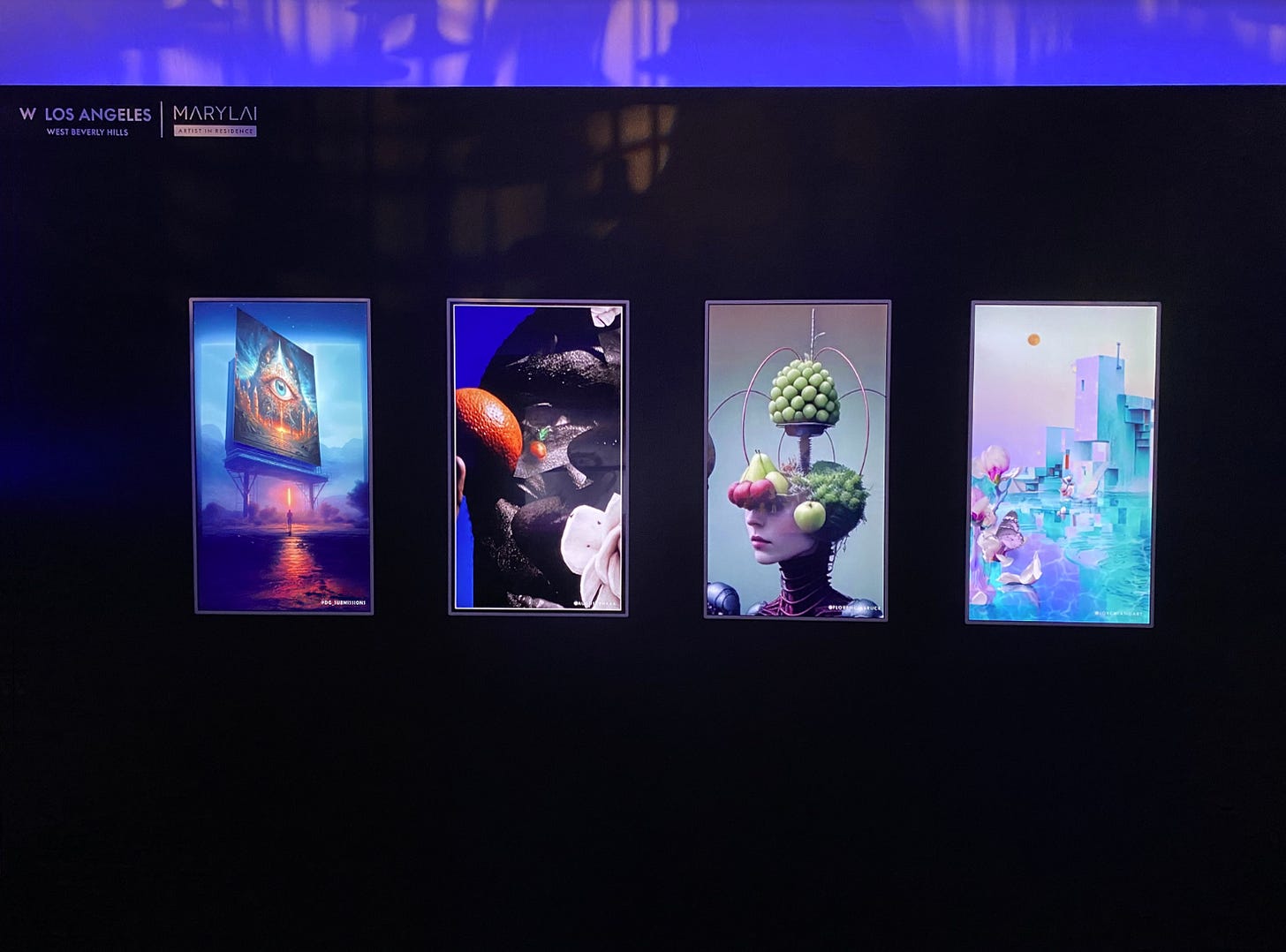 A year ago I was almost ready to distance myself from the whole NFT scene. And yet here we were, through a series of fortunate events, in a month-long curated show in LA.
Since then, I have been fortunate to be included in both an open call curation called ART MUNDIS, organized by Arena Art Space & Kollector_Token, and featured in a showcase called "Strange History: Ancient Cults", curated by Historic Crypto.
I was also most fortunate (as per my last post) to have my first-ever curated NFT drop this month with Rarible. The guys there are a wonderful team and incredibly receptive & enthusiastic. I genuinely think that this chance would not have materialized if it were not for the journey this year took me on, and the fresh outlook I adopted.
Live In London
And so it comes full circle. In December this year, I will be one of 40 artists who were invited to take part in a month-long physical canvas exhibition in London, within Waterloo's The Sidings, in association with Caps n Cans. It's the first time I will have ever shown a physical piece of art in a curated space. Each canvas will be 1m x 1m, and there will also be a limited run of prints available for each artwork.
Im so freakin excited! The organizers are working diligently with all of the artists and it's starting to gain a lot of interest and traction.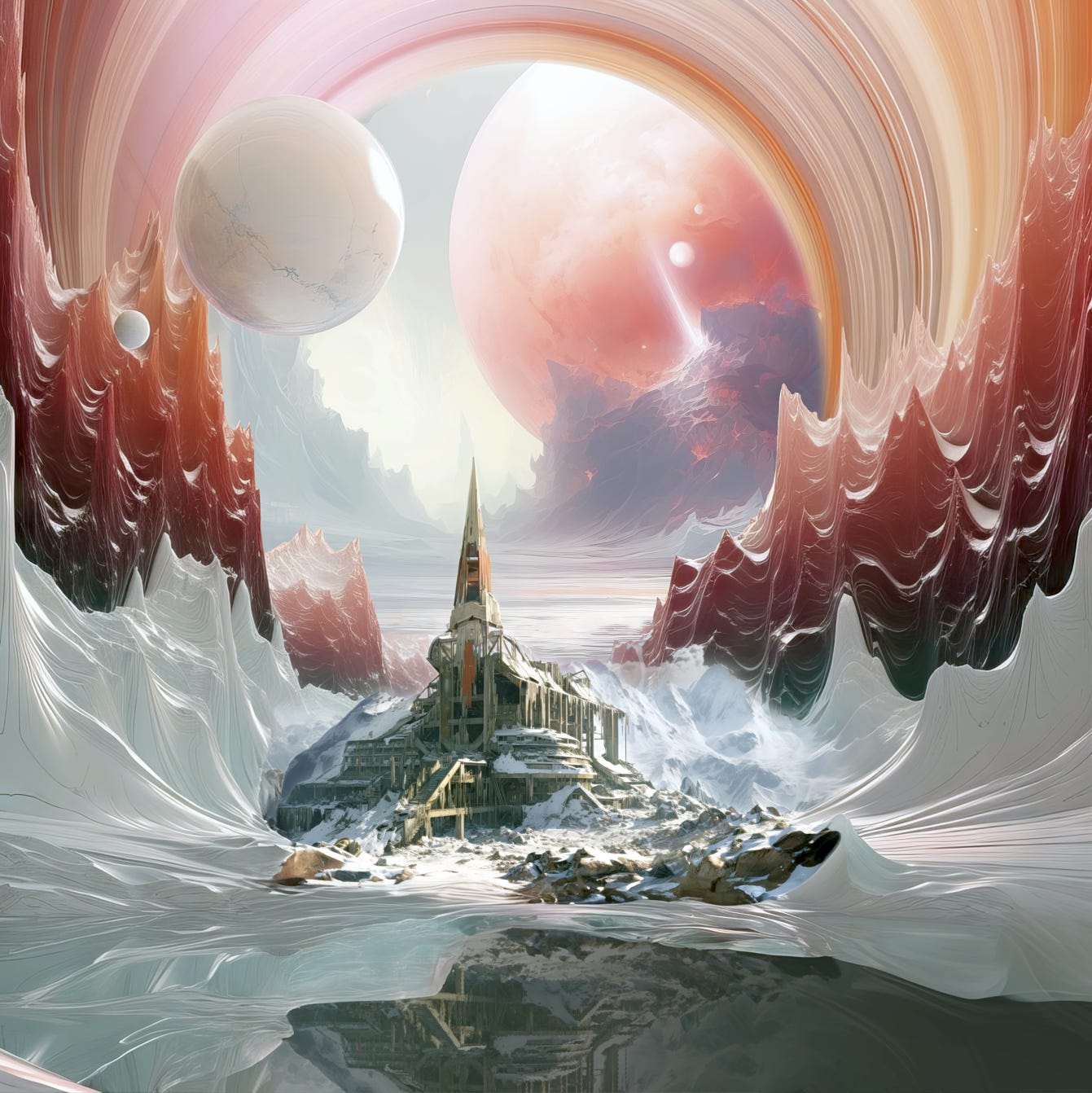 I have completed the design of my piece (above), and now need to arrange to have it professionally printed to canvas in time for the show. I can't wait to show you all the final results.
---
And there you have it. In summary? When it feels like nothing is going your way, take a break, refocus, look at things from another angle, and regroup. Get a fresh perspective and work on yourself and your craft. Then hit them again. You may be pleasantly surprised. Take each small victory for what it is, learn from them, and use them to build upon. It's all for the taking.
Now if someone would just buy my art.. that would be awesome. 😆
---
Hey, thanks for reading! If you enjoy the content, why not consider subscribing?
Dan | Digitalgyoza
Collect this post to permanently own it.
Subscribe to EAT SLEEP MINT REPEAT and never miss a post.
#web3.0
#exhibitions
#ai
#art
#nfts