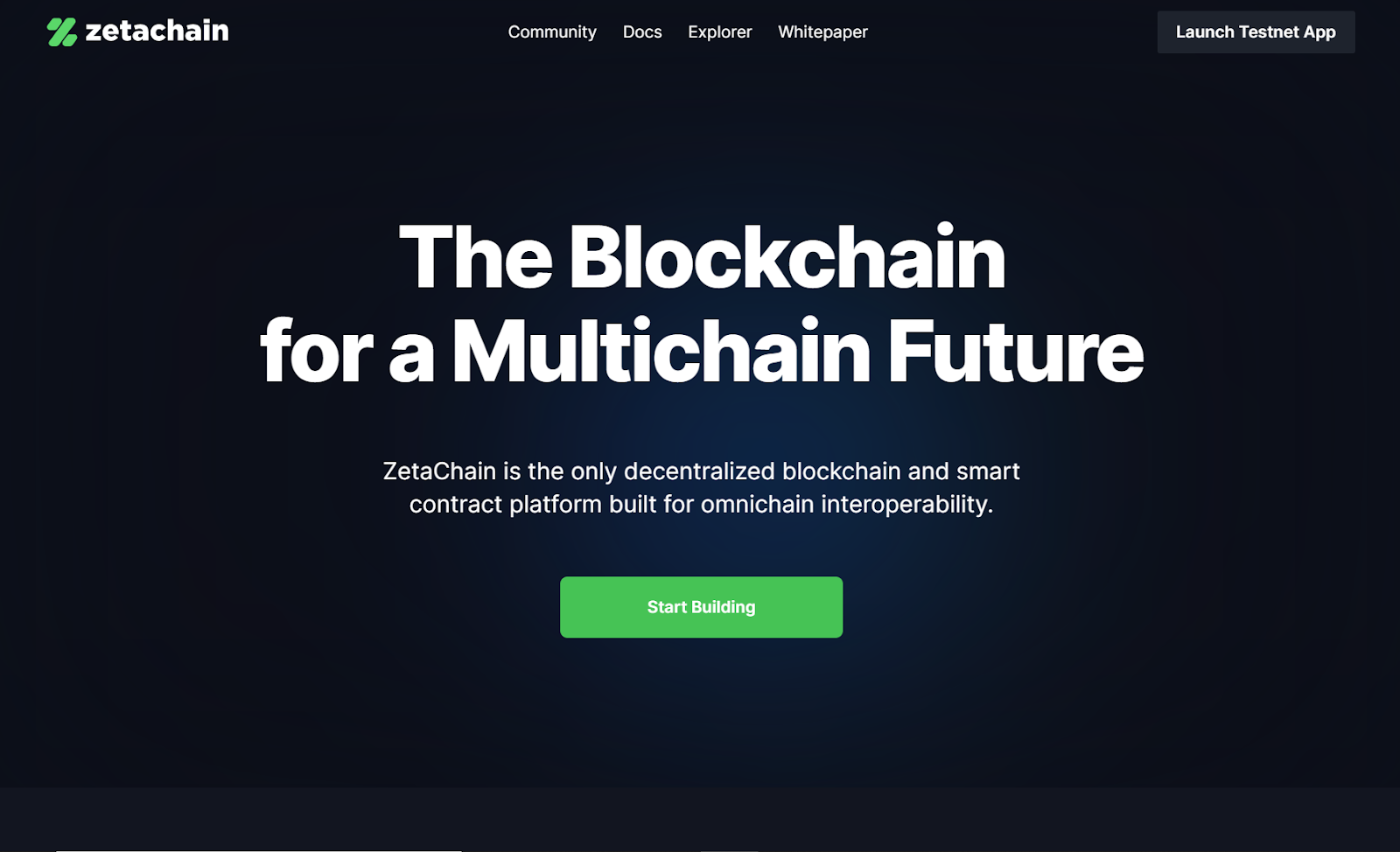 I. About Zetachain
ZetaChain is a blockchain built on the Cosmos SDK, using the Proof of Stake consensus mechanism and connecting to other blockchains such as Ethereum, BNB Chain, Polygon ... Through the use of the Omnichain mechanism, developers can create odApps just like developing dApps for a single network like Ethereum or Polygon, while leveraging aggregation capabilities across networks.
ZetaChain's homepage: https://labs.zetachain.com/
What is ZetaPoint for?
ZetaPoint is a bonus point from the plus network for users when they complete their respective tasks, specifically as follows:
For each person you invite, you'll both get boosted 5,000 ZETA Points. For each weekly transaction they do, you'll get 1,750 additional points. Learn More here.

Earn 7000 ZP by swapping once every 7 days.
ZetaPoint will be a measure for testing and recording user contributions on the ZetaChain testnet. It is possible that this will be one of the bases for the airdrop network for users.
Zetapoint is shown in the area as shown in the image below:

II. Preparation steps before performing testnet with Zetachain
Download and install Metamask wallet
First, you need to download the Metamask wallet.
The testnet will be automatically added to the wallet when you interact with certain types of assets. In addition, we need to add Polygon blockchain to receive ZetaChain NFT on Galxe according to the information below:
Network Name: Polygon
New RPC URL: https://polygon-rpc.com/
ChainID: 137
Symbol: MATIC
Block Explorer URL: https://polygonscan.com/
Connect wallet and get ZETA testnet
To participate in the testnet on ZetaChain, you need to set up a ZetaChain wallet account through the following steps:
Step 1: Go to ZetaLabs homepage here and select Connect Wallet → MetaMask.

Step 2: Select Get Zeta to receive the ZETA Testnet. Before that, you need to connect your Twitter and Discord accounts to confirm that you are not a bot.

Step 3: Click Request Access to receive ZETA Testnet and gas on the respective networks.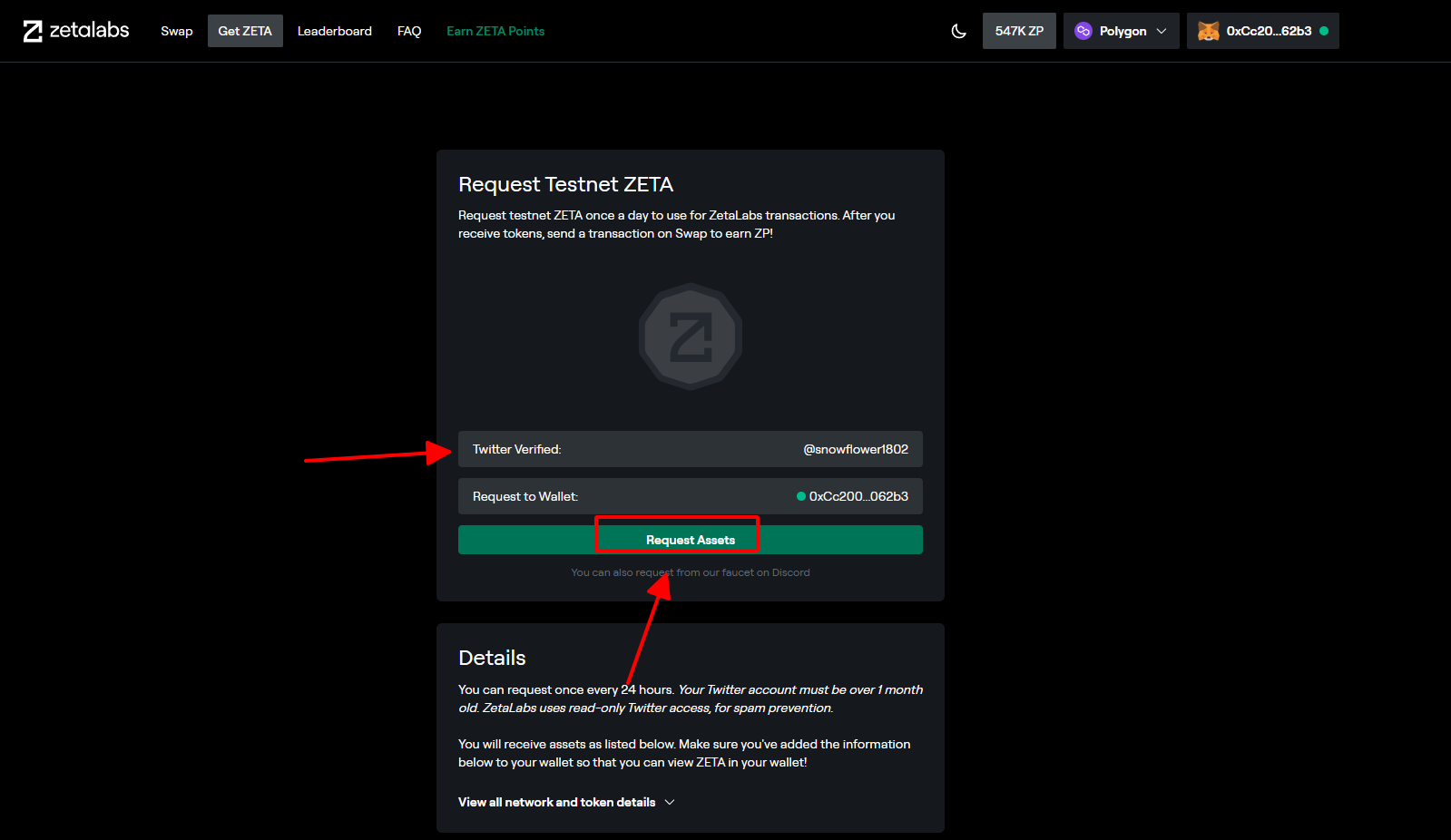 In addition to this, you can also faucet through the command "Zeta faucet drip + wallet address" at ZetaChain's "zeta-faucet" channel.
Join discord Zetachain: https://discord.gg/zetachain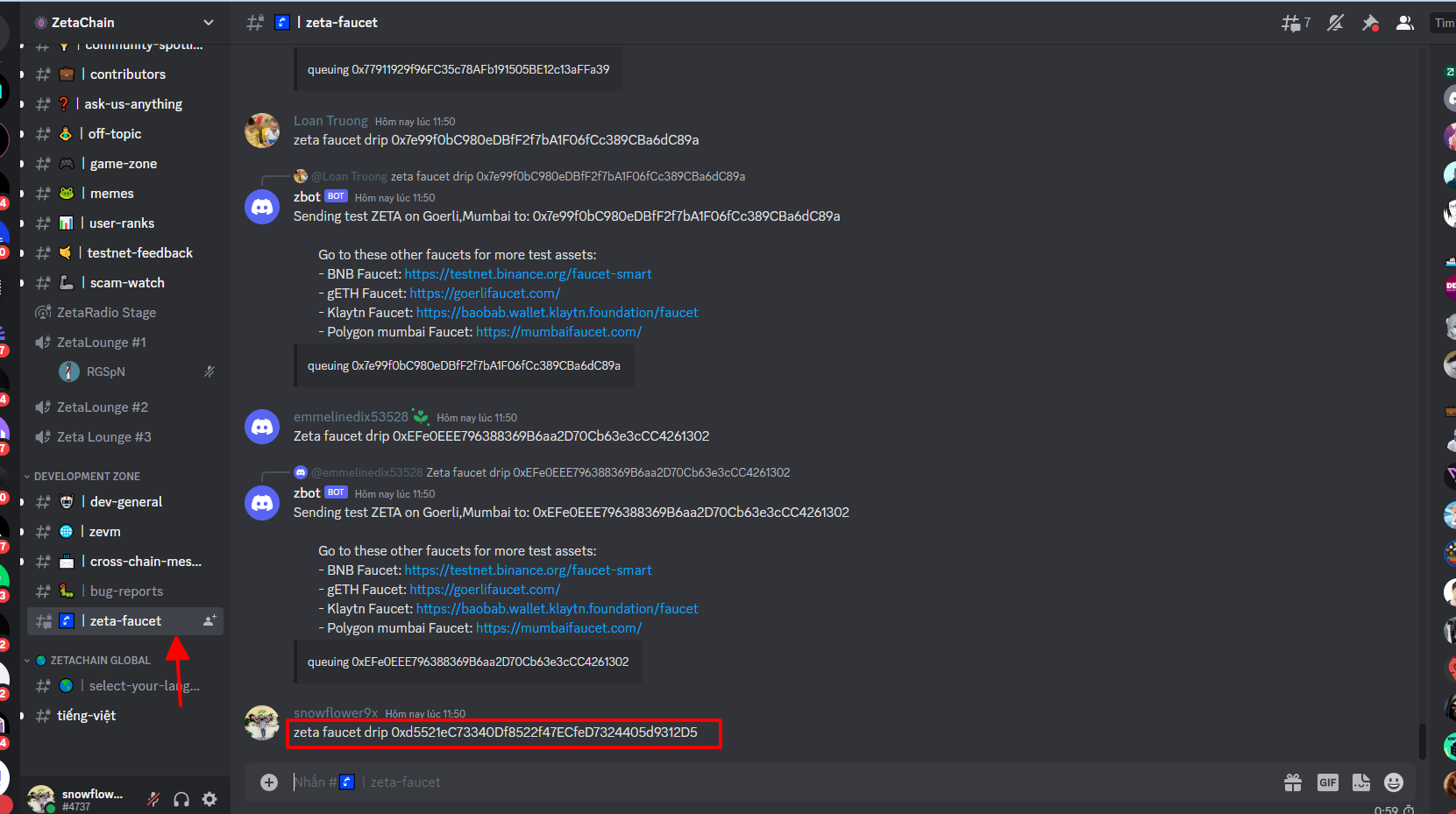 Faucet assets on Goerli testnet, BNB testnet
In addition to the ZETA testnet, if you need to add ETH or BNB on the respective networks as trading gas fees. Faucet through the following websites:
ETH Goerli testnet: goerlifaucet.com
BNB testnet: testnet.binance.org/faucet-smart
Download and Install XDEFI Wallet
Connect a wallet and create an account on Galxe
There will be NFTs that certify the user's interaction with the ZetaChain testnet network, you will mint these NFTs as a certificate of mission completion.
Before joining mint NFT and doing the task, you need to set up a wallet account through the following steps:
Step 1: Visit Galxe's homepage here. Then, select Connect Wallet → MetaMask to connect the wallet.

Step 2: Select the profile picture on the right corner of the screen → Settings → Soccial Link.

Step 3: In the Social Link section, connect your Discord and Twitter accounts to get mint NFT. These two accounts will also be used to interact with ZetaChain testnet tasks.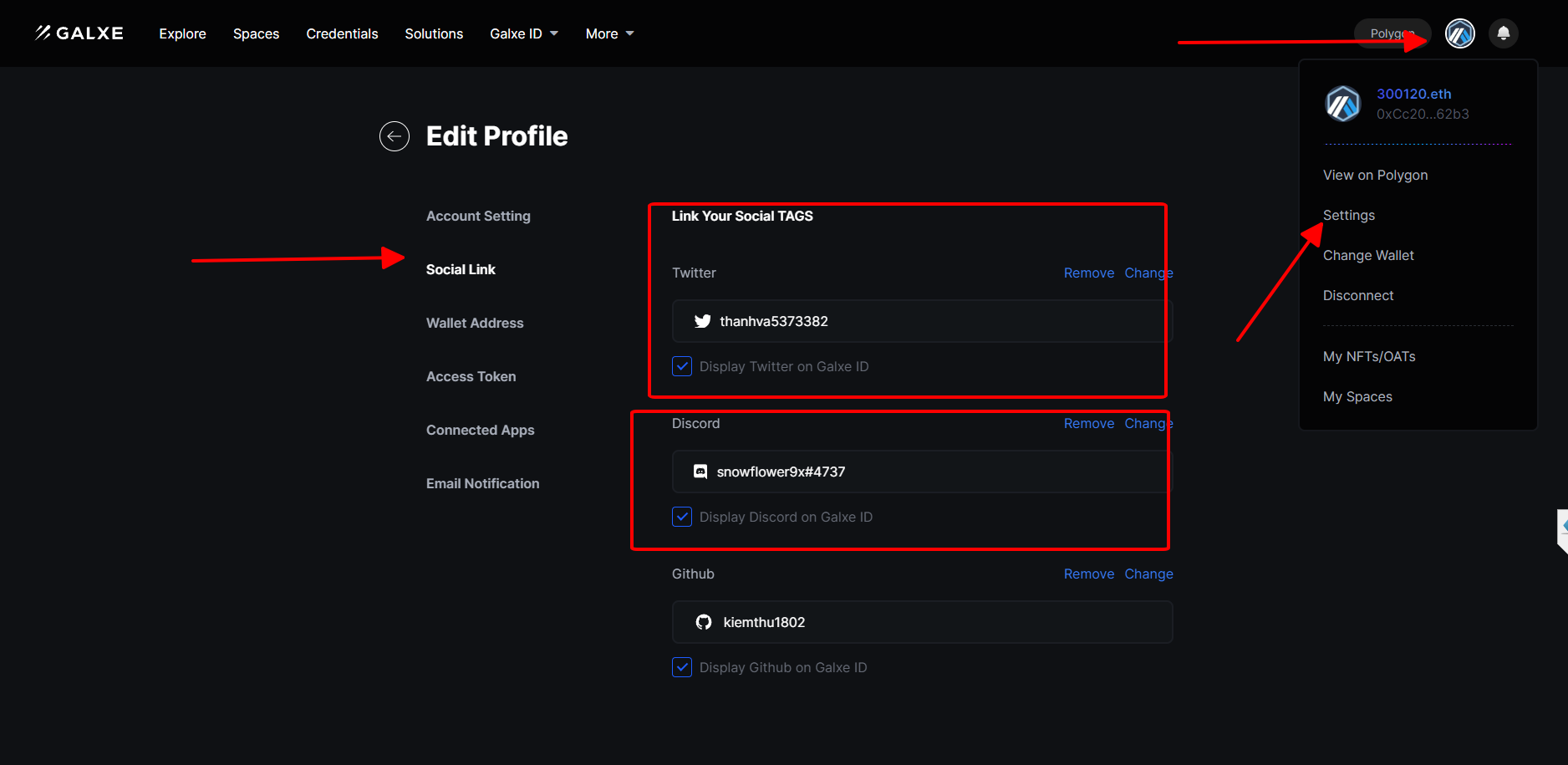 III. How to make a testnet on ZetaChain
Swap on ZetaChain testnet
The Swap feature will be a way for you to get 7,000 ZETA Points 7 days. This is an extremely simple way to earn points, you should remember to do it every 7 days 1 time.
Step 1: Access the Swap section via the link here.

Step 2: Select the network, asset type and enter the number of assets required to trade. Encourage people to make transactions with ZETA tokens (minimum of 3 tokens) and exchange the target chains one after the next time.

Step 3: Approve ZETA token and select Review Order.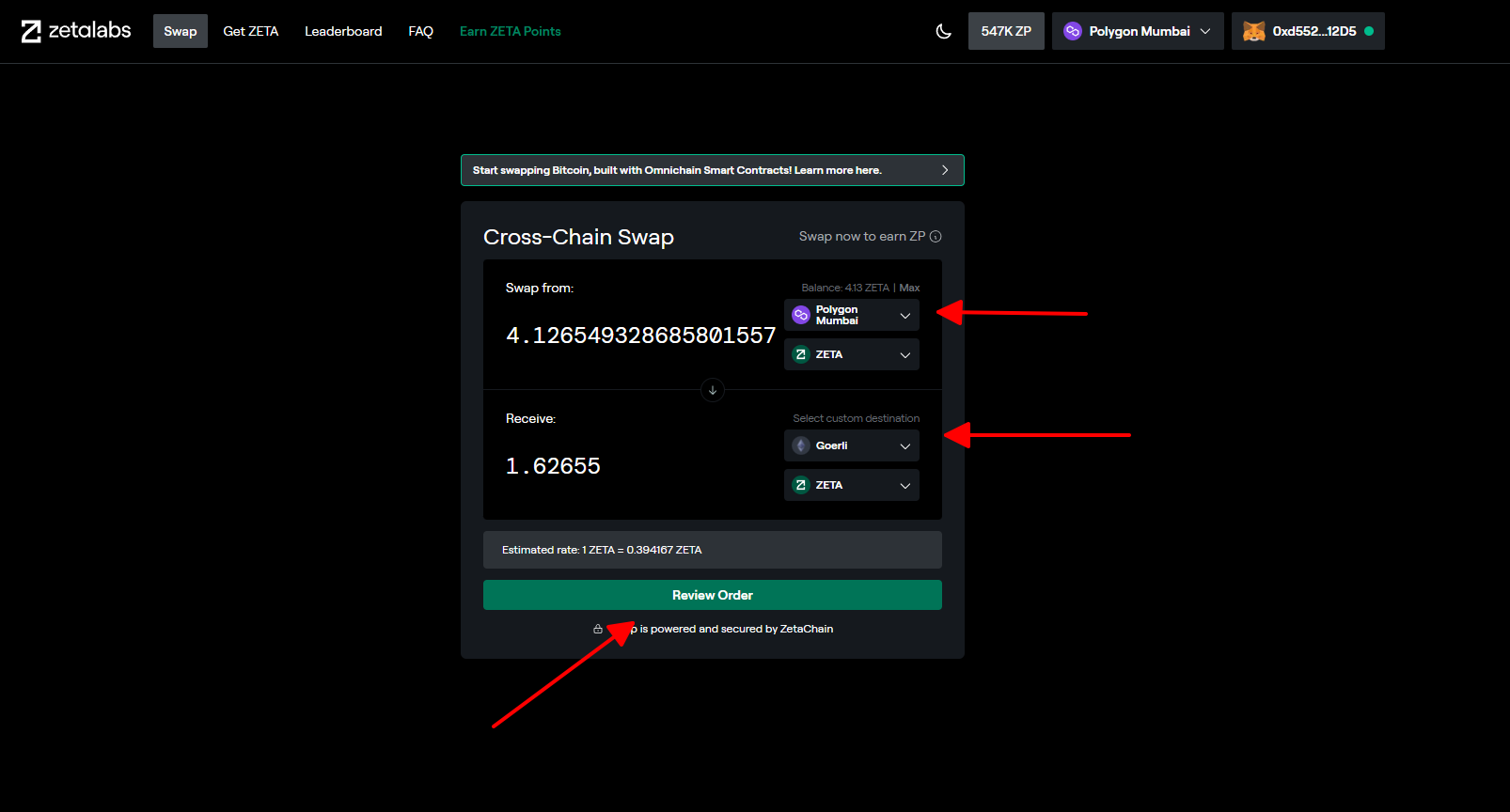 Check the trading information and select Swap.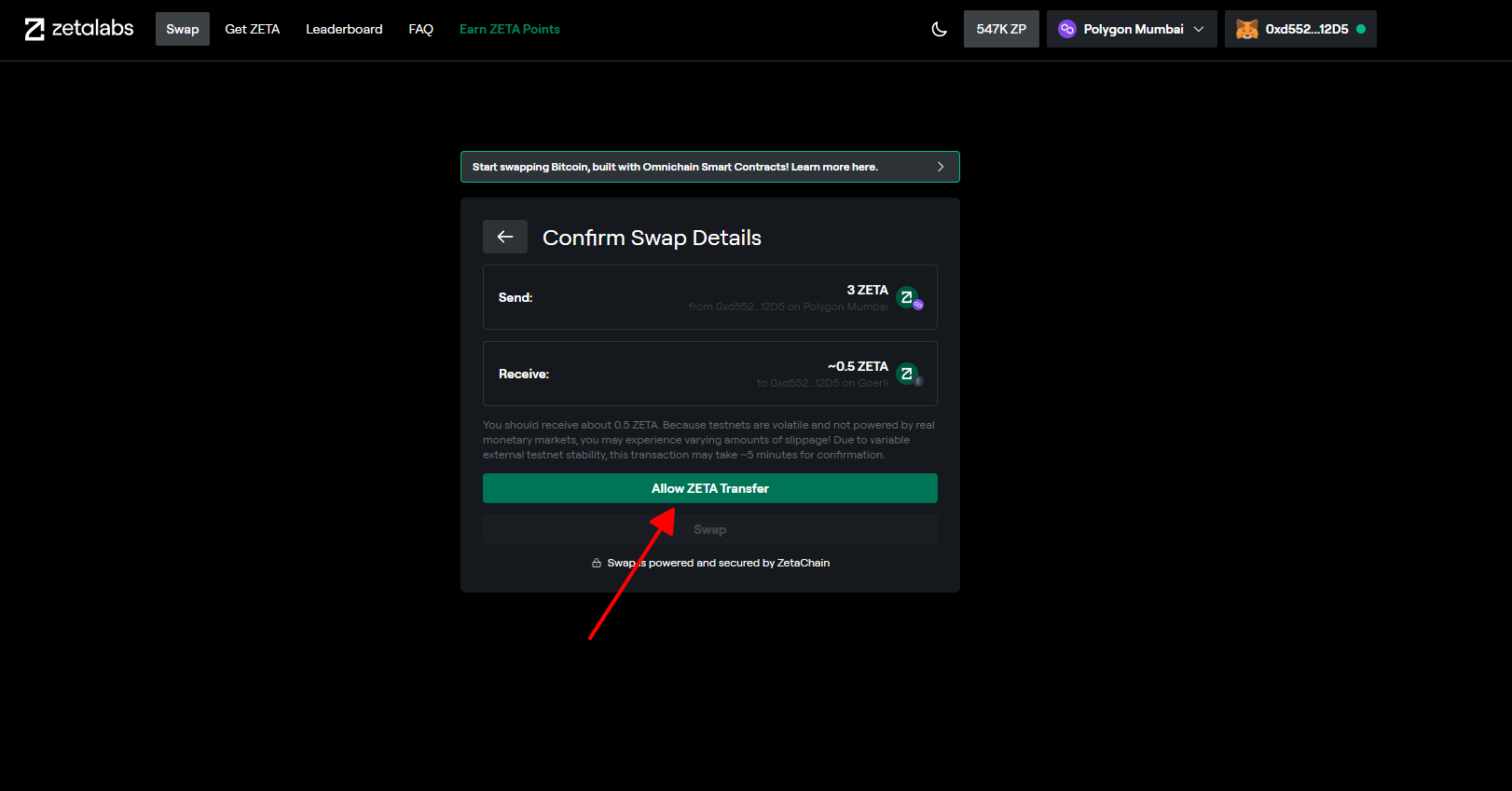 Create links and invite friends
Sharing a link to invite friends to join the network will help you significantly increase your score. For every referral who connects the wallet and makes your first transaction, you will receive 5,000 ZETA Points. In addition, for every trade the invitee makes per day, you will receive 250 ZETA Points.
Step 1: On the ZetaLabs homepage, select Earn ZETA Point.

Step 2: Choose Share on Twitter if you want to share on social media. Or select the Copy Link to send it to the people you want to invite to join the ZetaChain Testnet experience.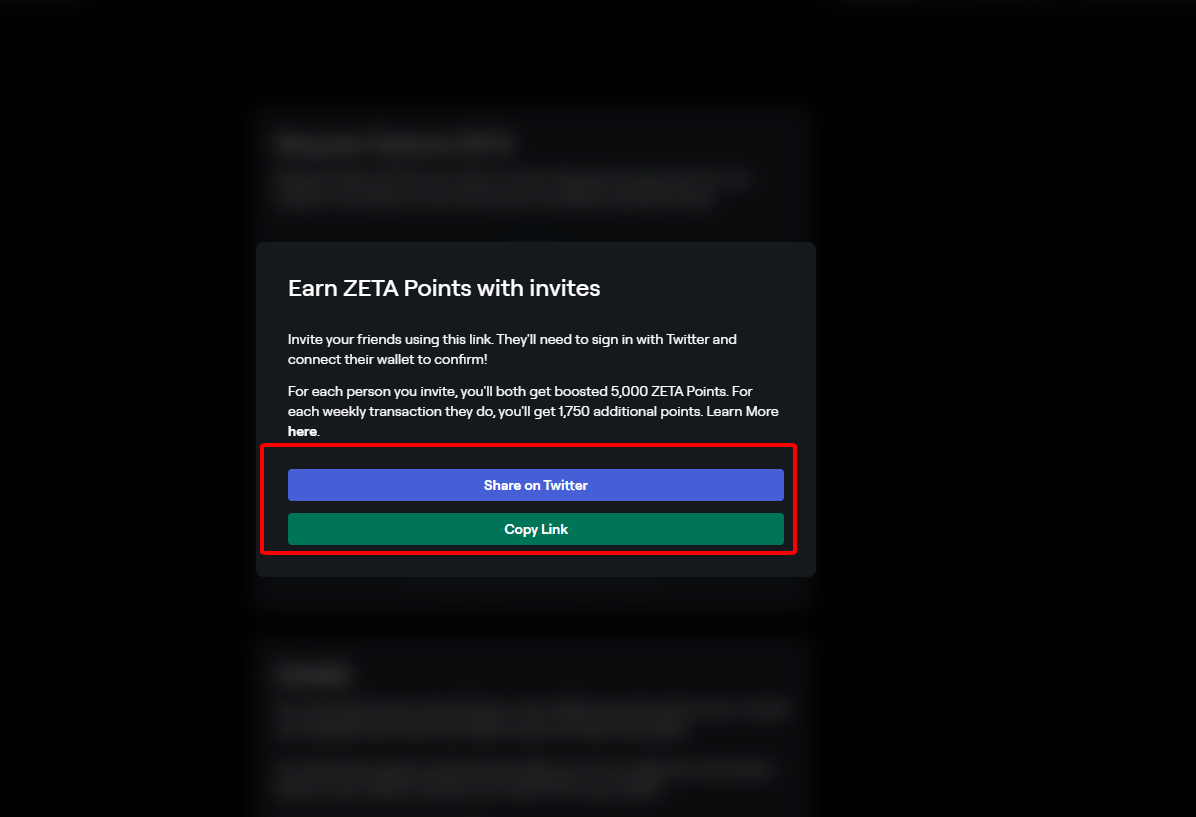 Claim NFTs on Galxe
After completing the above tasks, you can basically get ZetaChain NFTs and OAT on Galxe through the following link: Mission Bring ZETA Home
Join the mission on crew3
Crew3 is a support platform that helps build and grow web3 communities and helps users become contributors. With Crew3, community members can compete for leaderboards for rewards for completing missions.
By contributing to the Discord community or joining missions on Crew3, you will be able to earn the title of Contributor. To participate, follow these steps: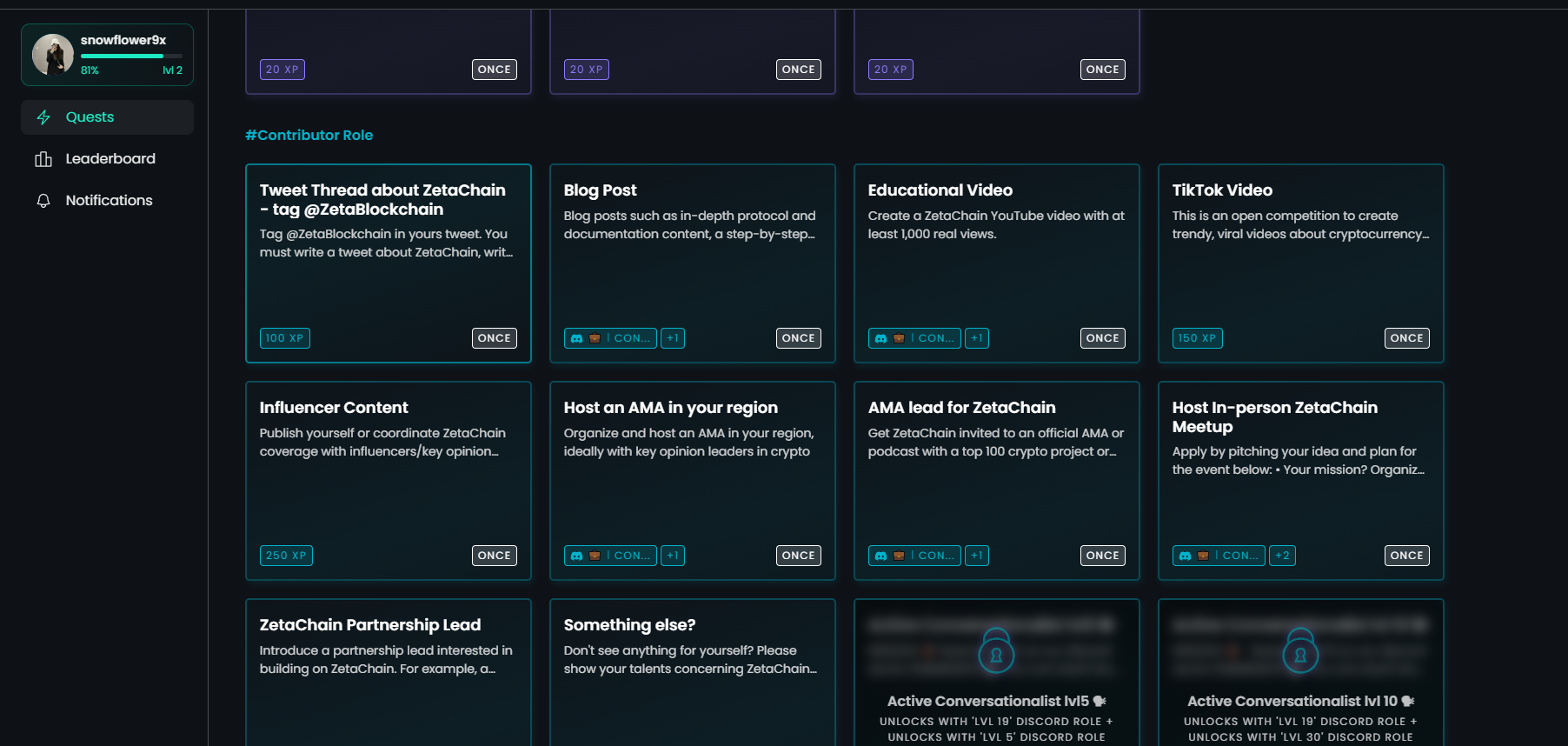 Complete other missions to earn more experience points