Talking points
🪓 Binance senior staff exodus

🔓 Multi-chain bridges exploited

📜 South Africa impose crypto exchange mandate
GM. Let's start things off by glancing over last week's biggest trends.
---
New feature alert 🛡
---
Quick Market Outlook
It's been another week of crypto and yet another week of uncertainty...
We have seen Bitcoin and the market hop between a similar price for a while now with no clear indication as to whether we are on the move up or down and the FUD surrounding Binance definitely doesn't help.
Here's some insight into what we could expect to see:
It seems the market is primed to move in either direction depending on narratives and FUD but the short term doesn't seem great.
But that means more opportunities to get into your favourite tokens that you haven't quite been able to snap up recently.
Remember... only invest what you can afford to lose.
---
🪓 Binance senior staff exodus
In an unexpected turn of events, Binance, the embattled crypto exchange, finds itself waving goodbye to not one, not two, but three senior officials this week.
According to reports, Binance's General Counsel, Han Ng, Chief Strategy Officer, Patrick Hillmann, and Senior Vice President for Compliance, Steven Christie, have all decided to make their grand exit.
But that's not all... Binance's Global Vice President of Marketing and Communications, Steve Milton, bid farewell in June. And let's not forget the recent departure of Senior Director of Investigations, Matthew Price. It seems like Binance is playing a game of executive musical chairs.
When asked to comment on this exodus, a Binance spokesperson mysteriously vanished, leaving us all hanging in suspense. What could be the cause of this mass exodus? Well, rumor has it that it's all about the CEO, Changpeng "CZ" Zhao, and his response to an ongoing investigation by the U.S. Department of Justice. Apparently, the investigators are digging into allegations of Binance's attempts to outsmart U.S. regulators, along with some money laundering and sanctions violations thrown into the mix.
But hold on, there's more!
Hillmann, in a surprising turn of events, took to Twitter to claim that he's leaving on good terms and still respects and supports Zhao. Is this an act of loyalty or an attempt to throw us off the scent? We'll have to wait for the next episode to find out.
Now, Binance was already caught in a tangled web of investigations by regulators from around the world. It's like they stumbled into a regulatory spider's den! Just last month, the Securities Exchange Commission (SEC) launched a legal attack, slapping Binance with allegations of 13 securities law violations. And if that wasn't enough drama, the Commodity Futures Trading Commission (CFTC) also sued them a couple of months ago. But wait, there's more! European and Australian regulators have jumped on the bandwagon too, leading investigations of their own.
All these investigations have sent shockwaves through Binance's operations, leaving their stateside business in turmoil. U.S. regulators are even suggesting that their international trading arm is deeply intertwined with their U.S. affairs. As a result, Binance lost a major European banking partner, and Binance.US announced they would stop trading in U.S. dollars.
It's as if the regulators have pressed the pause button on their crypto extravaganza.
Either way, things are not looking great for Binance and we could see this reflect badly on the crypto world if things don't get better soon.
---
🔓 Multi-chain bridges exploited
Multi-chain, the cross-chain router protocol, has fallen victim to a daring exploit, resulting in a jaw-dropping loss of nearly $130 million!
In a cryptic tweet, Multi-chain admitted that assets stored in their MPC address mysteriously vanished, finding their way into an unknown address. The team is scratching their heads, unsure of what exactly happened, and launching a full-blown investigation. As a precautionary measure, they've advised all users to halt the use of Multi-chain services and revoke any contract approvals related to the protocol. It's a cryptic mystery in the crypto universe!
The attacker, like a crafty magician, managed to drain Multi-chain's Fantom bridge, leaving it nearly empty of its valuable holdings. Tokens like wBTC, USDC, USDT, and a handful of altcoins were whisked away, with their combined worth surpassing a staggering $130 million. It's a disappearing act that left on-chain sleuths scratching their heads. Michael Kong, the CEO of Fantom Foundation, expressed his confusion and promised to dive deep into the puzzling situation.
It's a crypto whodunit essentially...
But this saga doesn't end there. Multi-chain has been facing mounting pressure for quite some time, with technical glitches and an absent CEO raising eyebrows. Now, with these three unexplained outflows from their Fantom, Moonriver, and Dogecoin bridge contracts, the crypto Twitterverse is buzzing with fears of a full-blown hack. The suspense is killing us! We reached out to Multichain for comment, but they seem to be hiding in the shadows.
Thankfully, Binance CEO Changpeng "CZ" Zhao swooped in to reassure Binance users that they're not affected by this exploit. With a mighty tweet, CZ declared that the hack doesn't touch Binance itself. He assured the community that all assets have been swapped out and deposits have been closed for a while now.
Let's take a closer look at the assets that were cunningly transferred out of the Multi-chain Fantom bridge. At least $20 million worth of altcoins, including DAI, LINK, and USDT, found their way to the address 0x9d57. The plot thickens!
There were also significant outbound moves, with 1,023 wBTC worth around $30.9 million and 7,214 wETH totaling approximately $13.6 million. And let's not forget the jaw-dropping $57 million of USDC hopping between two separate addresses. It's a high-stakes crypto chase 🏎 🏎 🏎
Meanwhile, Multi-chain's Moonriver bridge contract also suffered losses, with $6.8 million worth of tokens flowing out. The wBTC, USDT, USDC, and DAI disappeared into the clutches of another address. And last but not least, the Dogecoin bridge witnessed over $600,000 in USDC outflows.
The question on everyone's lips now is... what happens from here?
Well, it seems like they are looking at recovering and refunding any losses where possible but it is another case of security breach which is another concern for the crypto community.
---
📜 South Africa impose crypto exchange mandate
South Africa is taking centre stage in the world of crypto regulations! According to a report by Bloomberg, the country's financial regulator, the Financial Sector Conduct Authority (FSCA), has made a grand announcement.
Unathi Kamlana, the commissioner of the FSCA, spilled the beans and revealed that they have already received around 20 license applications since the doors opened. Kamlana expects a flood of applications to pour in before the November 30 deadline. Talk about a race against the clock!
Now, here's where things get spicy. If any crypto exchanges dare to continue operating without a license after the deadline, the FSCA is ready to throw down the gauntlet. That's right, they mean business! They're prepared to take "enforcement action," which could involve hefty fines or even the dramatic closure of noncompliant firms.
Cue the suspenseful music..
Kamlana, in an interview, emphasised the importance of introducing a regulatory framework for crypto products. Apparently, there's a potential risk of serious harm to financial customers, and the FSCA is here to protect them from the wild west of crypto. Kamlana also mentioned the need for time to assess the effectiveness of these measures and promised to collaborate with the industry to fine-tune and implement the necessary changes. It's like a never-ending drama series!
But wait, there's more excitement on the horizon. South Africa is officially taking the lead on the African continent as the first country to require digital asset exchanges to obtain licenses. They're setting the stage for other countries to follow suit in the ever-evolving world of crypto regulations. Bravo, South Africa, for being the trendsetter!
This licensing requirement has a ripple effect on major trading venues in South Africa, such as Luno, owned by the Digital Currency Group, and the VALR crypto exchange, backed by Pantera Capital. Even global platforms like Binance, operating in the country, will have to secure licenses.
It's a game-changer for the crypto landscape for sure! So, what happens if you're providing financial services in crypto assets? Well, unless you're a crypto miner or an NFT service provider (the lucky exceptions), you better get authorised, my friend.
Failure to comply with this requirement is a big no-no and could land you in hot water with the regulatory authorities.
But South Africa isn't the only country tightening the reins on crypto. Just recently, on the world stage, the Monetary Authority of Singapore announced its own regulations.
Crypto service providers in Singapore must place customer assets into a statutory trust for secure storage by the end of the year. It's a global movement towards more stringent crypto regulations, and the show is just getting started!
It seems security and customer protection is the way forward but as a result this will likely make it more difficult for users to access a wide range of crypto services.
Let's just hope exchanges jump onto these sanctions quickly!
---
📊 Stats of the past week
As you can see from the chart below, we hit a 7D high on the Total Crypto Market cap of $1.26T and we saw a low of $1.218.

Next up we have the top gainers of the past week, where we saw $SOL lead the way with a 17.2% gain. This was closely followed by $MKR with a 13.8% climb. While we had $BIT, $GRT and $FLOW with 11%-11.8% gains.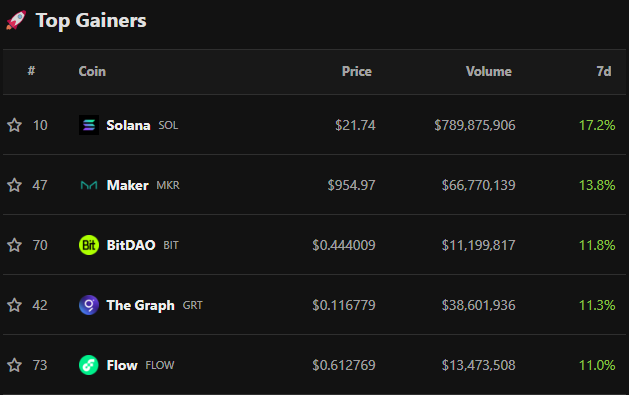 And to finish of the stats of the past week, we have the biggest losers from the past 7D. In first place we have $BSV with a massive and unwanted 19.8% drop. With $XEC seeing a 14.1% fall and then $APE, $XLM and $ETC with 11.5%-11.9% losses.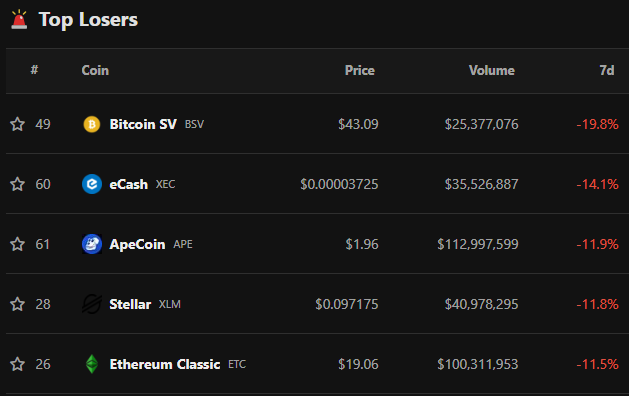 ---
🧯 Trending tokens on Flooz
Dawning a new week means new tokens listed on Flooz, here's a few worth checking out!
Note, these are promoted tokens. Flooz does not provide financial advice, guarantees or warranties.
In support of tokens with Real World Utility, we'd like to shed some light on Green World $GWD
$GWD provides voting rights within the Green World ecosystem, allowing you to invest into organisations that are on the front lines of the fight for the conservation of our planet 🌍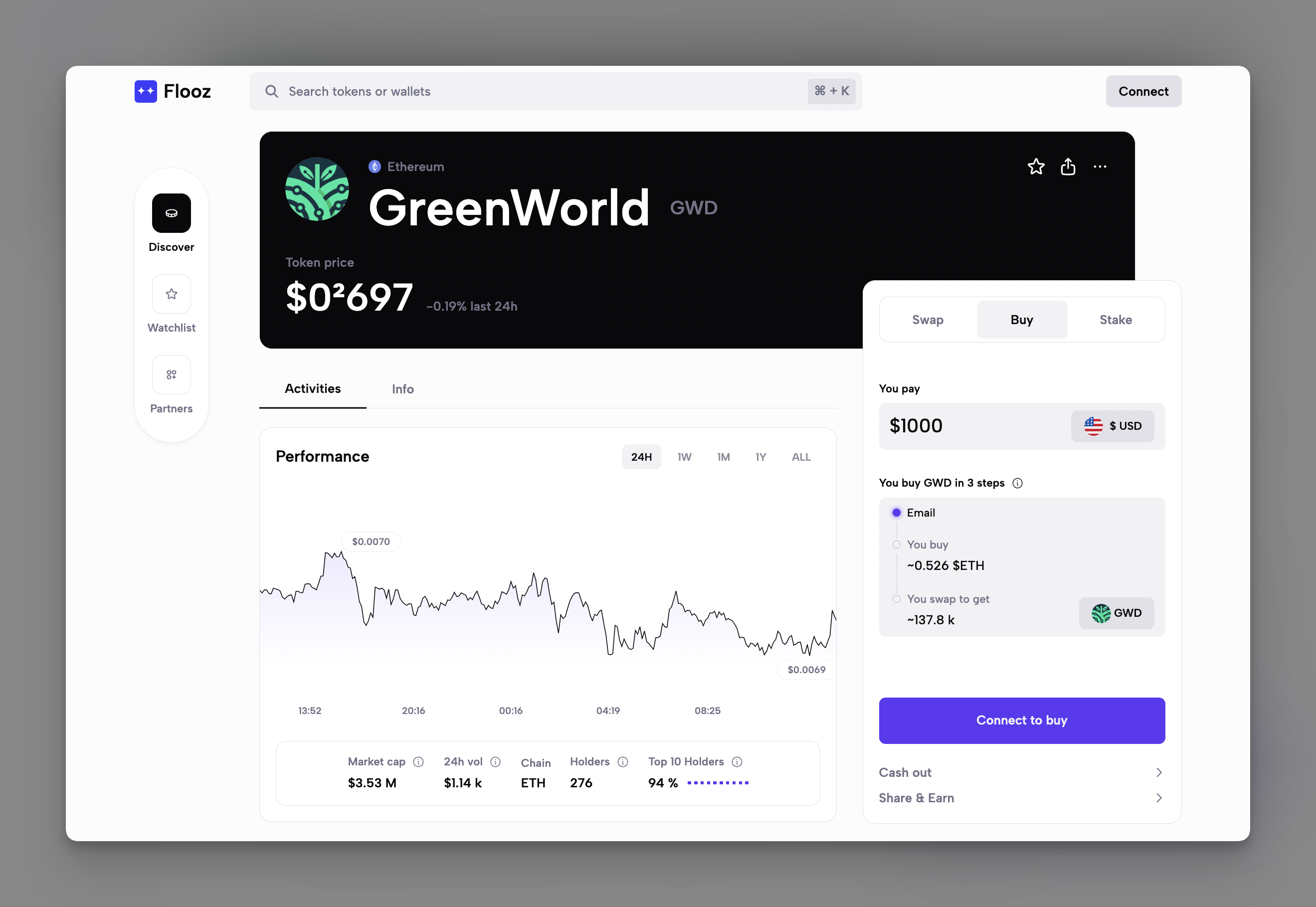 By building Green World as a token on the blockchain, the platform is able to leverage the technology's advantages to make a real impact on the environment and society while providing a unique investment opportunity for individuals. Learn more about the Green World project 👇
Next up is Crypto Real Estate $CRE – a rising token on the Binance Smart Chain, with a steadily increasing market cap of $5.15 M. The project aims to connect the real estate industry with cryptocurrencies.
For those in question, Market Cap = Current Price x Circulating Supply, When the market cap is high, we can imply that its value is highly appreciated. $BTC has the highest market cap, for now, this might change with the meme token 2.0 wave...
Last but not least is $PEPE 2.0 🔥 – part of the 2.0 surge that's been going on in the past week, this new meme token is up 115% in the past 24H. Check out the thread below on some whale action, certain traders have managed to reap in some serious gains.
2.0 Pepe (2.0PEPE) price today is 0⁹960 USD. 2.0 Pepe is up +115.25% in the last 24 hours 👇
---
⚡ Flooz App
Flooz is fully decentralised, and self-custodial. Discover the latest gems today 📈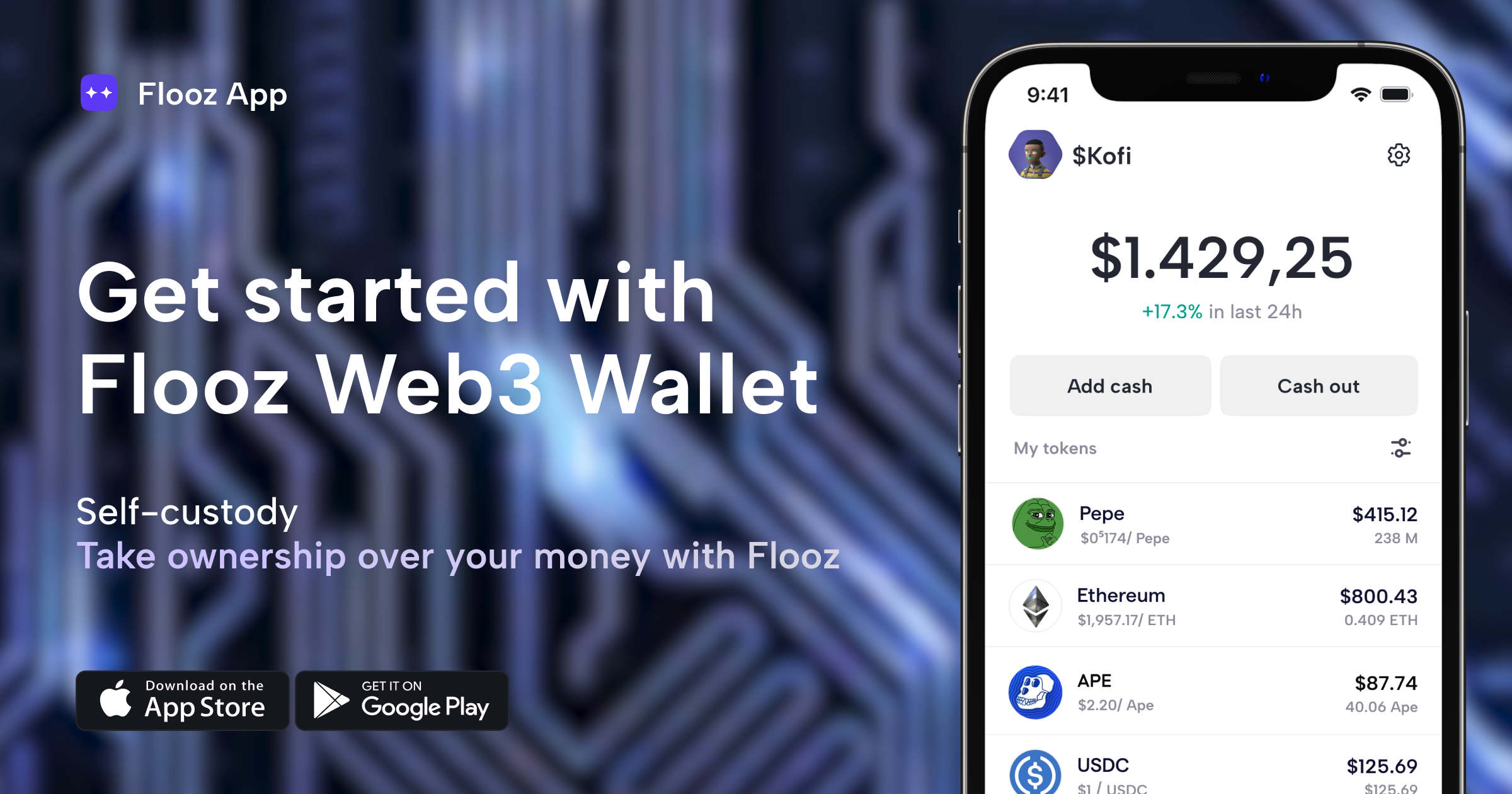 ---
Want to get in front of 53,000+ web3 readers? Or secure yourself an article feature on Cointelegraph? Sponsor All Things Flooz Newsletter via Advertise on All Things Flooz
---
Like getting this newsletter? Browse all our weekly and daily emails to get even more insights from your All Things Flooz subscription.
---
Written by Lewis 🕵️
DYOR – authors of All Things Flooz newsletter own cryptocurrencies and stocks.
This newsletter is strictly educational and is not investment advice or a solicitation to buy or sell any assets or to make any financial decisions.
#southafrica
#multi-chain
#binance
#certik
#security
#btc