Time for some alpha.
📊 Flooz upgraded "Token Detail Pages"

🚨 Flooz real-time Portfolio Tracker

🐰 How to use On-Chain Analytics to find real Alpha
Quote of the day 🗣 repeat after me → "On-chain Activity Precedes Price Action."
---
On behalf of Flooz, we just wanted to give you a quick rundown on the awesome upgrades we've made to our platform recently, all aimed at taking your crypto journey up a notch.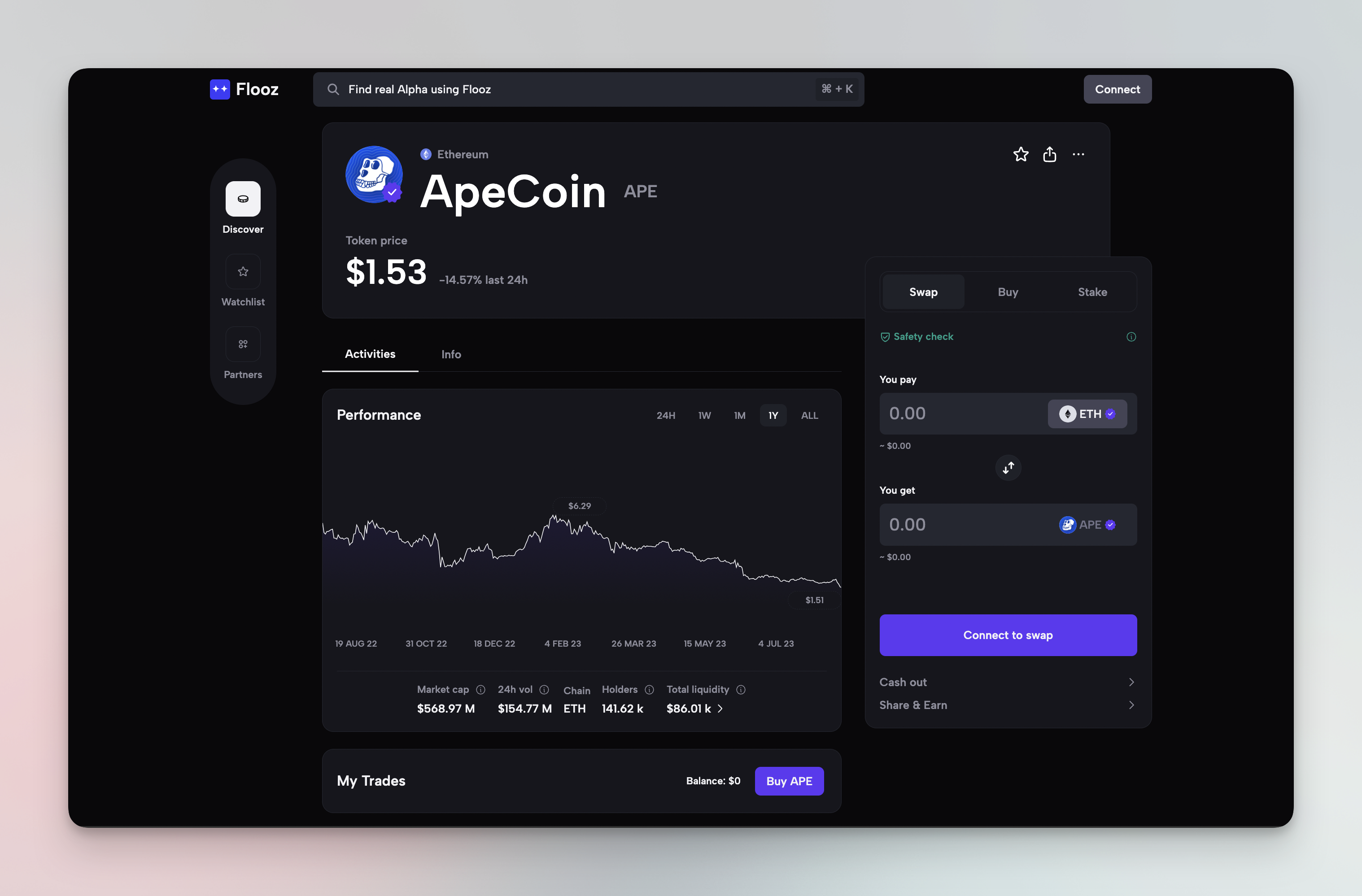 In our ongoing mission to provide you with outstanding experiences, we have introduced handy new features that we believe will greatly improve your interaction with the crypto market.
But that's not all – we've got a bunch of exciting developments simmering in the pipeline, ready to take your Flooz.xyz experience to the next level. Stay tuned!
---
📊 Flooz redesigned Token Detail Page
Flooz redesigned Token Detail Page (TDP) presents an enriched cryptocurrency research journey, boasting user-friendly layouts, integrated watchlists, and insightful coin ratings. Explore simplified access to historical performance data, advanced analytics, and the dynamic real-time buys and sells – accelerating your research and empowering well-informed decision-making.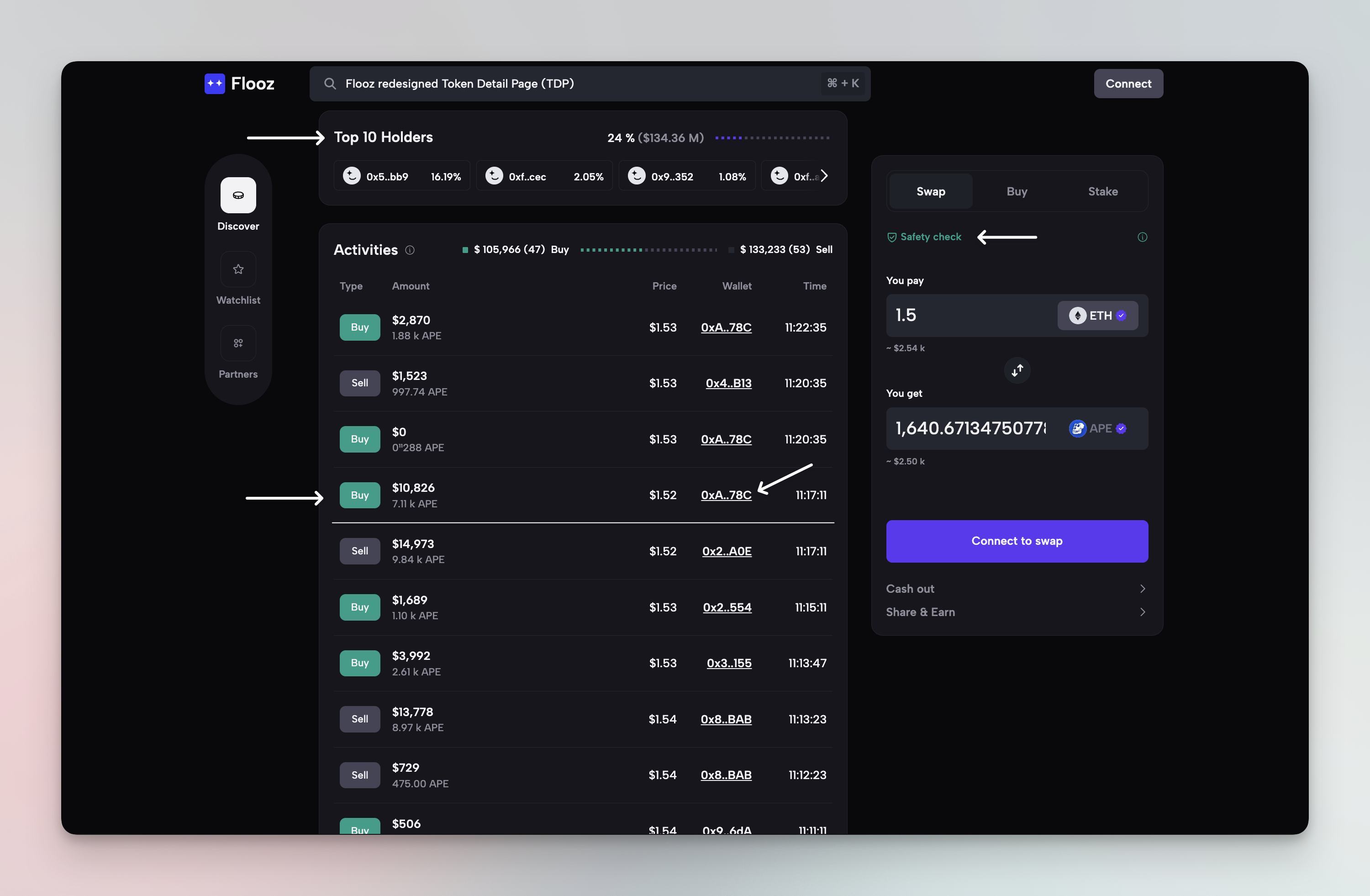 Intuitive Exploration: Navigate through crypto details effortlessly with enhanced layouts and real time information and buys and sells. Use this feature to learn from experienced buyers.

Informed Assessment: Evaluate coins using informative ratings for better decision-making.

Comprehensive Insights: Access historical performance data, advanced analytics, and engage with the Top-10 holder section for enriched research on the liquidity ratios.
---
🚨 Flooz real-time Portfolio Tracker
Flooz has upgraded its innovative Portfolio Tracker, a tool aimed at keeping track of your assets, and navigating the unpredictable crypto market as price action moves fast.
Flooz index derives real-time insights from data spanning over 3,000,000 coins across the Binance Smart Chain, Ethereum and Polygon, effectively addressing the need for a thorough analysis of market sentiment. Trading a newly launched token? Use Flooz to track your trades.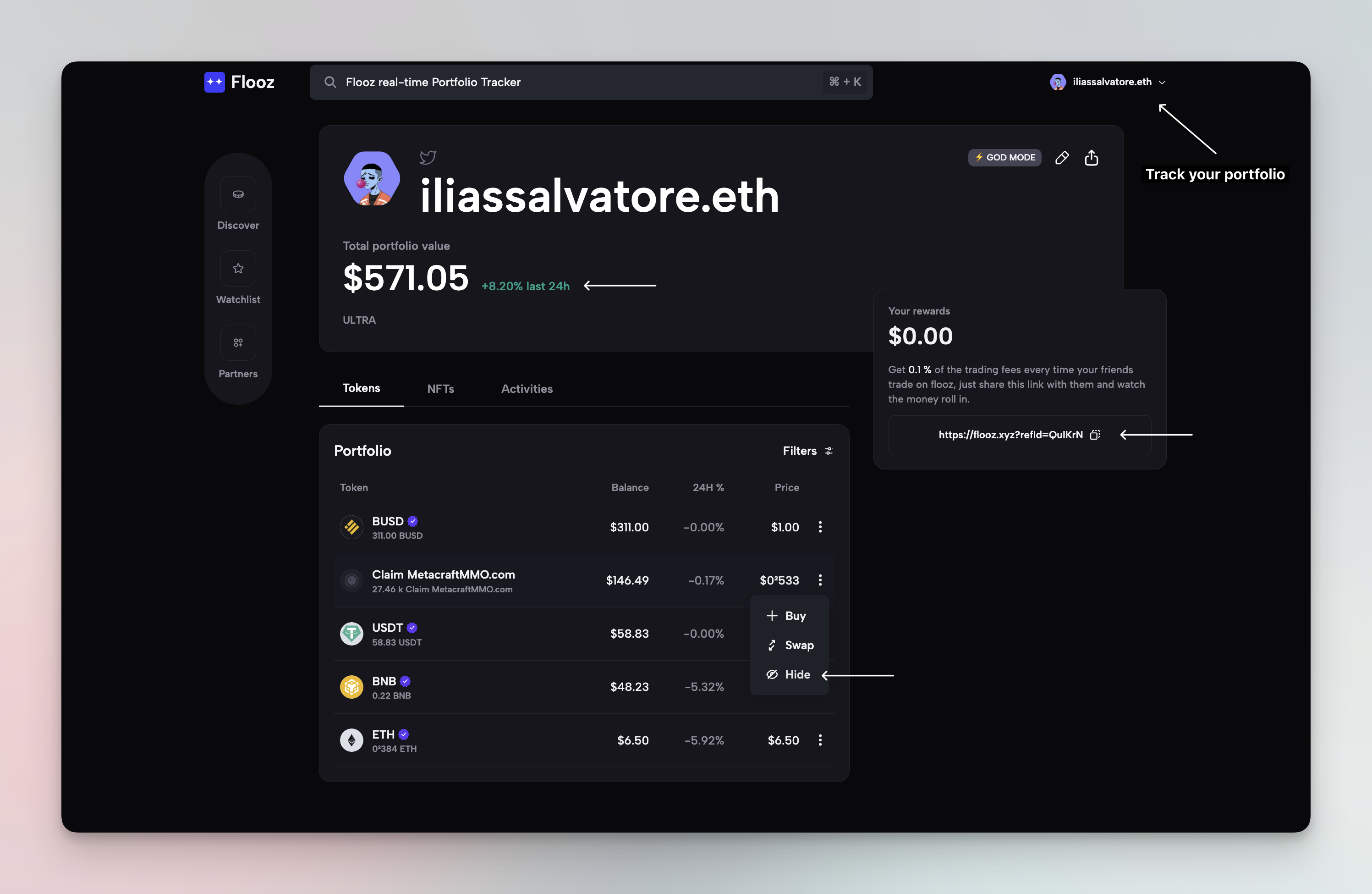 Lay back, track anything: Automatically track all your tokens and collectibles, and get notified about your portfolio changes (email notifications coming soon).

Filter your portfolio: Clean up your portfolio by filtering chains, and hiding scam tokens.

Earn Rewards: Simply copy your link, and paste it into the group chat! Earn crypto every time your friends trade on Flooz, just share your link with them and watch the money roll in!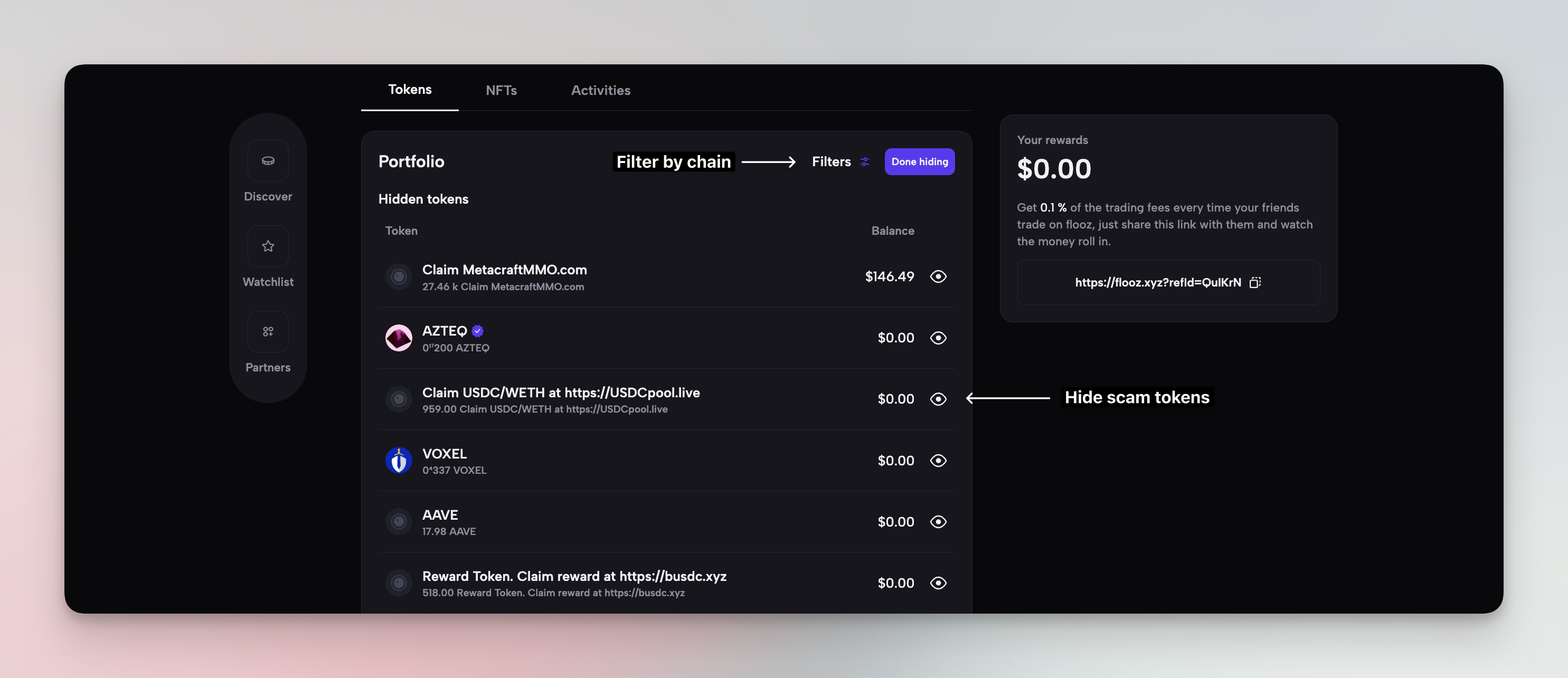 Using Flooz Portfolio Filters you can easily identify legitimate projects and reduce the chances of interacting with a scam project, that may have been airdropped to you by an unknown sender. Additionally, we are allowing to organise and filter your portfolio by chain, designed to put you in control of the tokens and portfolio balance you'd like to see. This revamped Portfolio Tracker allows you to personalise your portfolio and tailor it to your specific needs, ensuring that you only view the wallet holdings that matters most to you. Click the button to try it out for yourself.
---
🐰 How to use On-Chain Analytics to find real Alpha
Here's the story how our writer/analyst Lewis found out about $UniBot on Flooz.xyz
This story played out way before CoinMarketCap added a filter for "Bot Tokens" to their discovery page... imagine if you invested $1,000 into UniBot around 6 weeks ago!

Big trades 🐳 on ETH tend to be whales moving money around, let's monitor this 🕵️‍♂️

1. I went on ETH, saw a big live trade 🤯
2. Clicked on the wallet, this guy wasn't in the top-10 section.
3. Saw that this wallet holds $PEPE
4. Clicked on $PEPE, saw the top 10 holders
5. Clicked on largest holder after smart contracts
6. Dived into this portfolio, and found another gem 🤫
7. You guessed it right, this wallet was bullish on $UniBot
8. Turns out this guy knew more than I did... $UniBot is up 182% since 1m ago 📈

📌 $UniBot contract ETH: 0xf819d9cb1c2a819fd991781a822de3ca8607c3c9
Let's see what some of today's top buyers of $UniBot are holding in their portfolio.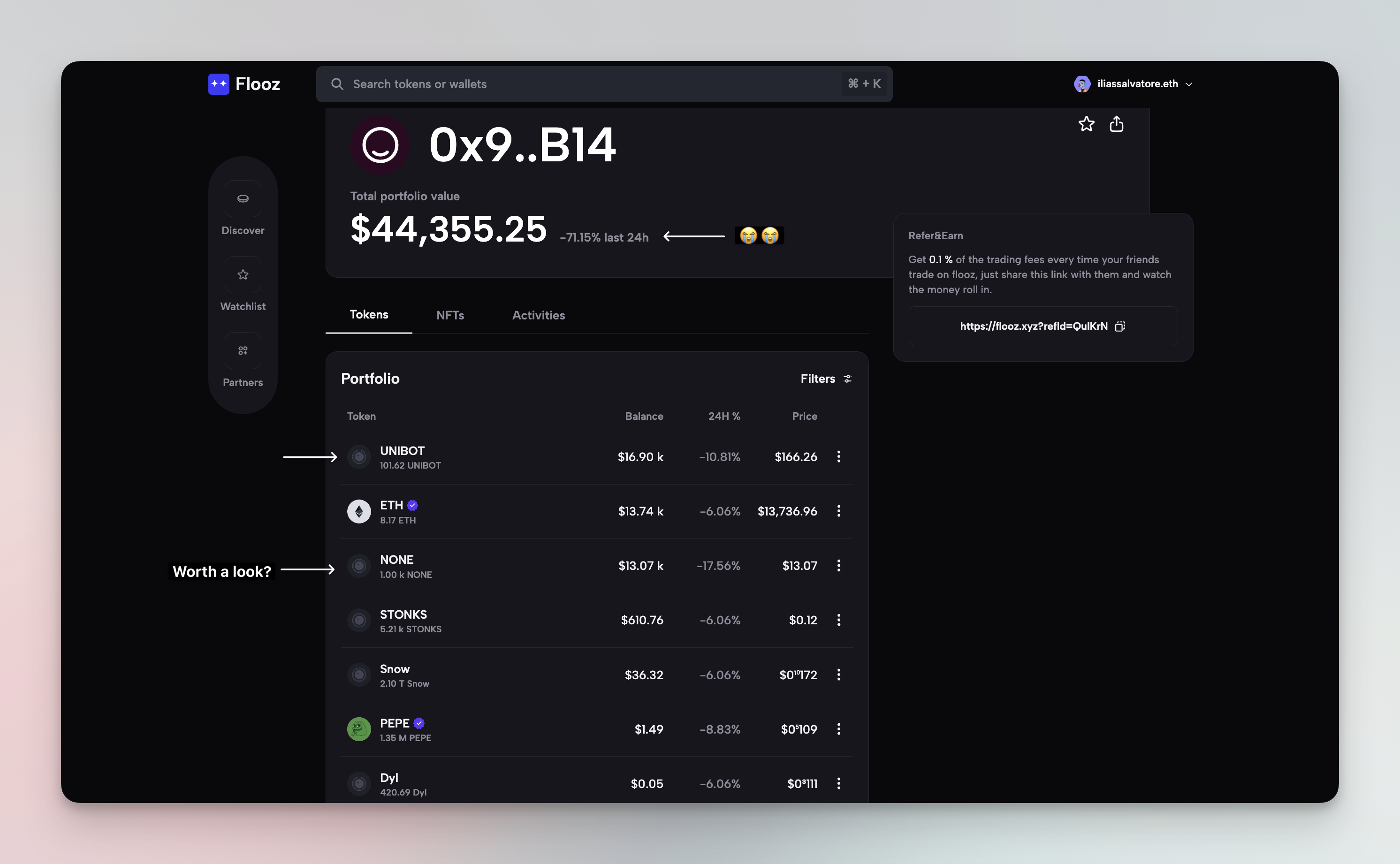 That was all for today, catch you guys next week with some more alpha-worthy features.
---
In case you missed it 🔥
Trending topics on Flooz...because we don't want to look at the market right now 😭
---
Want to get in front of 53,000+ web3 readers? Or secure yourself an article feature on Cointelegraph? Sponsor All Things Flooz Newsletter via Advertise on All Things Flooz
---
Like getting this newsletter? Browse all our weekly and daily emails to get even more insights from your All Things Flooz subscription.
---
Written by the Flooz Team 🫂
Authors of All Things Flooz newsletter own cryptocurrencies and stocks. This newsletter is strictly educational and is not investment advice or a solicitation to buy or sell any assets or to make any financial decisions.
#web3
#crypto
#altcoins
#gems
#data