Talking points
🚨 FTX set to dump assets

👀 Genesis halts all trading

🤝 Google cloud partners with Web3 start up
GM! ☕ The markets are moving again and the news is flowing.
So... let's see what is happening, shall we? 👇
---
👀 Quick market outlook
We have seen some movement up in the market after the release of the economic data but it is now important to see how we end the month...

And with more economic data approaching next week, it will be interesting to see the reaction.

Now let's jump into some insights:
It seems as we approach the Bitcoin halving, things are looking good chart wise. But that doesn't mean we are out of the water just yet... there is still a while to go.

However, if we can continue to see an uptrend, we might be in for a treat entering 2024 and even sooner 👀

Here is some added alpha for altcoins 👇
You can buy yourself some $NAKA here below:
You can buy yourself some $XRP here below:
You can buy yourself some $MANA here below:
This is not financial advice, purely educational. As always, have a plan and be safe.
---
🚨 FTX set to dump assets
In a dramatic courtroom showdown, U.S. Bankruptcy Judge John Dorsey gave his nod of approval to FTX's audacious proposal. FTX can now unleash a torrent of cryptocurrency liquidation, potentially up to a jaw-dropping $100 million per week…
But that's not all; this cryptocurrency maverick can also waltz into hedging and staking agreements, designed to navigate the perilous waters of crypto market volatility while raking in passive income from the likes of Bitcoin and Ether.
However, it wasn't a one-sided affair. FTX's audacious request was backed by the official committee representing its beleaguered customers. These crypto crusaders, together with an ad hoc committee, stood shoulder to shoulder in supporting FTX's quest for redemption. The ad hoc committee, superheroes for non-U.S. customers with stakes on FTX(.)com's international exchange, ensured that justice was served on a global scale.
Of course, not everyone was ready to throw confetti and celebrate. Two FTX customers raised their eyebrows, worrying that FTX's liquidation spree might send crypto prices into a nosedive. They even questioned whether FTX owned all the crypto it claimed to hold in its accounts. But fret not, frens, FTX anticipated this and enlisted the help of U.S. crypto powerhouse, Galaxy, as an investment advisor to keep the crypto chaos at bay.
And just when you thought it couldn't get any more heart-pounding, Judge Dorsey dropped the bombshell. If the creditor committees give a unanimous thumbs-up, FTX could double its liquidation pace, shooting for the stars with a staggering $200 million per week!
In case you're wondering about the treasure chest they're guarding, FTX claims ownership of a whopping $3.4 billion in cryptocurrencies, including a cool $1.16 billion in Solana, $560 million in Bitcoin, and $192 million in Ether. That's enough to make even the most seasoned crypto investor's head spin a little.
This saga all began in November 2022 when FTX plunged into bankruptcy amid allegations of misusing and losing billions in customers' crypto deposits. Fast forward to today, they've managed to claw back over $7 billion in assets to repay their loyal patrons, all while pursuing legal action against those they deem responsible for their financial freefall.
With founder Sam Bankman-Fried's plea of innocence echoing in the background and other FTX executives admitting their guilt, this story is far from over. So I guess as usual, we sit back and wait to see what unfolds
---
👀 Genesis halts all trading
Genesis, the once-mighty crypto-trading titan, has officially called it quits on all trading operations, leaving the industry buzzing with speculation.
It was only last week that the crypto community caught wind of Genesis shutting down its U.S. trading desk, but the bombshell dropped even further. The shutdown isn't just limited to the U.S.; it's a global affair. That's right, international spot and derivatives trading operations have also been pulled from the stage, signaling the end of an era.
A spokesperson delivered the somber news, stating, "Genesis has decided to stop offering digital asset spot and derivatives trading through GGC International, Ltd. (GGCI). This decision was made voluntarily and for business reasons. With this termination of services from GGCI, Genesis no longer offers trading services through any of its business entities." It's a stark and final declaration.
For those unfamiliar with the Genesis saga, it's important to note that while the lending division sought refuge in bankruptcy protection back in January, the trading arm remained defiant. But alas, the tides of fortune have turned against them, and they've succumbed to the inevitable.
Genesis was once a prominent figure in the crypto trading landscape, catering to institutional clients and leaving a lasting mark on the industry. But as we know, the crypto world is a relentless rollercoaster, with twists and turns that even the mightiest can't always conquer.
Owned by the Digital Currency Group, Genesis leaves us while also reminding us once again that in the cryptoverse, nothing is certain, and even the giants can fall. What lies ahead for this industry pioneer? Only time will tell, but one thing's for sure... the crypto saga continues.
---
🤝 Google cloud partners with Web3 start up
Google Cloud has teamed up with the innovative Web3 startup, Orderly Network, to forge a path into the exciting world of decentralized finance, or DeFi in a bid to make it more accessible for the world.
So, what's on the agenda for this dynamic duo? They're rolling up their sleeves to develop off-chain components for DeFi infrastructure. These off-chain wizards will be laser-focused on addressing two of the biggest hurdles in the DeFi realm: self-custody and transparency. Imagine a world where these issues are no longer a headache for DeFi enthusiasts - that's the vision they're chasing.
Orderly Network is poised to be the DeFi infrastructure provider of choice, offering its wares on the Google Cloud Marketplace. It's a strategic move that signals Google Cloud's growing interest in blockchain workloads on its platform.
Rishi Ramchandani, the head of Web3 for the Asia-Pacific region at Google, is excited about this partnership. He emphasizes the surging demand for tailored Web3 products, highlighting the need for robust infrastructure to bridge the gaps in DeFi adoption and growth. Ramchandani envisions a future where secure and user-centric enterprise developer tools pave the way for DeFi's scalability.
The financial world is abuzz with blockchain technology's transformative potential, with even giants like JPMorgan exploring blockchain-based solutions, including DeFi applications. Traditional banks are no strangers to blockchain's allure, with over half of the top 100 banks dipping their toes into this revolutionary tech.
Orderly Network has a clever strategy up its sleeve. They aim to strike a balance between speed and decentralization by dividing the DeFi load into on-chain and off-chain components. This approach streamlines operations while preserving the core advantages of decentralization. Crucial interactions happen on-chain, while less critical tasks are handled efficiently off-chain.
Arjun Arora, Chief Operating Officer of Orderly Network, is enthusiastic about the collaboration's potential to catapult DeFi into the mainstream. He believes that to truly win hearts and minds, blockchain tech must outperform existing solutions. Orderly Network's mission is to create a seamless trading Lego that integrates decentralized applications across various blockchains, merging the best of both decentralized and centralized exchanges.
One of DeFi's age-old challenges has been the daunting entry barrier and persistent security issues. Google Cloud's alliance with Orderly Network aims to create a secure haven and the tools necessary to surmount these obstacles.
This is certainly some positive news as bigger players are slowly getting more involved and embracing the crypto and web3 space... With the adoption only increasing, we could be set to see a flood of more users entering this exciting space.
---
📊 Stats of the week

As you can see, we hit a bump but have bounced back up nicely so far. With that being said... we saw a 7D high of $1.096T and a low of $1.044T.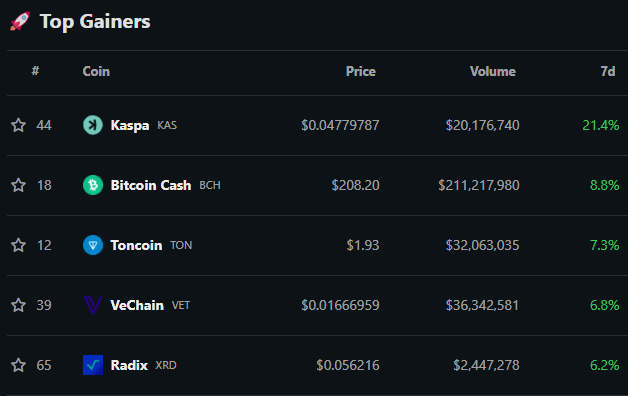 As you can see, the top gainers aren't too impressive with the market being stung, but nevertheless, we have $KAS with a 21.4% gain and by far the highest... with $BCH seeing an 8.8% climb and lastly, $TON with a 7.3% rise.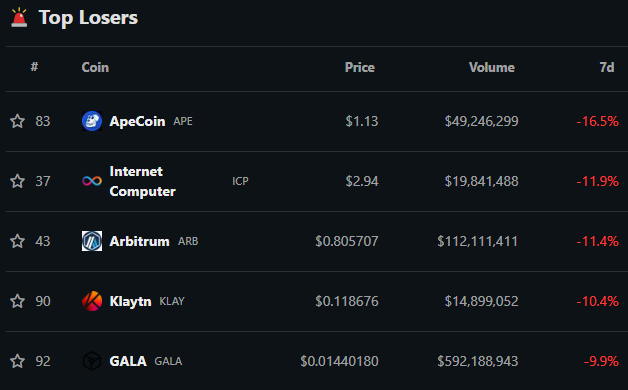 And lastly, we have the losers of the week. Starting with $APE, which saw a 16.5% drop... ouch. Then we have $ICP with an 11.9% decrease and then $ARB which saw a decline of 11.4%.
---
🧯 Trending tokens on Flooz
Our team is listing multiple projects everyday, last week we showcased a few upcoming projects, and to close the week off we'll take a deeper look at the fundamentals 🫵
📌 Let's zoom into $TREAT, currently up 📈 +5.89% last 24h with $2,4m in market cap and just $10k in trading volume, and just over 1k unique holders. You know what that means? The majority of supply is held by a few whales, they might know something we don't (yet)... discover more!
📌 Next is $ELONXAIDOGEMESSI69PEPEINU on the Binance Smart Chain, currently up 📈 +7.19% last 24h with over 35k unique holders already! Despite the early market cap around $100k this project has developed a strong community in a short period of time, with over 10k on Twitter.
📌 Another trending project on the BSC is $MAGA (going by the meme-name TRUMP), the token has already accumulated over $177k in market cap with over 17k unique holders. Let's see how the Donald Trump narrative plays out, if he returns to Twitter we'll likely see a big spike up 📈
📌 One of the newest projects to emerge on BSC has to be $RICHIE at $20K Low Market Cap with Auto Liquidity from Tax, and BUSD rewards for buyers/sellers. The project currently has just over 120 holders with 30% of the supply held by the top 10 whales. Discover more insights here.
📌 Our last deep-dive will be on $JTT going by the name of Justus Token, this project is one to look out for as the Market Cap is around $750k with potential to break above $1m, propelled by the strong holder base of 5,8k wallets, and project is less than a week old 🤯
We found a whale wallet 🐳 who spotted $JTT early on, discover his portfolio holdings here 👇
Wait 🚨there's more alpha to be uncovered!
Our team has listed allot of exciting project 😰 here's 7 tokens you don't wana to miss!
---
⚡ Flooz Newsroom
Let's bring #Crypto to 200m+ people in Brazil 🇧🇷
We're extending in-app onboarding support for you thanks to our on-ramp partner, Ramp. Their recent addition of PIX as a payment method provides Brazilians with a more efficient web3 onboarding process. We're excited to provide more support in Brazil and the wider Latin American region, stay tuned!
Ready to give it a try? Visit Flooz.xyz/buy 👇
On the topic of blockchain expansion, we also published another article with our friends over at Cointelegraph, featuring our outlook on another trending Web3 narrative, this time on RWAs 🔥
In simple terms, RWAs are tangible assets from the physical world that interact with the blockchain. The biggest assets being represented currently are real estate, private credit, gold and U.S. treasuries.
But the ceiling for expansion is almost unlimited and this is certainly an area to look out for. It is reported that the overall Total Value Locked (TVL) for DeFi is roughly $38.8 billion, with a high of around $178 billion in November 2021, which illustrates a big potential opportunity for investors.
Read on 👇
The Crypto space evolves around partnerships to build bridges and widen the ecosystem for adoption. Here's some of last week's highlights 🤝
---
Want to get in front of 53,000+ web3 readers? Or secure yourself an article feature on Cointelegraph? Sponsor All Things Flooz Newsletter via Advertise on All Things Flooz
---
Like getting this newsletter? Browse all our weekly and daily emails to get even more insights from your All Things Flooz subscription.
---
Written by Lewis 🕵️
Authors of All Things Flooz newsletter own cryptocurrencies and stocks. This newsletter is strictly educational and is not investment advice or a solicitation to buy or sell any assets or to make any financial decisions.
#bitcoin
#crypto
#trading
#google
#web3
#altcoins