Talking points
🧑‍💻 Infamous hacker group strikes again

🚨 $500B juggernaut teams up with Polygon Labs

👀 Crypto exploit clampdown?
It's that time of the week again.

So get comfy, grab your coffee and let's dive in 👇
---
👀 Quick market outlook
Here we again... and guess what? Not much seems to have changed. But as we move closer towards the Bitcoin halving, let's hope we start to get some movement in a direction (preferably up and green).
Anyway... let's jump into some insights:
The message still seems the same across the board. A drop below $25.2k could potentially happen and would be normal. But we want to avoid dropping below the $24.8k as that could spell some trouble.

I guess we wait and see what way the market moves next.
And as always, have a plan and stay safe.
---
🧑‍💻 Infamous hacker group strikes again
The infamous Lazarus Group, known for its North Korean ties, has pulled off a daring raid on the online crypto casino Stake, leaving a trail of digital mayhem in its wake.
However, the FBI, hot on their digital heels, recently fingered the group as the mastermind behind the theft, which drained a staggering $41 million worth of cryptocurrency across multiple blockchain networks, including Ethereum, BNB Chain, Polygon, and Bitcoin.
It all began on September 4 when Stake, a crypto casino with none other than the popular rapper Drake as a backer, noticed something strange afoot. Outbound transactions that raised red flags started popping up on their radar, sending shockwaves through the crypto community.
Blockchain security firm PeckShield was the first to spot these unusual transactions and shared their discovery with the world. Their findings revealed a complex web of theft, with Beosin estimating that the losses amounted to a jaw-dropping $41.35 million. The breakdown of the loot included $15.7 million from Ethereum, $7.8 million from Polygon, and a hefty $17.8 million siphoned from Binance Smart Chain.
Crypto enthusiasts were left in disbelief, dubbing it the latest "rugpull" in the market, especially as cryptocurrency prices plummeted in the aftermath. Despite this colossal setback, Stake didn't miss a beat, swiftly resuming its services on the same day. Their message to users was simple but apologetic: "We apologize for any inconvenience."
Curiously, since issuing their mea culpa, Stake has maintained radio silence about the incident on their social media channels, leaving their followers hungry for more information.
The Lazarus Group is no stranger to crypto capers, earning its stripes as one of the most notorious cybercriminal entities in the cryptocurrency world. Rumors swirl that they may be using a portion of their ill-gotten gains to fund North Korea's nuclear weapons and ballistic missile program. Their portfolio of hacks is impressive, with the likes of the Axie Infinity's Ronin bridge hack, an operation the US Treasury Department and FBI have attributed to them.
As the digital dust settles, the crypto world braces for more daring exploits from groups like Lazarus. While the stakes may be high, the allure of quick riches in the Wild West of cryptocurrencies continues to attract daring hackers and as always... stay safe.
---
🚨 $500B juggernaut teams up with Polygon Labs
South Korea's Mirae Asset Securities, a financial juggernaut with an estimated $500 billion of assets under management, has joined forces with Polygon Labs to spearhead the world of tokenization and usher in the era of Web3 within traditional finance.
Acting as the technical consultant for The Mirae Asset Security Token Working Group, Polygon Labs is embarking on a mission to construct the essential infrastructure for issuing and trading tokenized securities on Polygon, a layer 2 scaling solution for Ethereum. This ambitious endeavor involves the transformation of tangible assets such as real estate, bonds, art, and equities into digital tokens, securely stored on a blockchain.
The consortium at play operates independently from Mirae Asset and comprises a diverse array of entities, including Linger Studio and Coin Plug. Additionally, Hana Financial and SK Telecom's Next Finance Initiative (NFI), with its focus on security tokens, are entities with separate operational structures.
Ahn In-sung, head of the digital assets division at Mirae Asset Securities, stated, "Through technical collaboration with Polygon Labs, Mirae Asset Securities aims to establish global leadership in the field of tokenized securities." This announcement comes as a testament to their commitment to reshaping the financial landscape.
Sandeep Nailwal, the Executive Chairman of Polygon Labs, envisions that Mirae Asset Securities' pioneering efforts will catalyze the widespread adoption of Web3 technologies within the financial sector. He added, "Mirae's initiatives will also greatly contribute to establishing interoperability between South Korea's domestic financial systems and their foreign counterparts."
The momentum behind asset tokenization is rapidly gaining traction worldwide. Notable financial institutions such as Franklin Templeton and Hamilton Lane have already launched tokenization projects on the Polygon platform. Moreover, the Monetary Authority of Singapore's experimental tokenization initiative, Project Guardian, achieved significant milestones last year, conducting foreign exchange and sovereign bond transactions on Polygon.
El Salvador's government has also expressed keen interest in issuing tokenized Bitcoin bonds on the Liquid Bitcoin sidechain, signaling the potential for groundbreaking financial innovations.
Even Michael Saylor, co-founder of MicroStrategy and a revered Bitcoin maximalist, has voiced support for tokenization. During an interview at Bitcoin 2023 Miami, he suggested that this technology could be harnessed to "tokenize all of the stocks and ETFs trading on NASDAQ."
According to Dune Analytics, the total market cap of tokenized public securities issued by entities like Franklin Templeton currently stands at an impressive $343 million.
As per projections by Boston Consulting Group and ADDX, the business prospects offered by asset tokenization are poised for exponential growth, potentially reaching a staggering $16.1 trillion by 2030, equivalent to 10% of the global GDP. With Mirae Asset Securities and Polygon Labs at the forefront of this transformative journey, the financial world is on the cusp of a revolutionary evolution. In crypto lingo... this is bullish!
---
👀 Crypto exploit clampdown?
Is the crypto clampdown happening? Well… Faruk Fatih Özer, the former CEO of the once-mighty Turkish crypto exchange Thodex, has been handed a staggering prison sentence of 11,196 years, 10 months, and 15 days by a Turkish court.
Özer, along with his two siblings, faced the same mind-boggling sentence, coupled with a hefty $5 million fine, on charges of "establishing, managing, and being a member of an organization," "qualified fraud," and "laundering of property values."
Thodex was once a titan in the Turkish digital asset trading scene, but in 2021, it made headlines for all the wrong reasons. The exchange mysteriously halted its services without any prior warning, and its founder, Özer, promptly vanished from the country, leaving users high and dry with approximately $2 billion worth of crypto assets. Özer vehemently denied any allegations of an exit scam at the time.
The elusive founder was eventually apprehended in Albania in August 2022, where he was already serving a jail sentence. In April 2023, he was extradited to Turkey, facing charges of fraud and money laundering. Özer had been in custody since July, initially for failing to submit tax documents, and now, he faces the latest conviction for defrauding Thodex customers.
In a dramatic courtroom defense, Özer maintained his innocence, claiming that he and his family were victims of injustice. He insisted that Thodex was simply a crypto company that had gone bankrupt and had no criminal intent. In his own words:
"I am smart enough to manage all institutions in the world. This is evident from the company I founded at the age of 22. If I were to establish a criminal organization, I would not act so amateurishly. What is in question is it is clear that the suspects in the file have been victims for more than 2 years."
The Thodex case, which has been a lengthy and convoluted legal saga, involved a total of 21 defendants, five of whom appeared in person at the court hearing. Remarkably, 16 of the defendants were acquitted of "qualified fraud" due to a lack of evidence, and four were ordered to be released. The remaining defendants received varying sentences based on their degree of involvement in the fraudulent activities.
This shocking saga serves as a stark reminder of the turbulent and sometimes treacherous terrain of the cryptocurrency world, where fortunes can be made and lost in the blink of an eye, and where the line between innovation and criminality can blur in unexpected ways.
---
📊 Stats of the past week

As you can see, there hasn't been much movement. We have seen a high of $1.098T and a low of $1.078T. Which is a lot more stable than in the previous weeks.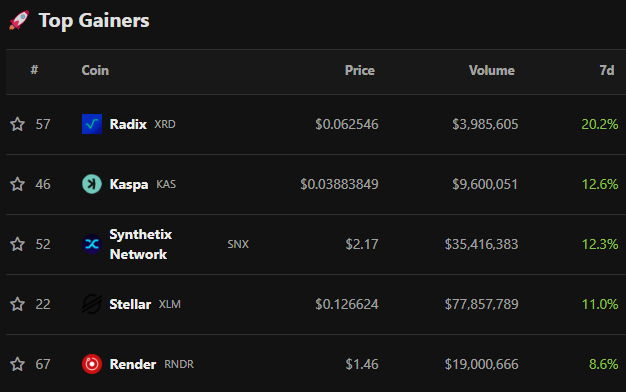 As you can see, the past week did look a little more stable. This in turn has seen $XRD move up 20.2%, with $KAS rising by 12.6% and $SNX seeing a 12.3% jump too.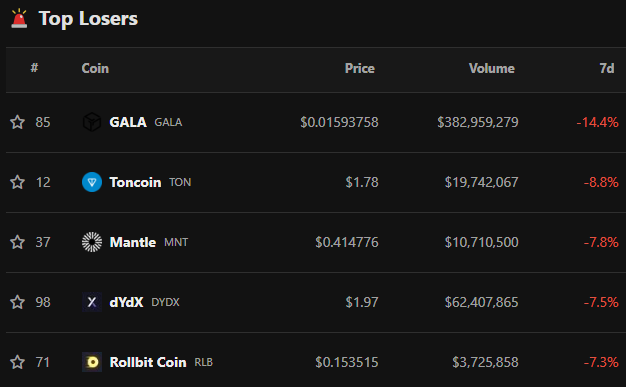 And last but not least, we have the losers of the past week. Topping the losses is $GALA which see a 14.4% drop... this was followed by $TON with an 8.8% loss and then finally, $MNT which saw a decline of 7.8%.
---
🧯 Trending tokens on Flooz
Our team is listing multiple projects everyday, and we're picking out the highlights for you 👇
🔥 $TREAT 🔥 $ELONXAIDOGEMESSI69PEPEINU 🔥 $MAGA 🔥 $RICHIE 🔥 $JTT 🔥
One project that's worth highlighting is Justus Token ($JTT). Currently at $730K Market Cap with almost 6K Holders 📊. Justus Token (JTT) is a Binance Smart Chain play 🚀
The project emphasizes fairness, transparency, and sustainability. $JTT includes features like automatic token burning, fiscal transparency, secure smart contracts, and a commitment to decentralization. Out of the 3% transaction tax, 1.5% is automatically directed to the Automatic Token Burn (ATB) mechanism, periodically removing Justus Token (JTT) tokens from circulation.
Another project worth mentioning is the new TG Signal Bot WhaleWatchERC 🔥
You can now discover on-chain analytics for TG Signal Bot WhaleWatchERC currently at $183 Market Cap (100k added since our listing last week) with just over 350 Holders 📊
Telegram bot tokens are trending in the cryptocurrency market, offering products and services on the Telegram app, such as decentralized trading and AI-backed insights.
The market cap of Trading Bot Tokens is well over $250 million 🤯
On Flooz, you can find the top 10 Telegram bot tokens to invest in, along with explanations of what they are, how they work, and why this marketplace is booming. Ride with us! 🚀
Discover more projects with Flooz via the links below.
🔥 $TREAT 🔥 $ELONXAIDOGEMESSI69PEPEINU 🔥 $MAGA 🔥 $RICHIE 🔥 $JTT 🔥
---
⚡ Flooz Newsroom
If you haven't done so already, make sure to participate in our latest #USDC Quest Campaign.
It's free to enter, $500 worth of #USDC rewards will be given out to all participants who join us.
Build your Web3 presence today with Flooz!
Here's your 🫵 tasks
Connect your wallet to Flooz.xyz and customise your profile.

1️⃣ Add your Profile Image to your Flooz profile

2️⃣ Add your Twitter Handle

3️⃣ Upload your unique bio, for example "Digital Art Dealer"
More than a portfolio, your Web3 Profile is the place to track all your investments, and share your on-chain reputation. Anyone on Flooz will be able to search you up, and explore your NFT collections and tokens. We frequently feature popular profiles on Flooz homepage!
First come, first serve. Earn your Flooz OG Trader status today by connecting to Flooz.xyz and completing the steps. This quest is open to all first-time users on Flooz.
We can't wait to see you on our winner's list 🚀
---
Want to get in front of 53,000+ web3 readers? Or secure yourself an article feature on Cointelegraph? Sponsor All Things Flooz Newsletter via Advertise on All Things Flooz
---
Like getting this newsletter? Browse all our weekly and daily emails to get even more insights from your All Things Flooz subscription.
---
Written by Lewis 🕵️
Authors of All Things Flooz newsletter own cryptocurrencies and stocks. This newsletter is strictly educational and is not investment advice or a solicitation to buy or sell any assets or to make any financial decisions.
#crypto
#bitcoin
#hackers
#altcoins
#polygon