Talking points
🏦 $14B Spanish private bank enters crypto

🌍 Nigeria E-Naira remodel

🔀 Zuckerberg Meta-reverse
Good morning. As we approach the end of another month... remember to stay positive and embrace the world...
A quick snapshot from our designer who's been experimenting with his new Anycubic Printer to create 3D printed models using our Gen–F NFT collection!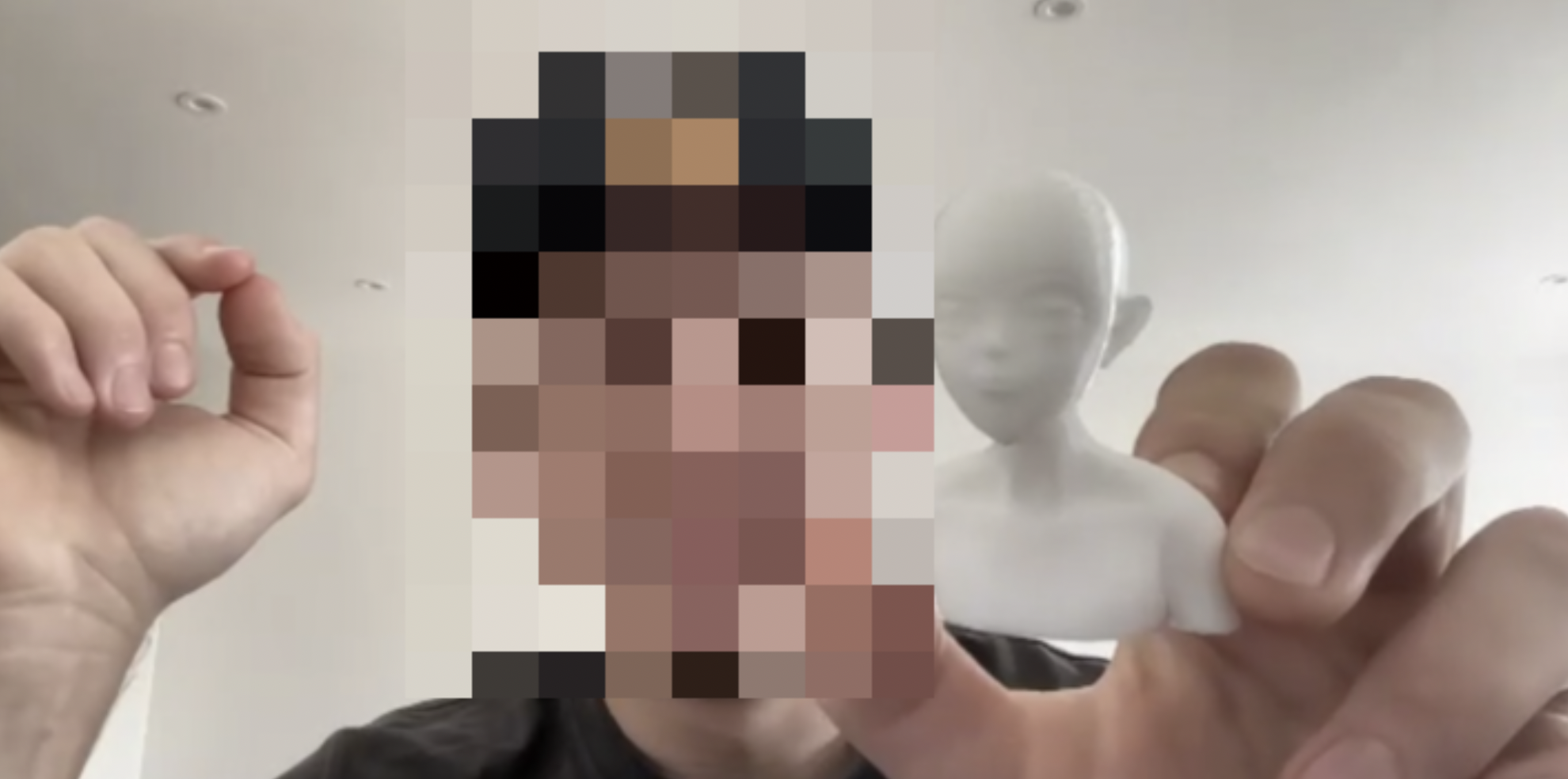 ---
$14B Spanish private bank enters crypto
Prominent Spain-based banking entity renowned for its expertise in private banking, has made headlines by launching the very first crypto fund under the purview of Spanish jurisprudence.
The company has ventured into the world of cryptocurrencies with a bold goal of giving professional investors access to a high-risk hedge fund, boasting impressive assets under management of €12.4 billion ($14 billion) as of 2022. In order to act as the fund's depositary, AandG has partnered with CACEIS, the asset servicing banking group of Crédit Agricole and Santander. This fund will be regularly audited by PwC for compliance and transparency reasons.
Diego Fernandez Elices, Chief Investment Officer at A&G, commented on this ground-breaking development and shared the company's belief in providing an ideal solution to European professional investors looking to enter the world of cryptocurrencies. However, it was noted that there are still inherent risks involved with such investments, indicating that the fund is not suitable for those who are frightened of heights.
The financial landscape in Spain has recently undergone significant changes. The Bank of Spain started issuing permits to companies that offer services for the storage of digital wallets and the conversion of virtual currency into fiat currency in 2022. Businesses like Bit2Me, Bitstamp, BVNK, Crypto(dot)com, and Ripio were given the opportunity to operate under regulatory scrutiny as a result of this decision.
Similar to other central banks, the Spanish central bank declared in December 2022 that it intended to investigate a wholesale central bank digital currency (CBDC) project. This risky initiative requested proposals from financial institutions and tech companies to work together on the project, which is a clear sign of Spain's eagerness to investigate the potential of digital currencies.
A&G's entry into the cryptocurrency fund industry exemplifies the financial institution's commitment to staying ahead in a market that is changing quickly. The bank has established itself as a trailblazer by launching the first cryptocurrency fund in Spain, feeding the demand for digital assets among seasoned investors.
It is important to recognize the significant risk that comes with cryptocurrencies despite the undeniable allure of their potential gains. It is important to understand the nuances of digital assets before investing in this volatile market, as demonstrated by A&G's cautious approach and the fact that its crypto fund only serves professional investors.
As the world of cryptocurrencies continues to evolve, A&G's strategic alliance with CACEIS and its partnership with PwC for auditing reinforces the importance of transparency and compliance in this emerging sector. As Spain embraces the digital future, the banking industry, investors, and regulators will undoubtedly be closely observing the performance and impact of A&G's pioneering crypto fund.
---
🌍 Nigeria E-Naira re-model
The launch of the central bank digital currency (CBDC), eNaira, has transformed Nigeria's financial system in a digital way. Folashodun Shonubi, the acting governor of the Central Bank of Nigeria (CBN), recently disclosed the nation's plans to revamp the eNaira model in order to promote wider adoption of this cutting-edge currency.
The eNaira has gained popularity since its launch in October 2021, with 13 million eNaira wallets as evidence. With a population of almost 224 million people, there is still much to be done. In order to increase the usability of the eNaira, the CBN is taking steps like enabling contactless payments via an updated eNaira app. Let's investigate the fascinating advancements in Nigeria's eNaira journey.
Nigeria, a dynamic country in west Africa, has set out on a mission to encourage the adoption of eNaira, a cutting-edge digital currency, which will go into circulation in October 2021. The CBN has been at the forefront of this revolution, determined to set the standard for financial innovation in the area.
The CBN recently updated the eNaira app to add the convenience of contactless payments in an effort to improve its services and appeal to a wider audience. Technologically savvy citizens welcomed this move with enthusiasm because it will speed up and simplify transactions. However, in order to maintain interest, the bank has kept its plans for additional eNaira model modifications a secret.
The eNaira's journey has been optimistic, but it hasn't been without difficulties. Some people have had some difficulty adjusting to the world of digital currency. The 22 billion naira value of eNaira transactions as of March this year reflects the early adoption's difficulties. A distinct set of challenges are presented by Nigeria's thriving cash-based informal economy. Furthermore, the lack of businesses accepting eNaira and the inadequate digital infrastructure have created barriers to its widespread use.
The CBN is unfazed by the difficulties and is still determined to advance the eNaira into the mainstream. The central bank aims to make eNaira more user-friendly and appealing by working to make improvements on a constant basis and conversing with users.
Nigeria is on the verge of opening up a world of opportunities as the eNaira journey progresses. The digital currency has the potential to promote financial inclusion and economic growth by enabling the unbanked and revolutionizing how people conduct transactions. The trajectory of this innovative project is certain to soar as more merchants accept eNaira and the infrastructure keeps up.
The CBN is pushing for widespread adoption as Nigeria's eNaira adventure enters an exciting new phase. The central bank is committed to meeting challenges head-on, whether it be by updating the eNaira app or thinking about additional model improvements. A story to follow is how the eNaira will affect financial inclusion and the economy as the nation embraces the digital future. The eNaira is ready to change the way people think about digital currency in Nigeria and it is now a waiting game to see how it pans out.
---
🔀 Zuckerberg meta-reverse
Meta, formerly Facebook is making big forays into the virtual world, and despite a recent shift in focus to artificial intelligence (AI), the company is still making strides.
Mark Zuckerberg assured investors that despite the project's negative financial impact, the company remains committed to its vision of a virtual universe. Of the many components that make up the complex path, just a few include virtual reality, augmented reality, metaverses, social platforms, neural interfaces and more. Because the virtual universe project fits his vision of how the world is changing, Zuckerberg is optimistic about its potential, even though it has yet to turn a profit.
Zuckerberg said that while Meta is focused on AI, it is still investing in AI and the Metaverse. The company has invested many years of effort in both projects and has identified overlaps and synergies between the two fields. The dynamic yuanyuan concept corresponds to the excellent plan of the meta.
Although Meta is in the inauguration of the meta-assessment, the project has not yet brought the expected financial income. In 2022, the Meta division and Facebook Reality Labs (FRL), the organization responsible for virtual worlds, reported a loss of $13.7 billion on revenue of $2.2 billion, compared with a loss of $10.2 billion and a loss of $2.3 billion. dollar turnover. billion last year. While Meta acknowledges that it takes patience and perseverance to assess the return on investment in such innovations, she maintains a long-term view. By incorporating multiple dimensions such as VR, AR and neural interfaces, Zuckerberg acknowledges the complexity of the metaverse view.
Meta is dedicated to long-term research and is currently exploring the broad scope of the ambitious roadmap. Zuckerberg openly admits that while he is optimistic about the potential of virtual universes, nothing is guaranteed.
The latest Meta earnings report highlights promising as well as challenging areas. In the fiscal second quarter, the company's net income rose to $779 billion from $677 million. Overall financials were strong, with revenue up 11% to $32 billion. Some Meta platforms, such as Threads, an app designed to replace Twitter, have seen a 60% drop in active users since launch according to data.
While Meta has found a balance in artificial intelligence and virtual worlds, Mark Zuckerberg's unwavering dedication to virtual worlds remains the story of the company. Despite the financial hardships, Matt persevered and embraced the complex and dynamic journey that was set for them. In the long term, Meta's virtual universe goals are likely to influence the evolution of digital interaction, opening up new opportunities for users and investors.
---
🔍 Pro tips
All you need to master ALL Web3 Research tools and their use cases is this infographic. Bookmark this newsletter and share this gem for future reference!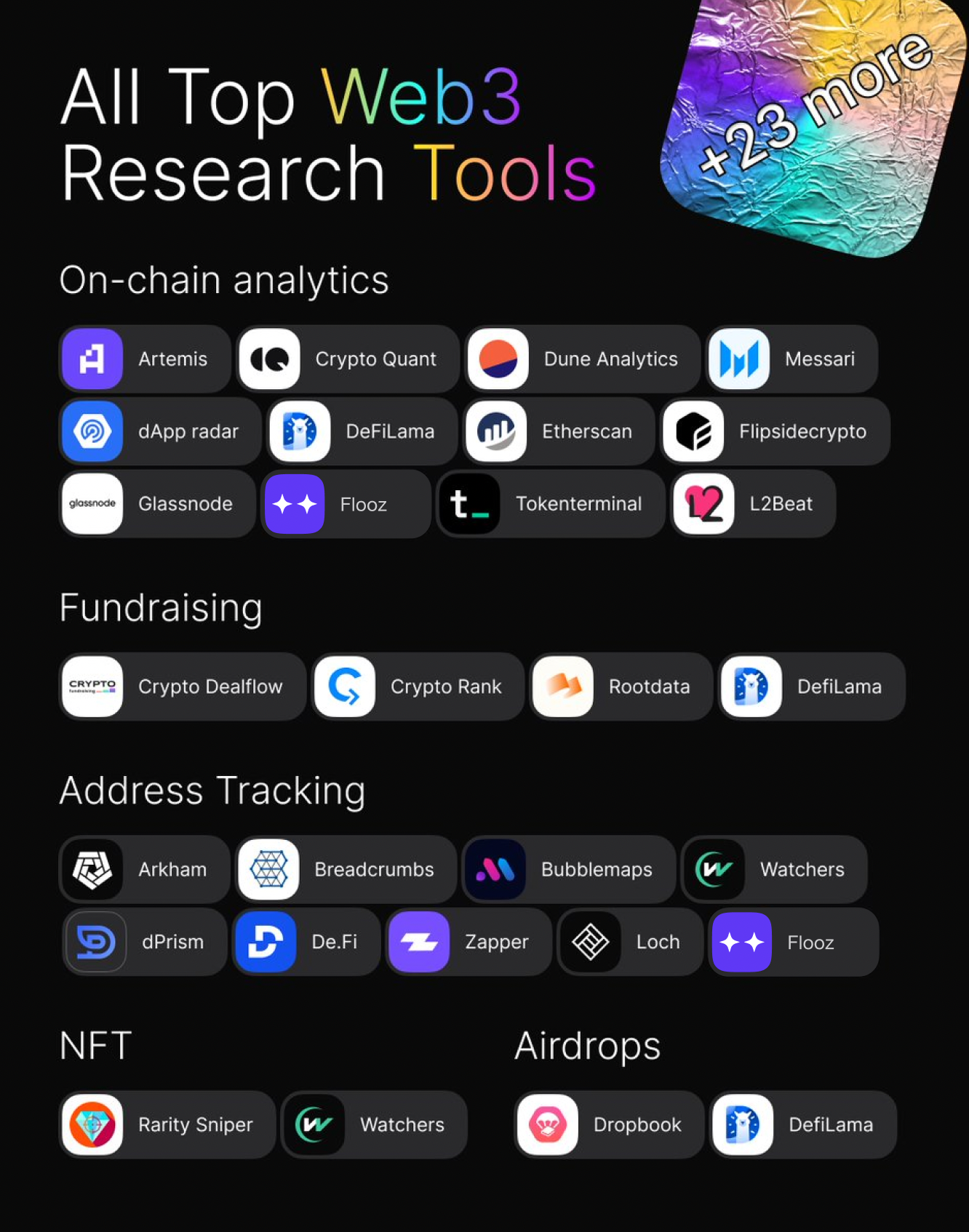 ---
🧠 Level up your knowledge
Amazon expanding their Web3 basis 👀
Are we moving into a bullish state? 🚨
The saga continues...
---
🧯 Trending tokens on Flooz
$BITROCK token has been trending on Flooz for one week straight! We've invited the guys over on our weekly AMA space to find out more about the project, make sure to tune in tonight at 7pm UTC to catch the alpha!
Next up on our list is $DPEX – a decentralized spot and perpetual exchange that offers traders minimal swap fees and zero price impact.
It is built on the Polygon network and utilizes Layer 2 technology to enable faster transactions at lower fees while maintaining high levels of security and accuracy.
Similar to GMX, DPEX is distributing the majority of the platform rewards back to its active community. Its traders can earn in DPEX staking mechanisms and participate in on-chain voting. Since January 2023, DPEX processes a total volume of over 35 million, and has backers such as SwissBorg 🤫 (Europe's leading investment exchange).
Tune in next week for more alpha!
---
⚡ Flooz xyz
Sneak peek 👀 next week we're releasing another feature update on Flooz App to make your #DeFi experience even better.
Here's what our OG users had to say after testing it out:
I went on ETH, saw a big live trade 🐳 clicked on the wallet, saw that this wallet holds $Uni, clicked on $Uni, saw the top 10 holders, clicked on largest holder after smart contracts, dived into his/ her portfolio and found more gems!
Track any token and trader using Flooz App

Forget long wallet addresses, create your own tribe and save friends with $FloozTags

Buying crypto with your local payment options remains a struggle that prevents many people to enter crypto, that's why we're constantly adding support for new currencies
📌 Action steps: look out for this new release and let us know what you'd like to see next!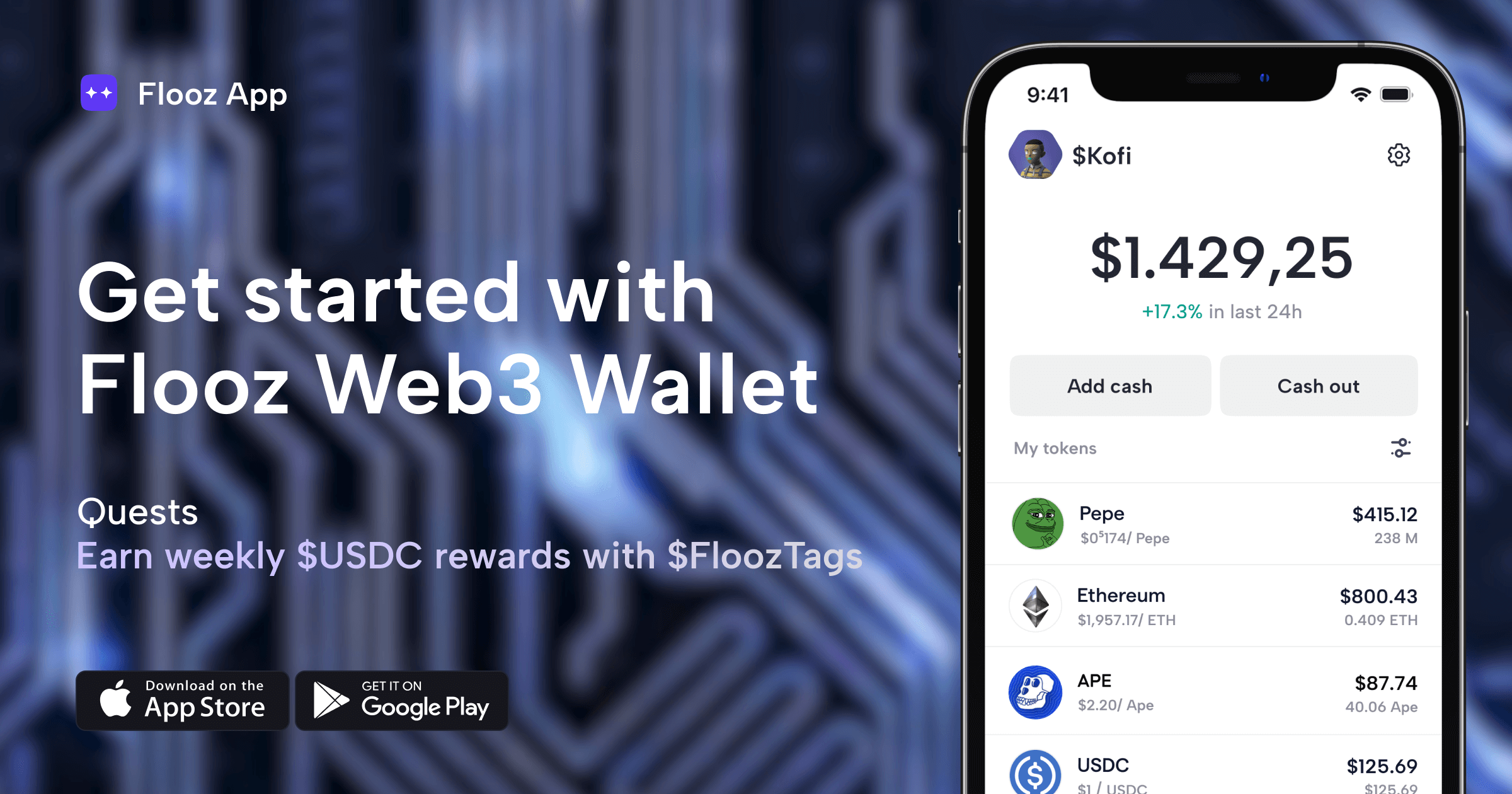 ---
Want to get in front of 53,000+ web3 readers? Or secure yourself an article feature on Cointelegraph? Sponsor All Things Flooz Newsletter via Advertise on All Things Flooz
---
Like getting this newsletter? Browse all our weekly and daily emails to get even more insights from your All Things Flooz subscription.
---
Written by Lewis 🕵️
Authors of All Things Flooz newsletter own cryptocurrencies and stocks. This newsletter is strictly educational and is not investment advice or a solicitation to buy or sell any assets or to make any financial decisions.
#nigeria
#metaverse
#meta
#crypto
#banks