Talking points
💳 Paypal release stablecoin

🎓 Universities to lead Web3 adoption?

🪪 Blockchain identification dilemma
GM frens. The LTC halving is down, now we await the king of halving's.
But as we are still months away, let's digest some insights to speed past time.
---
Announcement 🚨
Make sure you tune in this Friday at 7pm UTC 🎙 as we'll be co-hosting a space with Dehkunle Of Africa and the founders from #X token to chill, shill and discuss rising trends in #DeFi
The team has recently ignited a global billboard campaign, the news is spreading like wild fire!
Discover the #X token roadmap and real-time token data via the dedicated project page 👇
---
👀 Quick market outlook
We might as well start copy and pasting this section... As usual the market has barely moved.
But it seems something is brewing so here is some insight 👇
It seems there are a few options in play so we'll have to wait and see what direction is the chosen one but it is evident that if we lose the $28.5k support on the BTC trend, we could see a drop down to potentially $25k 👀
Another interesting event that happened recently was the Litecoin ($LTC) halving. This was disappointing and did not get the rally many expected.

Here is a quick view on what we could expect next from it...
It seems a further drop is expected for $LTC so let's wait and see whether it plays out.

As usual, make sure you have a plan and be safe!
---
💳 PayPal release stablecoin
In a groundbreaking move, American fintech giant PayPal has unleashed its latest innovation on the digital stage with the PayPal USD (PYUSD) stablecoin, officially launched on August 7th.
This new entrant promises to transform the landscape of digital payments and blockchain technology, signaling a significant stride toward mainstream adoption of cryptocurrencies with the development being in collaboration with Paxos Trust Co.
The PYUSD is a stablecoin pegged to the U.S. dollar, backed by a secure reserve comprising U.S. dollar deposits, short-term Treasurys, and similar cash equivalents. All while being built on the Ethereum blockchain, this stablecoin boasts compatibility with crypto exchanges, Web3 applications, and crypto wallets, reinforcing its position as a versatile digital asset.
At its core, the PYUSD presents an unparalleled advantage… redeemability for U.S. dollars at any given time, affording users a direct and reliable link to traditional fiat currency. Furthermore, the PYUSD can be interchanged with various cryptocurrencies within the PayPal ecosystem, and its transferability extends not only within PayPal but also across Venmo. The company's vision extends even further, with plans to integrate the PYUSD as a payment method for an array of transactions.
This bold venture into the world of stablecoins is poised to catapult PayPal into the vanguard of crypto payment facilitators. The journey began in 2020 when PayPal initiated support for cryptocurrency transactions on its platform. Fast forward to the present, and the company is primed to leverage its vast user base of over 350 million active accounts, propelling the PYUSD toward mass adoption, which means yet another stablecoin on the market to compete…
Dan Schulman, the CEO of PayPal, envisions the PYUSD as an integral component of the global payments ecosystem. The groundwork for this development was laid in January 2022 when PayPal officially announced its intention to unveil a stablecoin. The company has remained steadfast in its commitment to collaborate closely with regulatory authorities, ensuring a compliant and secure introduction.
While the cryptocurrency market has seen several stablecoins emerge, the PYUSD stands out as a trailblazer - the first stablecoin launched by a major payment processor. Charles Cascarilla, CEO of Paxos, emphasized the transformative nature of this collaboration, declaring the PYUSD launch as a tangible testament to the practical utility of blockchain technology. With PayPal's strategic involvement, the financial industry is poised for an evolution of unprecedented proportions.
Navigating the regulatory landscape, PayPal and Paxos are spearheading an initiative to bring clarity to the stablecoin sector in the United States. As the regulatory environment evolves, the demand for a stablecoin that aligns with these regulations is palpable. The PYUSD aims to bridge this gap, emerging as a novel contender in a market currently dominated by Tether's USDT and Circle's USD Coin (USDC).
As the market capitalization of cryptocurrencies continues to surge, the PYUSD enters the scene with a mission to revolutionize digital payments. The stablecoin market, valued at roughly $126 billion, has long awaited a dynamic player like the PYUSD. Its entry has reinvigorated discussions around stablecoin regulations in the U.S., with policymakers currently deliberating on a bipartisan stablecoin bill.
However, there is one thing that was spotted that may cause concern for users. It seems that PayPal can freeze and wipe your balance... Yes, you read that correctly.
While this is exciting news, and adoption for crypto and the Web3 space could greatly benefit, the constant introduction of stablecoins is still seen to be a worry and not to mention the ability to freeze the stablecoin... Realistically, the more stablecoins there are, the less stable, funnily enough, the rest become. The question is… can this stablecoin compete with the current giants, USDT and USDC?
---
🎓 Universities to lead Web3 adoption?
In the ever-evolving landscape of emerging technologies, universities find themselves at the forefront of shaping the next generation of talent. This sentiment is underscored by Czhang Lin, an esteemed IC board member of the Web3 venture fund LBank Labs.
Lin emphasizes the pivotal role universities play in nurturing the future architects of Web3 and advocates for a deeper understanding of this transformative paradigm within academia.
This month, a significant step was taken towards this vision as LBank Labs unveiled the victors of its Summer Bootcamp competition, specifically designed for university students. The competition garnered enthusiastic participation from diverse academic institutions, vying for the coveted rewards of an immersive trip to Cabo San Lucas, Mexico, and invaluable mentorship opportunities from leading crypto funds.
Lin's insights illuminate the profound relevance of universities in shaping the trajectory of Web3, especially as an ardent advocate, Lin likened universities as "critical players for new tech" like Web3, where they serve as fertile grounds for nurturing talent. He stresses the necessity for universities to grasp the essence of Web3 and consequently guide students towards a clear and visionary path.
Even amidst the current market's bearish undertones, Lin remains steadfast in his belief that this is the opportune juncture for building and investing. He asserts that bear markets serve as crucibles that forge resilience and innovation, backed by the conviction that diamonds inevitably shine, and persistence remains their unwavering ally.
When delving into the prevalent trends among college students, Lin observes the emergence of yet another "buzzword" - artificial intelligence (AI). However, Lin dismisses the notion of AI and Web3 being at odds, asserting that they can harmoniously coexist to amplify each other's potential.
Turning attention to the competition participants, Lin unveils a fascinating tapestry of innovative ideas. The university students who engaged in the competition exhibited a keen focus on a range of pioneering concepts including decentralized finance, liquid staking derivatives, zero-knowledge proofs, and decentralized applications. This underscores the rich diversity of thought and exploration that is inherent within the upcoming generation of Web3 leaders.
In this era of transformation, the partnership between universities and the Web3 landscape is poised to define the trajectory of innovation. As academia bridges the knowledge gap and imparts a clear understanding of Web3's immense potential, students are empowered to step confidently into this dynamic arena. LBank Labs' visionary approach in fostering such collaboration through initiatives like the Summer Bootcamp signals a future where academia and Web3 synergize to unleash an era of unprecedented innovation and growth.
Either way, this is great news for the Web3 space yet again as it opens the realm up for much bigger exploration and an injection of further talent within the world already. Exposure and education around these aspects can only be a good thing, so if this can be adopted around the world… then there are certainly exciting times ahead.
---
🪪 Blockchain identification dilemma
In the realm of decentralized blockchain, anonymity has long been a prized feature. Each participant wields a pseudonymous identity encapsulated within a wallet address, meticulously recorded on a decentralized ledger for every cryptocurrency transaction (apologies for the big words… they were needed).
However, amidst this digital veil, an intriguing conundrum arises as the necessity for identity verification within crypto platforms. And while the allure of anonymity prevails, the escalating threats of fraud and potential harm have reached an undeniable threshold. Notably, regulatory bodies, including Christy Goldsmith Romero, a commissioner at the U.S. Commodity Futures Trading Commission, have shifted their focus onto cryptocurrencies due to their involvement in funding cybercrime.
"Addressing what makes crypto so attractive to illicit finance," Romero asserts, "rests on unveiling the shroud of anonymity."
The landscape remains uncharted, with looming uncertainties concerning the nature and administration of forthcoming regulations. The implication for crypto platforms is profound – a potential obligation to undertake Know Your Customer (KYC) procedures on an extensive user base, managing the intricacies of regional verifications and diverse regulatory frameworks globally. Among these challenges, victory will be claimed by companies that forge comprehensive compliance strategies.
The question is... can Trulioo solve this issue?
The multifaceted endeavor of verifying identities confronts a complex interplay of elements – personal identifiable information (PII), governmental identification, biometric data, and more. Amplify this complexity across numerous countries, each encapsulating distinct legal requisites and the feasibility of manual processes diminishes drastically.
A beacon of resolution emerges in the form of identity verification providers. These entities empower crypto platforms with efficiency at scale, facilitated by automation and cutting-edge AI technology. This integration not only manages risk but also optimizes operational costs, which is a big win for all parties involved.
We want security and lower costs after all, right?
Through the ascent of integrated identity platforms, enterprises are bestowed with an all-in-one ally for their verification demands. This encompasses a spectrum of services encompassing PII data, document authentication, biometric verification for KYC procedures, watchlist screenings, ongoing risk monitoring for Anti-Money Laundering (AML) prerequisites, vetting of influential stakeholders or ultimate beneficiaries, and business registration details for Know Your Business (KYB) compliance. All of these facets can be accessed within a singular workflow, expediting the verification process manifold.
While the decentralized power of blockchain and cryptocurrencies harbors immense potential for global empowerment, its adoption is far from uniform across regions. A significant catalyst in this disparity is the accessibility of verification methods. Hence, a substantial reservoir of untapped market potential remains, awaiting the expansion of growth-oriented crypto platforms.
Amidst this diverse landscape, identity document verification emerges as a pivotal tool. By harnessing government-issued IDs and facial biometrics, companies can achieve a secure onboarding process that transcends geographical boundaries.
The only issue now is its integration into the blockchain and web3 space which users are happy with. There has already been an overwhelming concern with CBDCs entering the space, now if this is used as another aspect of control… there could be further discontent and trouble. I guess we have to wait and see how it all unfolds.
---
📊 Stats of the week

As you can see, the total crypto market cap for the last 7D took a bit of a hit. We see a high of $1.223T and a low of $1.204T, which is a $19B movement.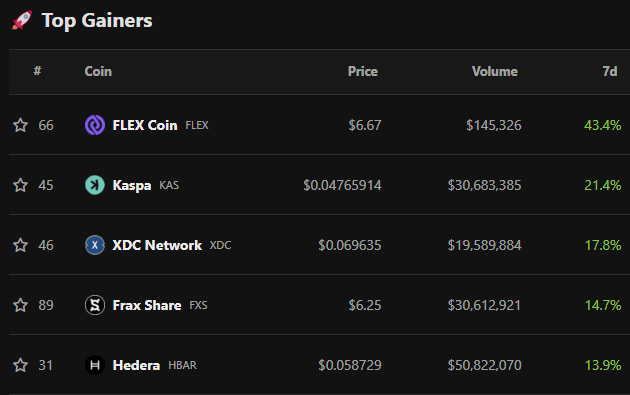 As you can see, we have had some nice gains considering the stagnant market we've seen. In first we have $FLEX which saw a 43.4% gain. Then coming in next with less than half those gains, is $KAS with a 21.4% climb. Then we have $XDC with the bronze medal which saw a 17.8% move up too.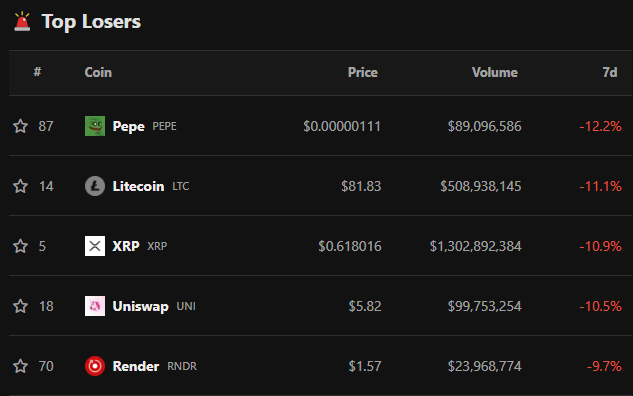 And finally, we have the top losers for the last week. In first we have the famous frog $PEPE returning with losses of 12.2%. Next we have $LTC who just had its halving, but sadly not reaping those rewards with a loss of 11.1%. Then coming in third, we have $XRP who has seen a 10.9% loss.
---
🧯 Trending tokens on Flooz
We have two tokens worth mentioning to you for the start of this week, let's dive in.
Flooz always brings you the latest, trend, newly listed token $Pr1nt has just over 36k in 24h trading volume and just over 150 unique holders. Head over to Flooz to discover the price action!
$KillerWhale counts just over 100 holders with 27k in liquidity, keep an eye out on this new project using the real-time activity tracker and price charts on Flooz.
---
⚡ Flooz xyz
Here's a quick wrap up 🎁 of our Flooz Tag x $USDC quests, week 4️⃣ is still live for you to join!
Week #4
Week #3
Week #2
Week #1
As our last week comes to a close, we'll be welcoming a new artwork style, with new rewards!
---
Want to get in front of 53,000+ web3 readers? Or secure yourself an article feature on Cointelegraph? Sponsor All Things Flooz Newsletter via Advertise on All Things Flooz
---
Like getting this newsletter? Browse all our weekly and daily emails to get even more insights from your All Things Flooz subscription.
---
Written by Lewis 🕵️
Authors of All Things Flooz newsletter own cryptocurrencies and stocks. This newsletter is strictly educational and is not investment advice or a solicitation to buy or sell any assets or to make any financial decisions.
#litecoin
#bitcoin
#paypal
#stablecoin
#blockchain