Talking points
🔓 Curve Finance hacked

🚀 Tether reaches new ATH again

👀 Coin-BASE taking off?
Good morning. ☕ It's a new month which means new opportunities.
Now… let's jump into this week's juicy, shall we?
---
Market Outlook 👀
It seems that every week there is barely any change in the markets and any climb or drop we have seems to revert itself pretty quickly.
However, are we now finally getting closer to that changing?
Here's some insight into what we might be seeing in the short term:
It seems we could be heading down further before seeing a nice climb up and past that $31k zone that is proving a difficult level to beat. But if this does occur, it means that there is more opportunities to get into positions and DCA (Dollar Cost Average) 🔔
What else should we look out for?
With there being some hype around meme coins and the added fact that Elon has renamed Twitter... It seems we could see some nice moves forming for $DOGE.

If you want to pick up some $DOGE, you can do so on the Flooz platform 👇
But wait... there's more!
It seems $VRA could also be looking for a nice move up but be careful as if the current level is lost... we could see a drop instead.
You can buy some $VRA on the Flooz platform below 👇
---
🔓 Curve Finance hacked
Curve Finance, a prominent decentralized exchange operating on the Ethereum blockchain, fell victim to a hack caused by vulnerabilities in specific pools built using the Vyper programming language. This incident had significant repercussions for the price of Curve DAO (CRV), which experienced a sharp decline of 20%, hitting a two-month low of $0.58.
The following day, CRV's downward trend continued, reaching a seven-month low of $0.48. Concerns about the liquidation of substantial loans, amounting to $100 million, taken by Curve Finance founder Michael Egorov against CRV as collateral 🤯 contributed to the apprehension in the market.
However, amidst the challenges, several positive developments have emerged, suggesting potential short-term rallies for CRV. Notably, there have been partial repayments of loans and notable negative bets in the derivatives market.
To address the liquidity concerns, Egorov took action on August 1, selling 39.25 million CRV tokens to notable decentralized finance investors like Justin Sun, Machi Big Brother, and DWF Labs for a total of $15.8 million, as reported by Lookonchain data. The buyers were able to acquire CRV at a discounted rate of $0.40 per token, representing a 25% discount from the prevailing market price at the time.
Additionally, Egorov has made partial repayments on his Tether loans through the Aave platform. The principal amount owed has been reduced from $63.20 million to $54.1 million, according to data from DeBank. This partial repayment demonstrates a positive step in mitigating the risk of liquidation, providing some relief to investors and the DeFi community.
Nevertheless, it's important to note that the situation remains sensitive. The risk of Egorov's loans being liquidated on Aave persists if the CRV price drops to $0.36 or lower, as indicated by DefiLlama.
Despite the challenges faced by Curve Finance, the DeFi community is rallying to support CRV. Egorov's actions to repay loans and the involvement of notable investors signal a willingness to address the situation and find solutions to stabilize the CRV price.
However, despite the concerns and CRV being significantly down, it has seemed to recover back up to around $0.59 during the early hours of 2nd August.
As the situation unfolds, stakeholders are encouraged to stay informed and remain vigilant while the DeFi community comes together to navigate the aftermath of the hack and support the stability and growth of Curve Finance and remember to always protect your capital.
---
🚀 Tether reaches new ATH again
Stablecoin issuer Tether has recently released its consolidated reserves report for the second quarter of 2023, revealing impressive financial figures.
According to the report, Tether now holds approximately $3.3 billion in excess reserves, showcasing the company's robust financial health. Moreover, profits have surged by 30% from the previous quarter, exceeding $1 billion.
This has been audited and attested by the reputable accounting firm BDO, highlights Tether's commitment to transparency and financial stability. It reveals that the excess reserves constitute nearly 4% of the total assets backing all Tether tokens in circulation, offering additional security and reassurance to its user base.
Tether's "extremely liquid" reserves are primarily comprised of 85% cash and cash equivalents. Additionally, the company holds a substantial amount of $72.5 billion in US Treasury bills, further bolstering its financial position.
Overall, Tether's asset holdings amount to an impressive $86.5 billion, while its liabilities stand at $83.2 billion. This data underscores the company's solid financial standing, affirming its capability to maintain a healthy and reliable financial ecosystem.
Tether's management views the excess reserves as the company's retained profits, emphasizing that these funds are not distributed to shareholders. Instead, Tether has chosen to hold onto these reserves in addition to the 100% reserves already maintained to back all outstanding tokens. This decision exemplifies Tether's dedication to prudent risk management and care for its community of users.
Furthermore, Tether reported a noteworthy share buyback worth $115 million. The buyback initiative is seen as a positive step to consolidate the company's position and strengthen its shareholder base, reflecting a forward-looking approach to sustainable growth.
Tether's USDT token, pegged to the US dollar, has also reached a new milestone during this quarter. The circulating supply of USDT surpassed its previous all-time high of $83.6B, showcasing the stablecoin's increasing popularity and demand in the market.
In addition to the US dollar-pegged stablecoin, Tether issues stablecoins pegged to other currencies, including the euro (EURT), Chinese yuan (CNHT), Mexican peso (MXNT), and even gold (XAUT). This diverse range of stablecoins further enhances Tether's relevance and accessibility in various global financial markets.
To conclude this continued positivity for the crypto world, Tether's Q2 2023 reserves report presents an encouraging outlook for the stablecoin issuer. With substantial profits, excess reserves, and a commitment to transparency, Tether is poised to play a crucial role in shaping the future of the global financial ecosystem. As the demand for stablecoins continues to rise, Tether's solid financial foundation positions it as a reliable and secure choice for participants in the digital financial landscape.
---
👀 Coin-BASE taking off?
Base, a layer-2 blockchain backed by Coinbase, has garnered significant attention and investment ahead of its official launch. Despite not being open to the public yet, the platform has witnessed remarkable activity, with over $200 million in trading volumes and a surge in transactions surpassing established networks like Arbitrum.
Traders and investors have flocked to Base in search of lucrative returns, particularly from meme coins. One such example is the meme coin BALD, which experienced an extraordinary surge, skyrocketing by approximately 4,000,000% from its initial issuance to its peak price. This momentum resulted in over $100 million in trading volume within just 24 hours.
The news of these impressive gains quickly spread across social media, attracting even more traders eager to capitalize on the opportunity for quick profits. However, the token's meteoric rise was followed by a sharp drop of more than 78% from its all-time high. This downturn occurred after a developer executed a "rug pull" on the BALD meme coin by removing all liquidity on Ethereum layer-2 network Base.
Despite this incident, traders continued to invest in Base, with meme coins like brian (BRIAN), toshi (TOSHI), and basedbot (BOT) witnessing substantial gains and subsequent losses. This influx of capital into Base created a breeding ground for exploitative practices, with opportunistic developers deploying numerous tokens, only to execute rug pulls later on. Some traders even unknowingly purchased imitation tokens that lacked exit liquidity.
While the lack of a functional two-way bridge did not deter traders, caution is warranted given the hyper-speculative nature of meme coins. Jeff Mei, the Chief Operating Officer of crypto exchange BTSE, highlighted the opportunities for profit but also emphasized the importance of not getting swept up in the frenzy.
Notwithstanding the hype surrounding Base, skepticism remains about its long-term prospects. Mikolaj Zakrzowski, a Web3 analyst at on-chain analytics tool CryptoQuant, expressed doubts about the blockchain's fundamentals. He pointed out that one address alone bridged over $17 million worth of Ether, suggesting that the rise of Base may not be entirely supported by solid foundations.
Base, built on the OP Stack, opened its doors for developers to test applications and blockchain-based products in July. As the platform gears up for its official launch, the excitement and interest surrounding it continue to grow. However, investors are advised to tread carefully and assess the risks associated with the speculative nature of meme coins and the emerging blockchain ecosystem.
---
📊 Stats of the week

As you can see, we saw a weekly high of $1.241T and a low of $1.220T. A difference of $21B over the past 7D overall, despite the turmoil, markets are slowly moving up.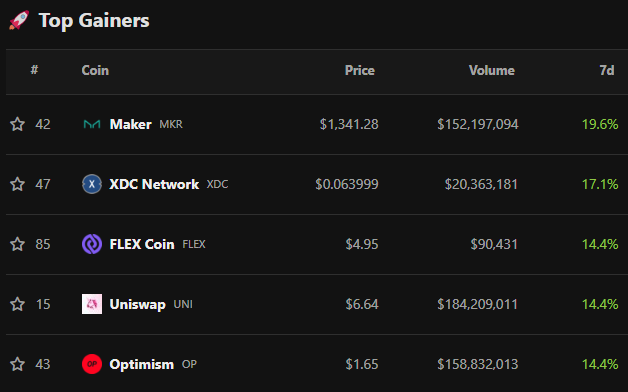 As you can see, we saw $MKR with a big 19.6% increase over the last 7D, and this was closely followed by $XDC with 17.1% increase and uniquely... $FLEX, $UNI and $OP all saw 14.4% gains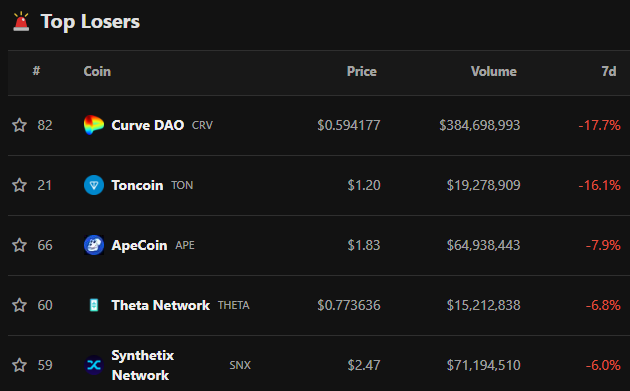 And last but not least, we have the weekly losers. As you can see, we have $CRV with a massive 17.7% loss, albeit this is linked to the recent hack... but closely followed is $TON which saw a 16.1% loss and then $APE with a 7.9% drop.
---
🧯 Trending tokens on Flooz
Strong community speaks for itself. Welcoming the X Token to the Flooz Ecosystem 🌪
Inspired by a simple tweet from the visionary entrepreneur Elon Musk about the enigmatic letter "X," this community-driven token holds the potential to be the next big success story...
The project has already risen to $34.61m market cap with $10m in 24h volume and currently counts over 8,000 unique holders, with only 15% of supply held by the top 🔟 holders.
X Token is up over 8% 📈 in the last 24h – despite their Twitter being suspended (Elon is watching), make sure to keep an eye out as the price moves along. We'll be hosting a AMA next Friday on Aug 11th to experience the community, and meet the founders behind the project.
---
Next up, Travel Club Crypto LLC is a company with the vision of truly bringing Travel & Crypto together in a way that rewards both the traveler & investor alike, catering to crypto enthusiasts who want to explore the world while embracing the power of cryptocurrencies.
Curious to know more about the future of tokenised travel, join the AMA at 4pm CEST today 👇
---
Moving on from the highlights, we have a few more projects worth mentioning to you 👇
HILO is up over 25% 📈 in the last 24h – representing the native token of the HILO Dapp, built on the Eth Blockchain. This token powers a binary options prediction market, where users can stake HILO to forecast cryptocurrency price movements within a set timeframe.
PAAL AI is up over 10% 📈 in the last 24h – an ever-expanding community of 1,500 holders. The project aims to create an advanced AI ecosystem leveraging advanced AI and ML technologies. It enables users to create personalized AI, deploy it across multiple platforms including Telegram and Discord, and offers comprehensive AI solutions for everyone.
Last but not least we have Aerie, up over 50% 📈 in the last 4 weeks – a cutting-edge platform initiative & EVM Compatible Blockchain Project dedicated to providing premier utilities for developers and users of crypto projects, providing a faster blockchain network, streamlining their experiences and simplifying their exploration of the vast opportunities in the crypto space.
---
Amongst the trending meme tokens we have just added ETH Monsta, Arise Chikun and Snek 🐍
---
⚡ Flooz xyz
Tune in, as we're going to be sharing our top-3 weekly listed tokens on Flooz.xyz, make sure to add these tokes to your watchlist, and discover what the top 10 holders of each project up to!
Conor Kenny is a Youtube legend in the web3 space, we're glad to see him using Flooz 🔍
---
Want to get in front of 53,000+ web3 readers? Or secure yourself an article feature on Cointelegraph? Sponsor All Things Flooz Newsletter via Advertise on All Things Flooz
---
Like getting this newsletter? Browse all our weekly and daily emails to get even more insights from your All Things Flooz subscription.
---
Written by Lewis 🕵️
Authors of All Things Flooz newsletter own cryptocurrencies and stocks. This newsletter is strictly educational and is not investment advice or a solicitation to buy or sell any assets or to make any financial decisions.
#curve
#tether
#base
#crypto
#bitcoin
#coinbase