376 proposals across 73 weekly Prop House rounds as of this writing, to build and grow a beautiful little ecosystem around Unidentified Mystery Animal named UMA. This is the story of UMA DAO, an experiment started and stewarded by @matascup.
The story dates back to 2021, when David Horvath, a renowned American Illustrator and comic artist known for his work on Ugly Dolls and Bossy Bear, along with his partner Sun-Min Kim created the UMA NO COPYRIGHT NFT, and released it as the cc0 first character-based NFT ever created, essentially inspiring a generation of onchain artwork in the public domain, with a direct link to the creation of Nouns, and even Prop House.
Last week, I had a conversation with matas about the life and journey of The UMA DAO, and this blog makes up some of that research. All of the quoted text that follow are excerpts from the livestream, said by @matascup (Aka. matas).
Alright, let's dive in. You can watch the livestream here:
The beginnings of cc0 NFTs
In May 2021, David Horvath and Sun-Min Kim, launched UMA NO COPYRIGHT, making it available for the public domain.
"UMA marked a significant shift for me in the NFT space as it was the first cc0 NFT available at the time."
This was before Nouns, and way before cc0 NFTs were a thing. One of the co-founders of Nouns, 4156, found cc0 intriguing (later, leading to the inception of Nouns). He purchased two original UMAs and initiated a Twitter contest, encouraging people to pitch small business ideas or projects around UMA, that fit in a single tweet, and offering 1 eth and one of the UMAs to 2 of the winners he'd select (no prizes for guessing what inspired the Nouns Prop House).
Matas, along with another participant, @reylarsdam were selected among the many who pitched their ideas on the tweet.
".. and that really marked my switch from just a collector to somebody who wants to improve the space, create things, and for whom these NFTs are not just items to trade or fill your bag with. Especially with cc0 NFTs, they're like a blank canvas, an invitation for anyone to create whatever they like. It's a beautiful concept because it encourages everyone who sees them to become a builder, to create something cool."
Ever since, Matas has also built TOAD DAO and griftshop.xyz, on top of other renowned cc0 NFT projects. In his website, he writes: Because CC0 is meant to be built on.
I can't help but feel excited about the growth of cc0 NFT projects in the space. To me, the four main players in this area are UMA, CrypToadz, Nouns, and XCOPY's art. These projects, with their public domain art, have created a vibrant ecosystem that beckons to the curious and hungry, inviting them to build and innovate on top of the existing foundations. ~ mumke.com
Why Matas started UMA DAO
"I think UMA started with my desire for this UMA IP, this UMA art, for things to be created with it. By this time, Nouns were a thing, and I saw all these really cool cc0 projects and how they inspire people. I made some UMA stuff just for the love of it, and my wish was to somehow create an incentive for others to co-create in this entire UMA universe."
On April 9, 2022, matas started the UMA DAO server. Here's an early message describing the thinking: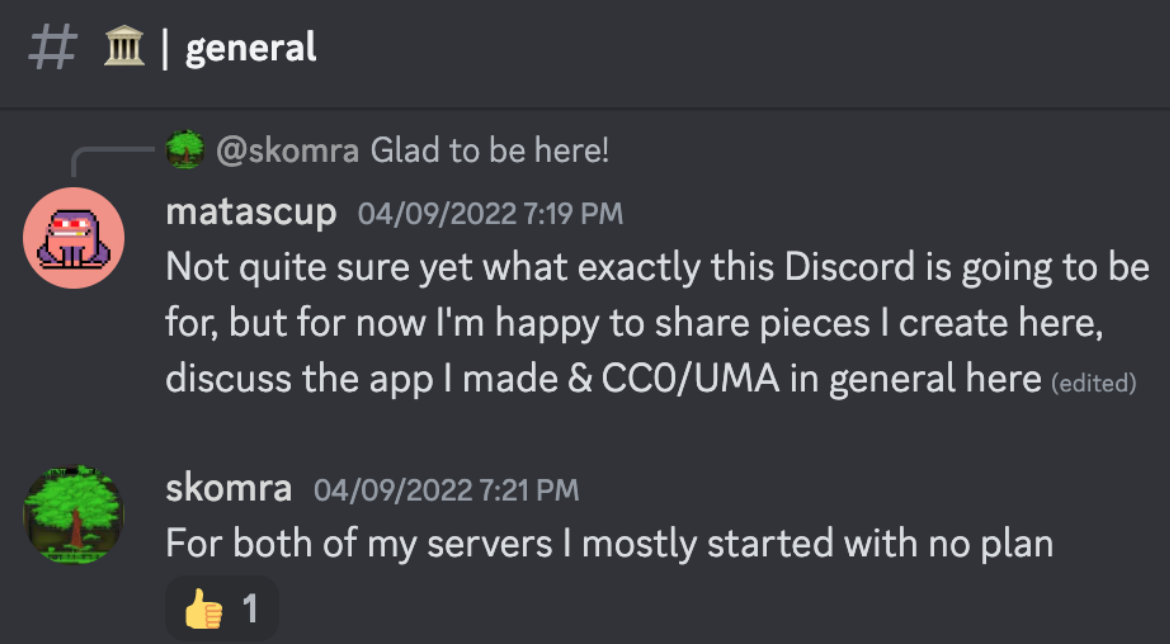 "You have this IP created by people who have created huge characters that are on Nickelodeon. And here, they have gifted you more or less this character that you can co-create with them. I think that's the coolest stuff."
Starting UMA House on Prop House
As a frequent on Prop House, I tend to assume that everybody in DAO space know what Prop House is, but that is far from the case. Prop House is an extremely interesting invention from the Nouns community, stewarded by one of the nounders (founder of Nouns), Seneca.
Prop House is an experimental approach for communities to deploy capital. Through funding rounds, communities auction off fixed amounts of capital to builders with the best ideas. ~ prop.house/faq
UMA DAO started with just a discord and no website. Matas envisioned a community-driven space where contributors could express ideas and holders would allocate resources. He initially thought people would go into discord, express what they want to do, and holders would allocate something. However, this approach didn't work, and realized that Prop House, which was early then, would be ideal.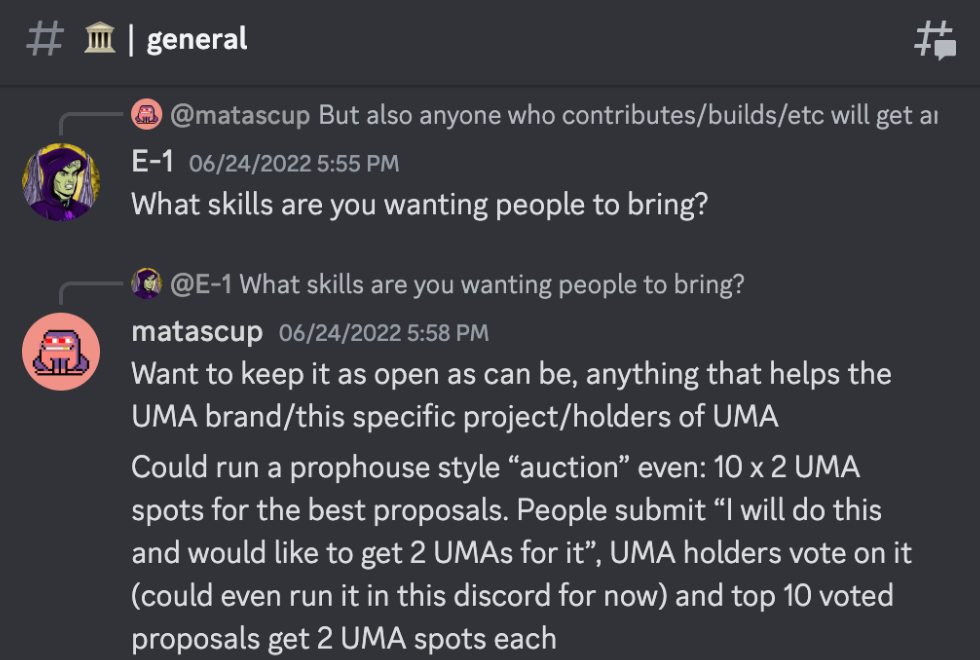 "Prop House is a unique platform within NFT communities, almost like gamified democracy. It allows contributors and builders to pitch ideas, and a select group of voters, usually NFT holders, decide on the top proposals."
He explained his vision to Seneca who runs Prop House, and then, voila. Enter. UMA House.
Contribute to Mint - How UMA DAO works
An excerpt from the UMA discord "about" channel:
Welcome to UMA. Where we hold weekly auctions for UMA NFTs, in which one bids with proposals for contribution. Holders decide who the highest bidders are by voting for their favorite proposal. All of this happens on https://prop.house/uma
What a round on UMA Prop House looks like:

Fun fact: UMA House on Prop House takes the crown for the highest number of Prop House rounds, across the platform, with Nouns in the second place with 48 rounds.
The UMA DAO NFTs
The UMA DAO NFTs is a PFP collection derivative off the origianal UMA NO COPYRIGHT, with custom traits, new visuals, and smart contract created and deployed by matas. The initial distribution of UMA tokens were done by matas, of 45 self-selected holders, from a snapshot of the holders of the original UMA NO COPYRIGHT NFT, and few contributors from the early UMA DAO community. This formed the governing body to kick off the DAO.

Contributions to UMA
The prop house rounds have invited a lot of creativity and all sorts of ideas into the ecosystem.
Some examples:
UMA field guide, UMA website, feel good twitter feed, mashups with other cc0 projects, secret club for UMA owners, UMA twitter bot, meditation sessions for UMA holders, website improvement plan, 3ds of UMA NFTs (+ airdrop to holders), representing UMA DAO at other events, sprite sheet, potted UMAs, UMA on beer cans, spanish twitter spaces, project suggetions, initiatives to onboard new contributors, UMA jingle, utilities for UMA holders, educational video, mosaic, street art, community giveaways, character builder files, t-shirts, gifs, project directory, coloring book, instagram stickers, VR filters and more.
So far as to say even the UMA website is created by a community member via prop house contributions. This UMA Field Guide below is a particularly interesting one.
And few of the many more examples below: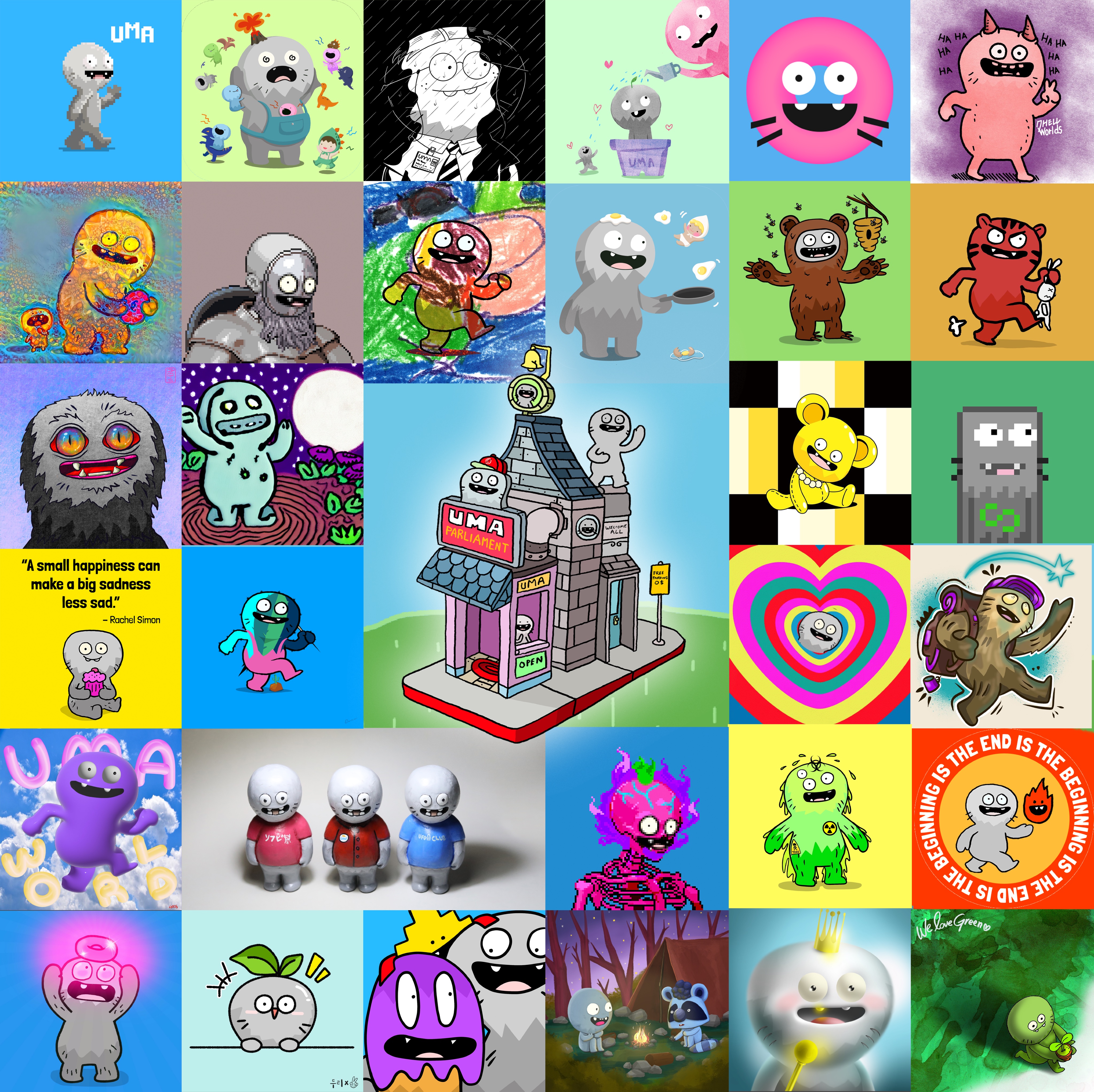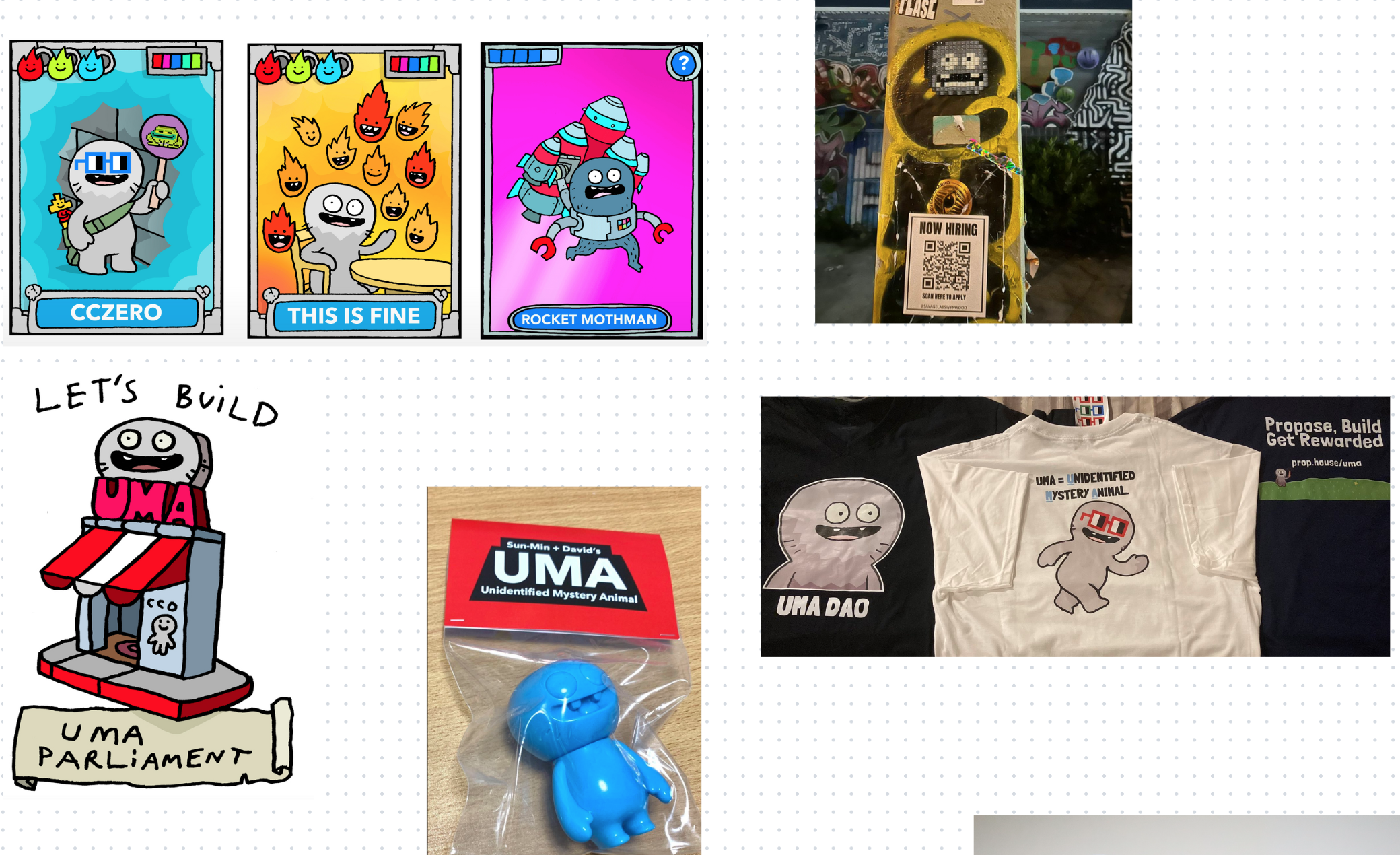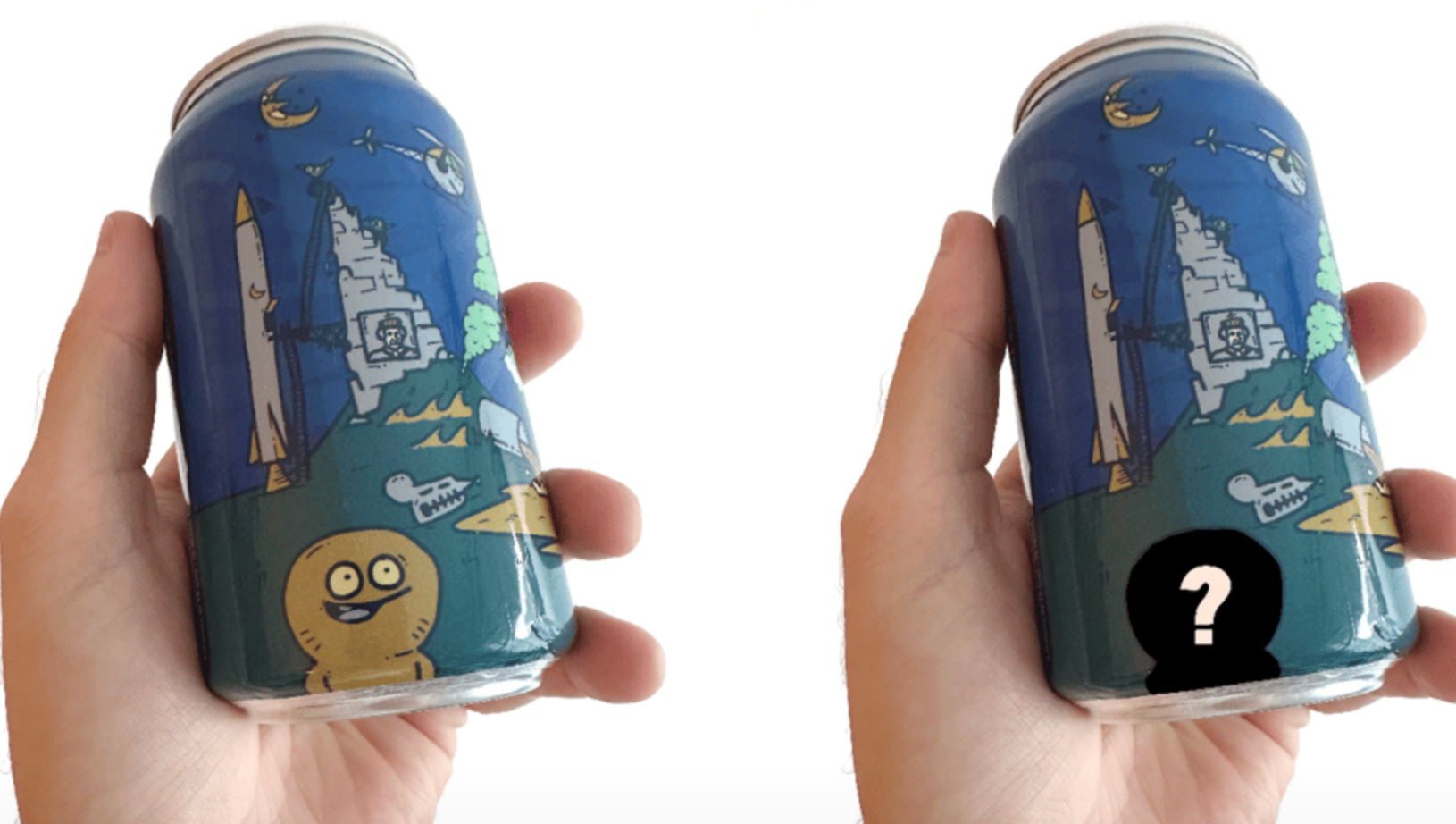 If you would like to contribute to UMA yourself, head over the UMA House and visit the active round:
This blog, as you would have guessed is also a result of one these proposals on UMA Prop House, where I pitched the idea to learn about UMA DAO through a livestream with matas.
In summary
And if all of this wasn't enough, another piece of information that I found absolutely fascinating is:
This project is operated by matas alone. Yes, there are a number of contributors building on the UMA brand and broad support from prop house team and everything, but the day-to-day tasks of administering the Prop House rounds, handling Twitter, moderating discord, and essentially steering the project forward are solely managed by one individual, who created the project 🤯
"I think there's a lot of innovation to be done in the web3 space, and UMA DAO is one attempt of mine at doing that."
Hope you enjoyed reading this story.
Collect this post to permanently own it.
Subscribe to FULL TIME DAO and never miss a post.
#cc0
#prop house
#governance
#nft