gm DAOpunks. Welcome to part 4 of The Full-Time DAO Newsletter, a 6-part series documenting my journey through the DAOpunks grants cohort, toward my transition to full-time DAO work.
In the last 3 editions of the newsletter, we have gotten into the DAOpunks grants story, my proposal to DAOpunks, new priorities for growth and brand building, pursuit for monetization, and then I laid out a premise for a little project called fulltimedao.com. Today, finally, we're gonna get into the project - fulltimedao.com - the why, the what, and the how?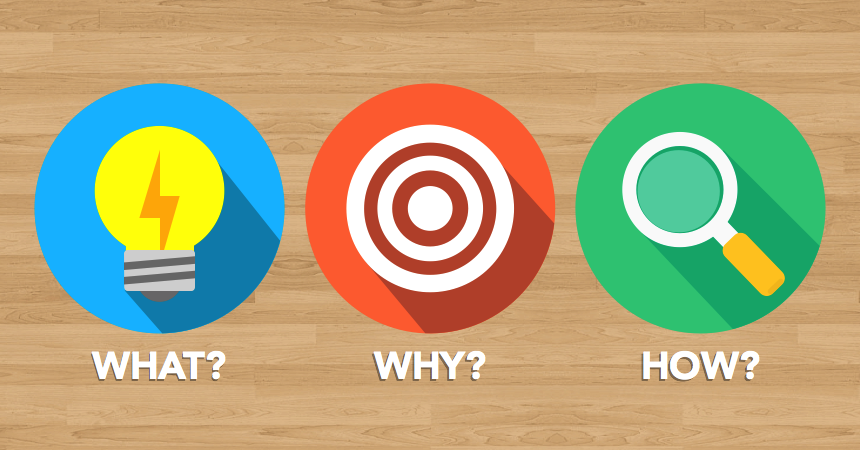 Before we get into all of that, I wanna tell you a story. Just kidding. No story. This will be a quick one. Let's get to it:
WHAT
As I am still workshopping this idea, here are 3 versions of possible mission statements for the project. Would love to hear your feedback on them in the comments or dms.
Version 1:
fulltimedao.com aims to become a trusted resource for web3 enthusiasts and veteran DAO contributors alike to help onboard them to full-time DAO work.
Version 2:
fulltimedao.com will help you navigate the DAO ecosystem through in-depth DAO walkthroughs with DAO operators and conversations with everyday DAO contributors.
Version 3:
fulltimedao.com aims to onboard the next 10k web3 enthusiasts to Full-Time DAO work.
WHY
DAOs are many, and each have a unique mission and vision, methods of operating, governance and coordination, among others. DAO contributors on the other hand are few, and offer a lot to learn from. This presents an opportunity to provide potential contributors with in-depth media resource analyzing inner workings of a DAO and making it easy to navigate what is otherwise complex digital organizations.
On a personal front, as a DAO contributor myself, I am able to appreciate this new world that represents the future of work, and as well identify the challenges new contributors face getting involved in DAOs. I aspire to use my skills in content, and my interest and network in web3, to create an entity called fulltimedao.com
This also plays well with the work I have been doing with #SalmanNeedsAJob where I cover the world of work in web3, and it allows me to consolidate the content into a web presence through fulltimedao.com, essentially elevating the brand and adding further value to guests on the show.
Not to mention, it also allows me to leverage the DAOpunks Digital Asset Ownership License and begin to use my DAOpunks NFT in extremely creative ways (see logo of FTD).
HOW
The answer to this is three folds, that include content, community, and team.
1. Content
1.1 A livestream series about DAOs called the ~ The Full Time DAO Show. It is exactly the idea I have described before on the DAOpunks grants proposal, only difference being that while the show is on the #SalmanNeedsAJob YouTube, it will be called The Full-Time DAO Show, and will have a presence on fulltimedao.com. The Full-Time DAO Show will feature in-depth discussions about a particular DAO or web3 community on each episode, and cover everything about how they operate, and how to get involved. example.
1.2 A (text-based) AMA series with everyday DAO contributors, conducted async and presented as a newsletter. The newsletter will feature stories from the work life of everyday DAO contributors, and seeks to learn about all the ways people are adding value to DAOs, their experiences in the space, and lessons for other new and veteran contributors to take away.
1.3 IRL interviews about projects, people in web3 (what you already find on my channel).
2. Community
This is a difficult one. I am someone who benefits from the communities I am part of, however, I haven't been successful in creating one so far. While I do see the opportunity to create a community around the niche of DAO work, I'd like to tread lightly with this one. Ideas so far:
2.1 Conducting the AMAs for written interviews on a public telegram group chat (so other members on the chat can ask as well)
2.2 Actively using POAPs to engage all the participants on the livestreams and AMAs, which are guests, listeners, and members who ask questions.
3. Team
Until now, all the content on my channel (apart from the last 5 videos) has been fully created and produced by myself. I have wanted to change that and have started working with editors on my recent videos. However, in order to really scale the impact of my work, I would need to stop doing everything myself and ideally create a team to support in creating and promoting the content. I am considering doing this with a team of interns and bounties / contributors to begin with, and explore possibility of a cohort based contributorship model as a way for folks to get involved and get (soul-bound) accredited on a "web3 media project called Full-Time DAO".
Here's the team I would like to develop, with 1-3 being an immediate requirement:
Podcast editor (for IRL podcasts) - bounty / contributors

YouTube Shorts Creator - bounty

YouTube Content Manager (production help and publishing) - Intern

Writing & Social Media for @fulltimedao - Intern

Designer (POAPs and more) - TBD
I hope this gives a picture on what I am set out to do with fulltimedao.com. While all of these are ideas, I believe it is essential to document them and serve as a reference for the project. What is left is for me to start executing on these ideas. Where do I stand with that? Let's find out:
My weekly update
First a quick updates on what I've outlined above:
Full-Time DAO text-based AMA: I have setup a telegram and have begun working on it. Currently midway through the first AMA, and trying to figure out a structure and assess if the async model is a good idea. So far it seems like it.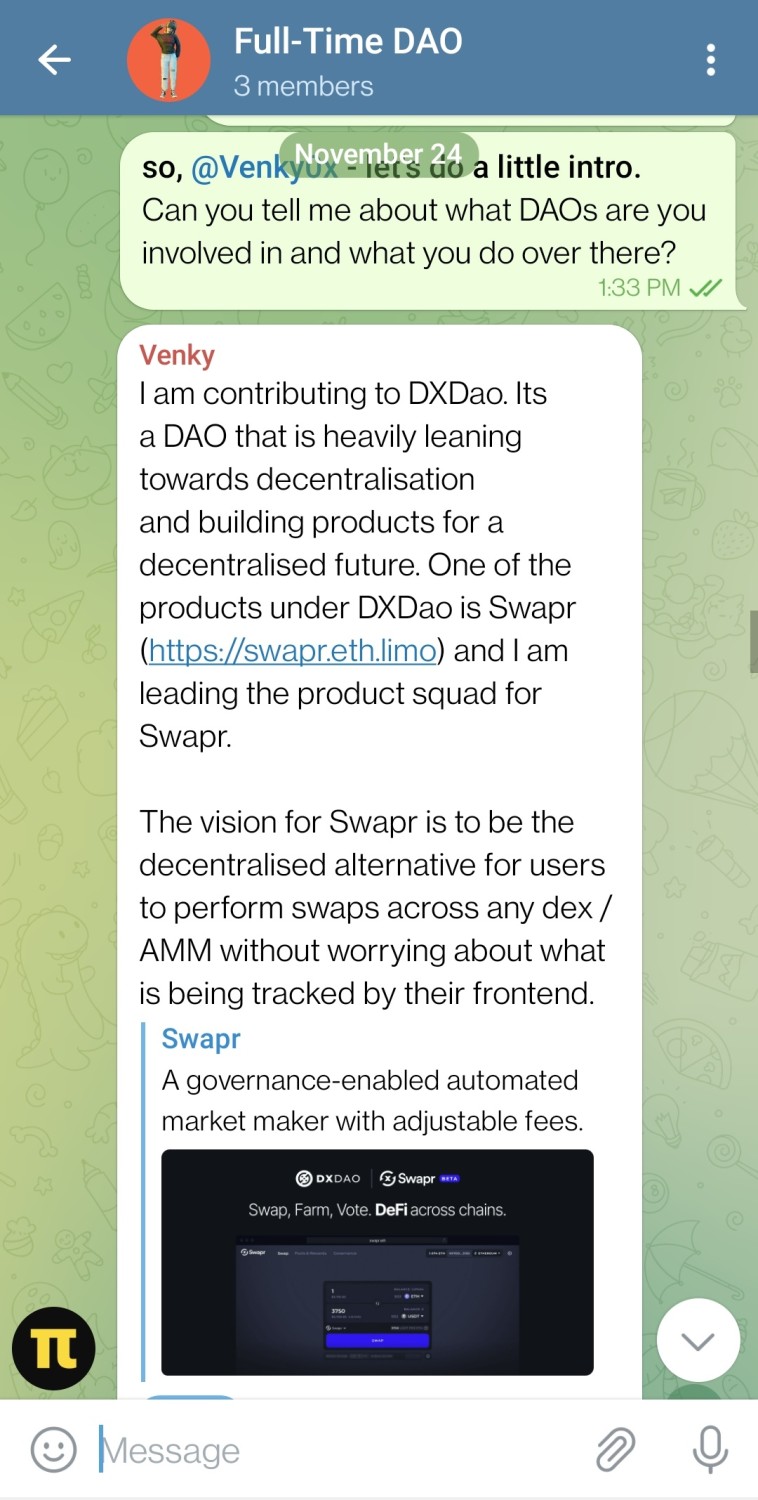 Team - my initial experience working with a freelancer for YouTube shorts (which I mentioned on FTD part 2) was not particularly fruitful. I am looking to find someone new for this task.

Team - I have created a job description for Content Management intern and have started floating it around with a few frens. This is an immediate priority that I want to have someone onboarded in the next few days. As a next step, I will post it as a job requirement in some relevant places.
Other updates:
Sponsorship: I have reached out to a few more potential sponsors and made strides on the sponsorship front for my ETH India series, with a very small score on that. However, there's not been any breakthroughs yet. At this time, I am rather keen on taking the web3 native crowdfunding route for it.

Crowdfunding: Juicebox is a web3 native crowdfunding platform. I have recently had a call with the team from juicebox and I feel confident that I will set it up in the next few days (prior to ETH India). I am curious to find out how this plays out.

Website: Last week, I went live with fulltimedao.com. I am going to be adding the FTD newsletter from LinkedIn to the website once I publish this one.

Grants: I have applied for a grant on Push Protocol as a content partnership for ETH India series. However, it is improbable to make it through on time before ETH India, so that's a lost cause (for now).

ETH India: I have started scheduling guests for podasts during ETH India - and have a confirmed line up that consist of DAO founder, web3 VC, Dev Rel at a web3 protocol, Business Development at a web3 protocol, Founder of a prominent web3 company. Well, it's going to be an interesting series.

Making Bank Podcast: I just recorded an interview (first time as a guest) yesterday on the Making Bank Podcast, a podcast about BanklessDAO by BanklessDAO, hosted by my fren and fellow DAOpunk Droste. I am very happy with the conversation, and did speak about my DAOpunks grant too. So, that's to be expected.
Well, that's about it from me this week. Next week quite honestly is going to be difficult to write up a blog as I am going to be very busy with ETH India. However, I hope to find away to do it. No promises. If you've made it till here, thank you so much for reading. I would love to hear from you.
Good day dear frens.
Collect this post to permanently own it.
Subscribe to FULL TIME DAO and never miss a post.