Satya is transforming Microsoft. Microsoft has been completely transformed under Nadella's leadership. The proof is in the pudding. Since he overtook Microsoft, its shares have soared. It is all due to all his masterful leadership.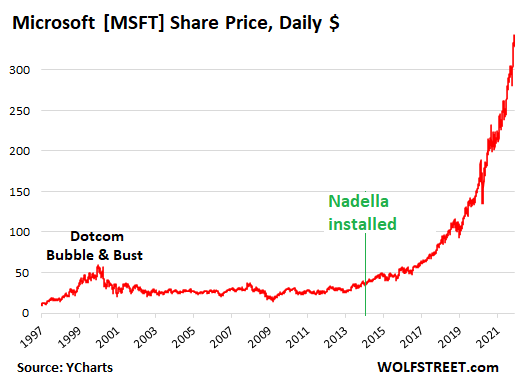 Let's breakdown Microsoft into its separate areas:
Azure: Despite starting later than most of the other Big Tech, Microsoft has gained significant market share. It is now the 2nd largest cloud provider, only after Amazon AWS.

LinkedIn: This social network doesn't have a clear competitor. LinkedIn has around 424 MAU and almost 900M registered users. That's pretty significant.

Microsoft Office: Biggest driver of Microsoft revenue. Who doesn't know Microsoft Office?

Personal Computing. It includes Xbox and Bing. A small portion of Microsoft revenue.
What is behind it all is Nadella's great way of deal making. LinkedIn was a clear bargain for a company that has basically monopoly in its market. Next, there is Github, where Microsoft now can own the direct relationship with developers and help integrate its offering with Azure. I think there will be more to come here where Azure and Github become more integrated. Either way, this has improved the relationship between Microsoft and developers.
Next up, Microsoft is investing heavily in "cloud gaming". It is making Xbox and Xbox live more and more valuable. It bought Activision Blizzard, the maker of games such as Call of Duty, Crash Bandicoot, Guitar Hero, Tony Hawk's, Spyro, Skylanders and World of Warcraft. It also bought Bethesda gaming, the maker of Fallout, Starfield, The Elder Scrolls and others. These acquisitions will make Xbox and the whole ecosystem much more valuable in the coming years as there will be more and more titles that are exclusive to it.
The latest deal Microsoft made was an intricate one with OpenAI, the research lab in SV, responsible for building ChatGPT. Microsoft is investing in OpenAI, which in turn is using Azure. Azure needs to build the AI infrastructure to support OpenAI training and running their models. On the other side, OpenAI tech has been integrated directly into Bing, Edge and other Microsoft products, including Github Copilot.
The truth of the matter is that Satya doesn't shy away of taking bold bets. They are already paying off to Microsoft and its shareholders. We will see what will happen in the coming years, but it is really cool to see Microsoft thriving.