Table of Contents
Why Decentralized Socials?
Pros & Cons of Decentralized Socials

An Introduction to Lens Protocol
Key Points of Lens Protocol

Features of Lens Protocol
3.1. Profiles
3.2. Publications
3.3. Collect
3.4. Follow

Users & Profile Analytics
User Analytics
Profile Analytics

Some Data on Transactions & Activity/Engagements
Transaction Data
Activity/Engagement Data

Observation on Lens Influencers, aka KOLs
Food For Thought
Comparison of Decentralized Social Platforms
Challenges faced when migrating Web2 Socials to Web3 Socials
Sentiment at HashBrown Research
1. Why Decentralized Socials?
There are multiple reasons in which we feel Decentralized Social Platforms have an advantage over more Centralized Social Platforms, however, we will list out only a few of the more relevant points.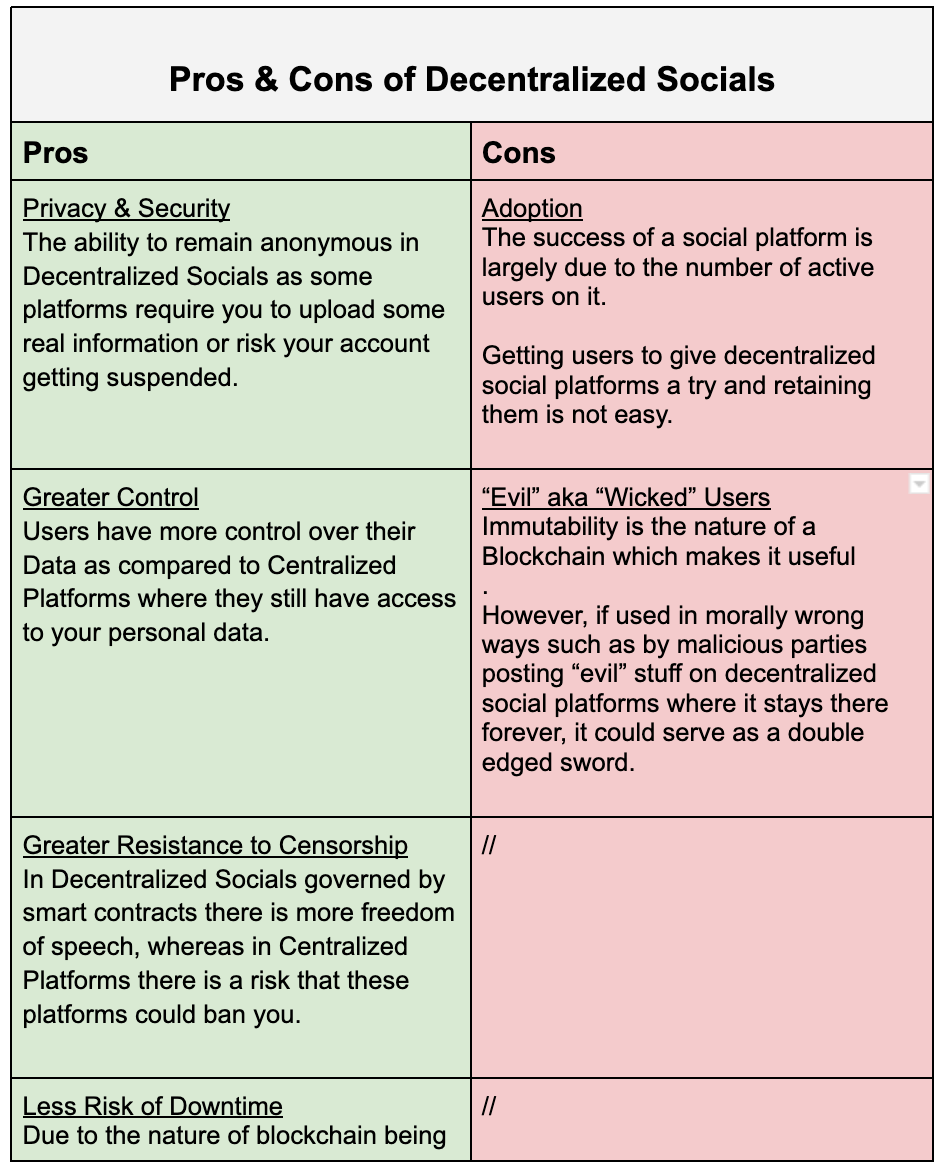 A key point for us is Censorship, and since Social Media is such a powerful tool which enables people around the world to connect easily, we should not place too much trust on Centralized Social Platforms.
An interesting fact to note is that AAVE is the same team behind Lens Protocol and Aave founder Stani Kulechov was temporarily suspended from Twitter for tweeting a joke that he was the new interim CEO of Twitter.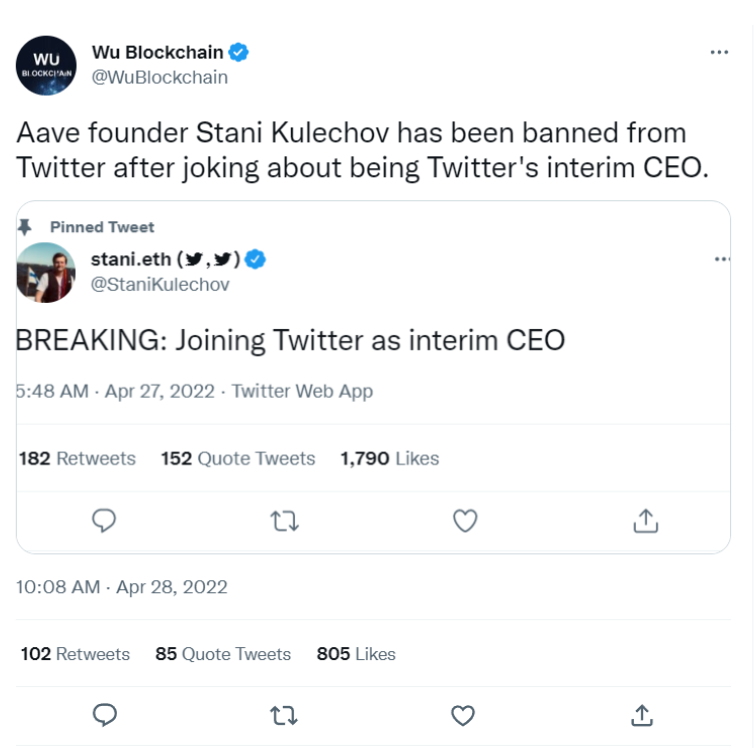 2. An Introduction to Lens Protocol 
A Web-3 Social Graph which allows developers to easily build their own Decentralized Social Platforms on it. 
By bringing all applications built on it to "collaborate" with each other to grow the whole ecosystem, social media creators do not have to worry about "losing" their audience if they choose to use another application built on Lens.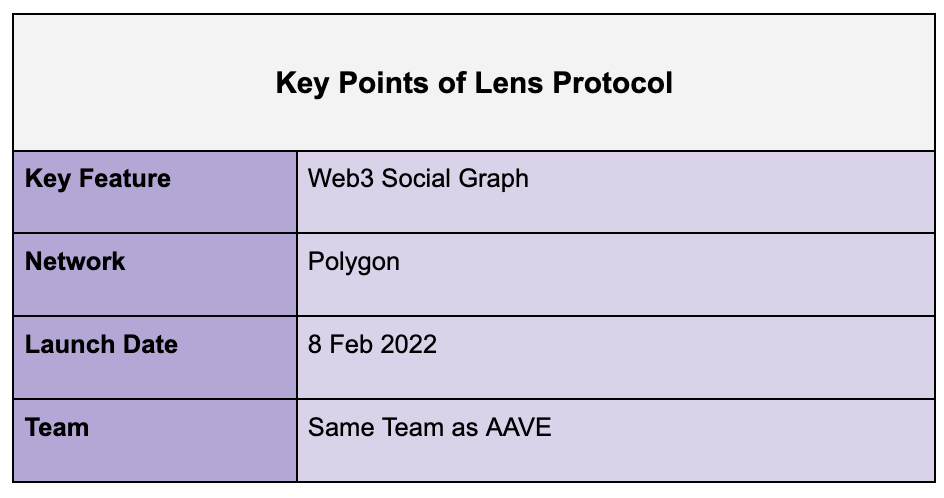 Built by a reputable team and designed with the idea in mind to grow the whole ecosystem together, it has a good chance of succeeding as it attempts to capture various users' attention on the whole ecosystem as a whole.
3. Features of Lens Protocol 
Below is a list of some Key Features on Lens Protocol.
3.1 Profiles
Profiles are basically NFTs, and it is the main object on Lens Protocol. Ownership of this NFT that gives you control of your content.
3.2 Publications
Posts 

Comments

Mirrors
Mirrors are basically reposting existing content.
3.3 Collect
A feature which allows creators to monetize their content, when a user posts a publication to their Profile NFT they have the option to set a Collect Module. This module will allow other users to mint NFTs that link to that publication. 
Source: https://docs.lens.xyz/docs/collect
3.4 Follow
When users follow a profile on Lens Protocol, they are given a Follow NFT, which creators and communities can encode with additional value.
Source: https://docs.lens.xyz/docs/follow
4. Users & Profile Analytics
User Analytics
![Source: Dune as at UTC 2023-01-05 06:48:00 // https://dune.com/hashbrown_research/a-look-into-lens-protocol
](https://images.mirror-media.xyz/publication-images/xeD-Zoe8HgtaTSumVjRkv.png?height=290&width=990)
As of UTC 2023-01-05 06:48:00, we have a total of 162,299 Unique Users.
In the Dune Analytics Bar Chart, we can clearly see users being most active around November 2022. 
Active Users are defined by interaction with the Lens Protocol Profile (LPP).
LPP Contract Address: 0xDb46d1Dc155634FbC732f92E853b10B288AD5a1d 
Profile Analytics

In regards to Profiles, as of UTC 2023-01-05 06:48:00 we have a total of 107,946 Profiles Minted. The Daily Minted Profiles seem to have a significant increase from the end of September 2022 to the end of November 2022, whereas in the past month on Dec 2022, it did not seem to have much profiles minted. 
It is important to note that not everyone can mint a profile. 
Profiles can only be minted by addresses that have been whitelisted by governance to ensure the namespace is not reserved by squatters. 
Source: https://docs.lens.xyz/docs/profile

Source: Dune as at UTC 2023-01-05 06:48:00 // https://dune.com/hashbrown_research/a-look-into-lens-protocol
An address can contain multiple ProfileNFTs, and as of UTC 2023-01-05 06:48:00, we have 2.9% addresses owning more than 1 Profile. 

5. Some Data on Transactions & Activity/Engagements
Transaction Data 

As at UTC 2023-01-05 08:00:00, we can clearly see an increase in daily transactions from the end of October 2022. 
The Transactions breakdown are as shown below, with the majority coming from Posts. 

Similar to Active Users, Transactions are defined by interaction with the Lens Protocol Profile (LPP).
LPP Contract Address: 0xDb46d1Dc155634FbC732f92E853b10B288AD5a1d 
Activity/Engagement Data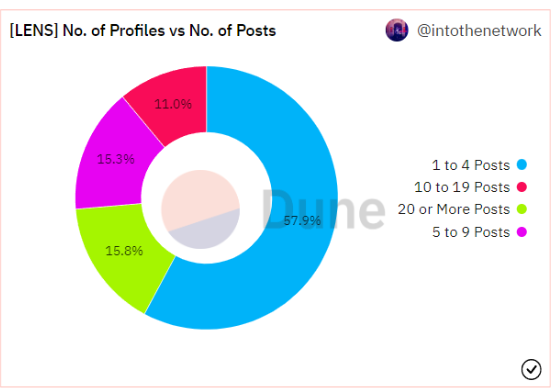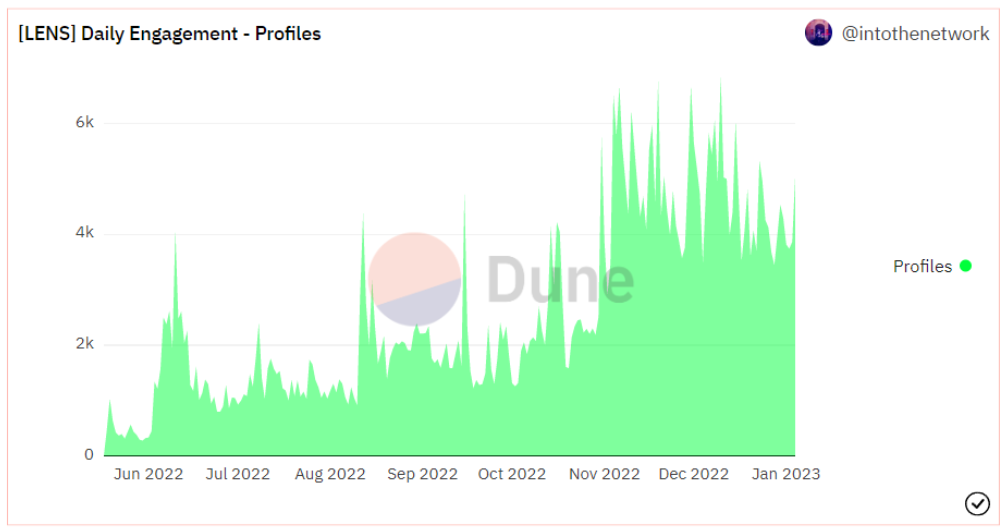 A huge part in the success of a Social Media Platform is depending on the users. Engagement here is defined by Profiles who have made a Post, Comment or Mirror on that particular day. 
We can see that Daily Profile Engagements and Activity in general have increased significantly from early November 2022.
6. Observation on Lens Influencers, aka KOLs

As at UTC 2023-01-05 08:28:00, the Total Collection Revenue is estimated to be about $28,533.
We observe the most profitable collector is by @bigint, who is the creator of Lenster. (https://lenster.xyz/u/bigint).
However, this is by the creator, hence, it may not be too accurate to use as a metric to determine the profitability of the user. The second ranked in revenue has only ~$690.11 in revenue. 
This poor performance in terms of revenue for current Profiles may be due to Profile NFTs not available for the average user to mint.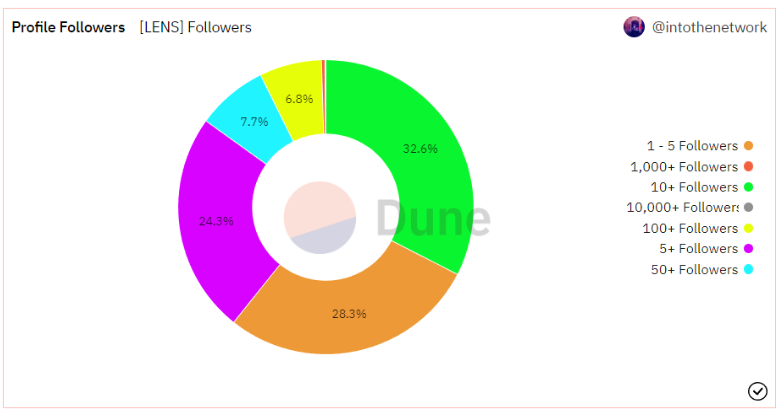 As at UTC 2023-01-05 08:28:00, we can actually see that 32.6% which is the majority out of all the Profiles Sorted by Follower Count, have more than 10+ Followers.
Food For Thought
There is some comparison on other Decentralized Social Platforms such as DeSo.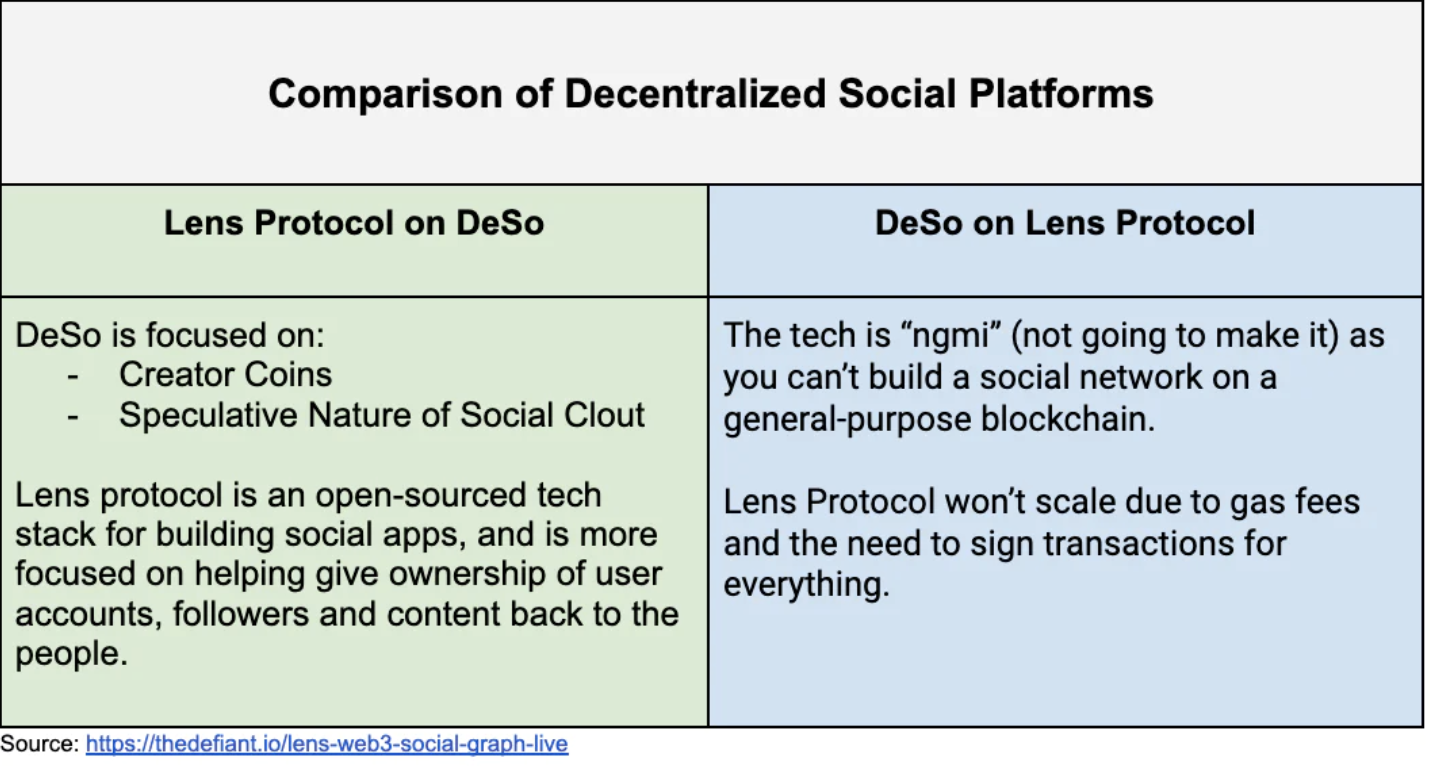 Challenges faced when migrating Web2 Socials to Web3 Socials
Take it that you have built up your audience on a Social Platform for years, and your audience are all based on that platform. Migrating to a totally different platform is not exactly something Content Creators might be keen on. 
As we mentioned that the audience/users of Social Media are the basis of what makes the platform successful, if an existing platform (E.g. Twitter - Since most Crypto Interaction is based on Twitter) decides to launch their own Decentralized Socials one day, it could mean the death of these projects currently building Decentralized Socials. 
This is because Twitter already has the existing audience, and it would be easier to onboard these audiences to the new Decentralized Platform. Judging from Elon Musk's ambition (Current CEO of Twitter 6 Jan 2023), it is not unlikely that he might have plans to consider moving to a Decentralized Social Platform. 
Sentiment at HashBrown Research 
At HashBrown Research, we are confident that Decentralized Social Platforms will slowly but surely take over the current Centralized Social Platforms, and thus we are excited to see the upcoming innovations of builders for such Platforms. We could start with onboarding Crypto Native people to the new platform first, since the Crypto Community does not really have an "Official" Social Platform other than Twitter, or for their respective communities, Discord and Telegram. 
We also feel that the Network chosen and Team behind it is arguably more important than the features the platforms offer. We acknowledge that nothing can be said to be 100% Decentralized, but we must make an attempt to do so. 
We can see many cases in which "decentralized" platforms are still too Centralized, as seen by the blockchain/network being able to be "turned off" anytime by the team.
Also, some teams have a history of being quick to forgo the values of Decentralization when faced with pressure from powerful individuals, or for their own selfish benefits. 
Web3 Companies should focus on Decentralizing their platforms to the best of their ability, or else it is no different from a Web2 Company + Crypto Token representing it.
You can also view our Dune Dashboard on Lens Protocol that we have came up with, with some help from the existing community there, here: A Look Into Lens Protocol
---
What are your thoughts about Decentralized Social Platforms, and which of those do you think would have mass adoption in the future?
Feel free to connect with us on our Socials as we would like to hear your thoughts!
---