Table of contents
2.4 dApps who use CyberConnect
1. Introduction
In the social platform of Web2.0, information and data between different platforms cannot be exchanged.
Decentralized social graph protocols are committed to realizing the sharing of data between applications, and they want to achieve the goal of users migrating their social data between any Web3 platforms.
This article will mainly introduce CyberConnect, a social graph protocol that focuses on providing integrated services for developers, KNN3 ventured led by HashGlobal, and Cultivator, which supports lens profiles connections.
2. CyberConnect
CyberConnect is a decentralized social graph protocol that helps dApps build personalized social experiences.
What CyberConnect does is to untie social relationships from centralized platforms.
CyberConnect breaks down the barriers between different social platforms. Users can aggregate their social relationships from different fields and different platforms into one social network. This also means that users can quit a platform or join a new platform without worrying that their friends, fans, content, and value cannot be taken away. 
In terms of social graph storage, CyberConnect mainly uses IPFS and Ceramic, and the CyberConnect gateway provides a common data layer for DApps to allow the insertion of social elements for its DApp users.
For users, they can follow other addresses, and the personal page will also display information such as NFT, POAP, Galxe certificates, and mirror blog etc. 
2.1 For developers
CyberConnect has two components to help developers build social applications: Social Data Network and Interest Graph Engine.
CyberConnect supports developers to build new applications through APIs and SDKs.
CyberConnect Interest Graph Engine aggregates onchain and offchain data sources related to an identity and its activities to create a holistic view. 
Take recommendation for example:
Developers can utilize CyberConnect to get interesting recommendation data when they build their social dApp. The protocol can generate a list of recommended people to follow based on users' relationships and social data from both off-chain and on-chain sources.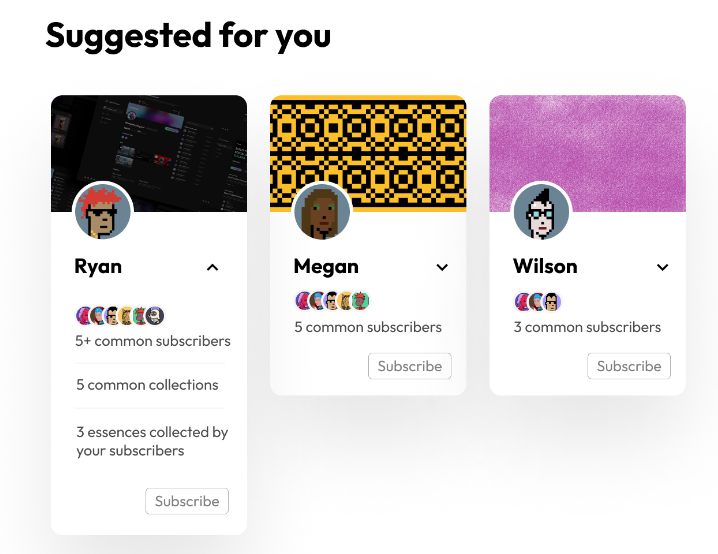 2.2 ccProfile
CcProfiles are on-chain profiles that can travel across the internet seamlessly without worrying about recreating your network on every new platform. With ccProfile, you own your social graph, content, and monetization channels.
They have currently built on Ethereum and Solana, and we can see the amount of users on their website.

However, ccProfile is not currently open, users can only enter through the invitation code or join the Waitlist.
2.3 Social Graph
CyberConnect combines existing social graph data to form a social graph on Web3.0.
We can search an address and see its links with other addresses. But the speed is not very satisfactory.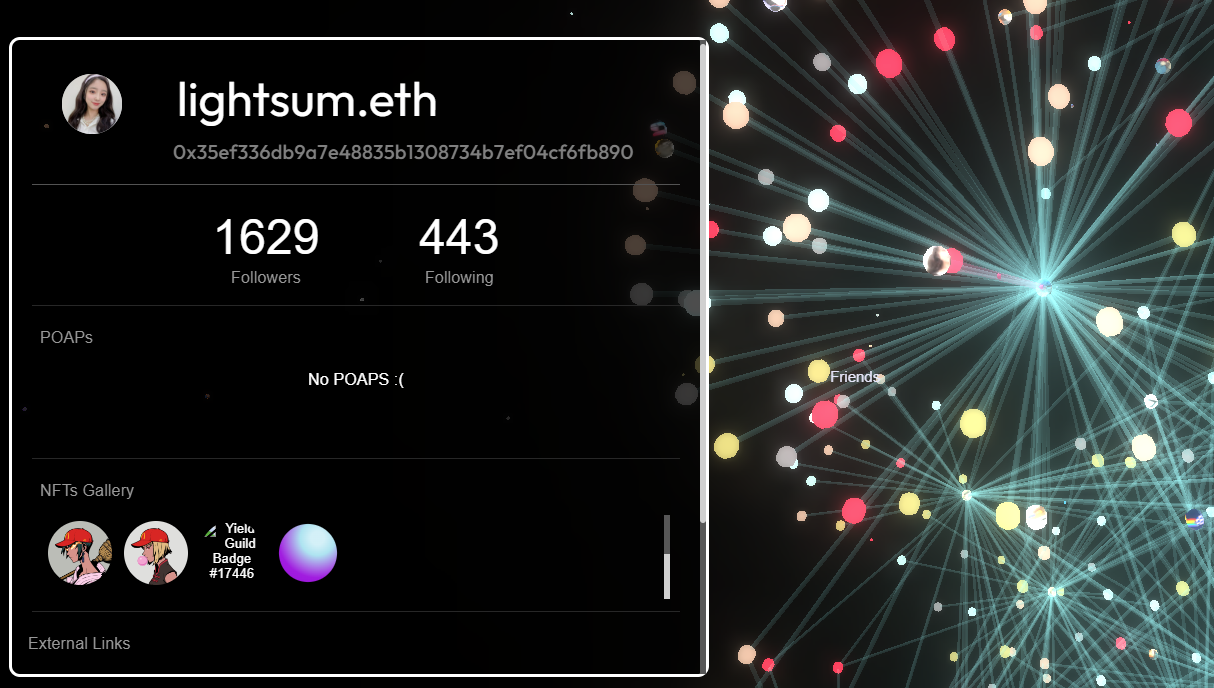 2.4 dApps who use CyberConnect
More than 20 social applications have integrated CyberConnect infrastructure.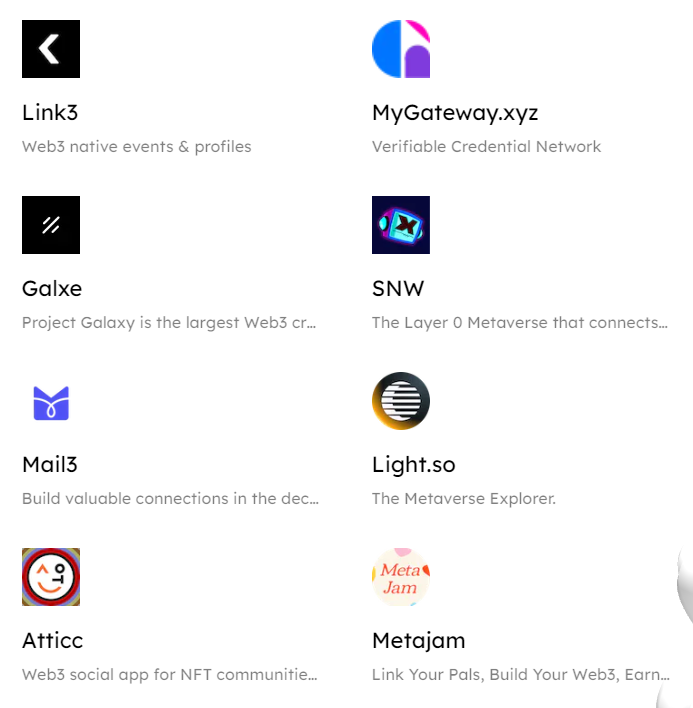 2.5 Funding
In November 2021, CyberConnect completed a $10 million seed round of financing co-led by Multicoin Capital. 
In mid-May last year, CyberConnect completed another $15 million Series A financing, which was still led by Animoca Brands.
3. KNN3
In the Web3 world, users generate a large number of interactive behaviors on the blockchain. These user behaviors reflect the relationship between them. KNN3 Network provides a composable and optimizable graph solution that transforms these user behaviors into a huge relational graph.
KNN3 allows d/Apps & smart contracts to interact with cross-platform user-centric data in multiple ways. Then, web3 developers can leverage these social relationships to build their dApps.
Specifically, data services and products of KNN3 Network can be classified into:
Verifiable tags of on-chain activities (Trades, DeFi staking)

Ownership status of assets and content (NFT, Mirror, etc.)

Social status (RSS3, Cyberconnects, Lens, Twitter)

Participation in community governance & events (Snapshot, POAP, Gitcoin, etc.)
At present, KNN3 has launched its data analysis graph Graph QL, which aggregates Web3/web2 data collection into a centralized database through a real-time collection and analysis engine. Users can freely combine data and present it in various dapps through its API.
3.1 Graph X
GraphX is designed to build a real-time and flexible Web3 relationship graph network for you, which can be used for social relationship recommendation and content recommendation applications.
You can use GraphX:
Query the address and its basic data (ENS) and related web2/Web3 data (POAPs, Follows, Snapshot, Twitter, etc.).

Query NFTs (metaData: symbol, name, image URL...) and holders.

Query the ERC-20 token and its holders.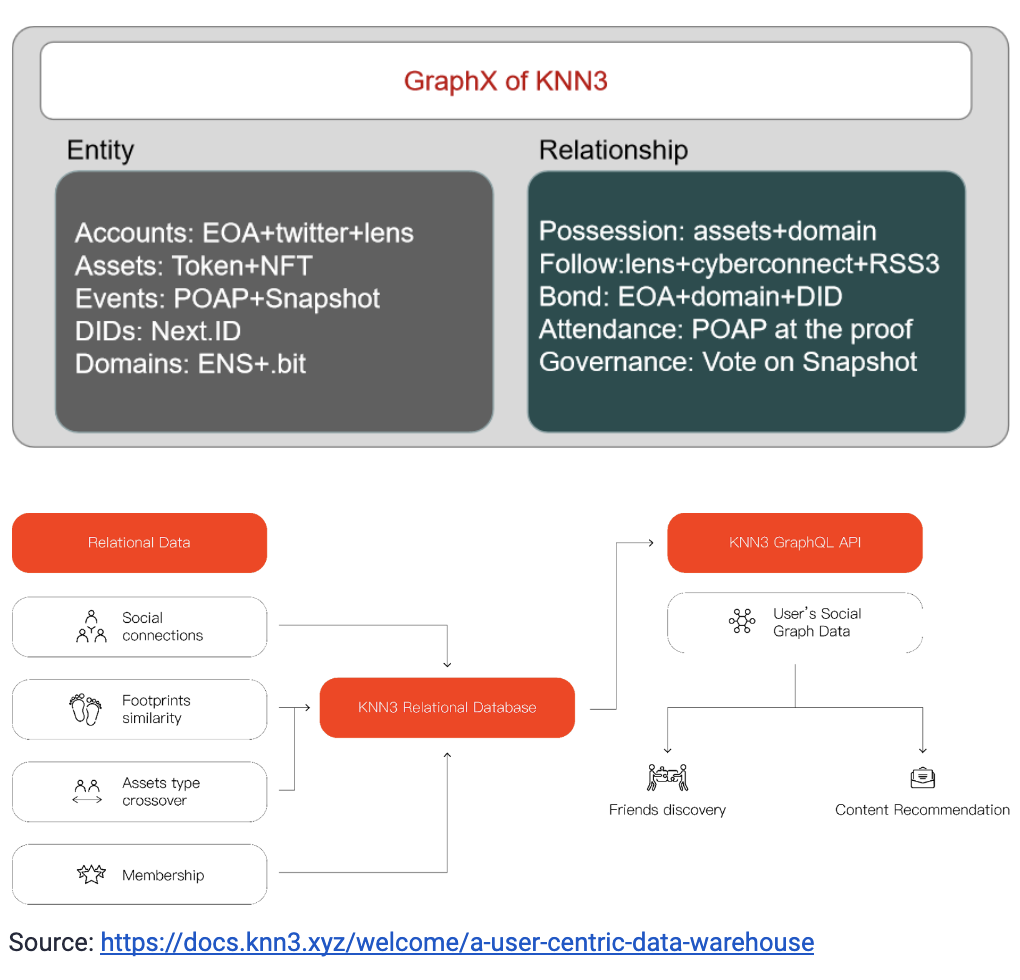 3.2 Mashmesh
MashMesh is a Web3 multidimensional relationship explorer powered by KNN3 GraphX Protocol, which makes the entities and relationships in KNN3's Knowledge Graph visual and operable without programming.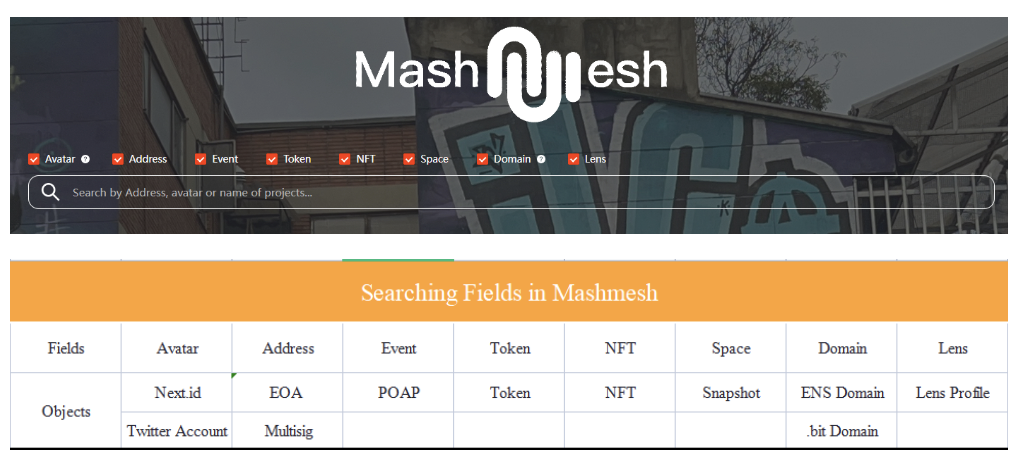 It's easy to operate the graph. You can right-click on the vertex to find expand in the context menu. And then you can expand any types of entities related to the vertex. KNN3 aggregates the following relationships from RSS3, lens protocol and Cyberconnect. You can also fold all the expanded vertices. In the context menu, you can customize the color, size, and caption of the vertex.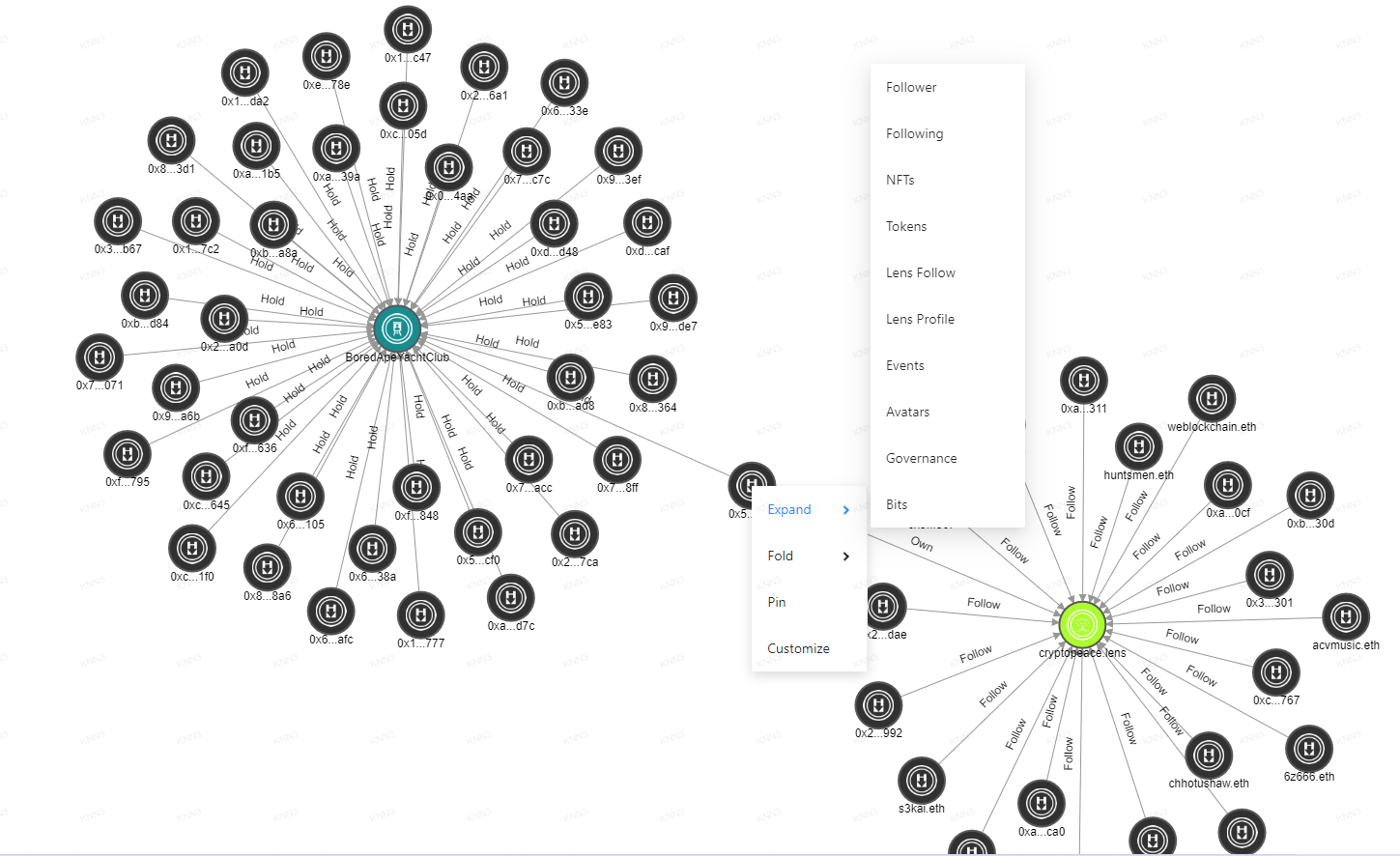 You can click on the button of Search in GraphQL to write your own query.

According to the roadmap, KNN3 will launch a recommendation service app, a reputation based DataFi app and a campaign tool in 2023Q1.

3.3 dApps who use KNN3
Infrastructure partners of KNN3 are Ever Finance, TIDB, DEV3, ChainLink, 4everland and Blockless. Mask Network and Showme are KNN3 ecosystem partners. And POODB, .bit, RSS3, Next.ID, together with lens are protocol co-builders.
Currently, the dApps that use KNN3 GraphX are Mashmesh, Quest3 and Impossible Finance.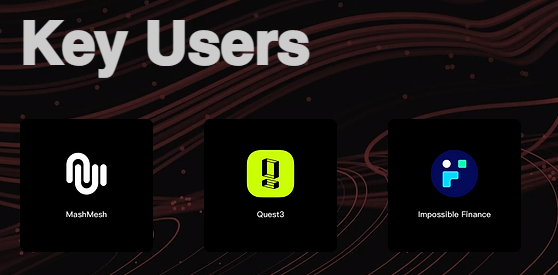 3.4 Funding
In September last year, KNN3 raised $2.4M in a seed round led by HashGlobal.
4. Cultivator
Cultivator is a visual social graph browser and tool for the lens ecosystem. After entering the Lens Profile handle, you can view the social graph of the relevant Profile, discover the followers we have in common with others, and understand the degree of mutual connection.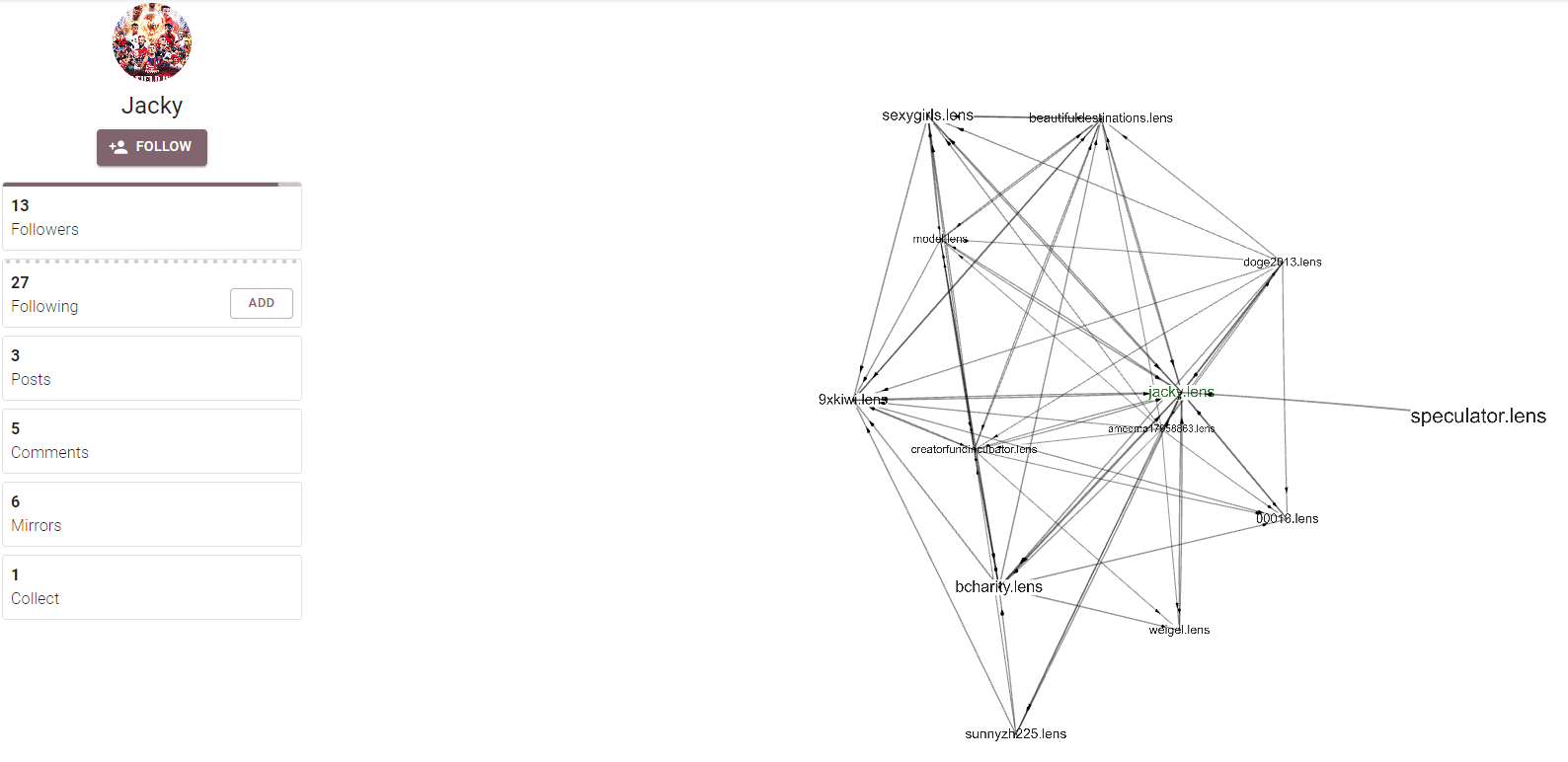 And we can know that the team wants to build trending and content showing in the future.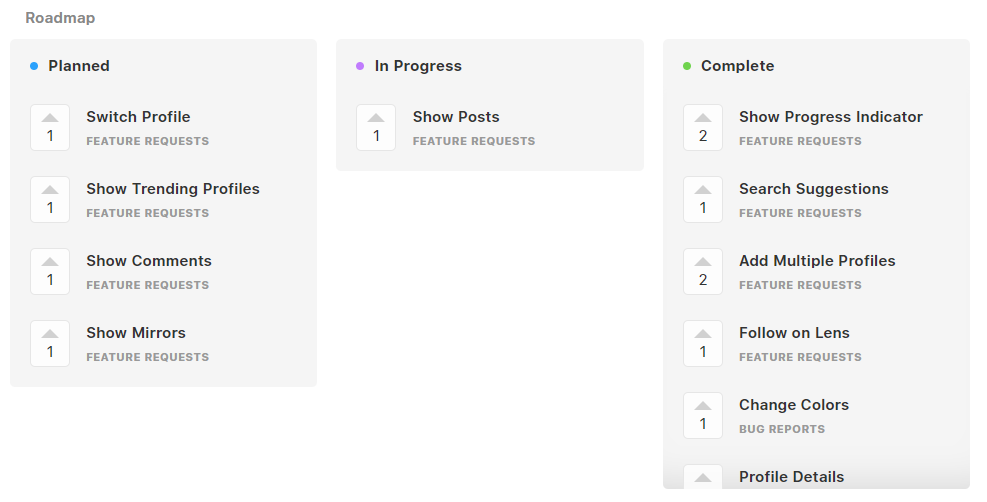 5. Comparison and Summary
CyberConnect and KNN3 are common in processing original data regarding reputation and relationships, and they are all identity aggregators. And they both provide APIs for developers to build web3 dApps.
The first difference is that CyberConnect captures the data points and links them to a relationship line. On the basis of the former, KNN3 forms these lines into a net to build a relationship map between users.
Another difference is that CyberConnect is doing several things at the same time, like profile, graph and link3. In contrast, KNN3 follows the spirit of modularization whose essence is to do only one thing and do what should be done well, avoiding duplication of work and wheel building. 
Although in the capital market, KNN3 raises much less amount of money, its financing time is Q3 2022 quite essential.
The view Hashbrown Research has is that social graph protocols help us to establish a new data network circulation system. In this system the social data and the relationships between them can be used efficiently. Meanwhile, they allow users to truly have their own portable social graph which is significant to web3. But it's still early to say who will be the leader of the field.