Table of contents
1、Introduction
Crossbell is a social Layer1 public chain developed by Natural Selection Labs, the team behind RSS3. Crossbell focuses on social activities, trying to help users achieve that ultimate goal by taking back their data ownership.
Crossbell provides a shared content storage platform which contains several smart contracts. And it has built a content feed and user profile system.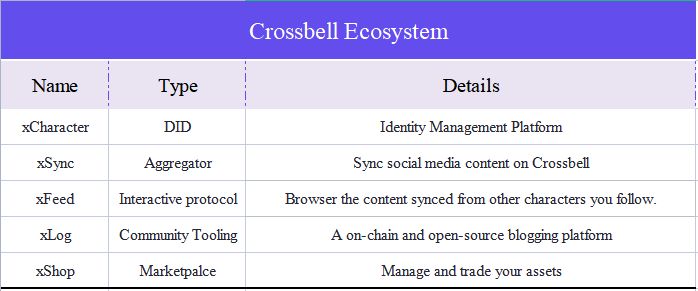 source: https://crossbell.io/
2、Ecosystem applications
2.1 xCharacter
The Character is the ID for users to socialize in Crossbell. Each Character is an NFT.  And you can create multiple characters.
Characters can be minted both by connecting the wallets and by Email. But they will have different features.

Then users can socialize by"post" , "follow", "like", and "comment" actions. All these social activities are on-chain activities, which means that these actions will require gas fees. Of course, you can always get the $CSB you need from the faucet even if your character is minted by login Email.

When your character is minted by Email, all the transactions are interacted by one address: 0x51e2368d60bc329dbd5834370c1e633be60c1d6d. How to achieve this?
The team launched Connect Email Newbie Villa service with the approach of decreasing the barriers for web2 users to enter the Web3 social world. The mechanism of the Newbie Villa service is that the service provider creates a new character for each registered email account and then maps each email account to this character. All subsequent interactions are executed by the service provider behind.
However, if you want to collect some posts which means that you will mint a new NFT, you need  to upgrade your wallet. Email accounts can't mint.
2.2 xLog
Once you create a character on Crossbell.io, you can write a blog on xLog(the social platform in Crossbell system) using the same character. And all the blogs are stored on IPFS. 
When your character is created by Email, all the transactions are signed by one address: 0xd0…1caa(can be seen in the second graph below)


2.3 xSync
xSync used to be the ecosystem application, CrossSync. It allows you to sync your web2 tweets on-chain. Through IPFS and Arweave, the record is permanently stored on-chain. Once sync, the content is monetized and the ownership is less controversial.
Now users can sync contents from Medium, twitter, telegram,  Substack, Pixiv and Jike to Crossbell.

2.4 xShop
Character-Bound Tokens are non-transferable NFTs that are bound to characters, which present achievements and unique experiences on Crossbell. When characters complete specific requirements, they get these achievement NFTs.
Those achievements can't be sold or transferred alone unless you transfer the whole characters along with CBTs that are bound to them.
For trading the characters, Crossbell will open a marketplace which is xShop in the future. Now if you click xShop, you can see the NFTs you minted when you collected posts.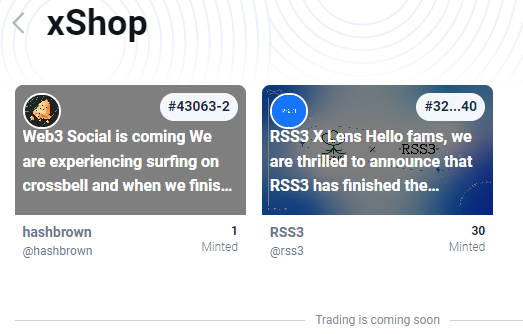 3、Comparison
Another social block chain is Steem, which wants to create opportunities for people to bridge their passions with success via cryptocurrency rewards. Steemit, the first dApp on Steem, is a decentralized social media platform. In addition to the common functions of posting, commenting, reposting, likes and other common social applications, Steemit allows users to earn cryptocurrency by creating and curating content.
In March 2020, TRON CEO Justin Sun purchased the Steem. This caused many developers and stakeholders to leave the project.
Polygon has come to the forefront of the web3 social sector due to the cooperation with Ins, Reddit and other web2 well-known brands.  So we compare important data from Polygon, DeSo, Crossbell and Steem. 
According to the table below, Crossbell has the least number of characters and 24H transactions since it started late. 

Note: we use the number of lens profiles to stand for the characters in Polygon.
4、Summary
There are over 45k characters created on Crossbell, but we find that most of the contents are switched from twitter. So we think that native creators on Crossbell are scarce. 
Compared with DeSo, they are quite different. DeSo wants to build a network which is optimized for storing large amounts of data. And DeSo announced their Year Plan in 2023, including automatically copying everything on twitter to DeSo, switching from PoW consensus to PoS consensus. Focusing on infrastructure, Deso's tokenomics help DeSo to expand ecological value. 
While, Crossbell is more like a social content aggregator. We looking forward to the future shape of xShop, it's like a marketplace serving for character. Whether all the contents created as NFTs can be tradable and how is the daily transaction will be is more valuable for the overall market.
At last, we leave some questions for Crossbell.
While CBTs are non-transferable, are posts and comments transferable?

After updating the wallet with the character created by Email, will the contents or NFTs transferred to the new address? How?

It seems that only the first time we follow a character, will mint a LLT, why?