Table of contents
Why do we need cross-chain NFT?

Mint DAO
2.1 NFT bridge Product
2.2 Latest updates

XP network
3.1 XP.NETWORK Bridge
3.2 XP.NETWORK Token

Chainswap

Comparison and Summary
1. Why do we need cross-chain NFT?
Artists and NFT holders want to have more freedom to choose a chain, to transfer artwork, collections between the platforms just like what they do using other assets.
Not only does more chains mean more exposure and a larger exchange platform, but it also means that users are able to lend their NFTs, use them as collateral, or redeem them for DAO assets, thus releasing more liquidity. Through NFT cross-chain, users can ensure access to the best opportunities and markets.
The main projects that can support NFT cross-chain are mainly Multichain, wormhole, Polynetwork, cBridge, Chainswap, Crosschainbridge, XP network, pNetwork and MintDAO. And most of them support whitelisted collections except Chainswap. 
We will look deep into Chainswap, XP network and MintDAO in this report.
2. Mint DAO
2.1 NFT bridge Product
MintDAO is a NFT Cross-Chain Launchpad. We can create NFT collections for partners, including all graphics and dev stuff. They just launched a new service—— NFT bridge powered by Axelar on 4th Feb.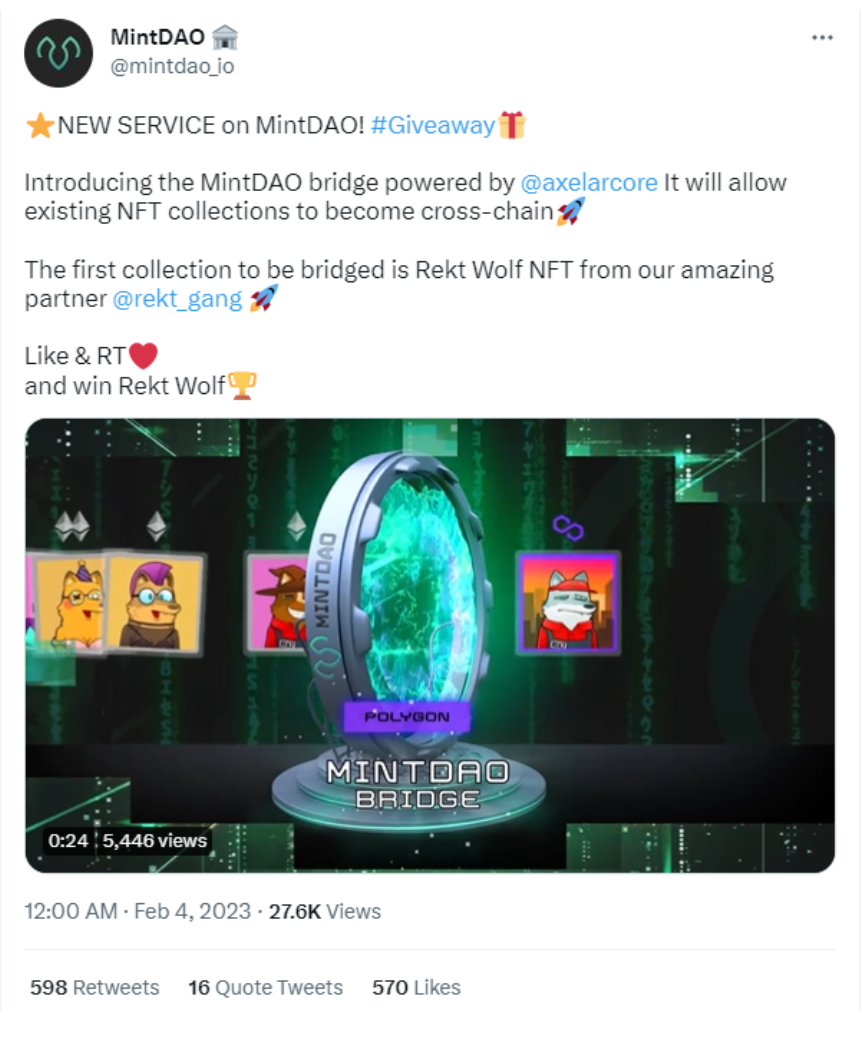 Only 5 collections are supported now and some upcoming collections can be found on the official website.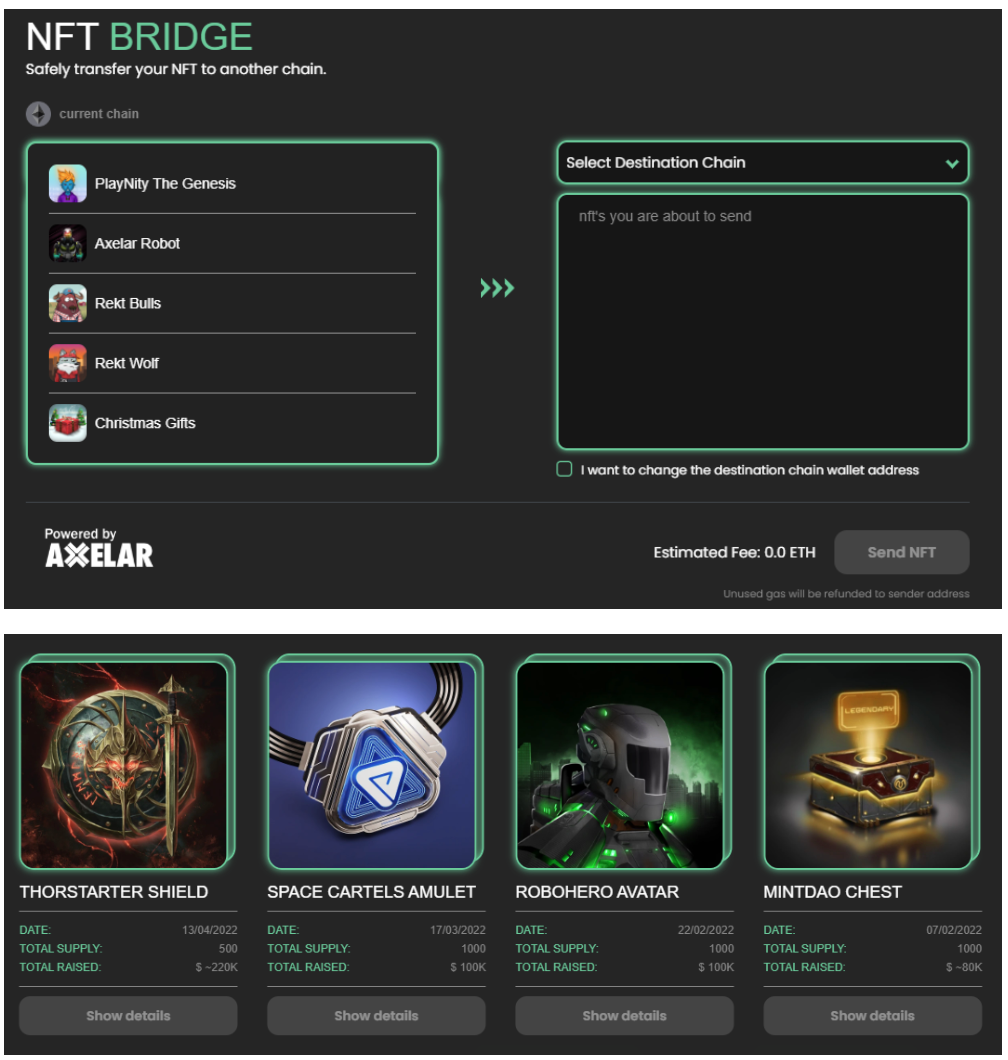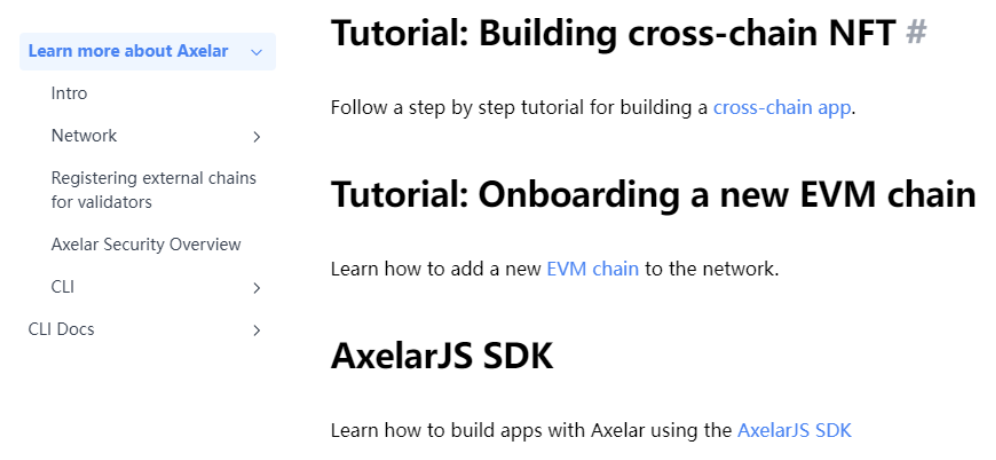 Source: https://docs.axelar.dev/learn#tutorial-building-cross-chain-nft
2.2 Latest updates
The team announced several highlights they intend to deliver this year: 
A cross-chain NFT Marketplace -  they want to build their own marketplace to make their projects complete, hoping to create a NFT ecosystem full of usability.

MintDAO Avatars and Tokens -  a NFT collection in which each avatar will have its own Mint Power to participate in the rewards from MintDAO. To increase Mint Power will need to use $MINT tokens.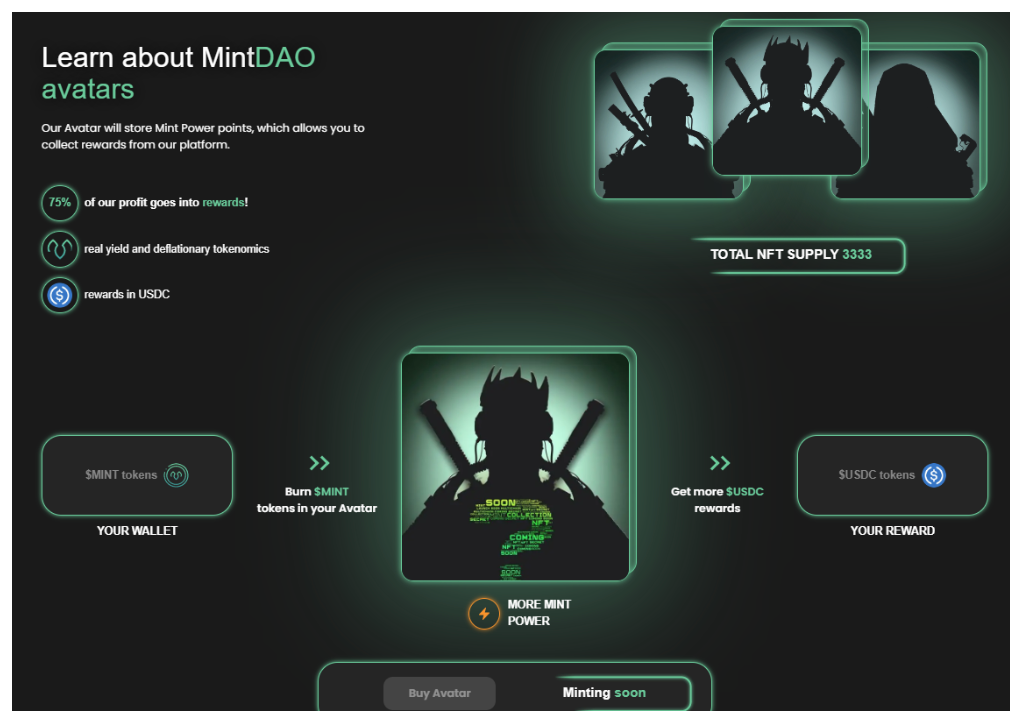 However, when you are passionate about this new tokenmonics, please remember to consider three points: where the profit comes from, ratio of input and output and time period between burning and rewarding.
More details can be found at:https://medium.com/@mintdao/the-new-mintdao-tokenomics-28d0eb5127a4
3. XP network
XP.network is working on unifying the NFT ecosystem, with two interoperability protocols:
XP.NETWORK Bridge
XP.NETWORK Token
XP.NETWORK Bridge is the key component of the XP.NETWORK ecosystem. It has two key elements: smart contracts and relay validators. It allows users to send NFTs minted on one chain to any other of the connected chains. 
The contracts serve the following functions: 
Mint native or wrapped NFTs;

Freeze a NFT before it is transferred to the target chain; 

Release the NFT to the designated address on the hosting blockchain; 

Broadcast bridge-related events to the relay validators; 

Collect Byzantine Fault-tolerant multi signatures.
Wrapped NFT metadata holds the same values as the original one, namely the following crucial information:
The smart contract address

The ID the original NFT had in its native chain.

Original chain nonce (the internal bridge ID of the chain, BSC is #4)

The original URL linking to the original metadata
In order to unwrap the NFT it must be sent to the native blockchain using the XP.NETWORK bridge.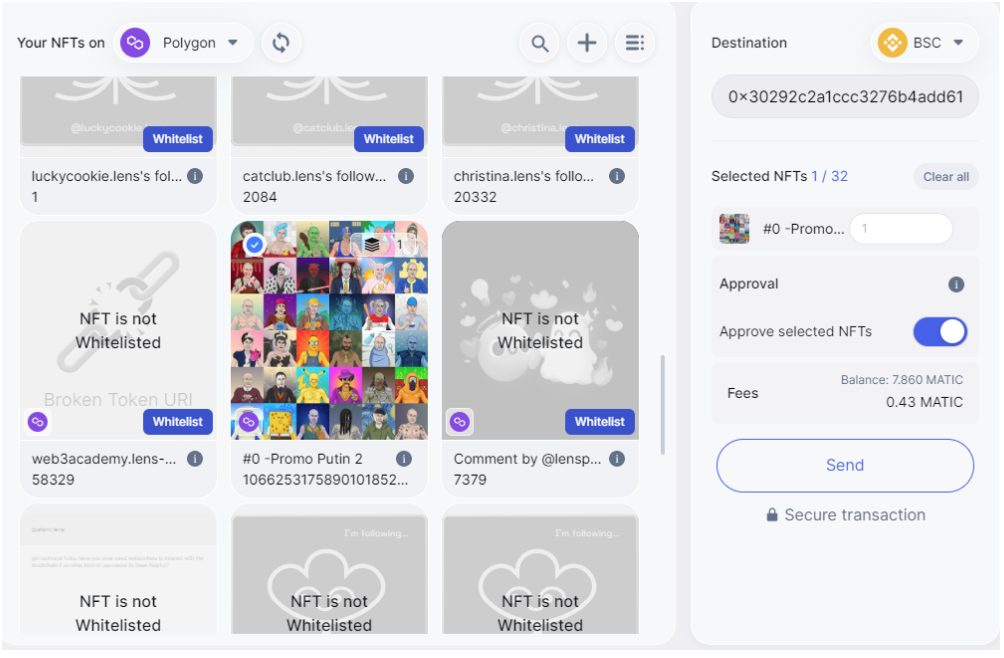 Once the signature has been accepted the bridge will display the Transaction screen. And we found the wrapped NFT on Element.market.

These are the departure hash and destination hash below:
https://bscscan.com/tx/0x4037f22b61c6048c7f7ad294da804b52745ebbab7e7e56e332152a3e9229acc6
In February 2023, they upgraded to version 3.0 of the NFT Bridge.
Automated NFT contracts scanning for potentially malicious code that could harm the bridge or its users.

Automated contract whitelisting - after a contract's source code has been verified by the Automated malware scanner, its address is added to the list of trusted, allowing the bridge to interact with it.

Automated Target Contract Deployment - If a destination contract does not exist, the bridge can automatically deploy it. 
Any NFT owner can bridge without waiting for the NFT collection team to contact XP.NETWORK team. Once you find a contract of your interest is not whitelisted, you can click the button. The source code of the contract will be scanned, and if found trustworthy, it will be whitelisted within minutes after clicking.
When we test it, we don't know why our NFT is not trustworthy.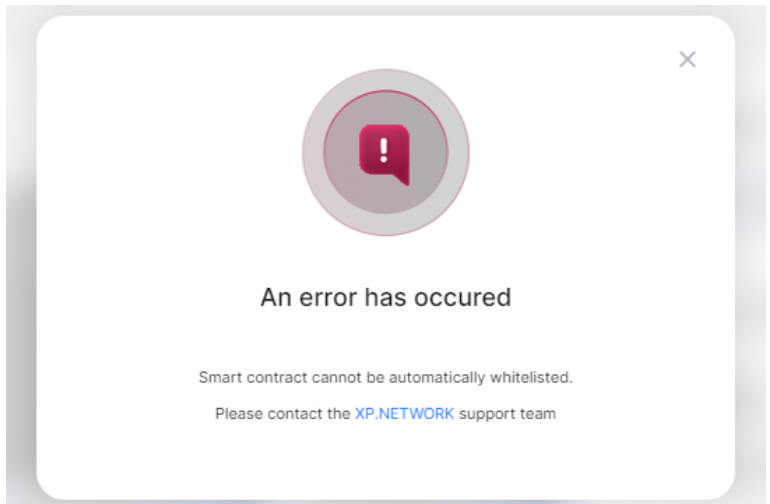 The total transactions on XP are 10,264, and we can find users come to use it almost everyday, so it is active.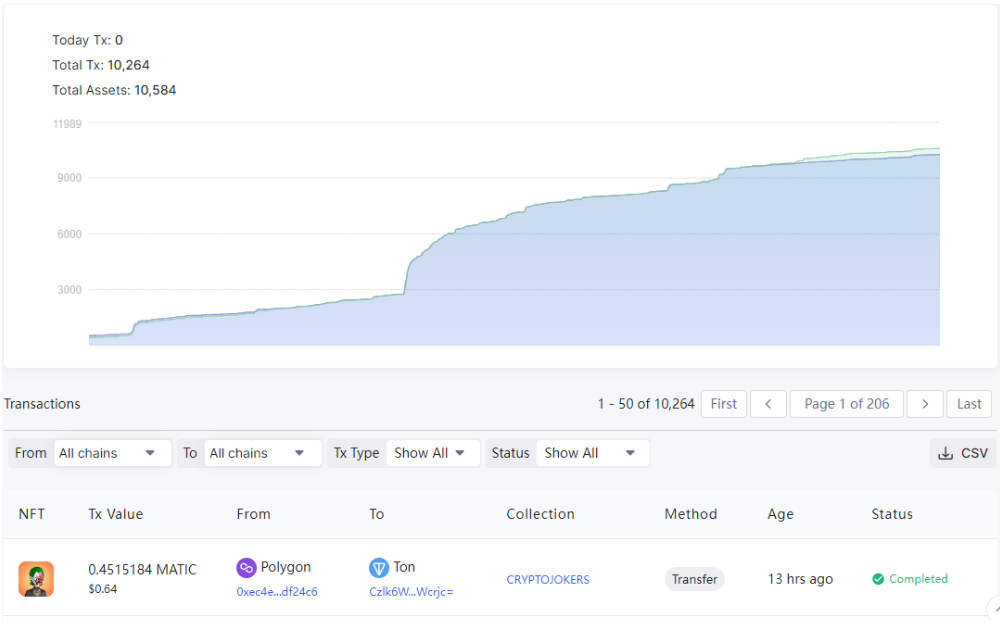 $XPNET is the native token running on BSC. It is used for transaction fee payment, staking, as well as to encourage further development of XP.network.  
For paying fees, users don't need to buy $XPNET, they just pay main assets on the origin blockchain, take BNB to Polygon for example, the BNB coins are automatically converted partially into MATIC  (to pay the destination  blockchain fee) and partly into $XPNET to pay the validators. 
$XPNET price is $0.0029 with a 24-hour trading volume of $72,380. It has a circulating supply of 554 Million coins and a total supply of 1 Billion. The holders are 6,511. The all-time high price is $0.098 on Nov 03, 2021 . (2323/2/23)

$XPNET token holders can stake the token for 3, 6, 9, or 12 months, and earn an APY of 45%, 75%, 100%, or 125%, respectively.  Every staker will be able to mint an NFT representing their stake. In other words, the right to claim staking rewards lies with the holder of the NFT. 
Source: https://docs.xp.network/docs/Whitepaper2.0/xp-tokenomics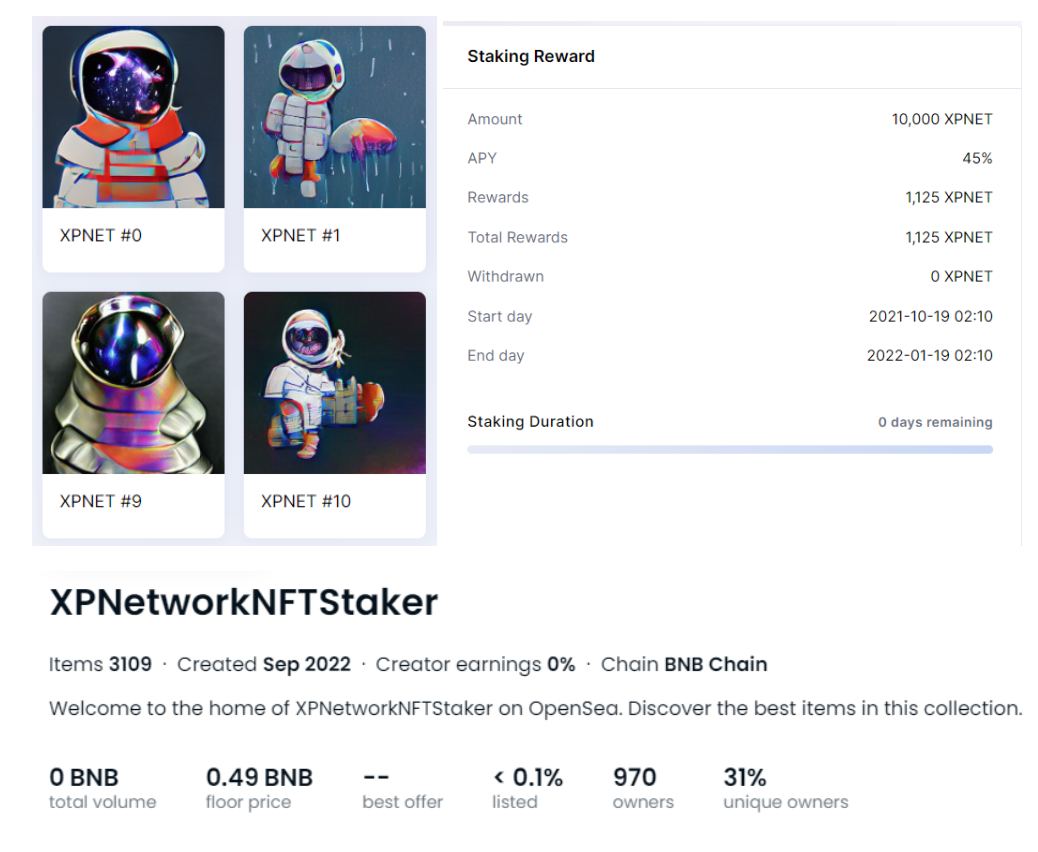 4. Chainswap
Chainswap is very easy to operate, for users would be able to bridge their NFTs to other chains without any approval from the NFT issuer or the destination chain. Even the NFT does not need to be listed since users can import manually by just copying and pasting the [Token Contract Address] and [Token ID].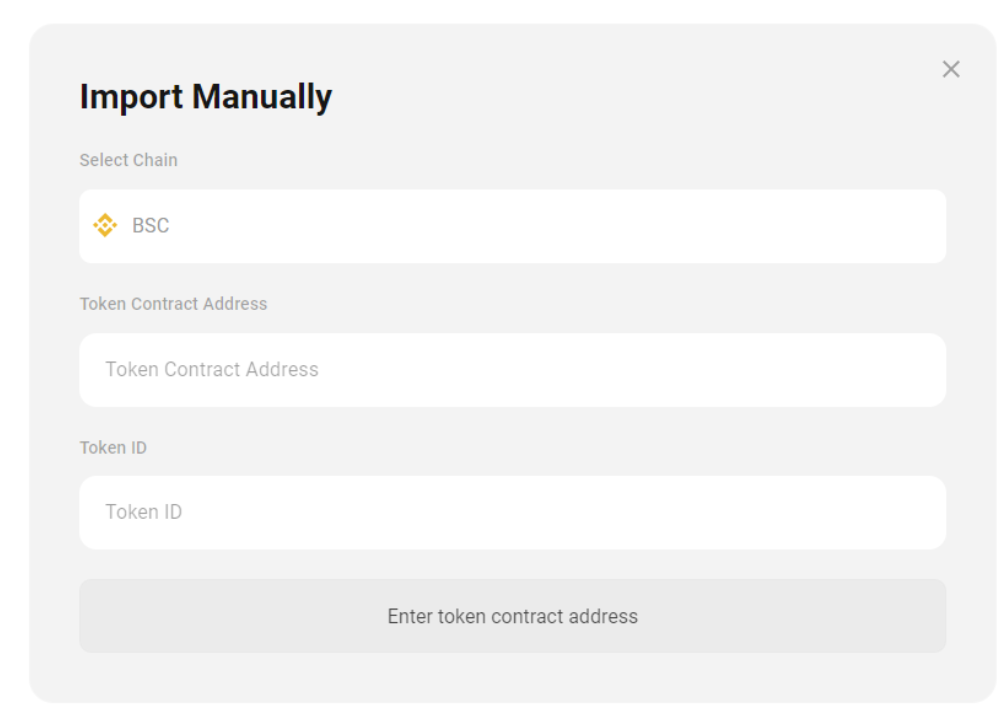 Then you can choose a destination chain and an address to bridge.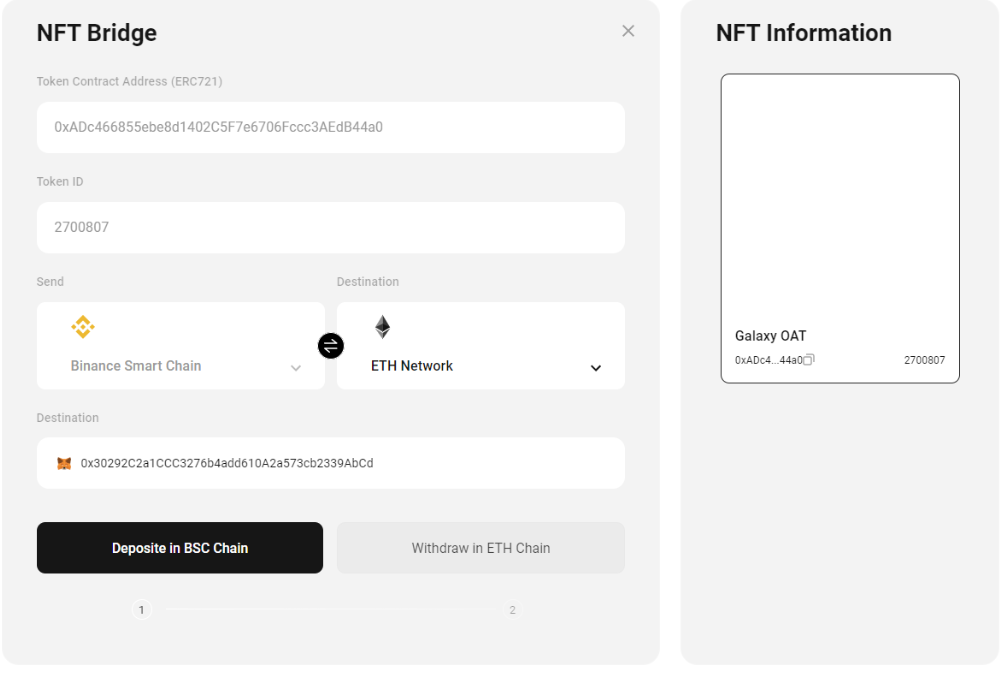 After approving, users should confirm both on the departure chain and the destination chain, meaning that users need to pay twice. And the fees are a little expensive(0.05BNB)
https://bscscan.com/tx/0xe5d83cc744d90634ad47e9d8b505f2f34d08d5c997cf3b7910f05efaf457259f

We found that the last transaction before our testing is over a hundred days.
When we withdrew from ETH, it said insufficient gas, then after we added for $100, new problems came out as below. So we lost our testing NFT and 0.05BNB.

According to the official website, there will be a NFT marketplace supported by this NFT bridge in the future.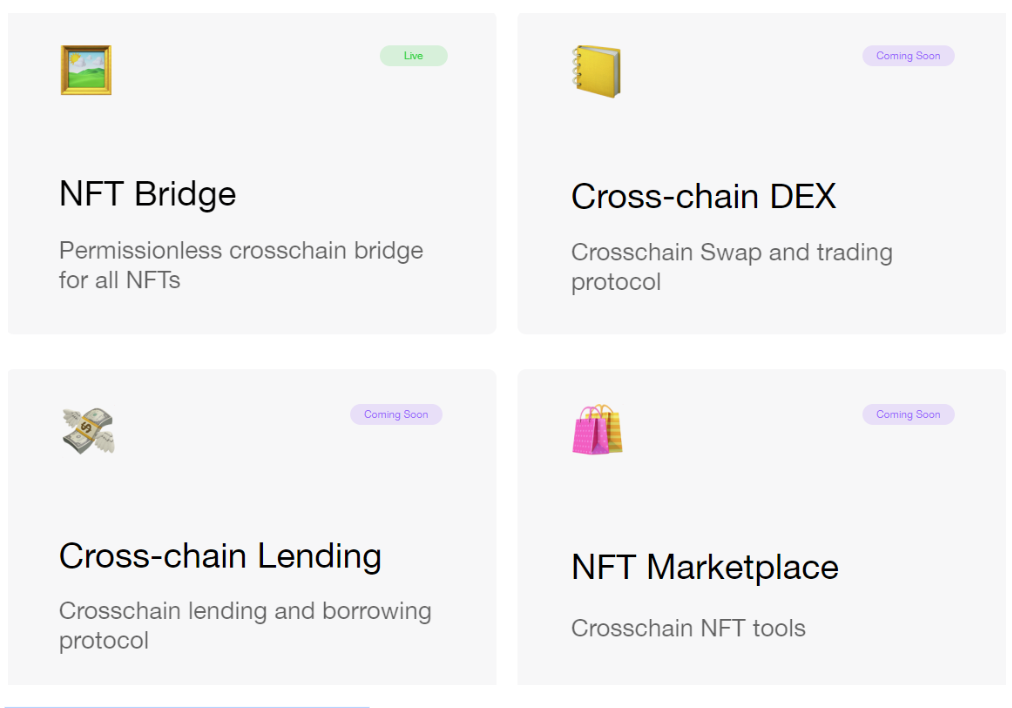 5. Comparison and Summary
We make a table to compare the popular projects on the numbers of chains supported and collections.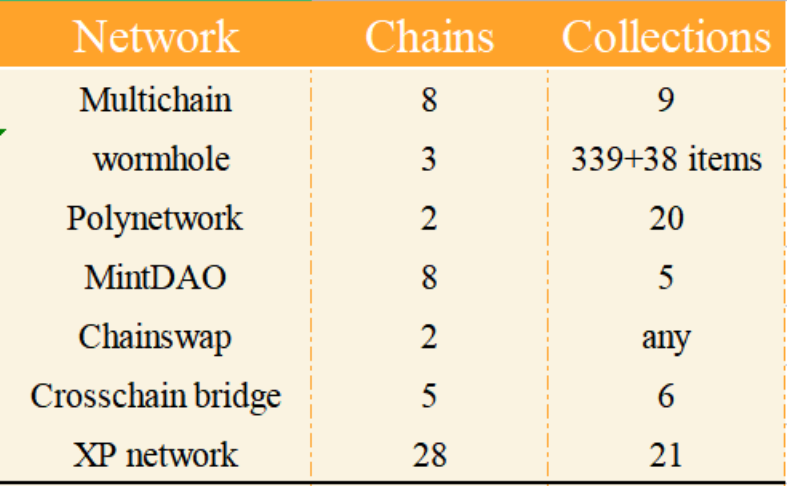 You can read more about comparison on 10 NFT bridges in aspects like whether EVM, what wallets and what NFT standards supported.
Source: https://docs.xp.network/docs/Multibridge2.0/multibridge_vs_others
Almost all projects use the "lock and mint" model to bridge NFT at present, will there be a new mechanism coming out to push the market? 
For now, we can say that XP network has occupied a forefront place of the field, however, no blue-chip NFT collections are transferred on all current projects. The questions are do blue-chip NFTs need a NFT bridge? In what situation does this become necessary?
When these blue-chip NFTs come to use the NFT bridge, the full competition just begins. At that time, the more security, the smoother products will win more market share.  
4 Internal suggestions:
For the wrapped NFT, the buyer or the NFTFi platforms on the destination chain need to verify their authenticity.(wormhole did this NFT Origin tool)
            https://docs.wormhole.com/wormhole/tutorial-nft-origin-tool
For the NFTs unsuccessfully bridged just like what we lost, there should be a place for users to get them back.

For the bridging result, XP has a  transaction screen to display the process and hash.

For the fees, XP only needs to pay once on the departure chain,  while Chainswap needs to pay twice, both on the departure chain and destination chain.