Table of Contents
The ultimate scaling Layer 1 - Avalanche
Introduction to Avalanche

Why Avalanche?

2.1 The Primary Network

2.2 Avalanche Consensus Protocol

2.3 High speed and TPS

2.4 Subnets

Avalanche Stats

3.1 TVL

3.2 Daily Transactions and Unique Addresses

3.3 Other Notable stats

Ecosystem

4.1 Gaming Narrative

4.2 Avalanche Incentives

4.2.1 Avalanche Rush

4.2.2 Avalanche Multiverse
4.2.3 NFT and OpenSea

Funding

Summary

1. Introduction to Avalanche
Avalanche (AVAX) is a layer 1 blockchain that was founded back in 2018 and the mainnet went live on 21 Sept 2020. Technically, Avalanche is still currently in development but all core functions are currently live.
Avalanche was conceptualized to be fast and extremely scalable. It is the first decentralized smart contract platform built for the scale of global finance with almost near-instant transaction finality.
The Avalanche blockchain is built around its unique consensus protocol and the platform token, AVAX is used as gas fees within the platform.
Avalanche promises to fulfill what some of the Layer 1s are unable to: Providing speed, scalability, Security and smart contract support all at the same time. Some may also argue that Avalanche might be the first Layer 1 to truly solve the blockchain trilemma.
2. Why Avalanche?
2.1 The Primary Network
With so many Layer 1s competitors out there, each of the Layer 1s needs to bring something different to the tables in order to differentiate themselves and that is what Avalanche did.
One of the biggest differentiator Avalanche has over its competitions is how the blockchain is structured. Avalanche is essentially made up of at least 3 blockchains, the C chain, the X chain and the P chain. These chains are split to manage different functions, thus allowing the avalanche blockchain to achieve very high Transaction Per Second (TPS).
These 3 chains are all secured by Avalanche validators in a special Subnet called the Primary Network which members need to stake at least 2,000 AVAX to be part of the network.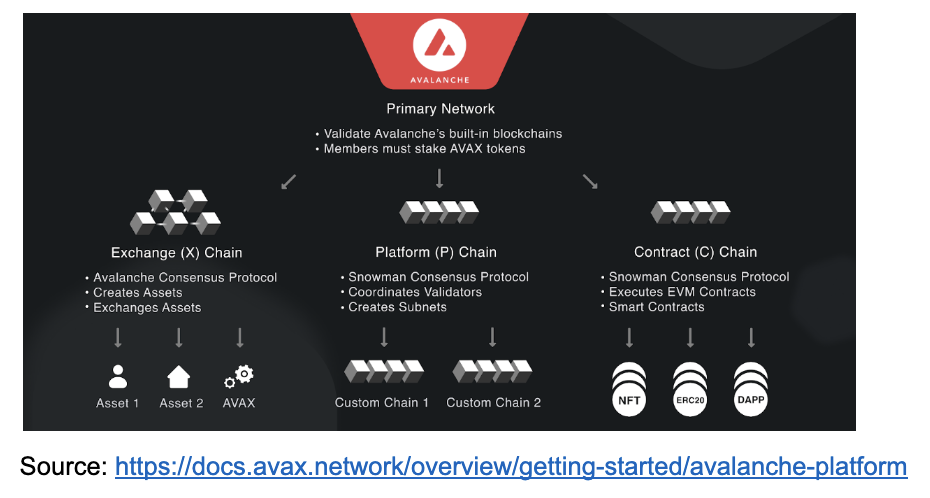 Below is a short description of the chains and what they do:
X-Chain: This is the chain responsible for the management, creation and to facilitate the transactions of the tokens
C-Chain - Built to support smart contracts and is EVM compatible, which means anything written for ETH mainnet can be ported over easily.
P-Chain - Called the platform chain, which manages all the validators and the staking of of the tokens.
2.2 Avalanche Consensus Protocol
Different blockchains have different ways on how they determine if the transaction posted should be accepted or rejected. Some uses proof of history, some uses proof of work, proof of stake, while some uses cryptographic validity proofs. In the case of Avalanche, it uses the Avalanche Consensus Protocol, which is essentially a Directed Acyclic Graph (DAG).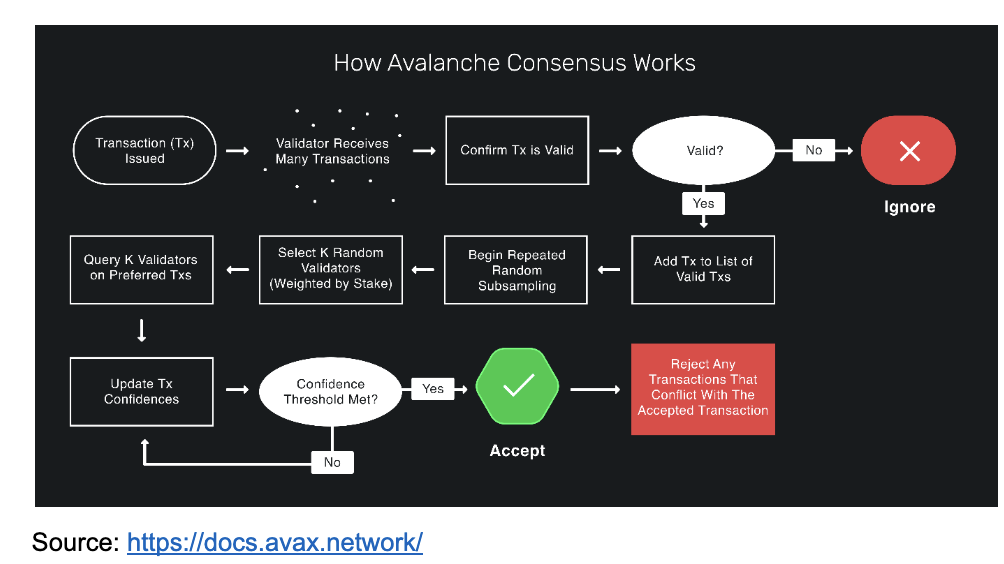 In layman terms, the transaction is issued to a validator, the validator "ask" a small random subset of validators for their take on if the transaction should be validated. As long as the confidence threshold is met (large subset of validators sampled agrees that the transaction is valid), it will be accepted.
Due to the mechanics of Avalanche being unique, it does hold several benefits that does not apply to other Layer 1 chains. For example, an attack on a Nakamoto Consensus Protocol (Proof of Work) Network will need 51% control over the network or an attack on a Proof of Stake Network may need 51% control of the total tokens. In the case of Avalanche, an attack will need up to 60% of the network being malicious in order to get through.
Source: https://cryptoseq.medium.com/
2.3 High speed and TPS

Another benefit of Avalanche as a Layer 1 is that it's blazing fast with the X chain able to get to 4,500 TPS while the P chain and the X chain can get up to 1,500 TPS.
Not only just providing high TPS, transaction data finality on Avalanche can be reached in less than 3 seconds!
2.4 Subnets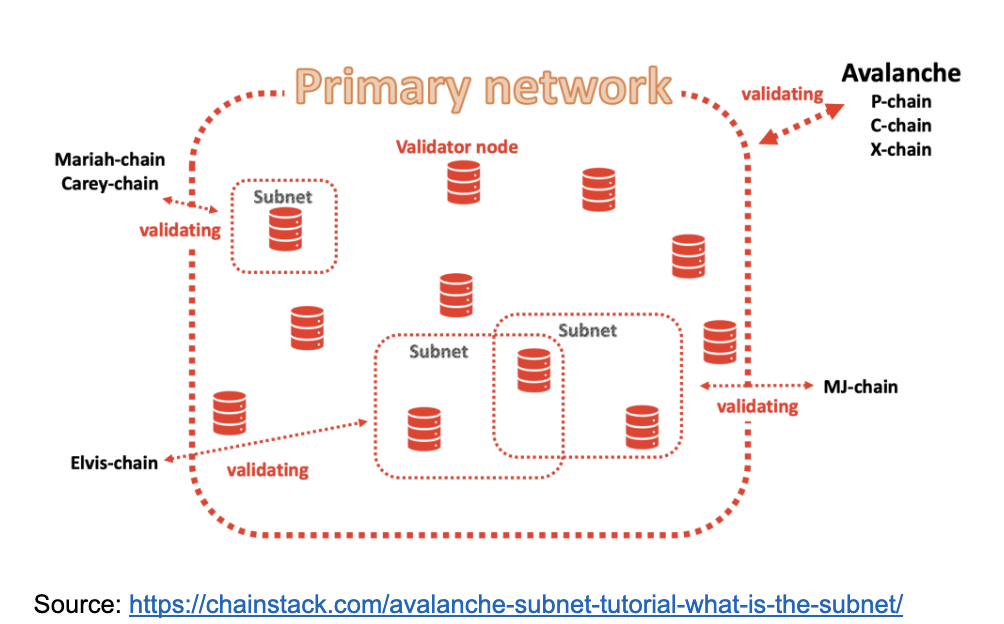 Subnets are defined as a sovereign network which has its own rules regarding membership and token economics.
One of the key main differentiators of Avalanche is that it allows anyone to deploy a subnet and in turn allows them to create and run their own blockchain networks. These subnets are entirely independent, do not share any execution thread, storage or networking with other subnets (including the primary network).
A user creates a subnet by taking these steps:
User must be running at least 1 (or more) validator node on the primary Network

Subnet is created.

Primary network is notified that a subnet is created

User assigns their validator node to the subnet

Subnet is now being validated
The possibilities are endless with Avalanche subnets and many Gamefi projects that are well-known within the Crypto-verse have jumped on the subnet bandwagon. Some examples include:
Subnets can also be private and thus may not publicized their creation. As of now, there are 36 subnets, 28 blockchains and a total of 1219 validators on the Avalanche subnet (data as of 7 Nov 2022).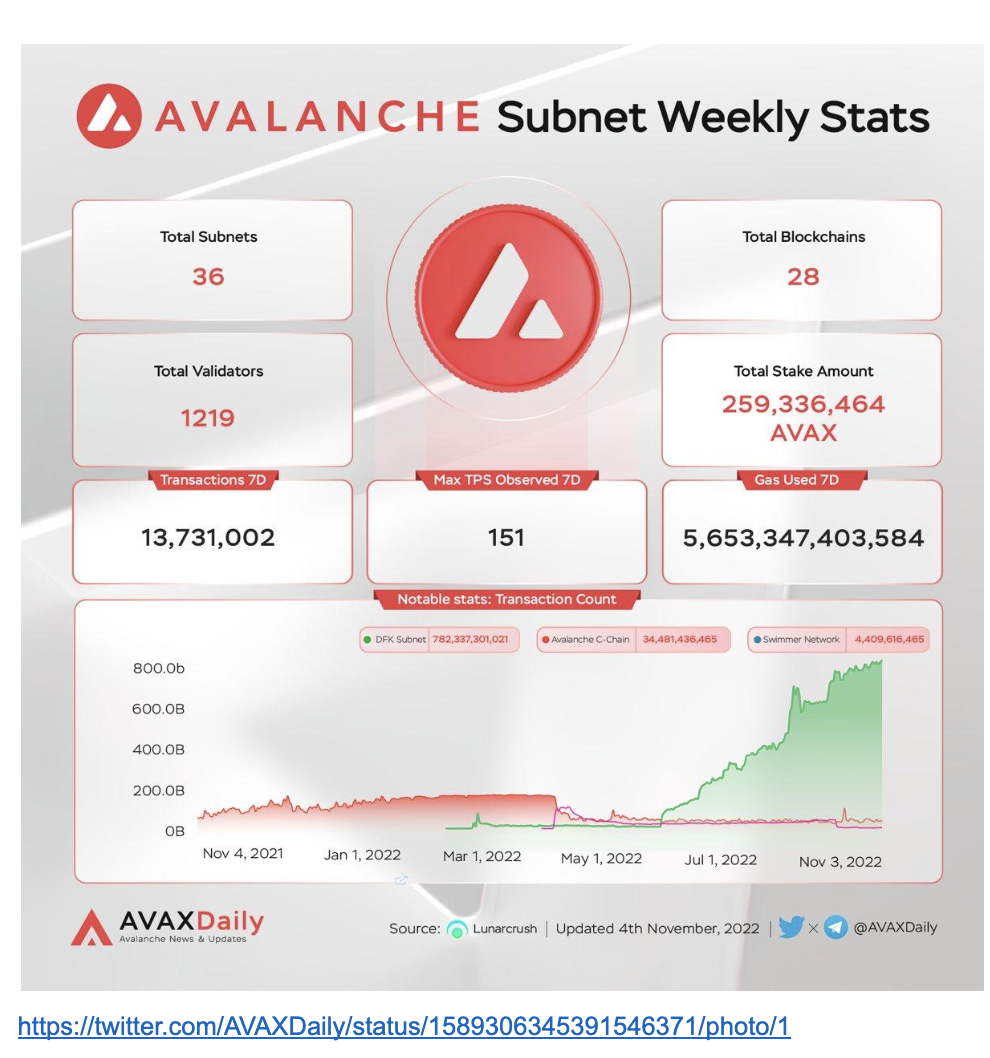 3. Avalanche Stats
3.1 TVL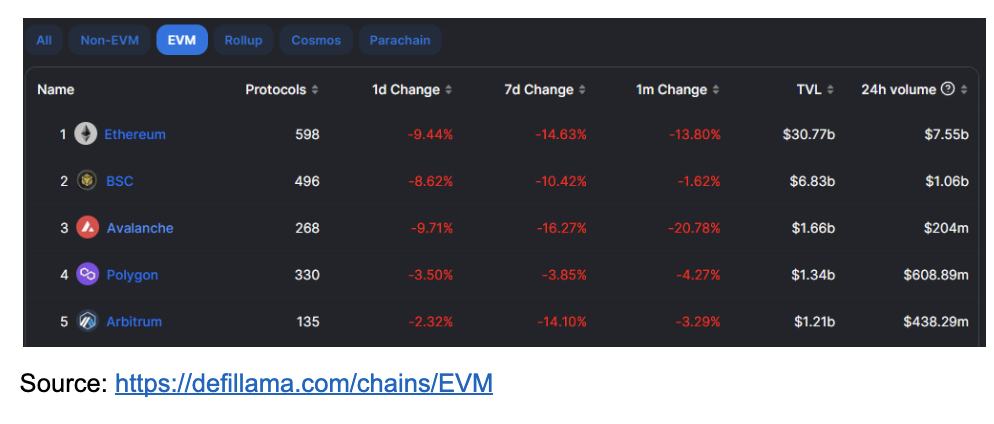 After covering the technicals of Avalanche, it is no surprise that it is a Layer 1 blockchain that has a lot to offer. A check on defillama shows that amongst all the EVM chains, Avalanche is top 3 in terms of TVL at a total of $1.66B, outstripping both Polygon and Arbitrum.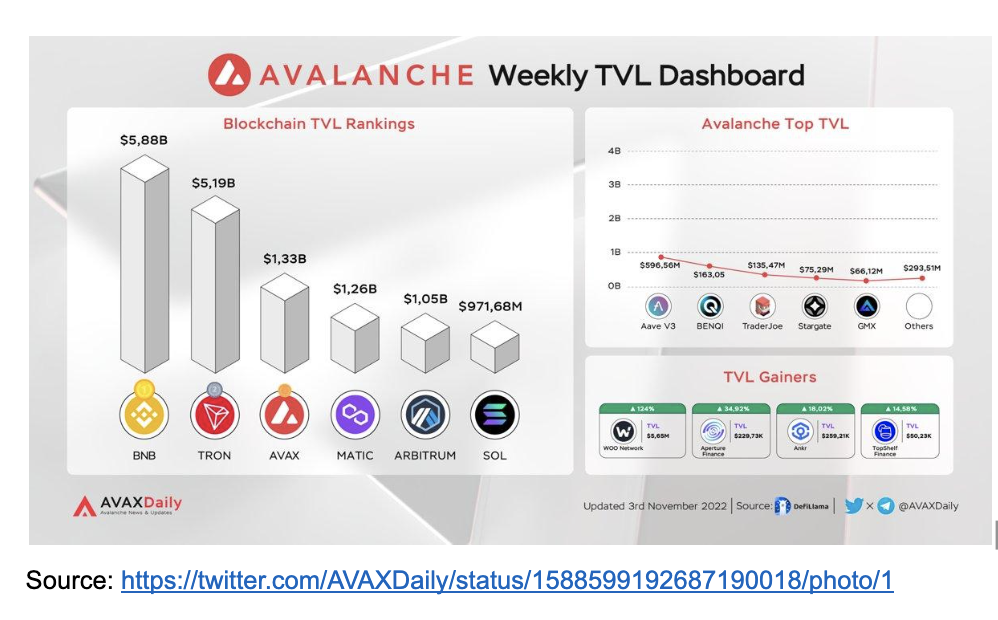 Most of the TVL in Avalanche are currently in the usual protocols for a relatively new and bidding blockchain. Protocols such as AAVE, Benqi, Traderjoe – AVAX's native Dex, etc.
One thing to note is that GMX, an up-and-coming derivatives protocol that is initially launched on Arbitrum is also currently live on AVAX.
3.2 Daily Transactions and Unique Addresses
In order to track the activities on the blockchain to determine its health, daily transaction data and unique address data can be an indicator to that.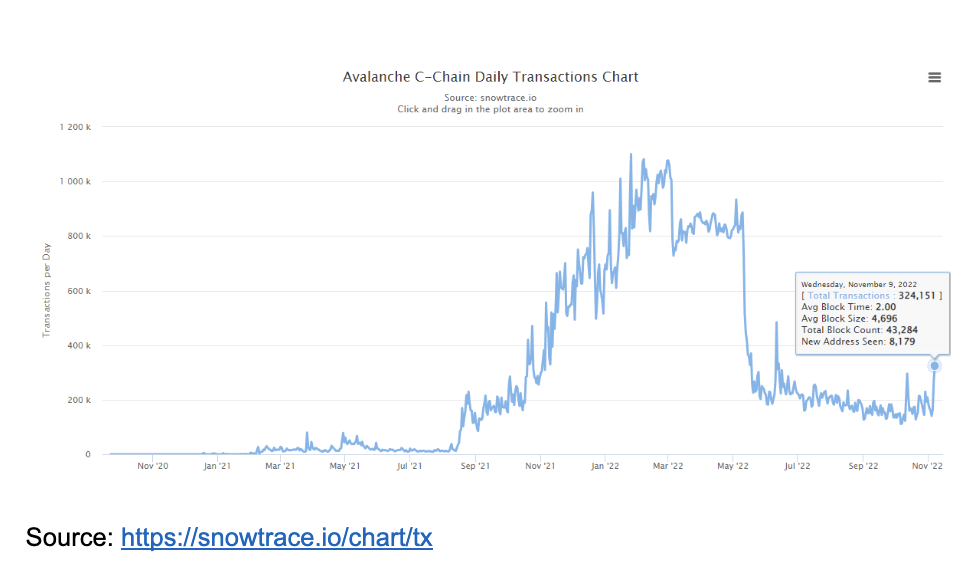 A quick check on snowtrace, AVAX block explorer also shows significant increase in daily transactions since mid 2021. Although there has been a huge drop during May 2022, that may likely be also due to the general sentiments on crypto during the Luna/UST crash in May.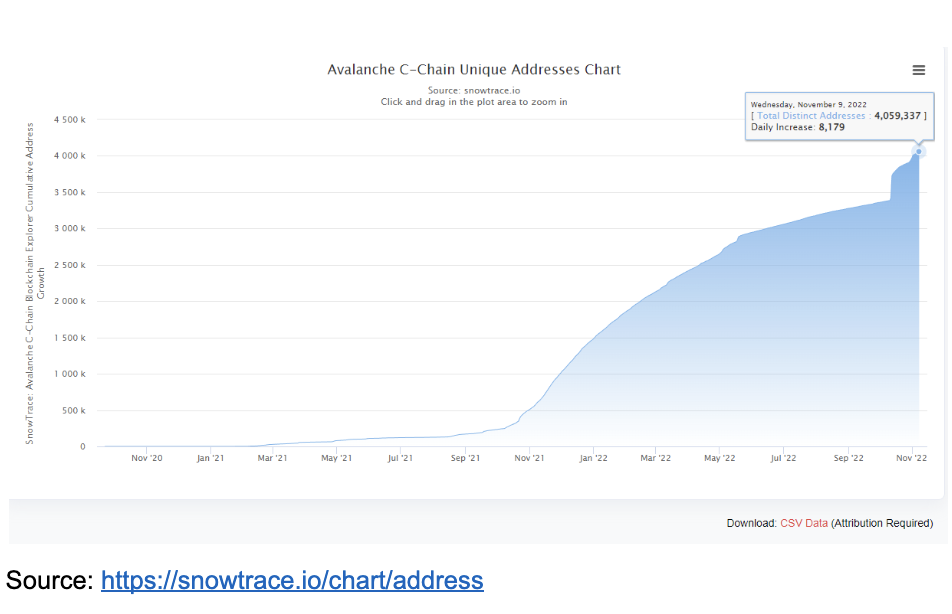 The number of unique addresses on Avalanche also looks pretty healthy with data showing that it has been growing steadily since the chain went live. Interestingly, there was a huge increase in unique addresses just a month back with daily new addresses at 303,899.
A healthy comparison will be to compare Avalanche daily transaction with that of other top EVM chains. Despite the decline in C-chain transactions, it is noted that the entirety of Avalanche infrastructure and consensus is still processing more transactions than ETH (including subnets).
However, in my opinion, the general health of the blockchain lies with Avalanche C-Chain and Avalanche will still need to push adoption to its platform to start growing bigger.
It is also to be noted that referencing the data presented earlier, the TVL on Avalanche is top 3 within the top EVM chains but the daily transactions on C-Chain do not quite reflect the same situation.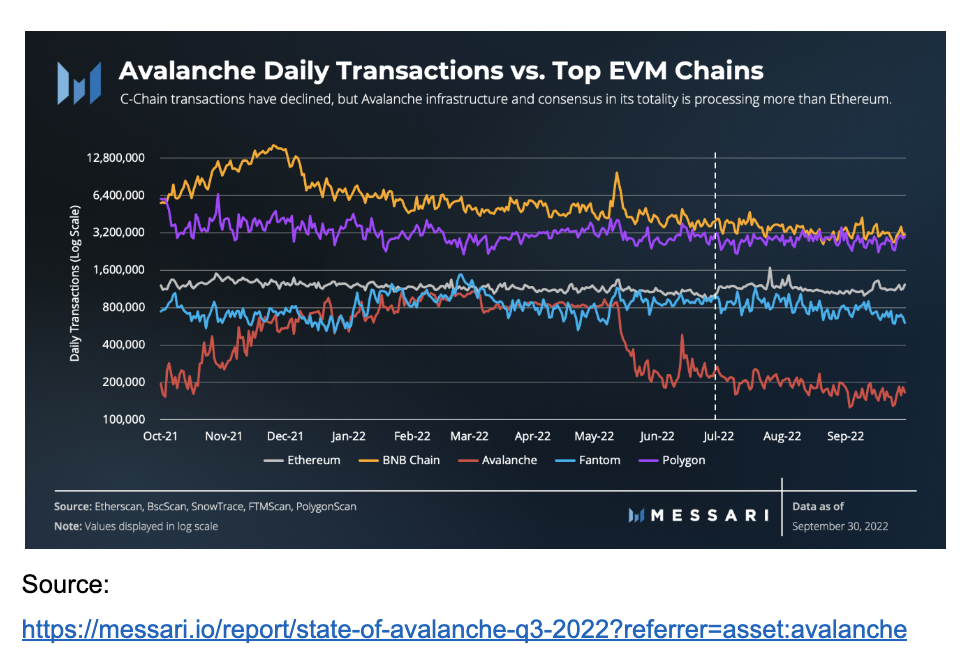 3.3 Other Notable stats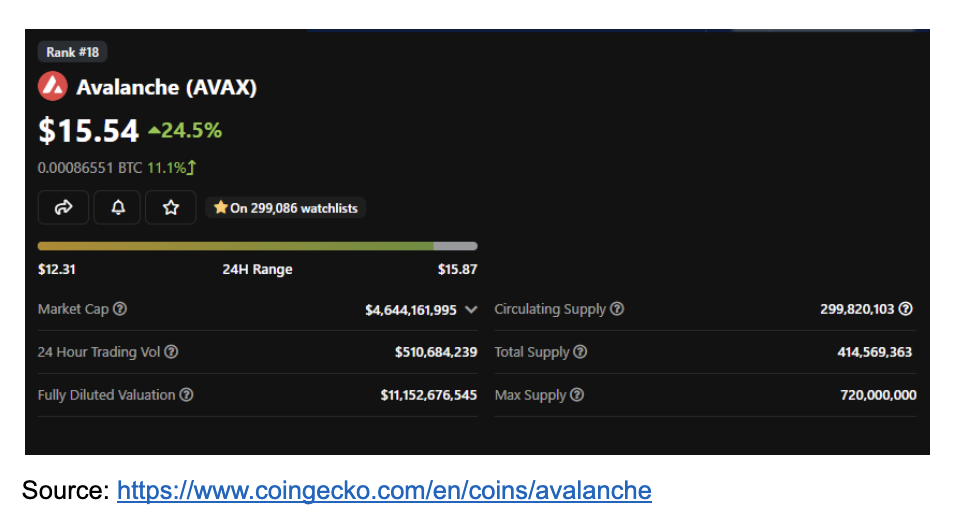 4. Ecosystem
4.1 Gaming Narrative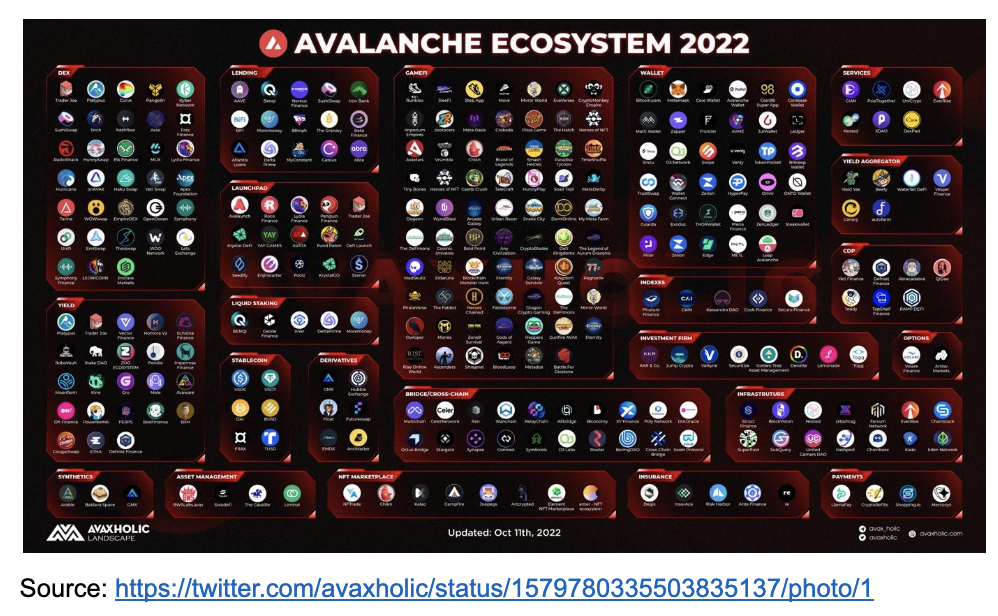 It is evident just by looking at the Avalanche Ecosystem (dated 11th Oct 2022) that Avalanche wishes to push the Gamefi narrative on its platform. It makes absolute sense since it provides all the necessary elements for Gamefi projects to succeed – Faster and cheap transactions, ability to support high TPS and the ability to create customized subnets.
Most of the games project available on Avalanche was also launched on Avalanche's native launchpads like Avalaunch.

While GameFi projects are of abundance within Avalanche ecosystem, the usual suspects within the crypto-verse are also live within the ecosystem, ranging from dexes (1inch, Sushi, Curve), to lending protocols (Aave, Benqi) to bridges (Synapse, Stargate).
4.2 Avalanche Incentives
One of the main key reasons why there are a lot of protocols current on the Avalanche platform is that they are very apt at attracting protocols. From the Avalanche Rush in 2021 to the current Avalanche Multiverse, the Avalanche Foundation is no stranger from pushing out incentive programs in hopes of acquiring new users.
4.2.1 Avalanche Rush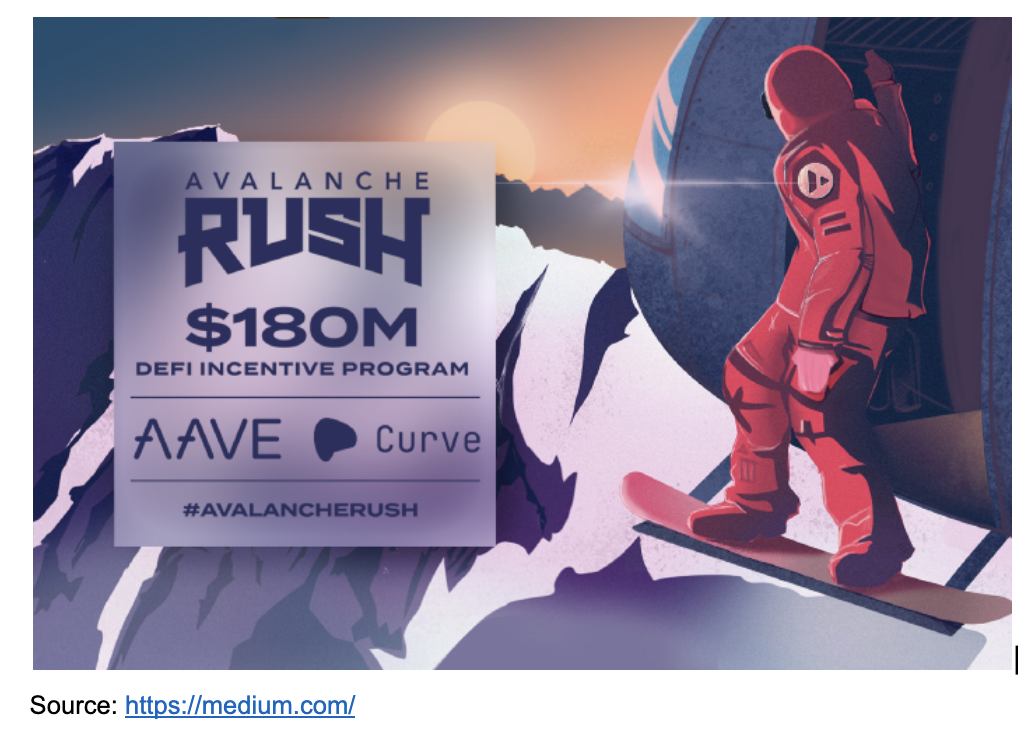 Avalanche Rush (2021) was a $180M liquidity mining incentive program aimed to bring AAVE and Curve into its ecosystem. This was a calculated move to push Avalanche's Defi Adoption. By attracting both of these projects, Avalanche aims to further its Defi ecosystem maturity in hope of gaining more users.
4.2.2 Avalanche Multiverse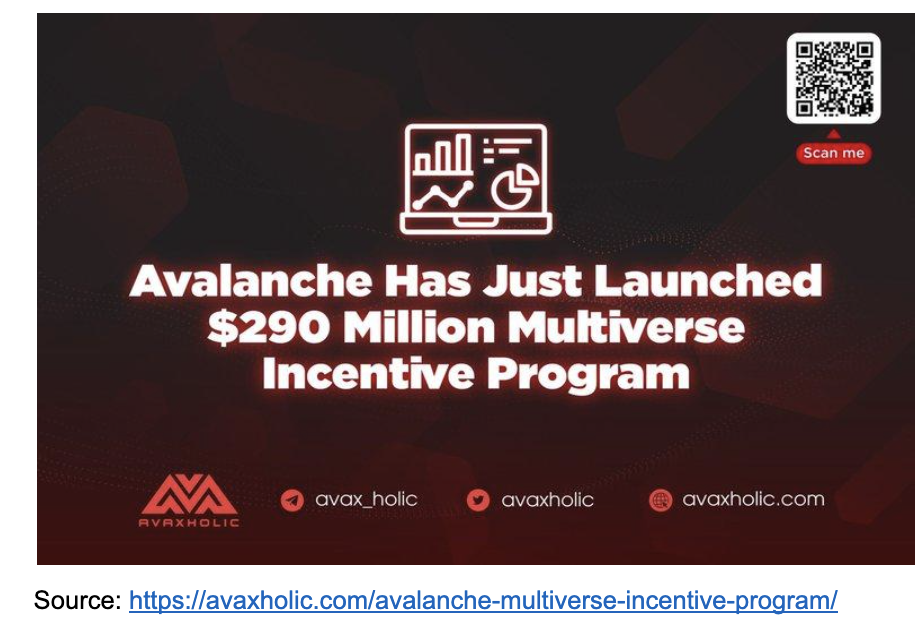 In March 2022, Avalanche announced a new incentive program called Avalanche Multiverse, aimed to accelerate growth of its subnet functionality. This program is focused on supporting new ecosystems such as blockchain-enabled gaming. Defi Kingdoms is also one of the few projects that worked together with Avalanche on this.
4.2.3 NFT and OpenSea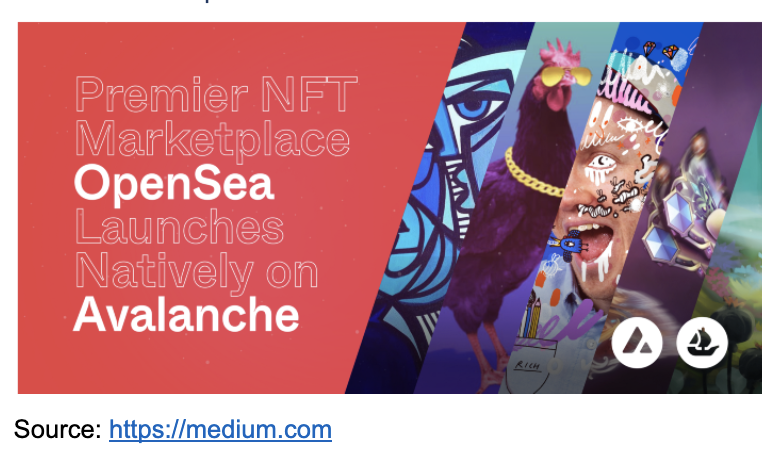 Other than being big on Gamefi projects, Avalanche also seeks partnership with OpenSea (Oct 2022) to support OpenSea natively on Avalanche network. This is actually in line with the GameFi narrative as most GameFi protocol uses some form of NFT. With the integration of Avalanche and OpeaSea, users on Avalanche can enjoy fast transaction finality for NFT trades and OpenSea can gain more users through Avalanche.
5. Funding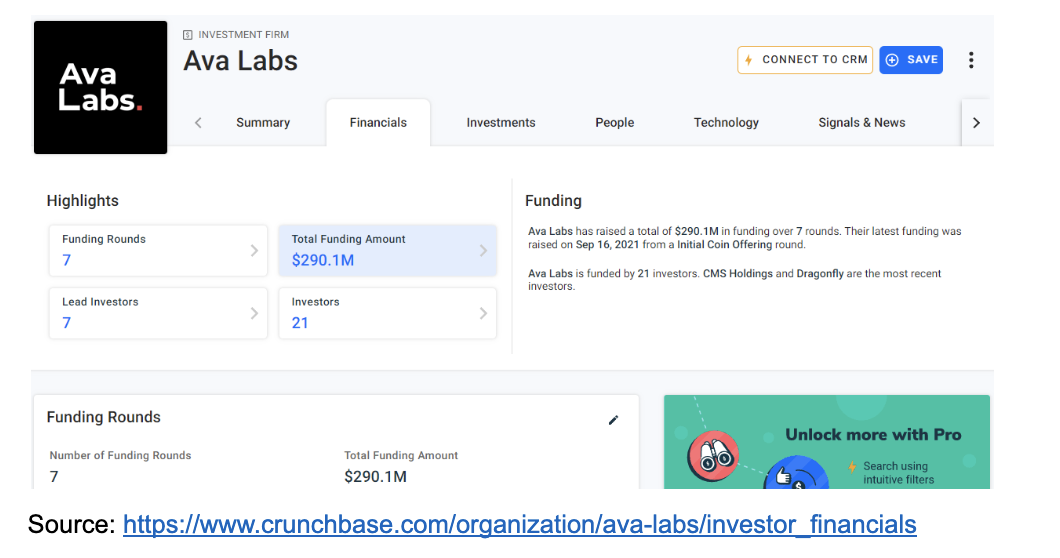 Till date, Ava Labs, the company behind Avalanche has raised a total of $290.1M over 7 rounds of funding with Polychain Capital as their lead investor.
6. Summary
Is Avalanche viable as a Layer 1?
With its unique infrastructure, Avalanche stands out from the rest of the Layer 1s as having "solved" scalability concerns which plagues most Layer 1s. The subnet mechanism allows the network to scale without limits and is definitely a game changer. However, even as Avalanche's unique addresses have been growing at a steady pace, the network still needs stronger use cases in order to drive its user adoption.
Perhaps GameFi would be the solution, but until the next GameFi season comes along, what Avalanche can do is to continue building strong partnerships and continue with innovative ways to boost user adoption of their network.