Table of Contents 
1. The Current State of Publishing
1.1 Web 2 vs Web3 Publishing Platforms
1.2 Some Examples of Web3 Publishing Platforms
2.1 Content Creator Perspective
2.1.1 Embedding NFTs on Mirror.xyz
2.2.1 Example of "Discover" Feature Layer by other platforms
2.2.2 Example of "Comment" Feature Layer by other platforms
3.1 Content Creator Perspective
3.1.1 [Content Creator] - Some Key Features of Paragraph
3.1.2 Paragraph Posting Process Flow
3.2 Paragraph Reader Perspective
3.2.1 [Reader] - Some Key Features of Paragraph
4. Summary, Some Data & Food For Thought
4.1 Comparison of Web3 Publishing Platforms
4.2 Tracking and Comparing the Data on Web3 Publishing Platforms
4.4 The Potential of Paragraph
1. The Current State of Publishing 
Currently Web3 Publishing does not seem to be popular, even by those heavily involved in the Crypto Space. This is evident by noting that even SBF is still using substack for publishing his articles.   
Source as at UTC 2023-01-16: 
Even popular, and well known crypto native people are still using Web2 Platforms for publishing.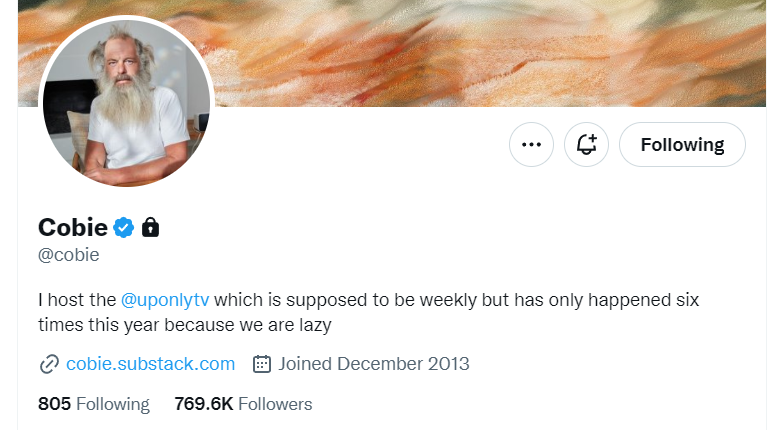 Source: https://twitter.com/cobie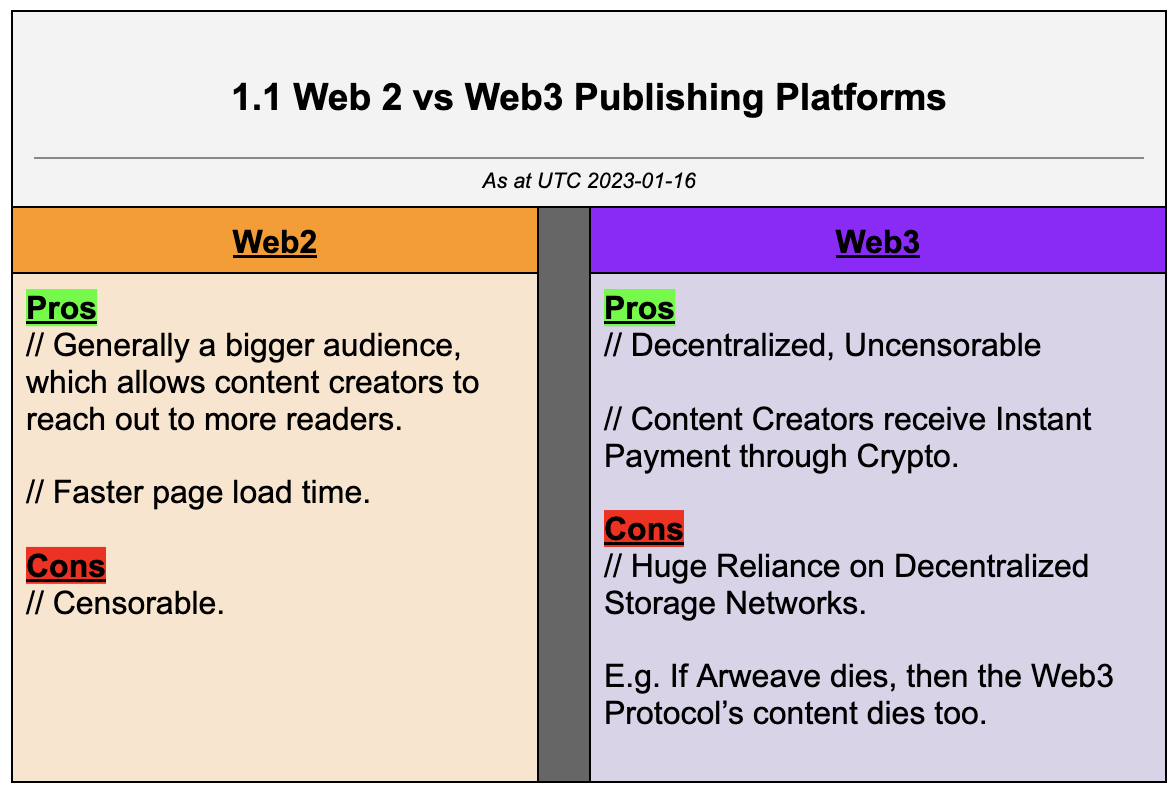 Typically, it seems that these Web3 Publishing Platforms only store their content on one Decentralized Storage Network. 
Hence, due to there being a non-zero chance that a particular storage platform dies one day, there is always a risk that all the content that is stored on the Web3 publishing platform dies along with it too. 

This means that the content creators on these publishing platforms would have to rebuild their audience that they may have already accumulated for a period of time. 
1.2 Some Examples of Web3 Publishing Platforms 
The more common platforms for Web2 are:
Leverages and Taps into Medium's audience.
Build your own audience of subscribers.
And other similar ones such as WordPress.
In terms of Web3, we have selected two protocols to focus on:
Mirror

Paragraph

2. Mirror.xyz
2.1 Content Creator Perspective 
Source: HashBrown Research
There are several useful features such as the "Remember Me' feature, and we note that publishing posts requires you to be connected to the Optimism Mainnet. 
Source: https://mirror.xyz/
Currently, all funds from sales will be transferred immediately to the Ethereum address that set up the Mirror publication. A future version will allow content creators to set a custom address as the funds recipient.
Currently, there is no built-in feature to comment on posts and to discover other user's content on Mirror.  Users have to use other tools/layers if they want to access these features. 
2.1.1 Embedding NFTs on Mirror.xyz
Source: HashBrown Research
2.2 Reader's Perspective 
2.2.1 Example of "Discover" Feature Layer by other platforms
This platform is powered by Sepana which is a search tool for Web3: https://www.askmirror.xyz/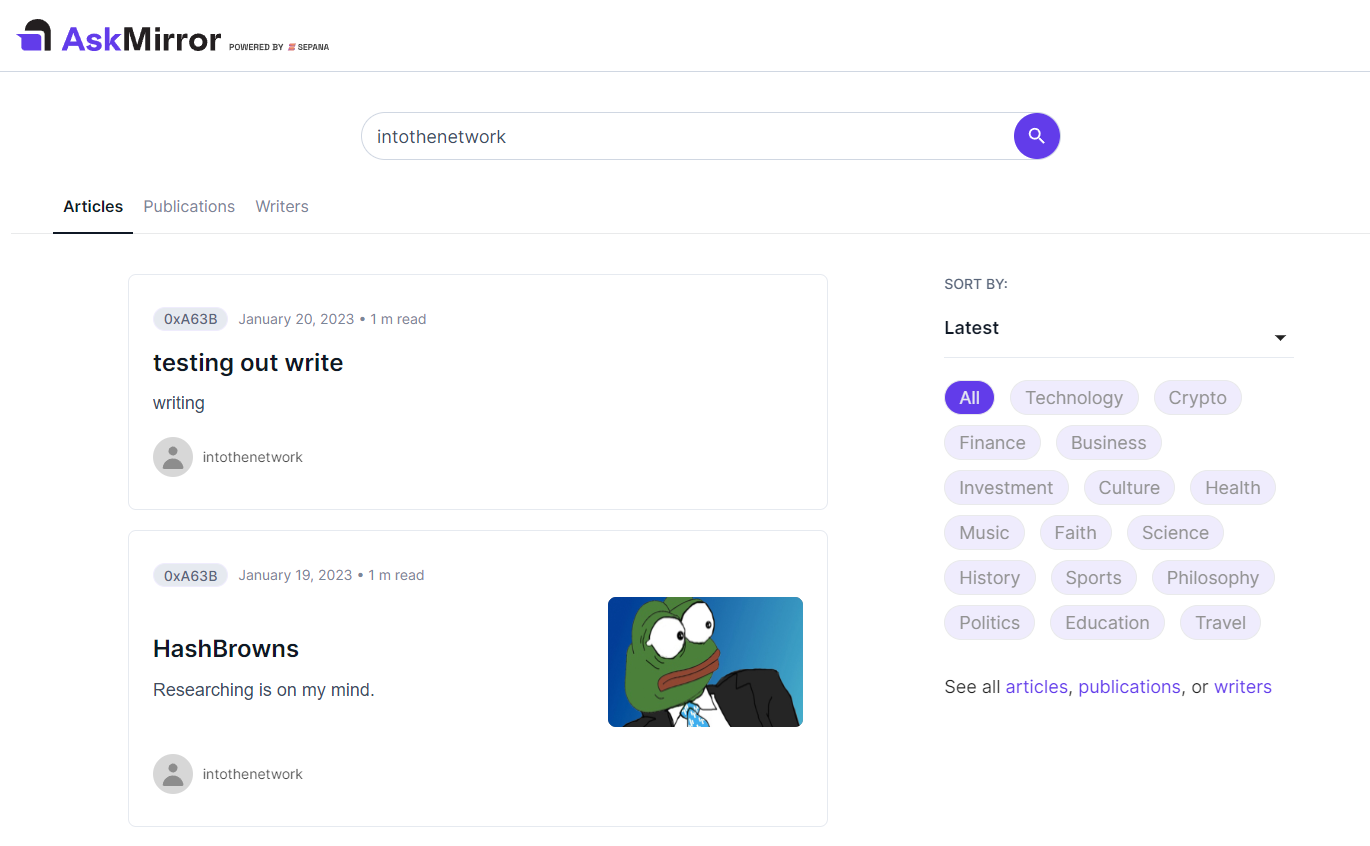 Source: https://www.askmirror.xyz/
2.2.2 Example of "Comment" Feature Layer by other platforms
This widget is built by:
https://0xecho.com/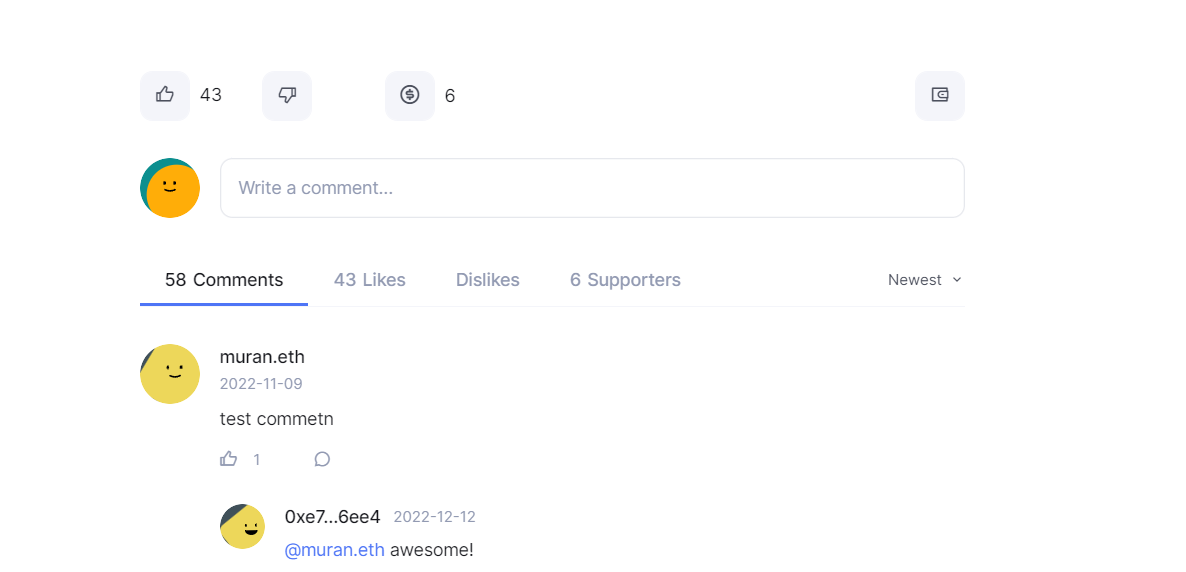 Hence, it would serve as an inconvenience for users who want more features, but realized that they have to use another layer building on top of Mirror.xyz.
2.3 Mirror Article as an NFT
To "turn" your article into NFTs, someone has to mint them by pressing the Collect button. 
At the start, as part of the initiative to open up the platform, a 2.5% fee had been implemented across economic tools, routing to the Mirror DAO treasury. The accrued fees will be governed by Mirror members and used to grow the Mirror ecosystem.
Quoted Source: https://dev.mirror.xyz/kkpmBMFAeKlCv4zi2HcyO0MfmpguVqTHoo-DL0WxwS8

Source: https://www.linkedin.com/pulse/turn-your-writing-nfts-beginners-guide-mirrorxyz-andrew-debell/

All entries are collectable. By default collecting is free (just pay gas). Creators have the option to enable funding on their entries. However, upon browsing the platform, it seems that funding turns collectors into patrons with all proceeds going to the creator.
Source: https://mirror.xyz/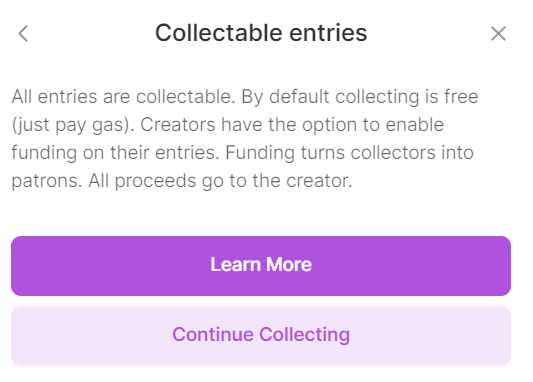 This is not very clear, as we look at a transaction interacting with Mirror: Treasury on Etherscan recently, on UTC. 2023-01-18 17:00:47.
0.24ETH out of (0.24 + 9.36) ETH was transferred to Mirror Treasury.
0.24 / 9.6 = is exactly 2.5%. 

Source:
https://etherscan.io/tx/0x0793da6edb259a0de1563664c62efc15c6e32bf44eccba36906f8db8c1545bef#ContentPlaceHolder1_collapseContent
There are several features of Paragraph, hence, we have narrowed down to several key features that we felt are outstanding.
We have separated these into:
Content Creators (Publishers) &

Readers (Typical Users) 

3.1 Content Creator Perspective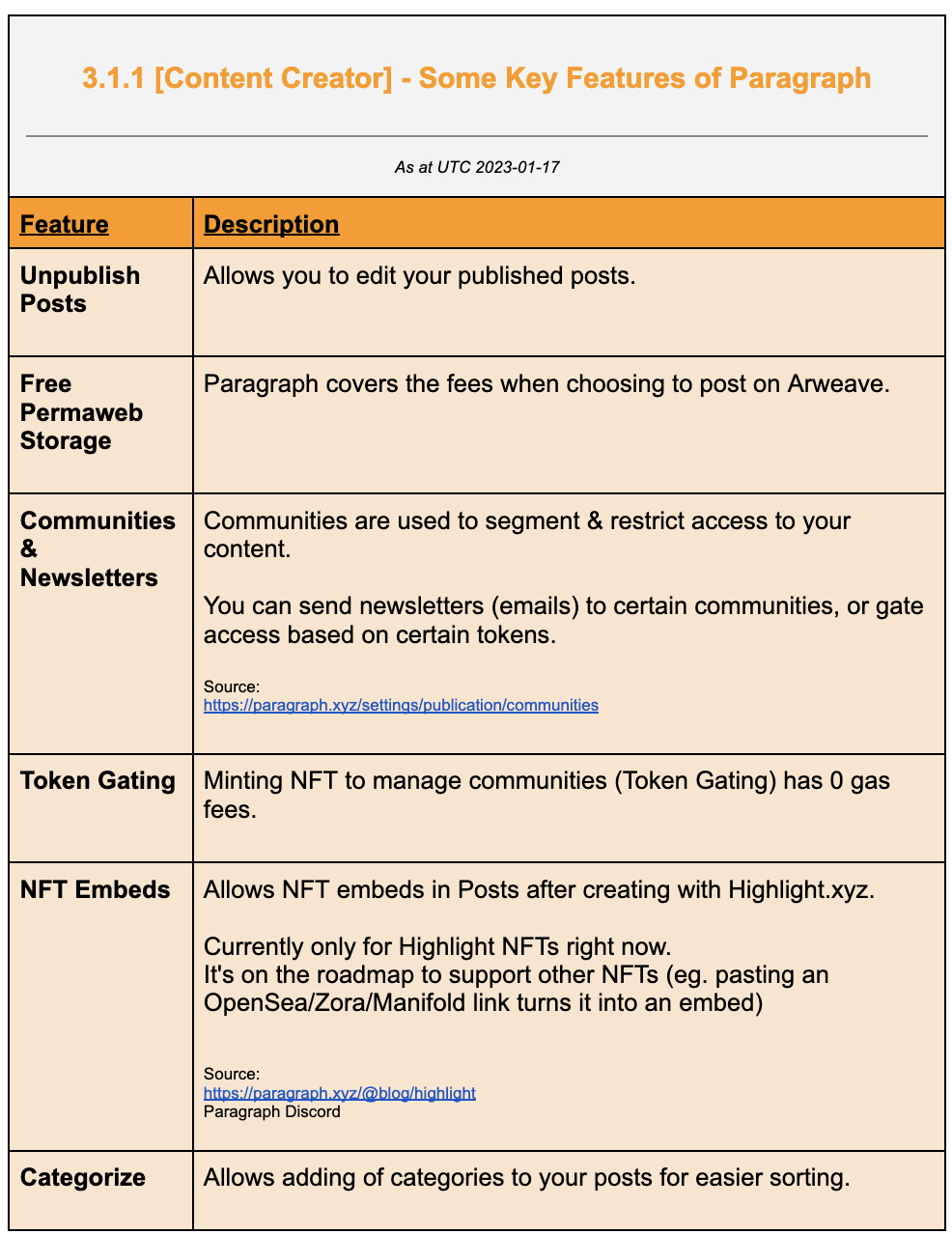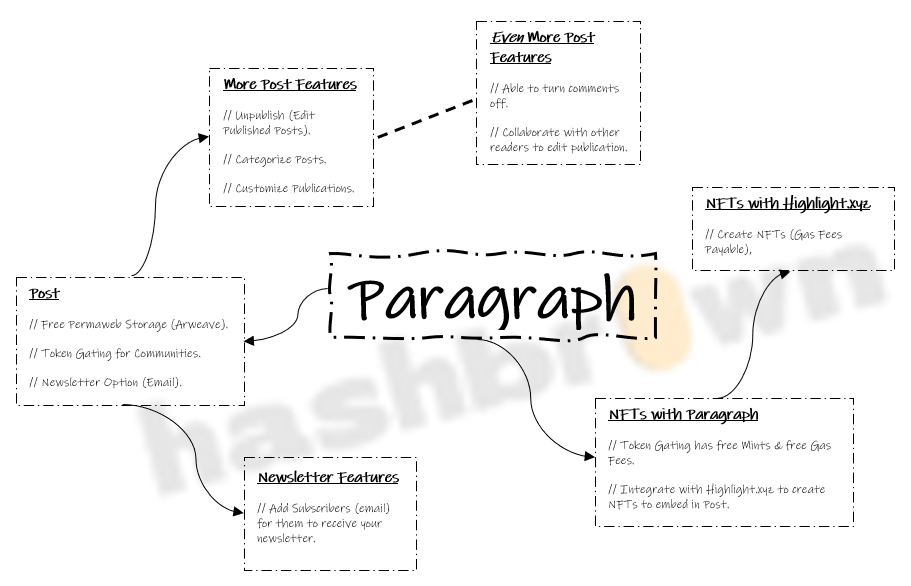 Source: HashBrown Research
3.1.2 Paragraph Posting Process Flow 
Source: https://paragraph.xyz/notes

Since Arweave is a "Permaweb", everything that is posted there is permanent. 
Paragraph allows you the choice if you want to store it on the permaweb, as opposed to other platforms which do not give you the choice.
If you choose to store it on Arweave when publishing, and wish to edit your post and un-publish it, the data will still be stored on Arweave. Hence, this is something to take note of.
The edited post will create a totally new transaction on Arweave, if you choose to store it on Arweave again. 
As at UTC 2023-01-19, Comments made on posts currently do not have the option to be stored on Arweave. 

3.2 Paragraph Reader Perspective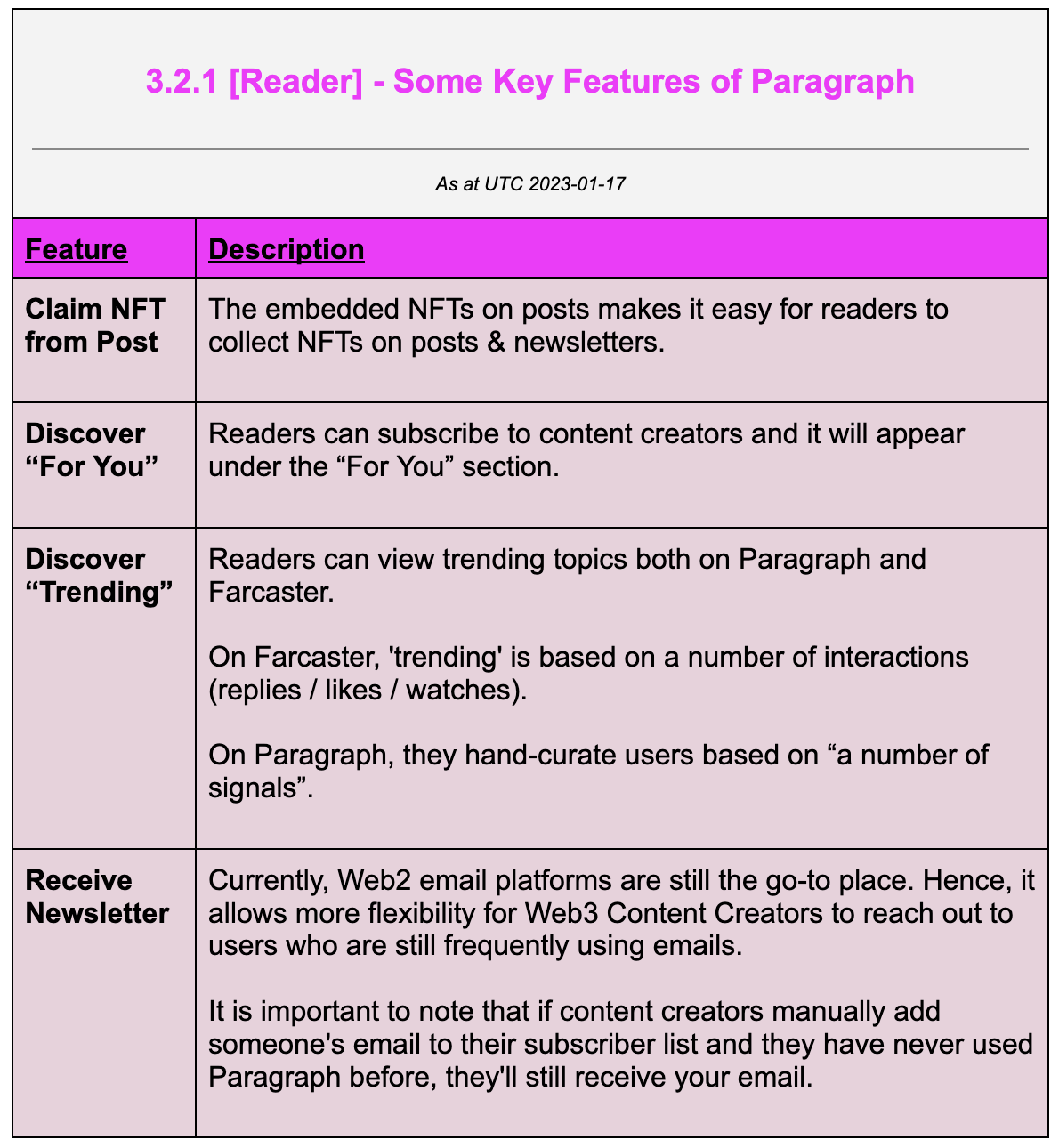 4. Summary, Some Data & Food For Thought 
Tracking and Comparing the Features on Web3 Publishing Platforms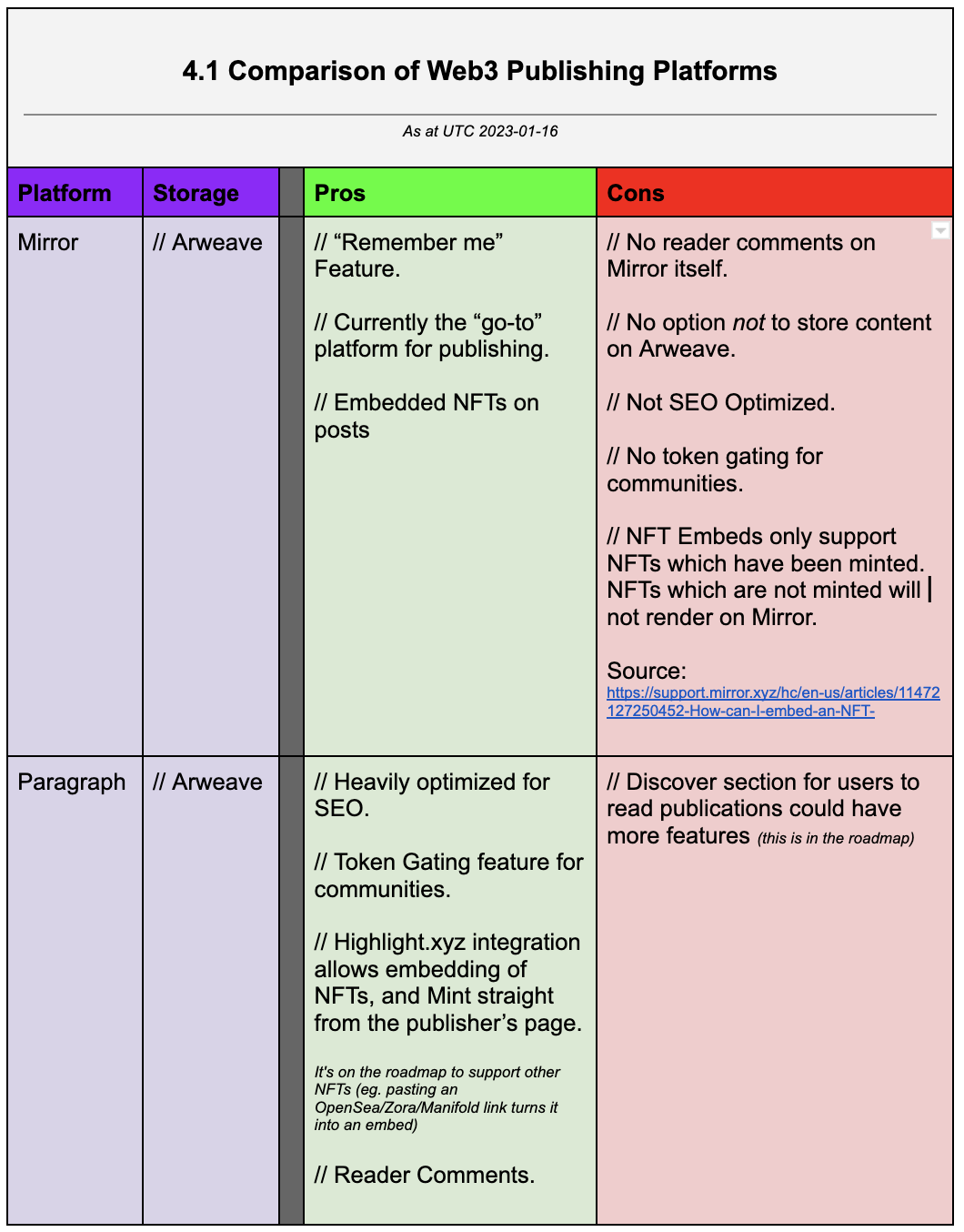 4.2 Tracking and Comparing the Data on Web3 Publishing Platforms
Currently, there is not much data on these publishing platforms, either because they don't go on-chain.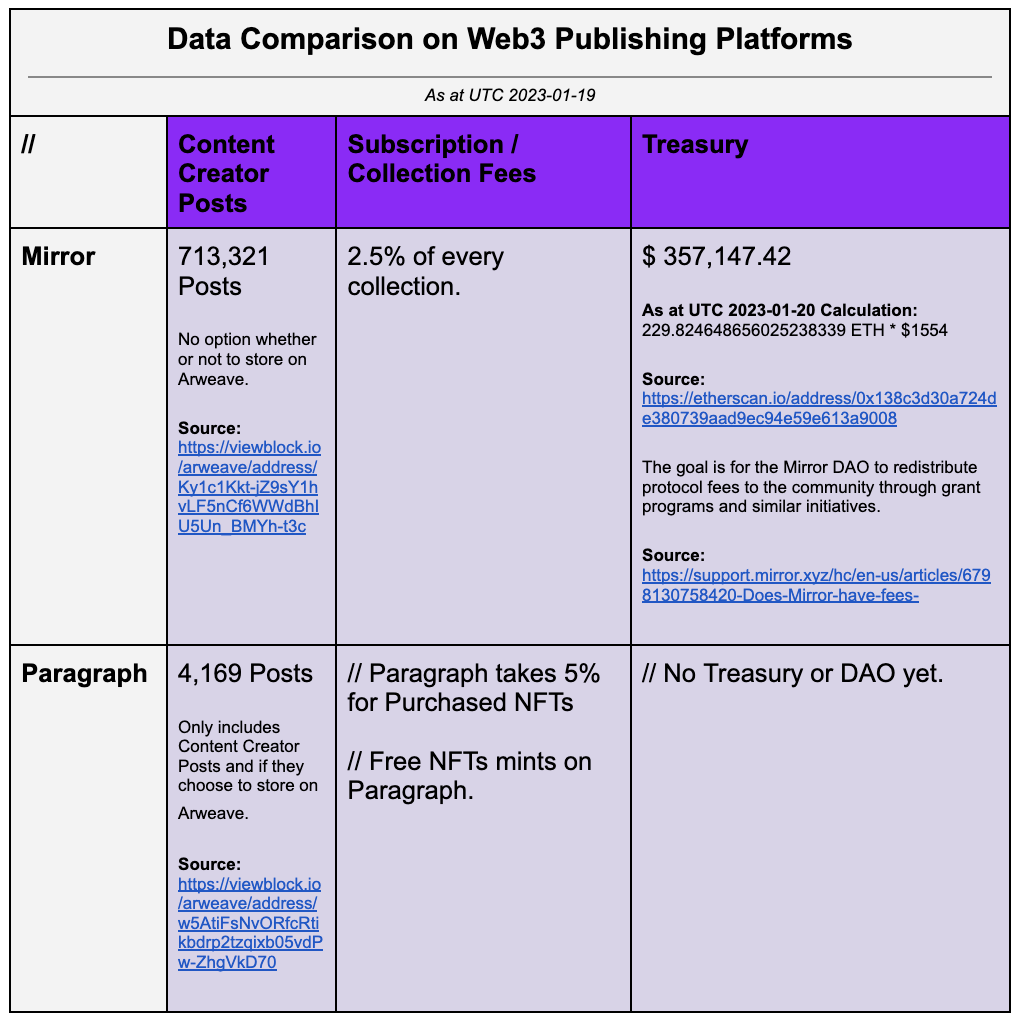 4.3 Mirror's Popularity
Mirror's main community is based on Twitter, and as at UTC 2023-01-19 they do not have other social channels such as Discord.
The feature of reader comments which we felt is quite important is not on Mirror. 
In addition, Mirror does not allow you the option of not choosing to store content on Arweave. Everything is automatically stored on the Permaweb. 
Although Mirror currently (2023-01-19) seems more popular than the other Web3 Publishing platforms we have compared so far, it offers less flexibility and features for content creators and readers. 
4.4 The Potential of Paragraph
Currently, Paragraph requires some Web2 Integration such as emails, but they are actively working with the XMTP team to deliver newsletters entirely on-chain via the XMTP protocol, which in the future, would not require any email. In terms of their focus in Decentralization, we can see that Paragraph is attempting to integrate their product into Web3 fully.
We have also noted that the founder of Paragraph is active in the community and taking suggestions on how to improve the platform. As at UTC 2023-01-17 when we pointed out that posts does not give the option to store on the permaweb, they acknowledged the suggestion, and that could be a possibility in the future. 
As at UTC 2023-01-17, the "Discover" section functionality was just recently pushed out, a-few weeks ago, hence the limited functionality. The founder plans to expand this feature  in the future with keywords/categories/tags/searching.
4.5 A Short Summary
There currently is not much adoption of these Publishing platforms, even by early adopters of Crypto. 
In addition, it is important to note that these protocols are heavily reliant on Arweave. 
Due to this integration, if there comes to a time that Arweave shuts down, these protocols should have a back-up plan to ensure that the data is still available and easily accessible on chain. 
---
If you are a content creator, have you thought about, or tried any web3 publishing platforms?
Feel free to connect with us on our Socials as we would like to hear your thoughts!
---
#melody
#web3
#content creator