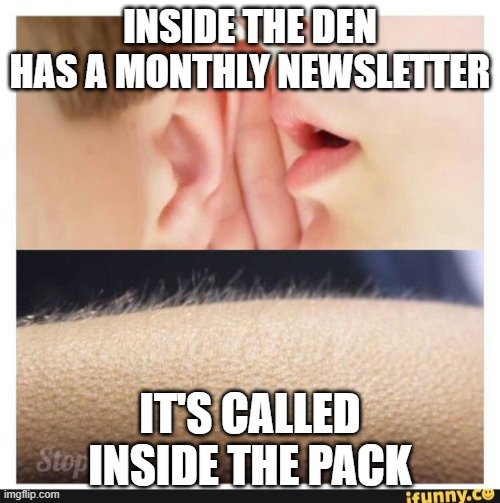 What you can expect from Inside the Pack...
First off, welcome to our newsletter - Inside the Pack 🐺
Our core focus with Inside the Den Podcast has always been to highlight the people behind the community inside the Wolf Den and The Guardian Academy. This newsletter is no different, except for how we showcase our people here inside the den...each month we aim to publish updates around the community by spotlighting the good that people are doing in the world.
Since we're publishing monthly, this will also serve as a look back review of where and how the community is showing up to serve. Over time, you'll be able to go back to this newsletter to see the growth among the various members as they continue playing their game - including us (Jake and Dwayne), because...
We are publishing a monthly "over-the-shoulder".
What's interesting about this endeavor with Inside the Den is that we've built this project with the many principles we've adopted through our time in The Guardian Academy. Ever since the beginning, we've consistently focused on the next 1 or 2 things that need to go right then proceeding to take the most efficient path forward as we see it in real time. When a decision has to be made, we weave in many of the filters and decision making frameworks that we've learned from TGA.
With that said, every month we plan to record an "over-the-shoulder" episode that will also have a segment here in the newsletter. This first episode will be published later this month as a look back from January, and we'll be sure to speak about where things started to where they are today to catch everyone up. It's been an interesting ride, and many solid case-in-points to share on how the education from TGA is such a game changer for us.
Final thoughts
Make sure to subscribe to this newsletter so you get these updates sent straight to your inbox monthly, and we included a link to the Twitter spaces tracking doc with links in the welcome email for our new subscribers :)
FYI - Newsletter is released on the first Monday of the month. Be on the lookout for our first one coming out March 6th
Shout out to Soxie WP 256 who's now helping us curate together community updates and links for the Twitter spaces tracker (You rock Soxie, we love you!)
Lastly, make sure to check out the updated TGA Syllabus on our new website at www.staywolfish.com/syllabus - hope you like it!
That's it for now, until next time...stay wolfish!
-Jake and Dwayne