Welcome to the 13th edition of JediSwap's community-led newsletter!
Every two weeks, we compile the following:
what's new in the StarkNet ecosystem

an educational content to help you learn more about Web3
Don't forget to subscribe!
---
Updates from JediSwap in the last two weeks
JediSwap AMM Growth
Despite market turbulence, our AMM growth metrics continue to rise. The total value locked remains above $500k and is growing organically.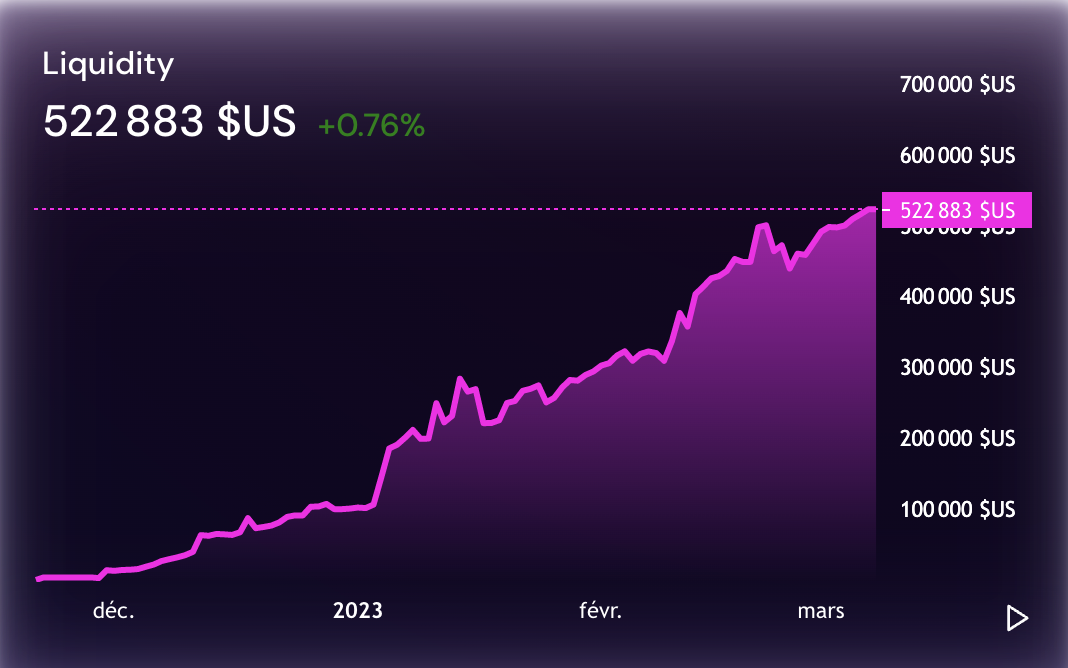 Furthermore, JediSwap consistently ranks among the top three most used StarkNet dApps:

Regarding partnerships, two exciting pieces of news have recently landed within the JediSwap universe.
JediSwap integrates StarkNet ID on its AMM
This integration allows the .stark domain owners to view their domain names on the JediSwap AMM.

StarkNet's new DEX aggregator, PawaSwap, integrates JediSwap on its router
Several AMMs are being built on StarkNet, leading to fragmented liquidity across multiple exchanges. To address this, the PawaSwap aggregator launched on StarkNet mainnet. PawaSwap aims to gather liquidity from various exchanges onto a single platform, enabling users to find the best prices for their swaps.
In its initial version, PawaSwap has already integrated our AMM into its router. This integration will allow JediSwap to reach more users, generate higher volumes, and, thus, generate more fees for liquidity providers.
---
What happened in the StarkNet ecosystem
The Bank of Australia is developing its CBDC (eAUD) and is exploring the StarkWare ecosystem for its launch
Following Visa's announcement, another major player in the traditional sphere is now utilizing StarkWare for its Web3.0 projects:
While many Layer 2 solutions spend millions of dollars on marketing campaigns to attract these players, StarkWare attracts them with its technology instead.
These are very promising signs for the future of the StarkNet ecosystem!
Growth of the StarkNet Ecosystem
Since its launch, the StarkNet ecosystem has been steadily growing.
The following two graphs compare the number of projects building on StarkNet in May 2022 to the number of projects building on it as of March 2023.
This is a remarkable evolution despite StarkNet as a network still not mature.
Mainnet launches
After PawaSwap, a new project is set to launch on StarkNet. Indeed, Hashstack, a sub-collateralized money market, plans to launch its Mainnet at the end of this month.
Testnet launches
The Chainlink oracle, a giant decentralized oracle network, has launched on the StarkNet Testnet to prepare for its upcoming launch on the Mainnet.
Fibrous Finance, another DEX aggregator on StarkNet, recently launched its final version on the StarkNet testnet.
Finally, the new social application, StarkNet Social, has also recently launched the testnet of its V1.
Learn about Web3
What is Account Abstraction?
To conclude this edition and make a connection with the recent deployment of the Account Abstraction on the ETH mainnet, here is an excellent article from Braavos that explains what the Account Abstraction is. A must-read for all Starknet frens!
---
We hope you enjoyed this issue, and we'll see you in 2 weeks for a new edition! Don't forget to subscribe to the newsletter. :)