💡
2/5/2021 Update: Ant Group to become a financial holding company and face every stricter regulatory scrutiny.
💡
11/3/2020 Update: Regulators have halted the HK listing of Ant. "Ant said in a statement to the Hong Kong stock exchange that its offshore share offer had also been suspended because the company "may not meet listing qualifications or disclosure requirements due to material matters relating to the regulatory interview of our ultimate controller, our executive chairman and our chief executive officer by the relevant regulators and the recent changes in the fintech regulatory environment."
Ant Group's IPO
You may or may not have heard... but Ant Group is planning to IPO as early as October (so soon!) and investors are poppin' off. Ant Group is the world's most valuable unicorn and is planning to do a dual listing in Hong Kong and Shanghai STAR market to sell at least 10% of its shares and raise up to $30 billion. To put that into perspective, last year, Saudi Aramco raised $29.4 billion, and was the largest raise in history.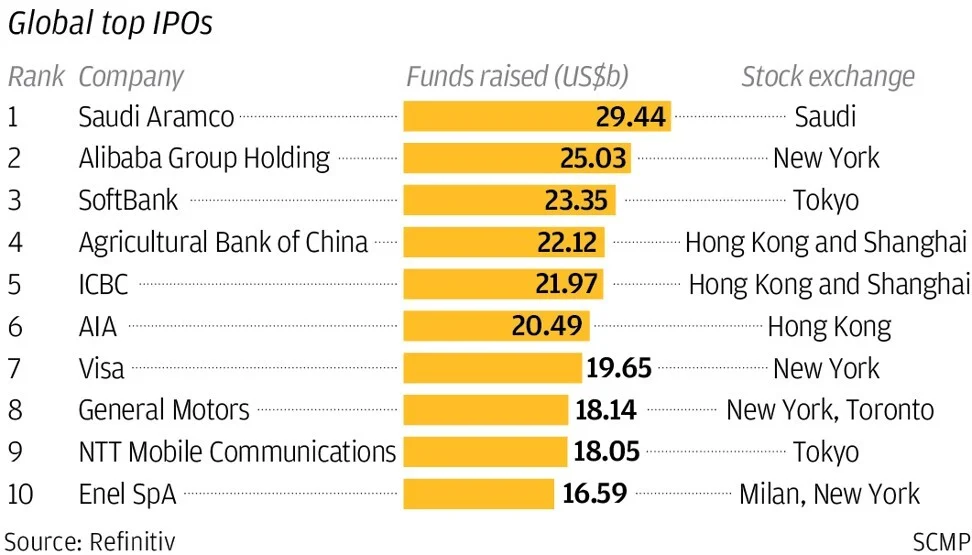 Not only that, Ant Group will be valued between $200 million and $300 million (and this is after their valuation of $150 million post their most recent round).
Jack Ma revealed that last year, Ant Group earned $2.6 billion USD in net profit, and for the first 6 months of this year has earned Rmb $21.9 billion in net profits, exceeding last year's full total. Also, over 700 million people and 80 million merchants use Alipay monthly for mobile payments, mutual fund investing, insurance, etc. Last year, Ant's revenues rose 41% yoy to Rmb $120.6 billion. Payments are 43% of their revenue, and last year (until end of June) Alipay processed Rmb $118 trillion of transactions in mainland China, and Rmb $622 billion internationally.
To put that into perspective, Visa's payment volume was $8.8 trillion for the year end to September 30. bruh.
With their pending IPO, 40% of the proceeds are expected to be used towards R&D, 30% to expanding their user base and product offerings, and 10% to building their international businesses.
So what even is Ant Group? Let's dive into their history first.
Alipay was founded in 2004 by Jack Ma, 5 years after he founded Alibaba. Trust was a huge issue for Alibaba because often customers would feel bamboozled after purchasing items as they would have payment issues, quality issues, etc. Customer confidence and quality control were huge issues. So, Jack Ma established Alipay so that buyers could pay after a satisfactory delivery. What does this sound like? Paypal.
Not only did Alipay helped Alibaba grow significantly, just in time as e-commerce was booming in China, they also helped build out the payments infrastructure. In 2010, Alipay received the official government endorsement to develop with less compliance and regulatory restrictions (lol).
Currently, Alipay has ~1.3 billion annual active users, mostly located in China but also in Thailand, India, Bangladesh, Hong Kong, South Korea, Indonesia, Pakistan, Malaysia, and the Philippines.
50% of daily transactions are free. To make this happen, Alipay takes a heavily discounted fee on the payments it executes for Alibaba. Also, Alipay pays the 0.1% fee the user's bank charges.
Thus, to make P2P transactions free and the customer experience excellent, but also not burn cash, Alipay tries to retain funds for as long as possible and earn a spread on investing it.
However, since 2017, the Chinese government started heavily regulating payments and e-commerce. Alipay now puts the funds in a low interest custodial account.
In 2014, Alipay got restructured as Ant Financial, got a license for MyBank (will talk about this later), and started promoting their money market fund Yu'e Bao.
What's interesting is that most banks create checking account services first and then move into payments as an extension. Ant did the opposite.
Ant's Major Product Offerings
Alipay

Alipay, as stated above, is Ant's payments infrastructure offering. Alipay essentially has a monopoly on payments for purchases on Alibaba, but since the government's regulations were put into place, preventing them from putting users' unused cash into payment groups to invest for their own benefit, Alipay has been largely unprofitable as a standalone business. No longer able to have this source of interest income, the payments' share of Ant's revenue declined from 55% in 2017 to 36%.
Lending (MyBank)

MyBank is their commercial banking subsidiary, and is entirely online with 0 physical branches. They give out loans to small and micro businesses, lending money to almost 1/4 of individually owned businesses in China. It earns service fees from the lender tied to the loan balances.
Lending is their largest revenue driver. Last year their revenue grew 87% yoy to Rmb $42 billion. In fact, in the past 12 months, ~500 million customers took out loans through Alipay. Coronavirus, however, has caused delinquency rates on loans to spike.
They employ a 310 lending model, which "enables borrowers to complete loan applications online in three minutes, obtain approval in one second, and with zero human intervention".
On the consumer side, they offer Huabei and Jiebei; Huabei is for POS (point of sale) loans, and Jiebei is for personal unsecured loans.
Ant works with many banks to make MyBank work, and is able to offer the banks huge reach and asset diversification in order to make these consumer loans seamless.
As a side note, AntBank (Hong Kong), the virtual banking arm of Ant Group, on 9/28/2020, said they'd partner with AlipayHK to tap into 2 million more users and open more virtual bank accounts. Ant Bank is offering a 2.5% interest rate for deposits up to HK $20,000 and 1% for deposits HK $20,001 to HK $500,000. Traditional lenders offer almost 0 interest on savings accounts. They also plan on introducing digital trade finance services for SMEs.
Wealth Management (Yu'e Bao)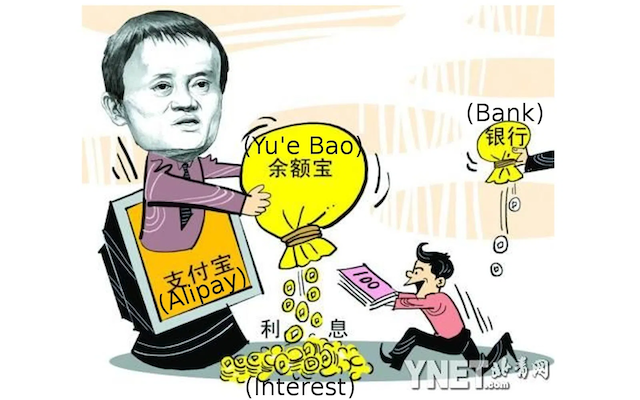 Yu'e Bao started in 2013 and now has over 600 million users. The idea is that customers invest piles of cash growing in their Alipay accounts and reap returns.
Tianhong Asset Management, a subsidiary, used to invest all this money and was the world's largest money market fund. However, in 2017, as regulations hit, Tianhong had to shrink the amount each user could invest.
Now, Ant partners with hundreds of financial service providers to invest users' money. This is actually beneficial as it creates a symbiotic relationship with other banks. Ant earns a small commission on the money its users invest, ~0.17% based on AUM, whereas the usual rate is 0.26%. Economics are indeed in favor for Ant, giving it a huge amount of market power.
Yu'e Bao is is still the largest online investment services provider in China by AUM, with Rmb $4.1 trillion invested through its platform through 6/30/2020. It's at the point where a wave of withdrawals would create a huge shock to the financial system.
Sesame Credit (Zhima Credit)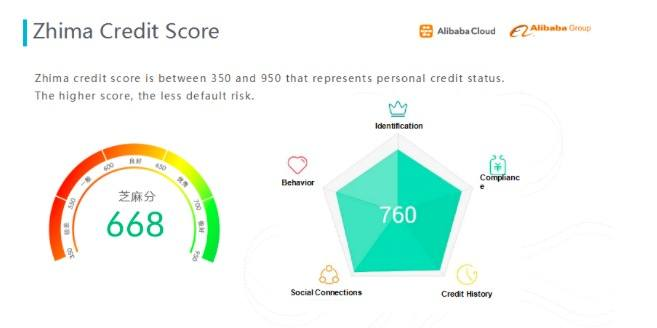 Zhima credit is Ant's credit scoring system aka their FICO. They use public data and alternative data e.g. money transfers, shopping activity, etc. to generate credit scores.
This gives customers a credit score to use towards renting bikes, booking hotels, borrowing portable phone chargers, all without deposits. Sometimes, you don't even need to apply for a visa to visit certain countries with a good enough Zhima credit score.
Zhima credit scores funnel into MyBank, to give small ticket loans to consumers and small businesses. They are still currently facing difficulties with Zhima as they try to make it a reputable trust score.
Huabei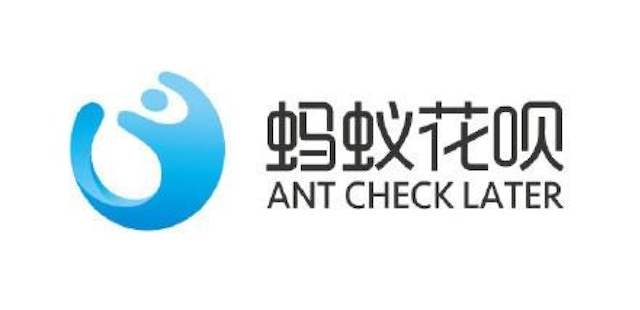 Huabei is a consumer credit platform for consumers to buy now, and pay later, aka their Klarna or Affirm. Consumers have up to 41 days to delay their payments, free of charge, and with 12 month installment services. Of course, there are fees if you are late.
There is also an enterprise solution recently launched called Payment Terms, which is the same 'buy now pay later' idea, but for up to 60 days after businesses receive their invoice. Contracts are custom made with sellers, and usually require ~30% deposit. This is great because it allows businesses to free up cash flows to run their business.
Insurance (Xiang Hu Bao)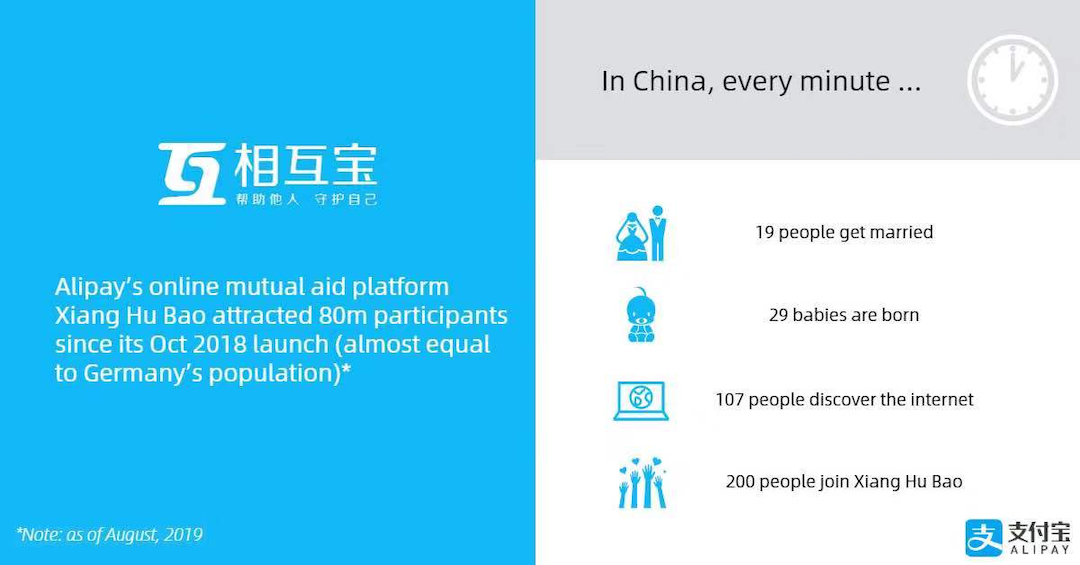 This is a basic health plan to protect participants against ~100 critical illnesses. All participants share the expenses and risks; blockchain technology is used to ensure claims are transparent.
This product earns fees on percentages of premiums and contributions that users pay to the insurance firms distributing the products. Xiang Hu Bao has partnerships with ~100 insurance companies.
Although right now Xiang Hu Bao is just ~7% of revenue, it is growing at 107% yoy. It has huge upside potential given how insurance penetration right now is quite low in China and Xiang Hu Bao has large margins.
Future Innovative Initiatives for Ant Group
Their cross selling is nearly perfect. In fact, "the vast majority of Ant Group's digital payment users are also digital financial services users." The company has also said that 80% of customers use three or more financial services, and 40% use all five services.
Ant recently rebranded to Ant Technology to more broadly encompass not only the financial services they offer but also the non financial related tech offerings. They plan on opening up their ecosystem to local services such as food delivery, medical services, transportation, etc.
Amid the COVID-19 outbreak, Alipay introduced a new incentive program to encourage developers to create programs to help users cope with all the side effects of being quarantined, world suffering, working from home, etc. Within a week, >1,200 developers created 181 mini programs to enable contactless services across China e.g. grocery deliveries, legal and medical advice, etc. A medical consultation service offered by AliHealth received 700,000 daily visits on average! Beijing-based grocery startup Meicai, which connects farmers with consumers and restaurants, launched a program that attracted >800,000 new users from over 80 cities in China.
Alipay has a plan to work with 50,000 Independent Software Vendors (ISVs) to help 40 million service providers digitize their operations and increase efficiency to reach more customers by 2030. These ISV's will package Alipay's technologies to specific use cases and scale. Considering how China's service industry contributed ~59.4% of GDP growth in 2019 and how this sector mostly relies on brick-and-mortar traditional business models, digitizing them could greatly improve the customer experience and give the businesses a chance to grow even more. Plus, according to the China Internet Network Information Center, 99.1% of Chinese internet users went online via mobile devices in 2019, compared to just 24% in 2007. Everyone. Is. On. Their. Phones.
They also plan on creating a 'superapp'. Basically, you will live your life through this app. It is simultaneously terrifying and exciting.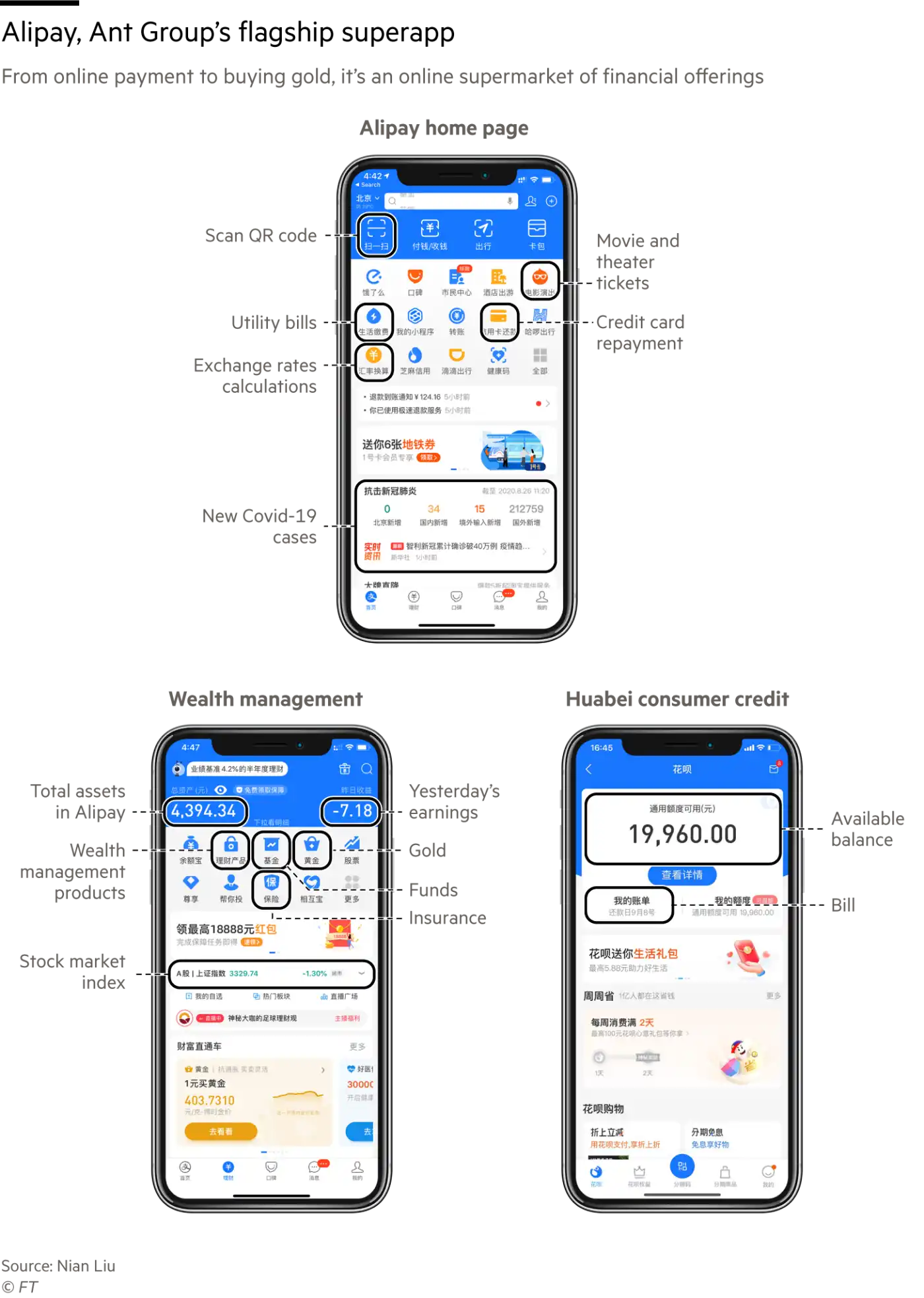 Ant Group's Blockchain Technologies and a National Digital Currency... Is it Possible?
AntChain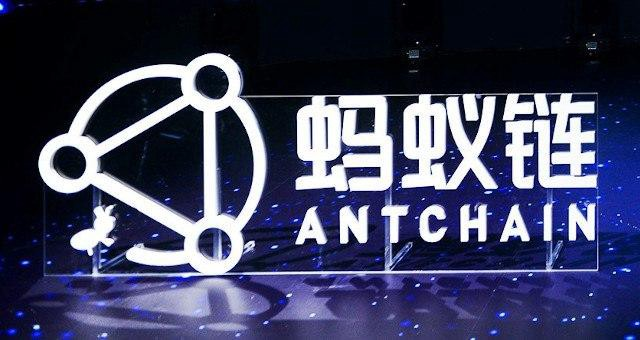 Only July 23, 2020, Ant Group launched AntChain, a new technology brand for the Company's blockchain-based solutions. Ant Group has been investing in blockchain technologies since 2015 and now has the largest productivity blockchain platform in China. It can support 1 billion transactions for up to 1 billion accounts per day (wild!). Over 100 million digital assets are uploaded onto AntChain on average every day!
Ant Group also revealed AntChain Station. AntChain Station is the size of a laptop and is an all-in-one workstation that reduces deployment time for the Company's blockchain-based solutions by as much as 90%. This means that enterprise clients can set up AntChain in under an hour, which is obviously much lower than the previous average setup time of 10 hours. Ant Group also now has a strategic agreement with Dell, HP, and Lenovo to make IT leasing services more accessible for SMEs through AntChain.
Overall, Alipay has the most blockchain patents worldwide with 212 patents as of 5/14/2020.
Other Alipay Blockchain Case Studies
This isn't the first time obviously that Ant Group has dabbled in blockchain - in 2018, Ant Financial launched a blockchain-based electronic invoice platform together with Guangzhou Tax Service to reduce the number of fake invoices and increase financial auditing efficiency.
In 2019, Telenor Microfinance Bank, in partnership with Valyou of Malaysia, introduced Pakistan's first blockchain-based cross-border remittance service, powered by Alipay's blockchain technologies. Alipay's technology significantly boosted the speed and efficiency of remittances from Malaysia to Pakistan as well as increased the security and transparency of transactions while protecting users' privacies. For Pakistan, this was game changing as home remittances at that point in time contributed to over 6% of their GDP, or over 50% of their trade deficit, 85% of exports, and over 1/3 of imports during fiscal year 2017-2018.
In general, remittances are a huge market for blockchain as there are millions of people every year that need to transfer money across borders quickly, and don't wish for banks to keep charging high fees... London based Transferwise is currently worth $5 billion dollars, has hit their fourth year of consecutive profitability, has 8 million worldwide customers, and has processed over $42 billion euros in cross currency transfers. APAC is their fastest growing region... what if blockchain was more widely implemented in not just this market but more? Many companies are currently working on this...
People's Bank of China's Digital Currency Electronic Payment (DCEP)
The People's Bank of China is also currently developing Digital Currency Electronic Payment (DCEP). They've been working on it since 2014 with formal launch expected to be around the 2022 Beijing Winter Olympics.
DCEP is not a "true" cryptocurrency as it is not fully decentralized - DCEP is designed to be sovereign issued and centrally controlled. It will never be mined by third parties but will be available through a 2 tier system where the central bank issues to commercial banks, to distribute to wallet holders. What does this sound like? Facebook's Libra... except officially sanctioned, of course.
Coins and notes will be sucked out of the financial system as banks swap cash for DCEP to exchange with the public, with the long term goal of replacing cash in the economy and reducing reliance on Alipay and Tencent.
Digital currency obviously sounds a lot easier to distribute than circulating paper money. What it also is, is easier to trace and track. The government will have greater control and policing of the financial system.
While this sounds very "anti everything blockchain technologies and crypto" stands for, I do think that steps like these do need to be taken in order to get closer to the "decentralized ideal". This ideal may never be possible in China, but what DCEP can allow is increased access and financial support to everyone. Alipay and WeChat Pay require bank accounts to tether digital wallets, but with DCEP, users can own currency without bank accounts. This brings in all the unbanked... which could be hundreds of millions of people. According to the World Bank, in 2017, ~250 million people in China did not have bank accounts. Besides increasing national access, DCEP will allow transactions to be completed even without internet, aka offline payments. As current solutions like Alipay and WeChat Pay all require internet connection.
So what does this all mean for us?
Ant Group is like Paypal + Apple Pay + Venmo + FICO + Lending Club/Upstart + insurance + some form of Libra + Varo + Klarna + more.
The Monetary Authority of Singapore (MAS) and the state investment firm Temasek have been working on Project Ubin, a blockchain based multi currency payments network, since 2016. The network has proven commercial potential after testing with over 40 companies already. The success of this initiative will allow central banks to build better cross border payment networks.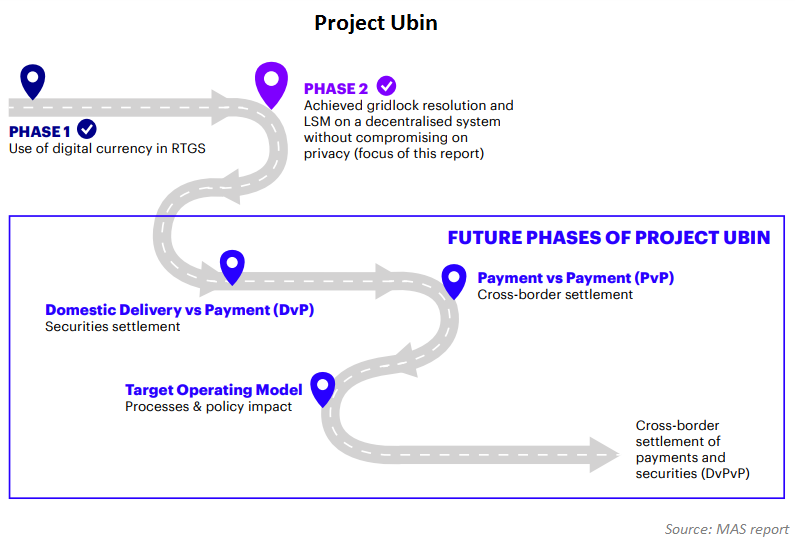 And ok honestly in my opinion the US has severely and consistently lagged in payments related fintech technologies. Even the mobile first banking options or investing options or neobanks that were initially very appealing several years ago to Gen Z and subprime customers due to low costs, lower credit limits for loans, fancy UI, is phasing out due to legacy fintech offerings improving their mobile offerings as well and offering features such as fractional share ownership. Thus, these mobile first neobanks are turning towards business model innovations such as charging overdraft fees, which yes, is exactly against everything they are supposed to be standing for. They should be looking more towards product innovation - a good product delivering a strong value proposition with a low cost infrastructure will be profitable either via subscription fees or cross selling customers across insurance, remittances, etc instead...
Ant Group succeeded by mastering the Chinese market, and then scaling outwards. Their timing was also aligned with the rise of the middle class tourism boom in China - integrating foreign merchants into Alipay as well. This toehold was critical to their global success today. Of course, this is all taking into account their first mover advantage as they were one of the first in the digital payments space in China over a decade ago.
Ant Group is more and more impressive the more you dig into it. I'm intrigued to see what comes next for them and how they will push the world's payment/banking technologies forward and expand into other markets as well (and with other countries developing extremely impressive disruptive technologies!).
To compare them with the US or other countries would be the same as comparing apples to oranges due to the incredibly different markets and government structures. However, one consistent theme globally is that fintech is being embedded into every layer of products. Not only is this taking place in China such as with Didi Chuxing ride hailing, JD.com e-commerce, and Xiaomi smartphones, but also in the US such as with Uber, Affirm, Gusto, etc. Overall, this is a great first step and I'm very optimistic and excited to see what will happen next!