Updated in February 2023
I've been following Square for a number of years, due to my fairly obvious interest in fintech and particularly payments. Square is considered one of the "new" players in SMB commerce payments, after Global Payments, TSYS, FIS, Fiserv, etc.
In December 2021, Square rebranded to Block, with Block being the name of the corporate entity, and Square being synonymous to its seller business only. Since then, Block has also grown to encompass not only Square, but also Cash App, and other emerging ecosystem players such as its acquisition of TIDAL, and new bitcoin products/teams, Spiral and TBD.
TL;DR Block is cool af, a behemoth business that continues to grow rapidly year over year, and one that I don't think will actually become obsolete and clunky in the years to come (it will actually be the opposite...). Particularly I am interested now in Cash App and the new crypto offerings in the pipeline, and I also personally identify with their mission of economic empowerment and increasing accessibility to financial products.
Square
Square has been around since 2009, and now has 30+ software and hardware products that are primarily self-service and supposed to create a seamless experience across business, customers, employees, etc. Monetization occurs via recurring and transactional fees.
Cash App
Cash App was founded in 2013 but really only expanded beyond its common use cases of grooming in 2015 / 2016. Since then, it has refines its product to become competitive to similar products such as Venmo (and surpassing it), launching several new products, and creating a whole culture / community around it.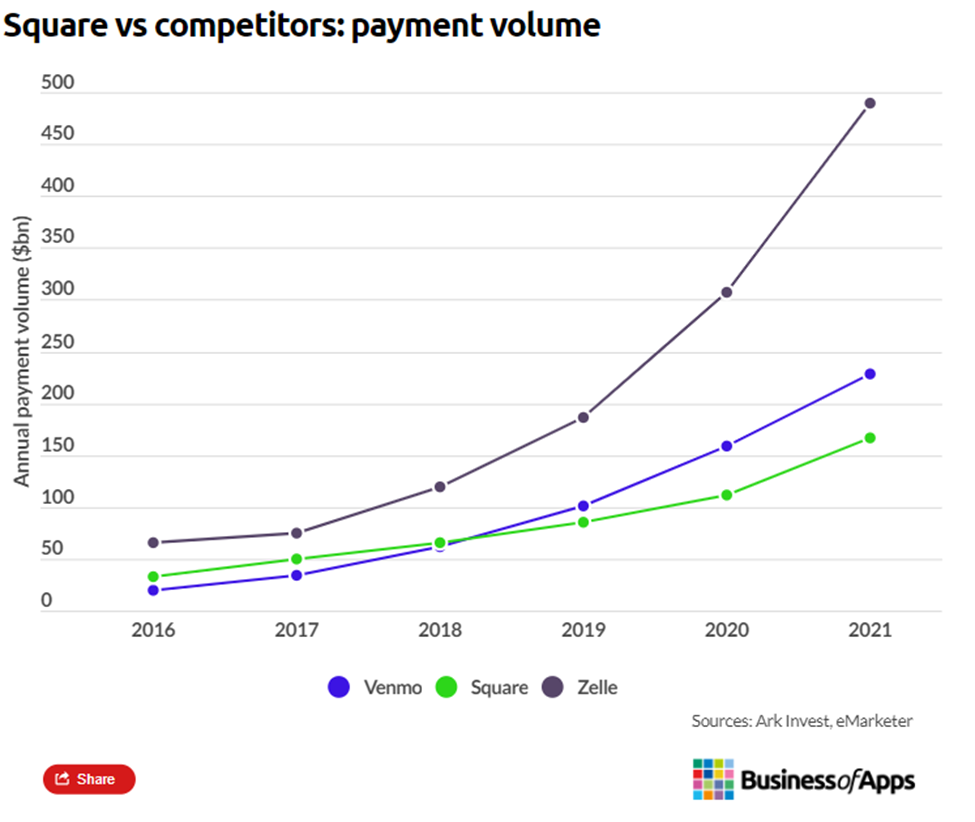 Functions
Send: Fiat & Crypto. Even hold your funds

Bank: Direct Deposit (the ultimate game changer for any fintech), taxes

Spend: Cash App Debit Card

Invest: Stocks and Bitcoin, even fractional. Cash Boost, a rewards program.

Save: Savings program, can round up as well

Lend: Up to $500 loans
Monetization
Inflows for Cash App occur via checks, deposits (fiat & crypto), taxes, physical money, and outflows occur via instant deposits, the Cash App debit card, P2P transactions, ATMs, bitcoin, and stocks. Cash App monetizes on paper deposits, instant deposits, ATM transactions, bitcoin transactions, P2P transfers, and their Cash App debit card.
Cultural Movement
So how did Cash App suddenly become so relevant? The origins of its popularity explosion started really in the South, particularly Atlanta, where it really engrained itself in hip hop culture. In fact over 200 artists have mentioned Cash App in its lyrics. Since then, Cash App has partnered with influencers and celebrities to embed itself into communities of fans and users.
In 2020, Megan Thee Stallion gave away $1 million in Bitcoin, and then $1 million in stock in 2021. Lil Nas X also gave away $1 million in 2021. Cash App also sponsored the 2022 Bitcoin conference, and has an incredible presence on Tik Tok partnering with influencers.
Network Effects & the Organic Flywheel
When Cash App launched its #cashappfriday giveaway, it immediately took off. These giveaways exponentially increased user adoption and engagement. Furthermore, Cash App has created a sense of community where you can see what your friends and others are spending on (I am guilty of this...). Inherently, people want to use fintech products and apps that their friends are using, otherwise there is no point in being the sole user of an app. Thus, it is clear that for Cash App, these marketing tactics, partnerships, and community building has created tremendous network effects, with dividends paying off year by year. In fact, Cash App's CAC is around $5 whereas the average bank's CAC is several hundred, if not a couple thousand dollars.
Given how each generation is increasingly digitally native, the need for a formal bank account is reducing year by year, and the desire to have a flexible and easy to use digital wallet increases (to be clear, Cash App is NOT a bank). All of the points above help Cash App maintain and improve its differentiation all while scaling. And above all, remain in line with its mission of economic empowerment and improving financial literacy.
And all of this shows up in its financials. Excluding all bitcoin-related revenue, Cash App revenue increased 50%+ YoY due to increasing number of Cash App accounts, related transaction fees, and BNPL.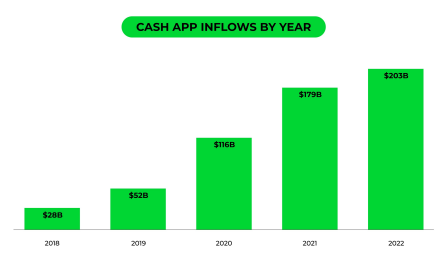 Spotlight on Cash App Bitcoin:
It started off in 2018 as an exchange and custody solution aka on and off ramp. Since then, they now provide features such as custom limit orders, automatic buying, converting direct deposit paychecks, and rewards.
Given Block's investment into a whole team called Spiral and TBD (see below), they're clearly bullish on the bitcoin network and bitcoin as an asset. They integrated with the Lightning Network last year, an L2 that helps enable bitcoin transactions with Block to be extremely fast, with very small to no fees. All of this in line with their mission...
In 2021, 56% of Block's revenue was solely from Bitcoin, and in 2022, it is looking to be the largest revenue line as well. While this number is heavily impacted by market and price volatility, it is nonetheless proof that the demand exists, will grow into the future, and should be treated as almost its own product line and a major top line contributor. One thing to keep in mind is that while the top line is very large, the gross profits were only 3-5%. Given the low margin profile, I presume Block will continue to grow their bitcoin revenue as a driver for other more high margin portions of their business, and/or eventually pursue a way to increase the margins.
Statistics
51 million + MAU across US and Europe

#1 finance app in iOS App Store and Google Play, something that has held for a couple years now at this point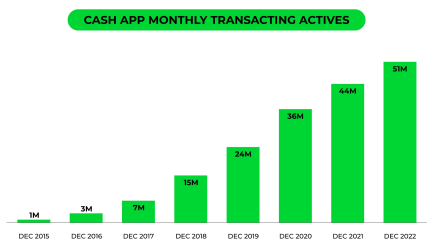 BNPL / Afterpay
In January 2022, they also acquired Afterpay, a BNPL platform, uniting Block's Square ecosystem and Cash App ecosystem. Now, Cash App customers can pay merchants online and offline, with some Square sellers able to use Square hardware to accept cash app. Given how COVID-19 propelled the trend of contactless payments forward quickly, it's incredible that Square / Cash App actually were able to adopt and execute upon it (clearly I have a low bar with American businesses and innovative payments technology...).
TIDAL
The TIDAL acquisition was completed in 2021, with the similar purpose of economic empowerment, but for artists. Purchased from Jay-Z, TIDAL offers a catalog of 90+ million songs and 450k+ videos, with listeners across the globe, and extensive relationships with labels and distributors.
Bitcoin Ecosystem
All Bitcoin related projects align with Block's goal of economic empowerment, but via a decentralized world. As a crypto believer and advocate, I absolutely love that they are doing this, and believe that now is actually a great time to really build in the space. Given Block's resources and the "crypto winter", investing time into this now with the world moving into a direction of greater decentralization will position Block very well once another crypto boom hits.
Spiral
Cash App offers the ability to transact in bitcoin, but Block also includes Spiral, an independent team focused on bitcoin open source work.
TBD
Block also includes TBD, a bitcoin focused business, established to build an open developer platform for non-custodial, permissionless, and decentralized financial servics.
It's clear that the rebrand into Block was to create a sense of an ecosystem, or become a complete financial OS for the user. I am sure there are many more applications, products, and features down the line, and I am so excited to see what the company comes up with.