Back in the day, aka ~2010s, e-commerce penetration in the US was only 8%, versus China and South Korea were around 12%. The landscape was dominated by huge institutional players, with old and expensive software such as Oracle and Salesforce. Enterprise businesses created highly customized products with very long sales cycles and implementation timeframes.
Then, big marketplaces entered and highly democratized e-commerce for both merchants and customers e.g. Amazon, Coupang, Flipkart, Alibaba. As time went on, more marketplaces joined the party, and merchants realized that they wanted to go solo and set up shop on their own to own more of the customer experience, lower CAC and increase LTV, and own more of the profit margin. The SMB/mid-market landscape exploded, and so did D2C. With this, became clear that investors should look further down the value chain beyond the application layer into e-commerce infrastructure such as banking, payments, cart conversion, logistics, etc. Many aggregators emerged such as Moonshot, Thrasio, etc.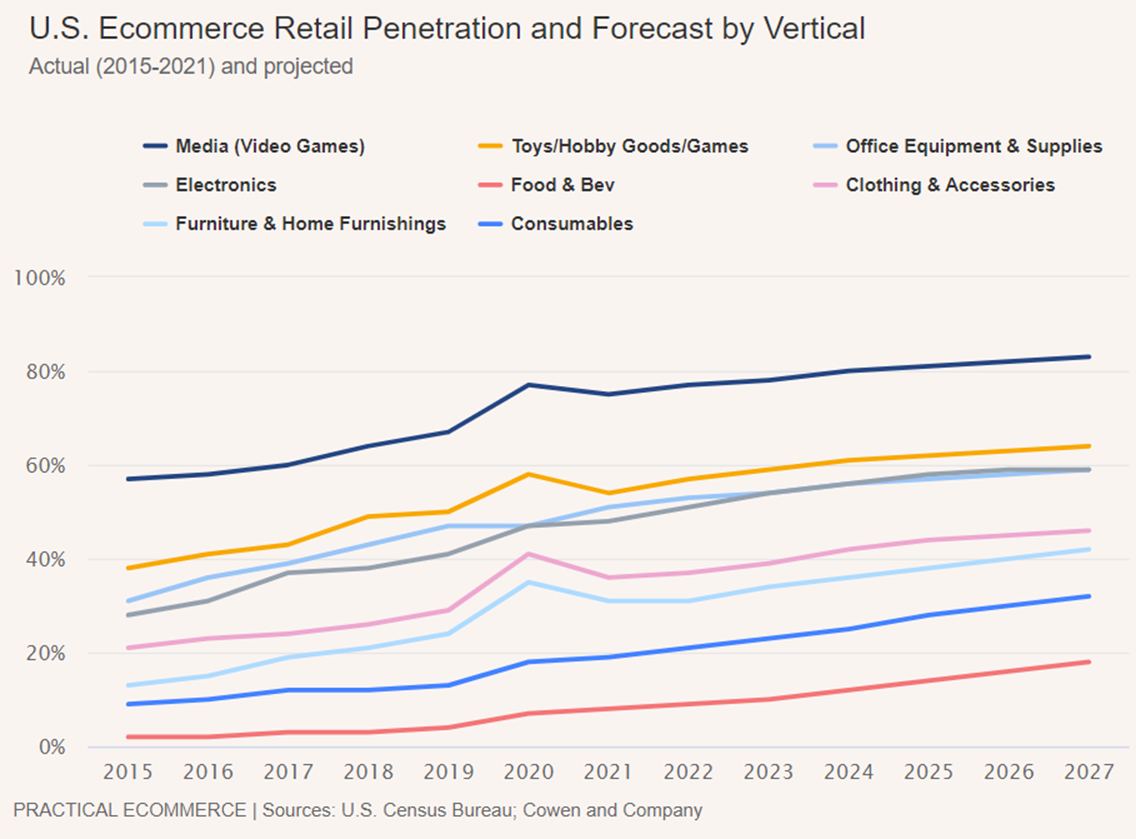 Then, the pandemic hit. E-commerce topped $1 trillion in 2022 for the first time, a record high. Penetration was ~24% of total retail growth. It took 10 years for e-commerce to go from 6-16% of retail sales. But in 2020, in just weeks, it gained another 10%!
Now that we are living in a "post-pandemic" world, e-commerce activity has normalized to "pre-pandemic" levels. Also, interest rates have been rising, and we are potentially heading into a recession.
What does this mean for e-commerce?
Before COVID, D2C was already hitting a point due to the crazy saturation of the space leading to rising acquisition costs. Regular shmegular methods such as Google / SEO / Facebook were not cutting it anymore. Omnichannel was table stakes. Being on major marketplaces is table stakes too. With declining consumer spend, merchants were seeing excess inventory and selling it off at steep discounts. Every step of the chain from sourcing to customer to post-purchase is not only more competitive but more expensive, cutting further into their margins.
The vast majority of merchants aka the long tail, are still patch-working together point solutions, and overspending on fulfillment / logistics, mismanaging inventory and working capital, and creating liquidity issues, which is a death sentence. Those that can cut out what is not necessary, be agile, focus on the bottom line, will survive. Also, e-commerce enablement products will consolidate, and only those focused on increasing ROI will survive.
I'm excited about companies that help businesses better manage their balance sheets (working capital, logistics, etc.).
Other than that, I'm also excited about some of the themes below.
Livestream
Examples: Popshop Live, Talshop, Whatnot, Drip, Shops, NTWRK, Loupe, Yes (acq. by Pinterest)
sellers drive traffic to the site and leverage existing platforms

proven and MASSIVE in China ($550 billion market in 2022)

leverage influencers and celebrities

Kylie Jenner, Jessica Alba, Hyda Kattan, Rihanna, Selena Gomez

here in the US: Tik Tok, Instagram, Youtube Shorts
Fintech / Payments
Examples: Bolt, Rally, Catch, Accrue Savings, Ampla
new financing methods for merchants to reduce intermediaries and customers to have a seamless no touch experience (one click)

BNPL is under heavy scrutiny

ways for businesses to get debt to sustain operations
Sustainability / Climate
Examples: Aspiration, Pachama, Patch, Everlane, Allbirds
customers care about where their products are coming from, they care about their carbon footprint, and they care about the planet

transparency is key and necessary
Wholesale
70% spend goes through some sort of b2b distribution at some point

huge untapped market
Brick & Mortar
Examples: Leap
helping e-commerce businesses set up a brick and mortar shop as people go back in person

Some products are better sold with an in-person experience, and the way to do so has large barriers to entry
Web3 / Crypto
Examples: Lolli, Glow Labs
NFTS - digital tokenized versions of the product you buy

Shopify allowed merchants to list NFTs on their storefronts

Metaverse brands such as RTFKT (acq. by Nike)
Post-purchase experience
Examples: Malomo, Kale
retain customers, drive loyalty, drive repeat purchases, at a lower cost
Shipping / Logistics
Examples: Shippo, Okendo, Shogun, Shipbob
I could go down every step of this so I don't want to go too deep, just mention it because it is obviously important
Micro-influencers / Everybody is an influencer
Examples: Grin (managing partnerships)
influencer marketing market grew from $1.7bn in 2016 to $13+bn in 2021

as the influencer market saturates, everyone needs to find a niche. In the niches, audiences trust those that lead in them. Democratization of power from big celebrities to the everyday person

Microinfluencers have better engagement and economics, and are cheaper for merchants

Glossier was a huge success story
Honourable Mentions
Proptech (democratizing real estate investing) e.g. Pacaso, Arrived

HR solutions given high number of part timers

VR / AR / AI - rise of personalized recommendations