Ducky x Varmilo Miya Pro Sakura Edition Mechanical Keyboard
What is a mechanical keyboard again?
These keyboards use mechanical switches to register keystrokes instead of a rubber pad on a printed circuit board. They are super satisfying to use and tend to be more durable.
This is a limited edition collaboration between two big shots in the mechanical keyboard world!
Ducky is based in Taiwan and Varmilo is based in China. This keyboard was constructed by Varmilo in China.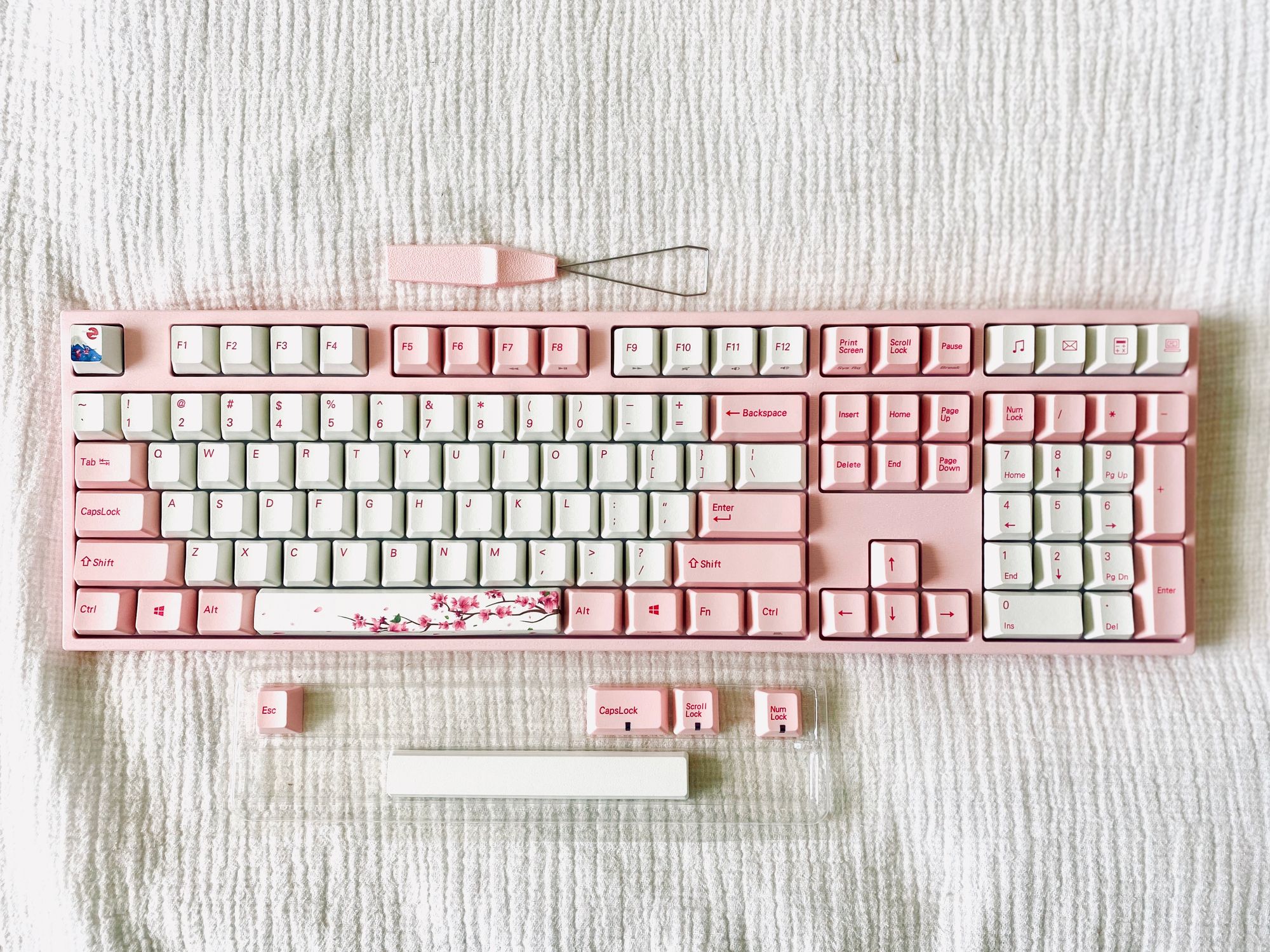 May 7, 2020
What it comes with:
Pink wire keycap puller

Pink USB-C cable with matching cable strap

Extra blank white spacebar, escape, and caps lock

Extra keycap with a painted mountain
Casing
The case is made from pink PBT plastic with a slightly textured surface so it doesn't pick up fingerprints. PBT just means that it is durable and hard and that it is less likely to be shiny over time. There is a slight inclination if you look at it from the side profile with a slightly curved top edge.
On the bottom there are rubber feet so it doesn't slip and slide and also 2 flip up feet. The rubber is also pink!
On the side there is a UBS-C port. On the inside there is a steel plate so even though the casing is plastic, it is quite hefty feeling.
Switch
You can usually choose which switches you want. Mine has Cherry MX Brown switches. There are usually 3 types of switches: linear, tactile, and clicky.
I've been typing on this keyboard and it feels tactile, buttery and springy. The sound is in between a loud click and a super quiet keyboard. It is definitely still audible and very satisfying. Perfect for office use or at home.
Range of Cherry MX switches
‣Cherry MX Blue
‣Cherry MX Brown
‣Cherry MX Red
‣Cherry MX Black
‣Cherry MX Clear
‣Cherry MX Green
‣Cherry MX Speed Silver
‣Cherry MX Silent Red
Keycaps
The keycaps are very standard and quite easily replaceable. They are Cherry profile keycaps. They are also dye sublimated (inked through the plastic) with the pink legends so they will be durable and long lasting.
They are also made from PBT plastic and feel slightly rough to the touch.
Lighting
It is darker/stronger pink than the rest of the keyboard and you can set it to many modes: constantly on, breathing mode, increase and decrease the brightness, or even create your custom lighting profile! It sort of is an under-glow because these keycaps are not backlit. It's quite neon so I don't anticipate using this a lot unless I want to jazz up my life when I get bored.
My Thoughts!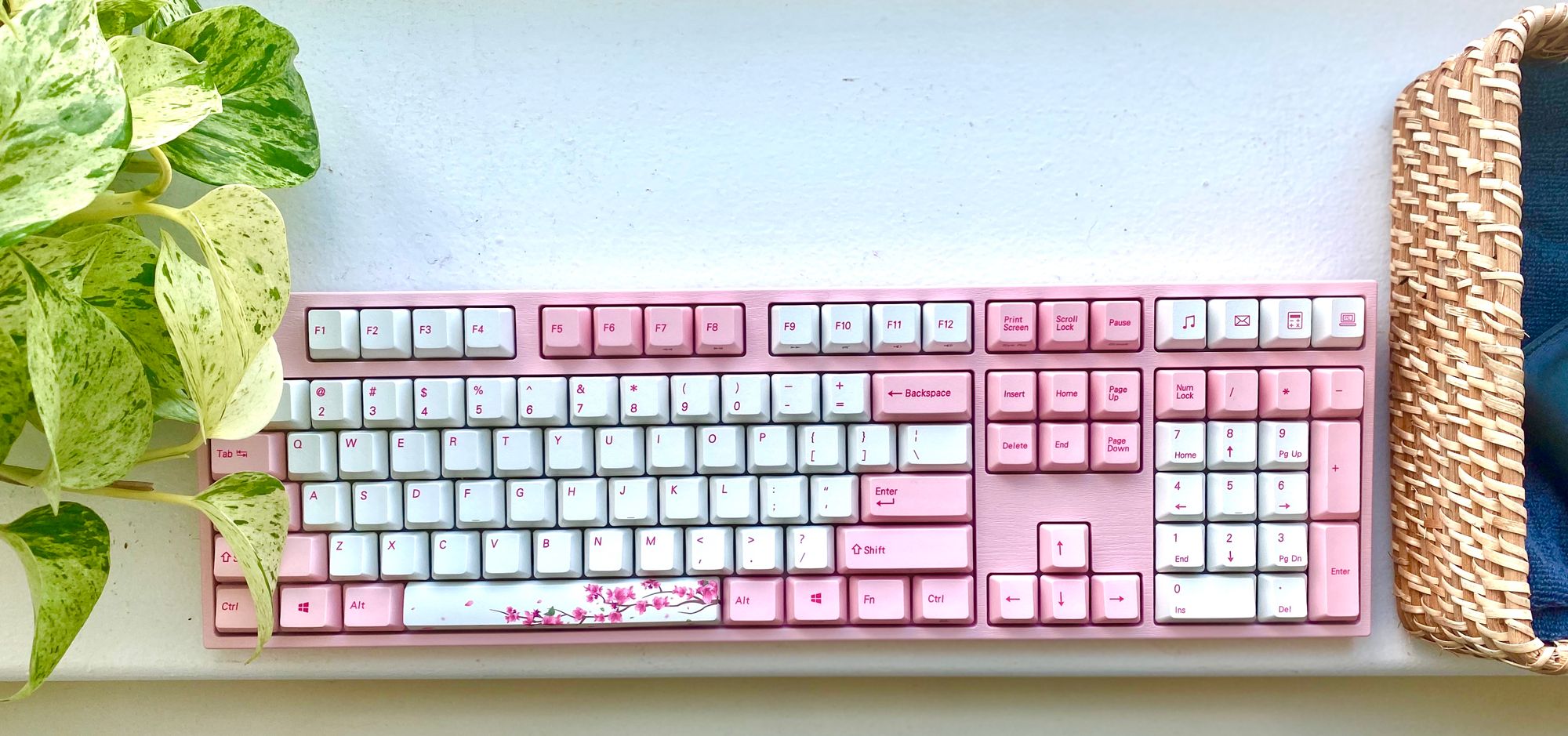 To be honest when I spotted this keyboard at first months ago I really liked it but thought there might be a chance that it would look tacky instead of cool, as the color pink, even though it's my favorite color, can really swing either way. Turns out this is a BEAST KEEB! I like how only the modifiers are pink. I also really like this shade of pink. I am undecided on if I like the sakura spacebar and may replace it with the extra white spacebar in the future. However, it is actually painted very intricately!
My keyboard is a full size which means it has the number pad and function row keys on top. Perfect for me because I'm going to be a banker. I already connected this to my Macbook because I hate the Macbook keys. They're too shallow and unsatisfying to use. I type a lot and absolutely love the sound (I used to do typing tests online for fun because I liked the desktop computer my parents had at home) so I am beyond excited to use this and customize this. There are some keys that aren't functional right now so I plan on programming them into shortcuts I can use. I also can't wait to set my F2 with my artisan keycap (Pillars of Miami) that I bought from gothcaps months ago.
I feel super blessed that this is my first mechanical keyboard and that it was a graduation gift (ty duong <3)!!! I'm about to carry my keyboard with me everywhere. This my baby!
Footnote
There is a TON of information about mechanical keyboards and I am still a noob and learning. I've included some links below if you want more information.
Resources: