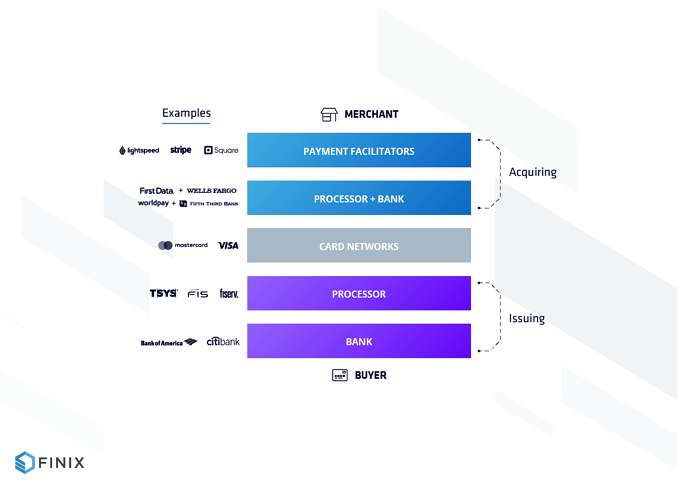 Issuing
Issuing Banks
Issues cards to consumers on behalf of card networks like Visa and Mastercard

Bear the risk for transferring funds to acquiring banks, liable for consumer purchases, has all the checking and savings accounts information

Revenue earned based on consumer behavior and spending
Issuing Processors
TSYS, FIS, Galileo

NOT payments processors

Approves and declines transactions in real time
Acquiring
Acquiring Banks
Gets information from issuing banks about transactions

Gets funds too, transfers them to merchant's bank
Payment Processors
Does all the heavy lifting to help underwrite, pay / transfer funds, manage risk and disputes
Payment Facilitators
Comes in many names like PSPs too. Check Visa and Mastercard definitions

Aka aggregator / master merchant

Basically like a big merchant that can underwrite sub-merchants, process transactions, manage disputes, and manage fund transfers for their sub-merchants

Revenue potential dependent on monetizing the payments stack. Opportunity from onboarding to bps / transaction to risk management to speed

We see a lot of specialized payfacs now for different verticals like restaurants, spas, etc.
Classifying as a processor or payfac is kind of wishy - washy. It depends on how much of the stack economics you own. E.g. Stripe, Square, Helcim, all have back end acquiring banks but they own the majority of the economics so they're considered processors. But they all use a Wells Fargo / Elavon / etc.