AIRDROP opportunity with upcoming Binance launchpad project SPACE ID
$ID Airdrop S2: Confirmed!
Eligibility: Just 2 steps to complete
$ENS Airdrop was a big success, if u missed it, don't miss this
𝟏𝟎𝟎,𝟎𝟎𝟎,𝟎𝟎𝟎 of free money coming
---
Good Morning!
Delivering interesting content every single week on Web3, Security, AI, Crypto, NFTs and DeFi.
It's FREE, Takes less than 5-minutes to read, and you are guaranteed to learn something.
Subscribe to get valuable Web3 News and Insights every week to your Inbox!
---
This Newsletter covers:
What is SPACE ID PROTOCOL $ID ?

Hype for SPACE ID in Web3?

Details on Airdrop Season 1

How you can qualify for Season 2

How to buy .arb and .bnb domains?

How to set Primary Space ID Name?
---
- One stop web3 domain & identity platform
- A platform for discovering, registering, trading, & managing web3 domains of .eth, .arb & .bnb
- Provides a multi-chain name service, Anyone can easily create & manage a web3 identity
- The total supply of $ID is 2,000,000,000.
- Official contract address (ERC20,BEP20) 0x2dfF88A56767223A5529eA5960Da7A3F5f766406
- SPACE ID launched .bnb domain name service in Q3 2022
- Within 6 months, .bnb gained over 447K registrations & 257K unique holders
- Successful integrations with over 100 leading projects & protocols, including BscScan & Trust Wallet
- Teamed up with ARB ID & within a few weeks of launch, .arb had amassed over 95K registrations & 71K unique holders

Airdrop Season 1:
- 10% of the total token supply is reserved for the Community Airdrop
- 21% of the Community Airdrop (2.1% of the total supply) is eligible for claiming by early adopters at the time of trading on Binance.
- Launchpad - https://launchpad.binance.com/en-IN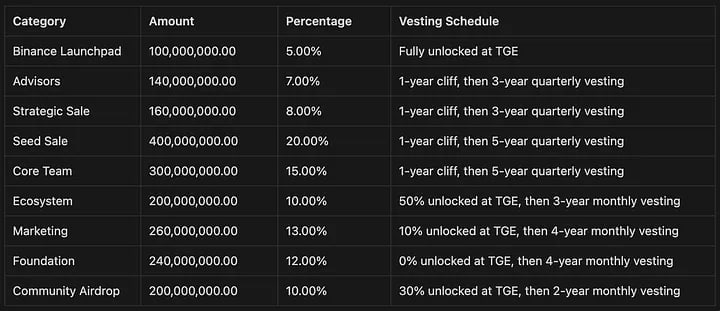 - The snapshot of early adopters has already been taken
- The distribution details of the Airdrop will be revealed by SPACE ID PROTOCOL in next few days
---
---
Airdrop Season 2:
- The 2nd season of the SPACE ID Voyage is coming soon
SPACE ID Early Adopter Airdrop & Voyage Season 2. (blog)
TO QUALIFY:
- You must register a .bnb or .arb domain & set up the primary name to participate in the upcoming season
- Setting up a primary name is important
How to buy domains on SPACE ID?
- Go to https://space.id and connect your wallet
- Search your desired domain
- Click on it ( If unregistered) (e.g. kazani.bnb)
- Then just request for no. of years you want the domain for and register it.
How to set Primary Space ID Name:
- To se your primary name, simply go to "My Domains" & click the edit buttons in the "Primary Names" section located in the top right corner.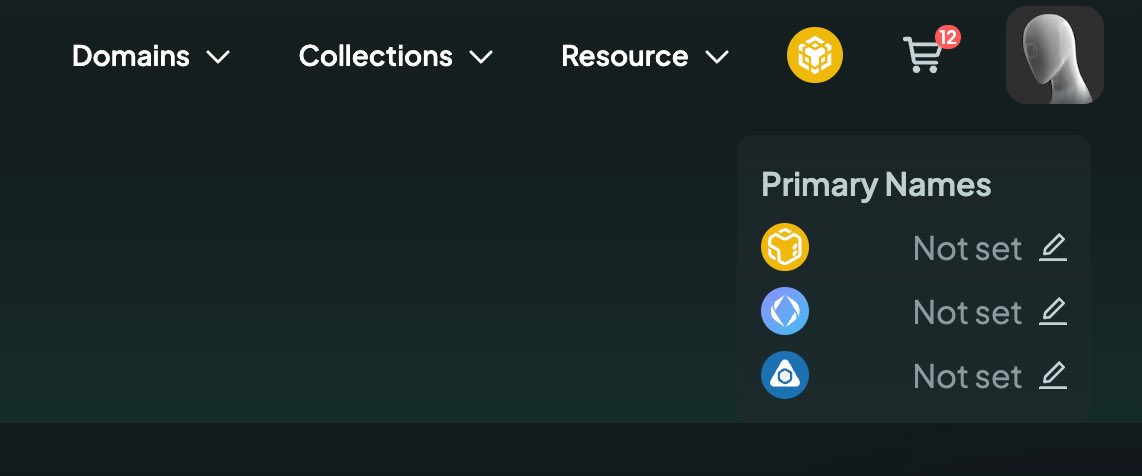 - You must set the record address for your domain before you can make it your primary domain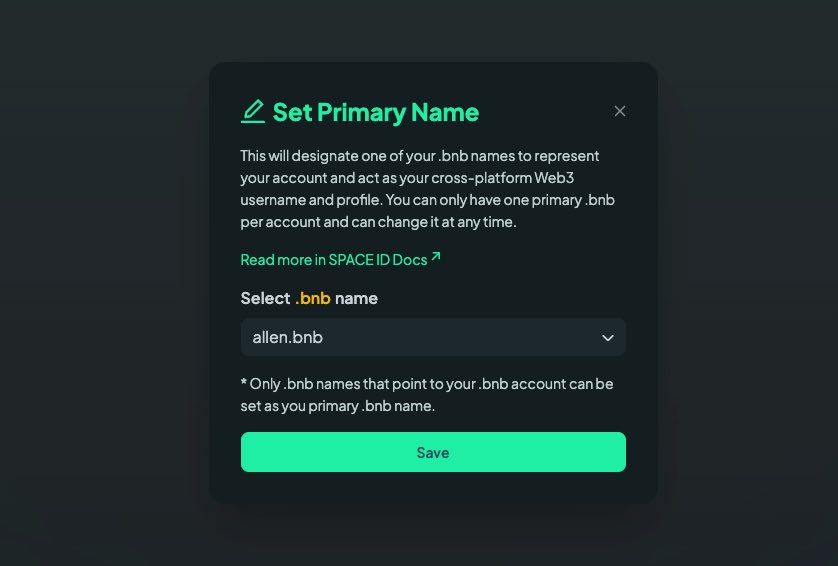 According to SPACE ID, registering a .bnb & .arb domain & setting up a primary name is all that's needed for the upcoming season 2 airdrop for now.
---
The number of tokens claimable is dependent on the following:
Holding days — If an address holds multiple domains, only the one with the longest holding days is taken into the account

Days to expiry — If an address holds multiple domains, only the one with the longest days to expiry is taken into the account

If having a valid primary name (.bnb or .arb)

If having Voyage: Prime NFT

If having Voyage: Legacy NFT

If having Voyage: Awakening NFT

If having all Voyage Prime/Legacy/Awakening NFT

Number of other OATs held (issued by SPACE ID on Galxe)

If holding a 3/4/5(+) character .bnb

If holding a 3/4/5(+) character .arb

If holding both .bnb and .arb
Read more here.
---
My achievement and ID Airdrop Voyage Season 1: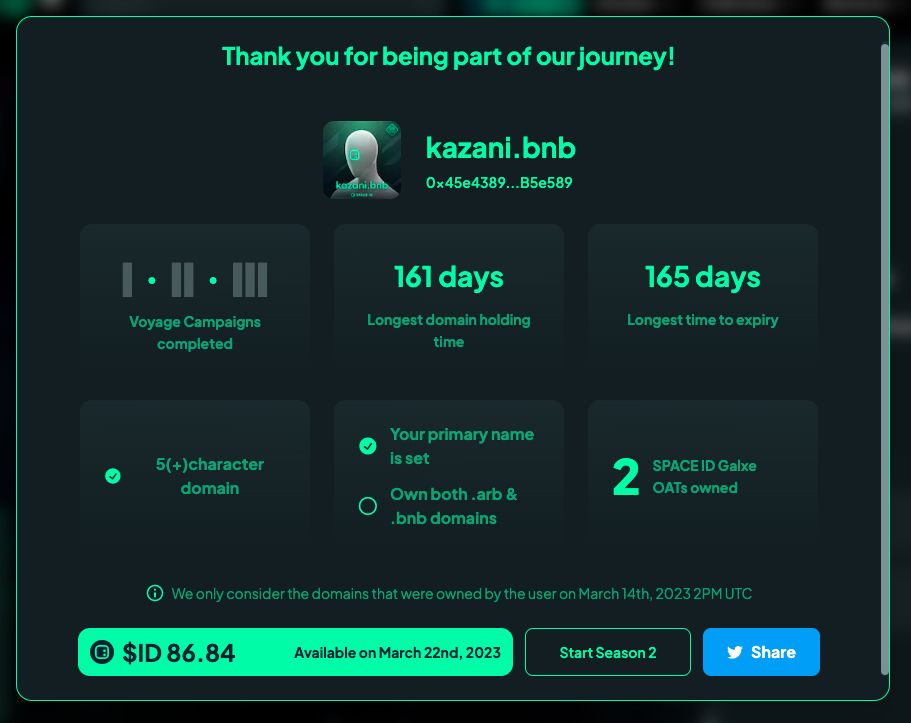 ---
Voyage Season 2 Starts Now!
Invited new users to claim voyage boxes
Sign up now with my link here.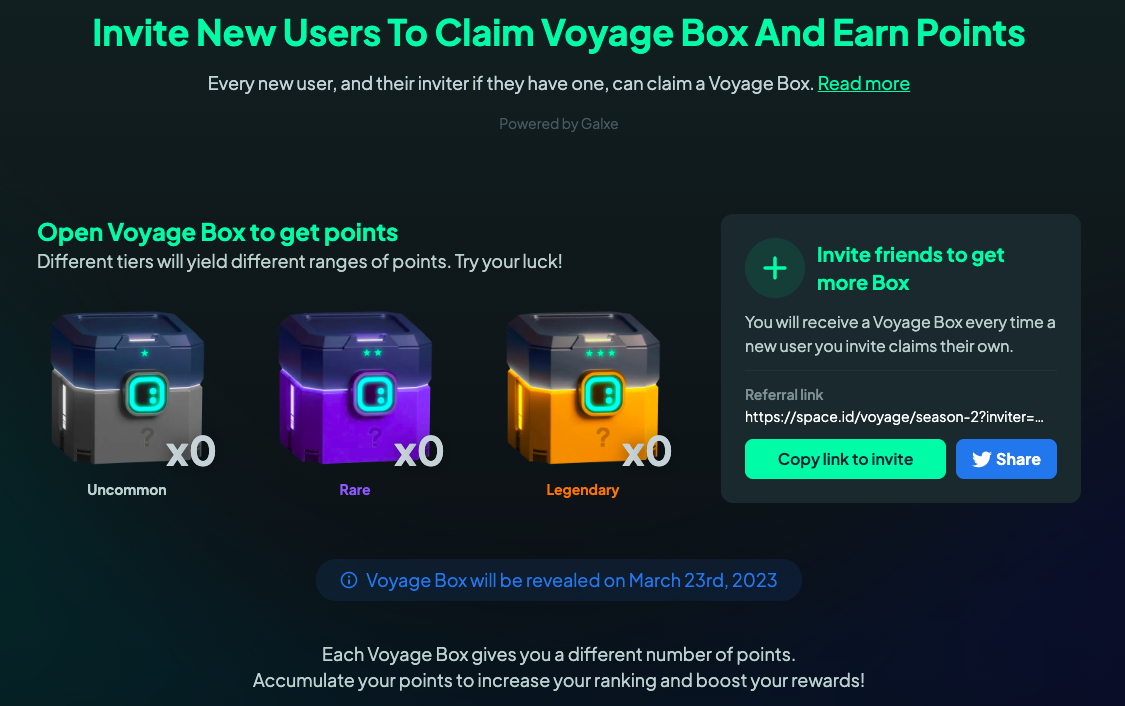 ---
---
If they announce any additional steps to complete, I'll share in my next newsletter.
Subscribe now for future updates.

---
#airdrop
#web3
#domains
#bnb
#arb
#eth
#space id