The Kindred Hearts team is excited to announce our Lucky Hearts Prize Pool!  We have amazing prizes that have been donated by Web3 Artists and builders in support of our campaign with the American Heart Association and we'd like to reward those who mint! 
We have outstanding Art from artists including Gabe Weis, Sabet, Adamtastic, Mo Runda, DrainedEye, Gazelle, a custom Wunk and dozens  more!  We have incredible experiences including a Trevor Jones Castle Party ticket, 30-60 minute Consultations with Sam Hysell, Jen Stein, Creatress, Jason Matias, Matt Hixon, and many more!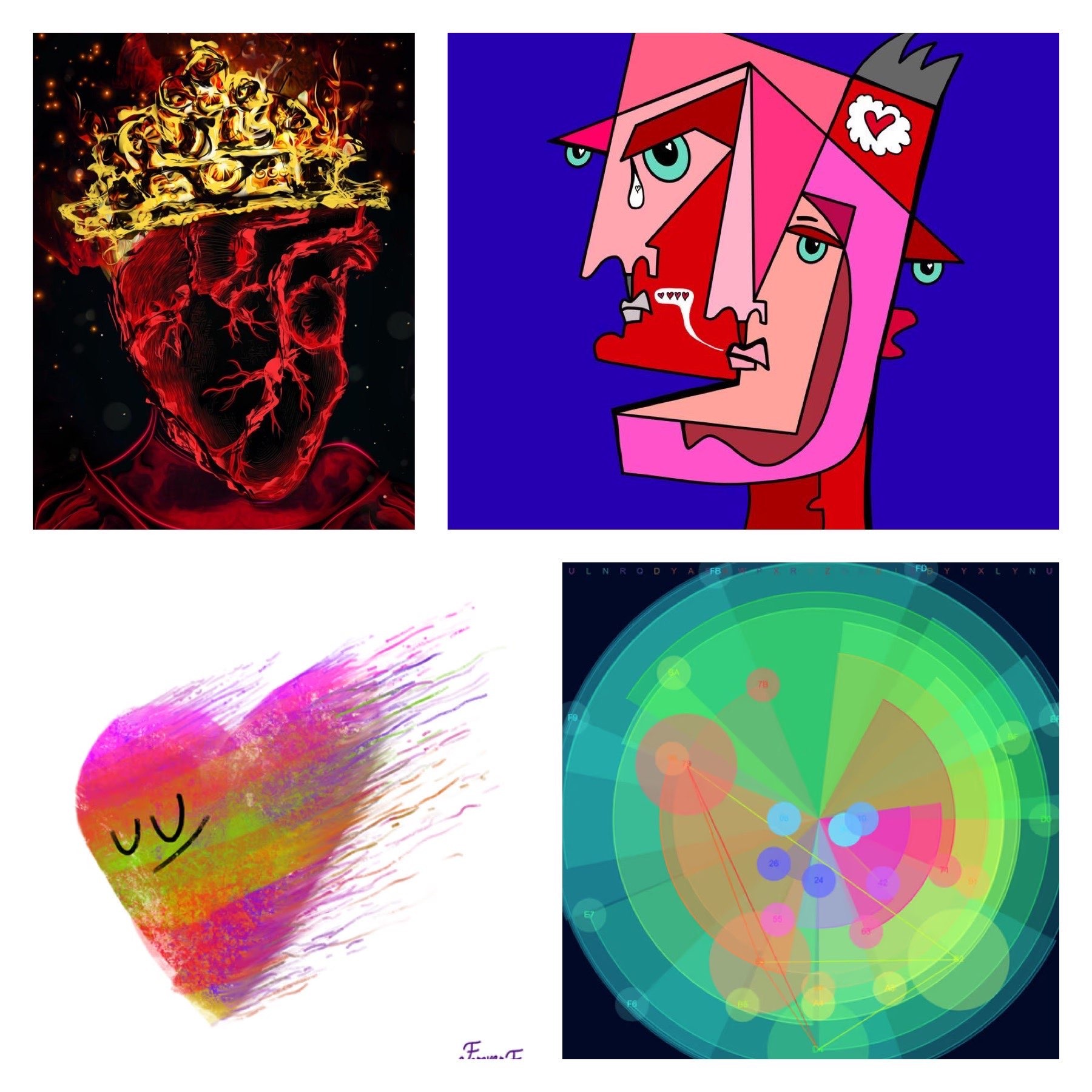 The purpose of our raffle is to reward our collectors and to drive awareness of our campaign with the American Heart Association's Life Is Why™ Campaign. 

To participate: 
Review the Rules posted at the bottom of the message

Mint for .05 ETH to be eligible from 1/17/23 - 2/28/23

Register @ https://kindredhearts.typeform.com/prizepool

Amazing Art Prizes 

Gabe Weis 1 of 1  @gabeweisart

Adamtastic "Kindred" 1 of 1  @ItsAdamtastic

Sabet  Divinity Artist Proof 1 of 10 Edition  @sabet

DrainedEye 1/1 @DrainedEye

Mo Runda "Impermanence" 1 of 1 @mo_runda

Jason Matias  A Genesis piece! @realjasonmatias

Dream Engines From Artblocks @ RemoCamero

JJ Weinberg  - Limited Edition Giclee Print "We Bleed Blue" @jaygotgame

"King Red Heart" 1 of 1 by @Gazelledasti

A custom Wunk  by  @wunksnft

ChazzGold 1 of 1 @SOTD_NFT

Jason Matias Unclaimed Faces collection  @realjasonmatias

Naama O. Pozniak  1 of 1 @ aplusinsurances

Legacy by Fer @FerCaggianoArt  

MIGGSEYE  "Roll Rock King" @MIGGSEYE

"Under the Surface Looking at the Sun" by @ashcooperkern

Generative Art by @ HudsonGroupNFT

Limited Edition @sketchpoetic print

"Miracles go to Mars" NFT by @katiechonacas

"Willing Heart" by @xoj9

"Eternal Garden"/ TKtheLEgend donated by @blackdave

"September Mourning" Emily Lazar" donated by @blackdave Trevor Jones 2023 Castle party ticket in France! @trevorjonesart

Unique Experiences

30 minute Consultation with the Founder of NFT Now, Sam Hysell @samhysell

30 minute Consultation / 1 on 1 Minting / Onboarding session with the radical @jenergizerr!

30 minute on social strategy consulting with @matthixson

30 minute AMA or Virtual Gallery Walk through with amazing 3D Artist @creatressart

30 minute discussion to chat about crypto philanthropy & fundraising in the Web3 space @roguewingchick

30 minute Creative Strategy Session with @redlaserfalcon

60 minute Creative Playpenn Session with Jeannine ... create art, creative brainstorming and/or just a hangout ...  @xoj9

60 minutes with @blackdave 

30 minutes Consultation with JJ Weinberg  @jaygotgame

60 minutes Animation with vector programs, or the music production process and creating music NFTs @treeoflyfemusic

30-60 minutes Self produced Music Experience with @flavdotio  

$100 gift box of California Balsamic Heart ❤️ Healthy Balsamics!  @MauiNancy

Podcast episode experience with @katiechonacas  

Security Audit by @bootsinthebooth 

Self produced Music experience with @flavdotio 
We'd also like to thank the following for their donations that have already been awarded throughout the campaign:
Seize The Meebs! Allowlist from @sergito
30 Minute Creative Session with @soulcurryart
Healing Code by @sabet
NFT by @RemoCamer
NFT by @DrainedEye
Qualifications/Rules:
Each Kindred Heart Art Card purchased for .05 ETH (or USD equivalent) between 1/17/23 and 2/28/23 is eligible to enter to win one of the donated items.

To enter the drawing, users must fill out the typeform so that we can contact the winners 

The prizes will be awarded throughout the month of February and will utilize a Random Integer number utilizing Random.org

Winning numbers will be contacted within 48 hours and our team will reach out to winners.  Must be claimed within 14 days.

Members of the Kindred Heart Team are not eligible.  The estimated value of all prizes is less than $600 USD.
For any questions, feel free to post a comment here, or DM us on Twitter @KindredHeartsIO