Kokonut Network has entered into a strategic partnership with the Department of Agriculture to streamline agricultural practices and boost productivity for our network of farms.
TLDR; The strategic partnership between Kokonut Network and the Department of Agriculture promises to revolutionize our agricultural operations by providing access to financing, high-quality planting materials, advanced training resources, technical advice, and sustainable conservation practices. This collaboration not only supports our commitment to environmentally responsible farming but also empowers our community by enhancing trading opportunities, improving crop adaptability, and streamlining export procedures, ultimately boosting productivity and value for our network of farms.
Let's dive into what the partnership is bringing to the table
Benefits for Kokonut Network & Local Community
Access to Financing for Agricultural Production
During our discussions with the Department of Agriculture, one of the key topics that emerged was the importance of access to financing for our agriculture projects. We were pleased to learn that the Department of Agriculture has a bank called "Banco Agricola," which is dedicated to advancing the development of agricultural infrastructure and ensuring a stable food security system.
As a DAO, the core of our philosophy is to prioritize shipping 10x more than the funding we spend. However, we see this as an additional "failsafe" that can provide us with more stability, resilience, and liquidity in case of emergencies.
Our vision is to remain community-led, and we believe that the initial distribution of Governance shares to fund the V1 Plantation is the way to achieve this. This approach allows us to obtain funding, governance, and "wisdom of the crowd" in one take. Our main goal is to build a community-owned asset that serves as a proof of concept as a decentralized group of people, who can control and develop real-world assets independently of its founders or core team. By reducing the voting power of the founders & core team, we can create an organization that evolves based on collective beliefs, rather than being controlled by a centralized group.
Empowering Farmers with Worldwide Trading Opportunities
As stated on our About page, our goal at Kokonut Network is to eliminate risks and barriers to investment in the agriculture industry. However, this goal cannot be achieved without access to the right markets, where agricultural products can command higher value, creating more wealth for the entire community.
We are now able to share the table with the biggest corporations and companies in the country.
As a community-led DAO, it's an incredible achievement to be sitting alongside the top players in the game. Our network of coconut farms will now have the opportunity to trade and make deals directly with end buyers, reducing the dependence on middlemen. We aim to maximize value for the community by cutting out unnecessary intermediaries, ensuring that farmers receive fair compensation for their hard work.
Steady Supply of High-Quality Planting Material
The Department of Agriculture and Kokonut Network share a common commitment to efficient agricultural resource management, with a focus on minimizing losses. As part of our partnership, the Department of Agriculture will be providing on-site infrastructure to support the care of seedlings before planting, ensuring that they are acclimated to the local humidity and temperature conditions. This approach is aimed at maximizing the success of planting and improving crop yields.
In addition, the Department of Agriculture will provide access to the best-in-class seedlings and planting material available in the country. This includes high-genetic-quality planting material that is known to contribute to increased product quality. By leveraging these superior planting materials, we aim to improve crop yields and enhance the overall quality of our agricultural products.
Training in New Techniques and Technologies
The Department of Agriculture will provide us with access to training programs and resources that focus on cutting-edge technologies and best practices. This includes training in areas such as crop management, soil improvement, and other innovative techniques aimed at improving the quality and profitability of our agricultural operations. By leveraging these resources, we aim to stay at the forefront of agricultural innovation and maximize our productivity.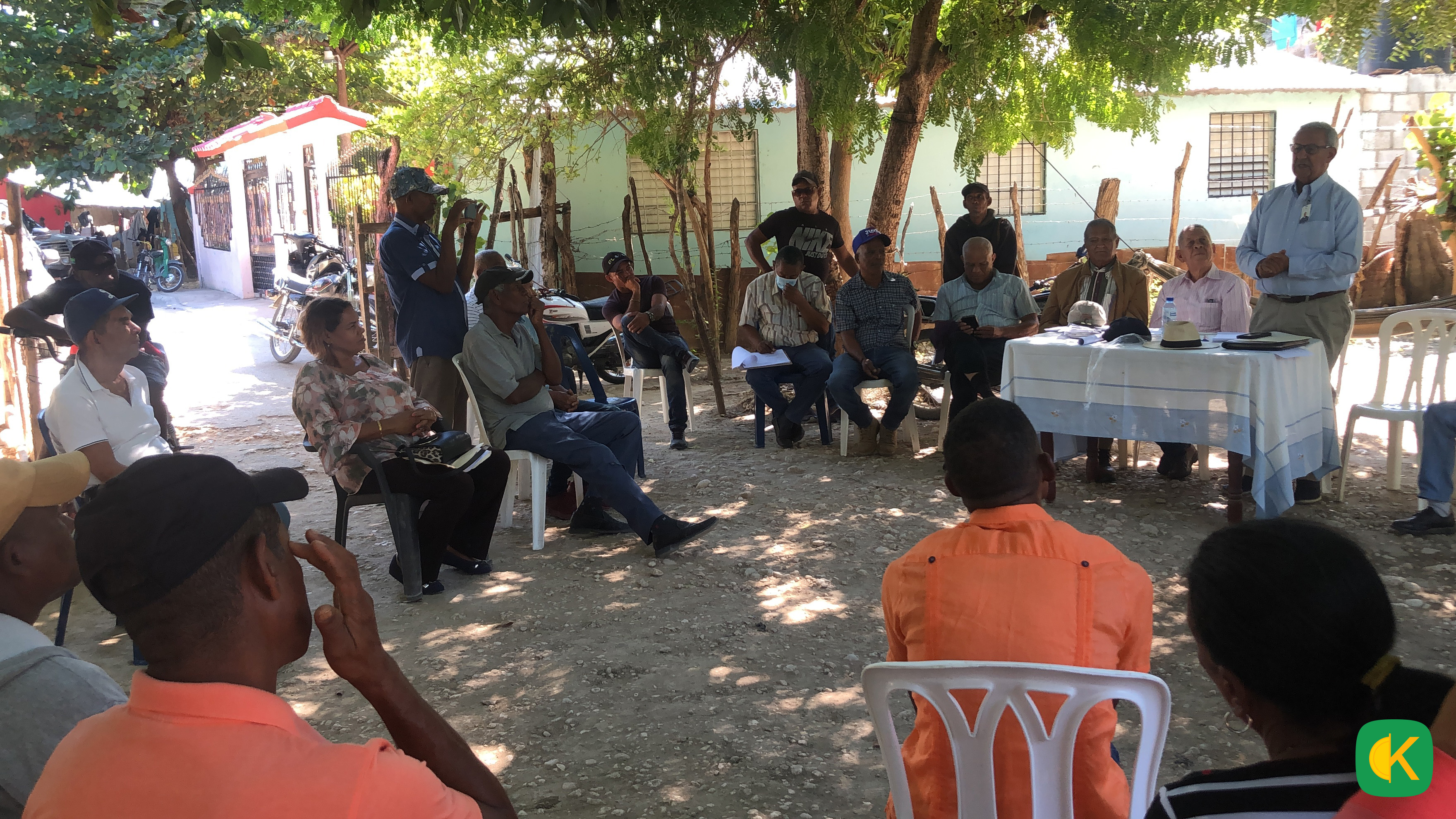 Technical Advice from the Department of Agriculture
Accessing technical expertise in various aspects of agriculture, such as production, and natural resource management, can be costly for a DAO like ours.
As part of this collaboration, assigned personnel from the Department of Agriculture will make regular visits to our plantation to provide supervision, measurements, and verification to ensure that we are following their guidelines. These guidelines are essential for us to earn the right to export our coconuts to global markets by producing a product that is compliant with international standards.
This collaboration contributes to our goal of producing a globally compliant and high-quality product while minimizing the costs associated with maintaining in-house technical expertise.
Conservation and Environmental Protection Practices
As a part of our commitment to sustainability and biodiversity, we are dedicated to addressing deforestation, bad land stewardship, and harmful practices in the agriculture sector. These issues have detrimental impacts on humans, wildlife, and plants, and we recognize the urgent need to address them.
In collaboration with the Department of Agriculture, we are developing guidelines and principles for our plantations, as well as local farmers, land stewards, and community members. These guidelines aim to collectively reduce emissions, and promote conservation and environmental protection practices.
Our goal is to go beyond mere compliance and actively contribute to the conservation and improvement of the environment. We believe that by implementing responsible practices on our farms, we can make a positive impact on the local ecosystem and contribute to the protection of our precious natural resources.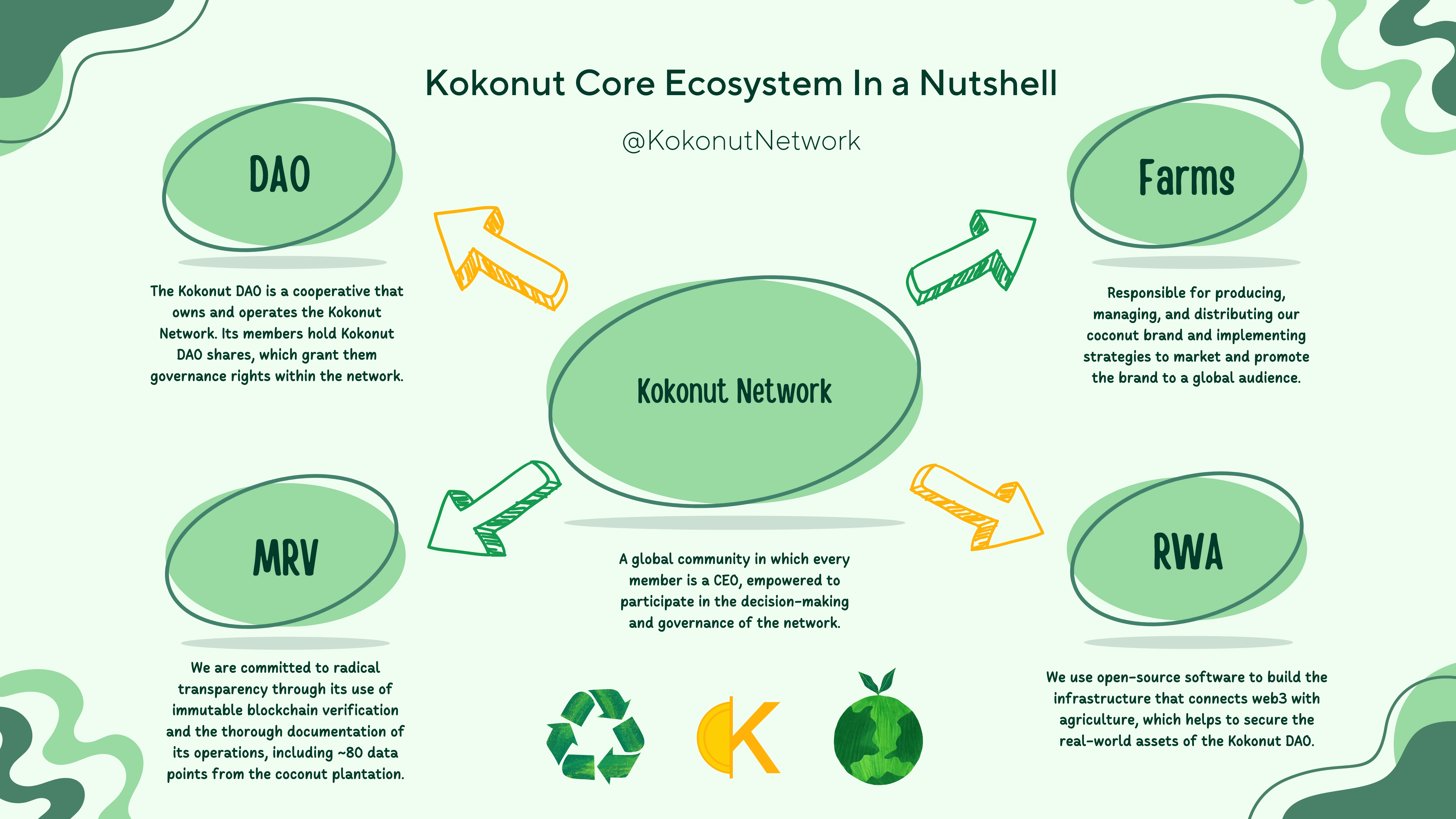 Innovation and Technological Development
Kokonut Network has gained access to public policies that promote innovation and technological development in the agricultural sector. This partnership has provided us with an opportunity to be on par with other industry players, leveling the playing field for minority groups like us.
As a result, we now have access to the latest advancements in equipment, tools, measurement, reporting, and verification (MRV) techniques.
We are committed to utilizing these opportunities to drive positive change and promote sustainable agriculture practices in our network of farms.
Streamlining Export Procedures for our Agricultural Products
As a community-led DAO in the agriculture sector, we are aware of the challenges posed by regulations and permits for exporting our products.
Unlike some DAOs and Web3 organizations that face excessive regulations and difficulties with banking, we are fortunate to have the support of the Department of Agriculture in obtaining the necessary permits for exporting our coconuts and coconut by-products.
This streamlined process has significantly enhanced our capacity to create value in the network. It has opened up opportunities for us to access local and international markets.
Subscribe to stay in the loop! Our next post will cover the DAOHaus V3 upgrade, followed by a Deep Dive into the last 12 months in Kokonut Network, including a comprehensive financial statement detailing the funds raised, spent, and milestones achieved with this budget.
LFG 🌱🥥🌴
Do you want to learn more about Kokonut Network? Book a meeting with me.
Contribute at Gitcoin Beta Round https://link.kokonut.network/gitcoin
#refi
#real world assets
#daos
#partnerships
#improvement