At Layer3, we aim to build the best crypto experience possible for a mass audience. We only feature audited platforms and have helped over one hundred leading projects such as Base, Uniswap, Brave, Phantom, etc. to build key product portals.
Each project is expected to meet a high bar for:
Rigorous software testing and smart contract audits

Sufficient market liquidity or protocol adoption

Active community participation
Let's be fair, crypto can be a volatile and complex place. However, it presents key innovations over the traditional monetary and financial system. Our immersive platform inspires learning by doing while championing security, optionality, and ease-of-use.
We also empower our users to be active crypto citizens. Imagine a future Internet where key applications – spanning money, finance, culture, and social media – are governed with real-time verifiability and open-source participation. Web3 democracy is being pioneered across a multiverse of chains, protocols, and applications today.
Being active delegates
Over ten thousand users have already delegated crypto-voting rights to us across leading layer-2 networks.
Token-weighted voting enables anyone with a stake in a decentralized protocol to shape its future. If you hold governance tokens on Arbitrum or Optimism and align with our values, consider delegating to us.
We aim to be diligent and active delegates for fast-evolving crypto networks. In this pursuit, we apply the same rigor to projects we feature on Layer3 as those we vote for. And in the future, we hope to represent our users across more decentralized apps and chains.
Our users as active participants
We aim to be more than just delegates. We encourage our users to directly participate in on-chain voting for their favorite applications and networks.
Like traditional political and corporate systems, however, crypto-governance has its own potential perils and nuances to understand. At Layer3, we believe better education is vital to building a better alternative.
We encourage our users to explore two key tools for crypto-voting: Tally and Snapshot. In addition, check out your favorite protocols' governance forums to discuss upcoming initiatives. Messari also has a great dashboard for tracking active proposals.
---
Become an active crypto citizen by learning about Onchain Governance as a democratic, token-based voting system. Anyone with a stake in the network can record votes securely and transparently for open-source proposals.
Learn about DAOs where token holders cast votes on proposals. Proposals are presented, and a set number of DAO members must participate in voting for a decision to be made.
Learn about delegating as a way to share crypto-voting power with diligent representatives. By choosing a qualified delegate, you can amplify knowledgeable voices and help make the ecosystem smarter.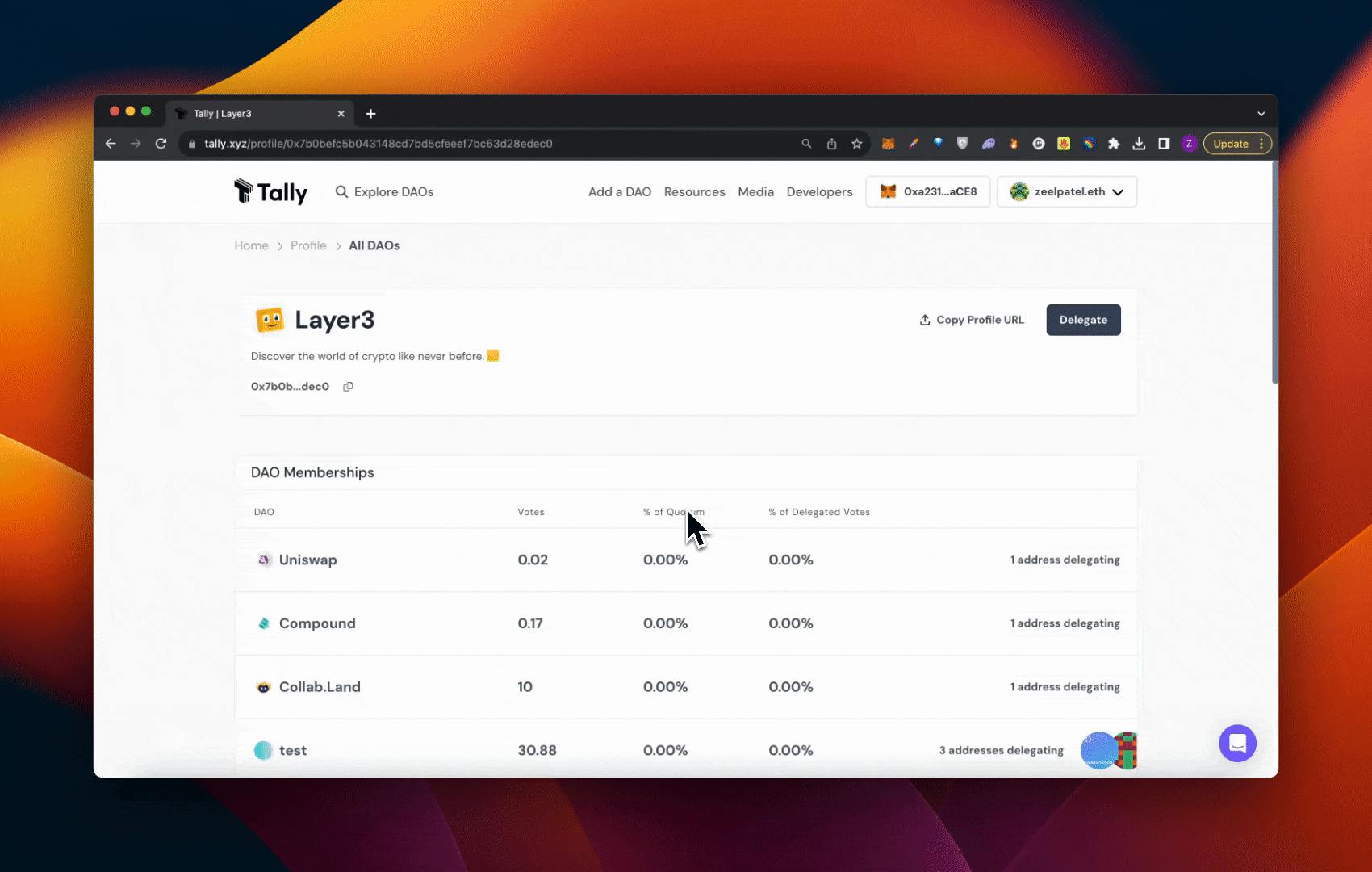 ---
Layer3 is the gateway to the future of crypto. Web3 democracy is a key.
Collect this post to permanently own it.
Subscribe to Layer3 and never miss a post.
#web3
#governance
#crypto voting
#web3 governance