TL;DR: Loop Crypto enabled Castle Capital to accept crypto payments and schedule contributor payments all from one dashboard. Castle Capital is no longer spending hours tracking down transaction hashes. With Loop, they're able to automate a pull of crypto funds to simplify the entire payment experience.
Introduction
Castle Capital is a decentralized group of 40+ DeFi-native researchers, investors and consultants that provides a range of services for web3 projects and companies including fundraising support, content generation, marketing, research, and general consulting. The group also authors a popular newsletter with 1,000+ subscribers. 0xAtomist is the founder of the organization and is joined by an active legion of contributors.
Castle Capital serves a global community that earns, spends, and wants to hold crypto. Both the clients and contributors of Castle Capital want to pay and get paid in crypto. Thus, Castle Capital needed a crypto payment solution that could handle both inbound transactions (i.e., getting paid) and outbound transactions (i.e., making payments) in one place that did not require any coding to set up.
In addition, when Castle Capital invoiced for crypto payments, it could be either one-time or recurring. As a result, the flexibility to support a variety of payment types was critical.
The benefits of Loop
No code invoicing
Castle Capital was able to use Loop's dashboard to quickly generate invoices and schedule payments with no coding or setup required.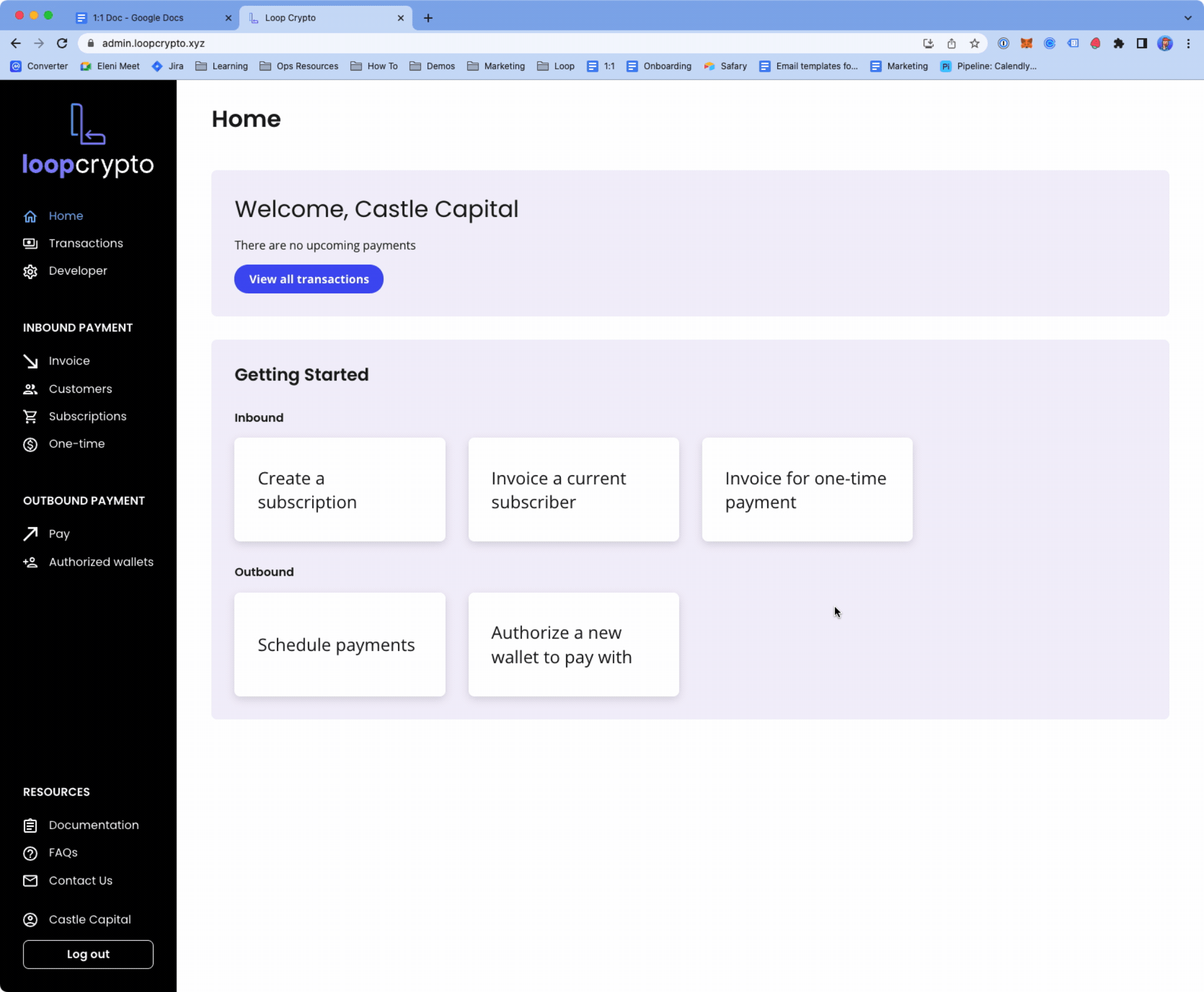 Fast deployment
Castle Capital was on-boarded to Arbitrum within 20 minutes and could immediately start accepting crypto payments.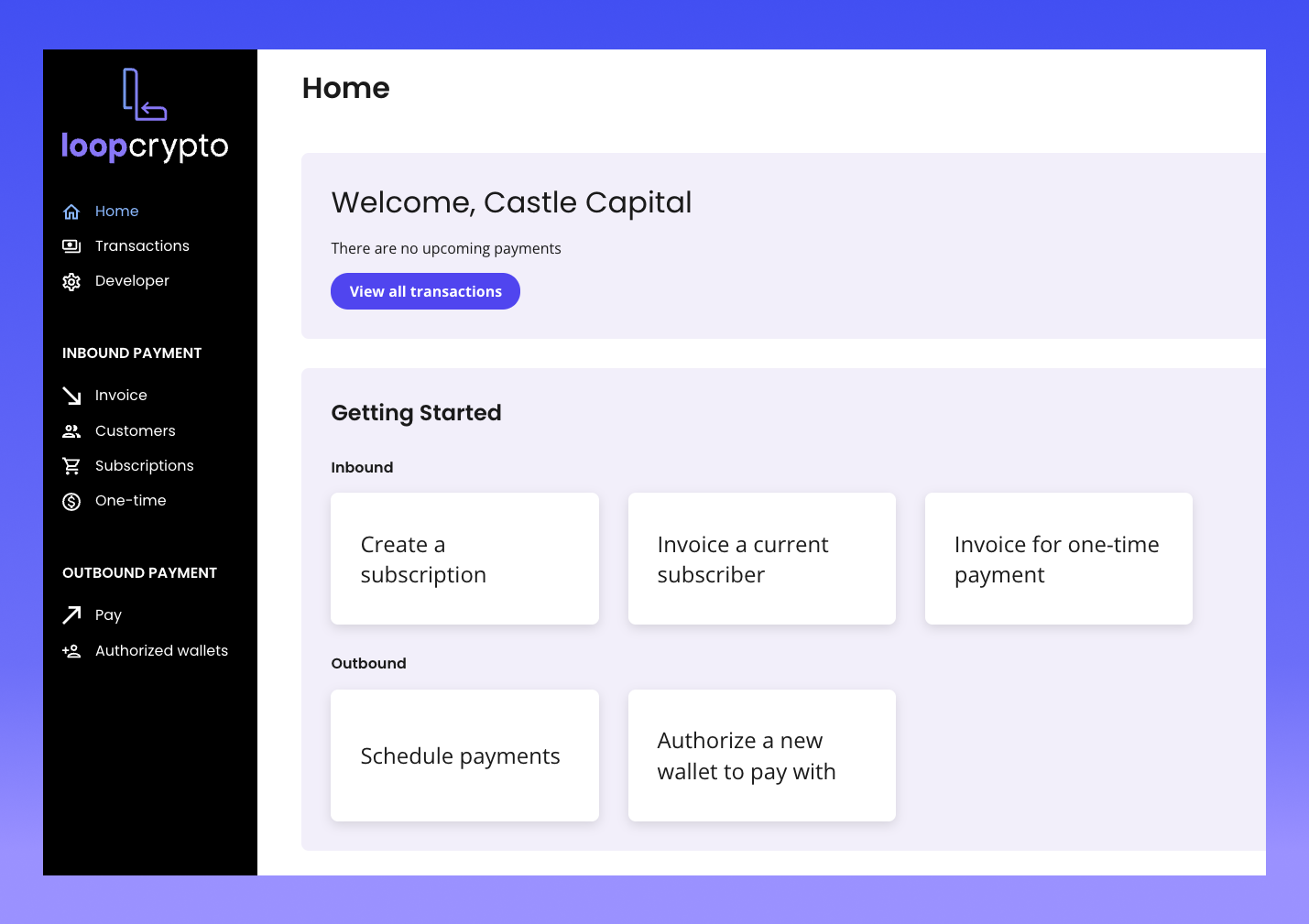 Hours saved on invoice management
Prior to using Loop, the team had managed all payments manually, tracking down transaction hashes to confirm that clients had paid. With Loop, they could simply send a payment link to a client and were then notified when the payment was received. The transaction hash and accompanying payment data were automatically captured in the Loop dashboard.
Scheduling payments
For each engagement, Castle Capital typically staffs three contributors who complete the consulting work for a web3 project or company. After receiving payment from the client to their multi-sig wallet, Castle Capital would then need to make payouts to each of these three contributors. This had historically been a slow and friction-filled process requiring coordination between various Castle Capital team members to review and sign each payment to individual contributors.
With Loop, the Castle Capital team could set an allowance, or spending authorization, on their wallet and then allow one team member to schedule and execute the smaller individual payments to contributors. This maintained security while removing the hassle of coordinating signers for every single payout.
"One of the biggest values Loop Crypto provides is that it solves the multi-sig coordination problem for us. The time it takes to process payments to contributors has been reduced dramatically, and we can now spend more time focused on bringing in more consulting projects and growing Castle Capital." - 0xAtomist, Founding Member of Castle Capital
You can learn more about Castle Capital by visiting their website or Twitter page. You can also check out and subscribe to their newsletter here. If you're looking for a solution for getting paid or making payments in crypto, reach out to Loop Crypto here to get started.
‍
‍
---
Loop Crypto
Loop Crypto makes it simple to collect and pay in crypto by allowing companies to turn on autopay and schedule payments. Built by web3 veterans, Loop unlocks payment automation to reduce customer churn and eliminate time-consuming payment collection and follow-up. By connecting on-chain and off-chain data, Loop streamlines invoice reconciliation, accounting, and fits seamlessly into your financial stack.
Loop crypto is programmable payments.
Are you ready to supercharge your payments? Book a call with Jeff, our Head of Business Operations, or head to our docs to learn more.
Stay in the Loop.
Twitter | Medium | LinkedIn | Blog | Paragraph | Website
Castle Capital
Castle Capital unites a private, invite-only circle of DeFi enthusiasts - a dynamic mix of researchers, analysts, builders, investors, and traders. We actively contribute to DeFi's growth, participating in funding rounds and advising teams across the space. Our distinctive blend of skill and solidarity positions us as a trusted ally in the DeFi landscape.
Subscribe to Loop Crypto and never miss a post.
#crypto payments
#cryptocurrency
#web3